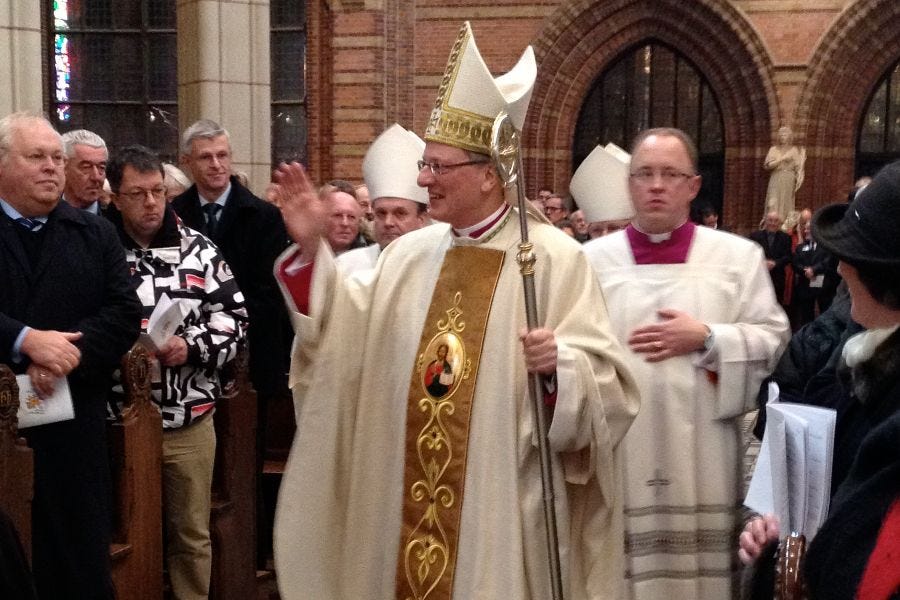 A Catholic diocese in the Netherlands has announced that 60% of its churches need to close in the next five years due to dwindling churchgoers, volunteers, and income.
Bishop Jan Hendricks unveiled the plans for the Diocese of Haarlem-Amsterdam at a meeting with around 90 parish administrators on Sept. 10.
The diocese, which dates back to 1559, covers the province of North Holland, in the northwestern Netherlands, as well as the southern part of Flevoland province. It includes Amsterdam, the country's capital and most populous city.
Hendricks, who has led the diocese since 2020, said it was clear "that the coronavirus pandemic has accelerated the process of shrinkage we were already in: faithful churchgoers of an advanced age have grown even older and have sometimes stopped attending church; others have become accustomed to a different format for Sunday mornings, volunteers have dropped out, choirs have stopped."
Diocesan authorities said that 99 out of the current 164 Catholic churches would have to close in five years. Of the remaining 65 churches, 37 could continue for five to 10 years as "support churches," leaving just 28 "central churches" considered viable in the long term.
Vicar general Msgr. Bart Putter told The Pillar on Sept. 26 that the diocese did not have a list of churches that needed to be closed, but hoped that local communities would designate "central churches."
"The idea is to create 28 active places of evangelization. And we hope that the parish priests and parish boards can realize that," he said.
Figures shared at the Sept. 10 meeting showed that Mass-goers had fallen from more than 25,000 in 2013 to 12,000 in 2021.
"The participation has declined sharply over many years. It's not a recent development," said Msgr. Putter, who noted that in the 1950s around 80% of the Catholic population attended Mass, compared to around 3% of 425,000 baptized Catholics in the diocese today.
The diocese, which has sought to reduce the number of churches since 2004, is known for its strong international Catholic communities in urban areas such as Amsterdam and Almere. A new church was opened last year in Almere, which is regarded as the newest city in the Netherlands.
Fr. Jan-Jaap van Peperstraten, a pastor based in the Alkmaar region of North Holland, told The Pillar that while a reduction in churches was necessary, rural Catholics were likely to be worst affected.
"We received our first letter from the diocese concerning this in May and it didn't come as much of a surprise. We were in fact already in the planning phase of closing down one of our rural churches with a turn-up of maybe 15 every other week," he said.
"We have been asked to close two churches in the next three years, and we will probably have to close one or two more in the two years following. This will be harder as there is no 'natural process.' Communities that still feel some vigor in them will have to be asked to wind down, and this is a difficult thing. It will take up a lot of time and energy to accompany everyone on this journey."
Fr. van Peperstraten said that churchgoers might feel challenged by a "perceived volte-face" over church closures as the diocese had previously seemed to take "a very much hands-off approach."
"To those 'more in the loop,' the change is less big," he said. "We did feel this coming, and these are necessary decisions to make. Church attendance consistently halves every 10 years and has done for decades on end."
The priest said he did not expect "massive protests" against the changes as there was a "widespread conviction in quite a few places that things are moving towards their end."
"In 10 years, we're looking at 30 larger parishes with a hopefully diverse offering of liturgies and activities — small parishes simply can't offer this," he said.
"A challenge in all of this will be that I fear all of the remaining parishes will be in urban areas. How will we service the countryside? I have no answer at this time."
Msgr. Putter said that the concentration of churches in urban areas was unlikely to be a great obstacle to Catholics seeking to attend Mass in the coming years.
"The younger people and the families that we have, they are more than willing to drive 15, or 30, or 45 minutes to go to church," he said. "So for them, it won't be a problem in the future. And of course, the infrastructure here in the Netherlands is very good, so that's not the problem."
"In the past, every village, every part of the city, has had its own church, but that's impossible to keep now, and people who really want to go to church now are more motivated than in the past. But it's a smaller number."
The Diocese of Haarlem-Amsterdam is not the only Dutch diocese facing financial struggles.
The Diocese of Roermond, in the traditional Catholic heartland of the southern Netherlands, has reportedly asked some parishes to cut back on Masses due to rising energy bills and a priest shortage.
Diocesan spokesman Matheu Bemelmans said: "Sometimes it's simply not possible to find a priest to give a service at every church, every weekend. If there are churches with only a few visitors, we are saying: be practical and skip a week and ensure those people can follow Mass at another church."
There are roughly 3.7 million Catholics in the Netherlands, representing 21.7% of the total population of almost 18 million. In 1970, Catholics accounted for almost 40% of the population.
Msgr. Putter said that the Diocese of Haarlem-Amsterdam hoped to see growth in the new city of Almere and other urban locations.
"In the city of Haarlem — that's where I am also a parish priest — we created some really new movements in the diocese," he commented. "Then there are two other places also in the diocese, more to the north. And of course Amsterdam city has many Catholics, but there are several churches. One is a parish church, another one is from the Jesuits, and there, people choose where they feel at home. It's a different dynamic."
Editor's note: This report was updated to include comments from Msgr. Bart Putter, vicar general of the Diocese of Haarlem-Amsterdam.
Comments