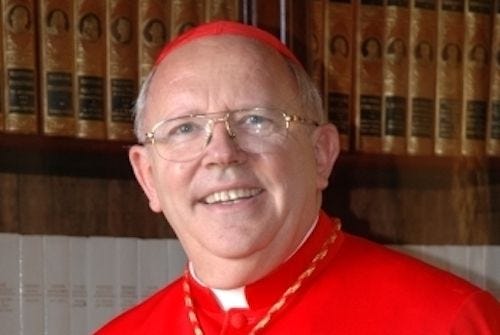 Cardinal Jean-Pierre Ricard is facing a preliminary investigation by French prosecutors after he admitted to abusing a 14-year-old girl 35 years ago.
The prosecutor's office in Marseille, southern France, said on Tuesday that it had opened a probe for "aggravated sexual assault."
The 78-year-old former president of the French bishops' conference publicly admitted on Monday to behaving "in a reprehensible way" toward the girl when he was a pastor in the Archdiocese of Marseille in the late 1980s.
Marseille prosecutor Dominique Laurens said that while the preliminary investigation was underway, no complaint had yet been filed against Ricard, who is a voting member of the Vatican dicastery that oversees the Catholic Church's response to clerical abuse.
Ricard's declaration was read out on Nov. 7 by French bishops' conference president Archbishop Éric de Moulins-Beaufort during the bishops' plenary meeting at Lourdes.
The cardinal's admission followed the disclosure in October that Bishop Michel Santier had been allowed to resign in 2021 citing health reasons when he was facing claims of spiritual abuse. The news prompted uproar in the French Church, which has been shaken by a series of clerical abuse scandals.
The bishops' assembly concluded on Nov. 8 with a message to French Catholics, in which they insisted that "there is not, nor can there be, impunity for bishops."
Speaking to journalists at the end of the meeting, Moulins-Beaufort said that he first heard of the accusation against Ricard in February. Since then, he had been in contact with the victim, who does not wish to be identified, reported the French news magazine L'Obs.
The archbishop denied suggestions that the case was covered up, insisting that there was "continuous work" behind the scenes to bring the case to the attention of the authorities.
After reading out Ricard's declaration on Monday, Moulins-Beaufort had said that a total of 11 French bishops had faced scrutiny by the secular or ecclesiastical justice systems.
He noted on Tuesday that it was widely reported that all 11 faced abuse allegations. He said he regretted "not having been precise enough" about the differences in the cases.
He explained that three of the bishops had been accused of failing to report abuse. One has since died, another was condemned, and a third acquitted.
"Eight other bishops have been implicated for acts they allegedly committed themselves," he said. "Among them, five have been mentioned in the press and have been the subject of legal proceedings, sometimes stopped, sometimes still in progress. For one of them, I would like to point out, the case was concluded by a dismissal."
"Finally, three others are under investigation. These eight bishops are currently removed from episcopal responsibility and are subject to ministry restrictions of various kinds."
The French bishops approved a series of resolutions concerning clerical abuse at their plenary assembly.
They took a further step toward establishing an interdiocesan canonical penal tribunal. They also approved the creation of a monitoring board to advise bishops on the application of the 2019 motu proprio Vos estis lux mundi, which set out new norms for combating abuse and holding Church leaders accountable for their handling of cases.
A delegation of French bishops will travel to Rome to meet with the prefects of the Vatican Dicastery for the Doctrine of the Faith and Dicastery for Bishops.
A bishops' conference communiqué said that the visit's purpose was to "improve the follow-up in the French dioceses of the procedures relating to bishops or archbishops who have been the subject of a report."
Comments