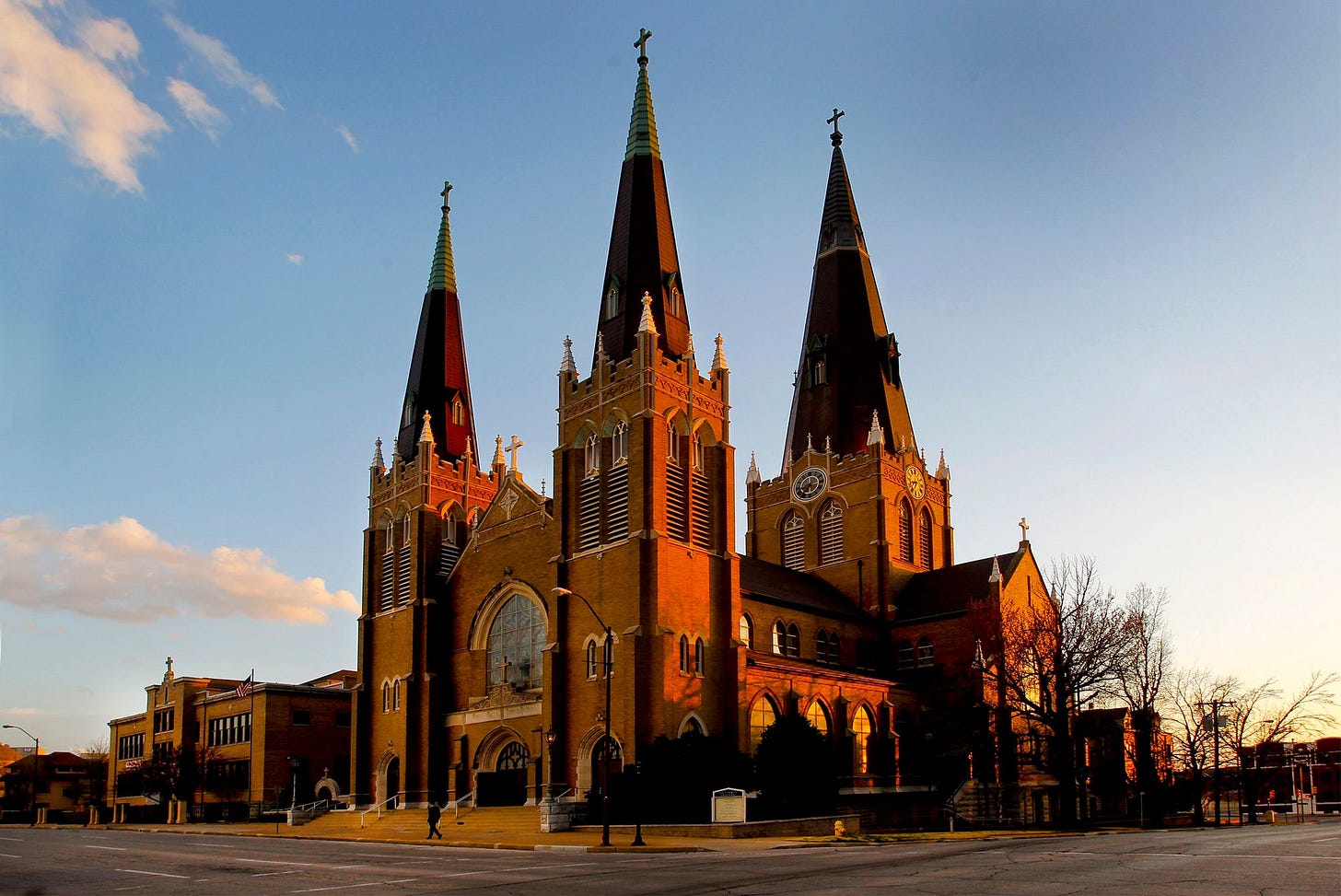 A Tulsa man was arrested Wednesday evening, hours after he approached the city's Holy Family Cathedral, threw a Molotov cocktail at a bank of cathedral windows, and slashed a cathedral employee in the hand with a large sword.
The arrest of Daniel Edwards - and the man's attack on the cathedral - made headlines quickly, as it came as the latest in a series of media reports in recent months, which have detailed acts of vandalism and desecration at Catholic churches across the country.
The injured man, Rod Notzon, is a cathedral desk attendant who was slashed as attempted to stop Edwards from approaching the cathedral.
Edwards has been charged in federal court with unlawful possession of a bomb.
After the attack, Tulsa Bishop David Konderla, along with cathedral rector Fr. Gary Kastl, talked with The Pillar about what happened, and what will come next for their Oklahoma diocese.
This interview has been edited for length and clarity.
Do you know anything more about the individual who staged the attack?
Fr. Gary Kastl:
He is not a known face around the cathedral. You know, here in downtown Tulsa, we have a lot of neighbors who come and go, and who are known on the streets. Many of them come to Mass and participate in our cathedral community. But he was not a known face to us.
He is known in the law enforcement community for being, sometimes, a challenge. And so they were able to arrest him yesterday afternoon because he proceeded from the cathedral out to a grocery store, probably seven miles from here, and there he made additional threats
That's where the law enforcement officers were able to arrest him.
Was he animated by any particular animus toward the Church? Or is it the case of a disturbed individual?
Fr. Gary Kastl:
I think it's the latter. It would be speculation at this point for us to make any other kind of inference, other than that it was probably the latter.
Bishop Konderla:
The randomness of going from here to a grocery store, and then making additional bomb threats there — that's what causes us to think that it's probably just something random. Maybe he picked a church because it's typically a big public place and he wanted to do something publicly — But it's just not known at this point.
Bishop, we have seen in the U.S. a growing number of attacks of different kinds against churches in recent years — a spate of vandalism or violence against church buildings and property.
Some of that is politically motivated, to be sure. But it seems in other cases, the church becomes a focus for people who are disturbed or wounded in other ways, and acting out.
To your mind, is there a spiritual dimension to things like this? How should they move us to pray?
Bishop Konderla:
Well, I would answer in terms of a passage from Revelation — the dragon who wars against the Virgin and her children. That battle continues on.
We do live in a world that is fallen and is marked by sin, but that is also overwhelmed and redeemed by grace. And so it is important for us not to focus entirely on these negative things that happen, to the detriment of missing out on all of the graced good that happens around us.
This cathedral has stood here for over 100 years, and this is the only attack I can think of this kind.
So, of course, it's a terrible thing. It happens at a time when at least social media makes it seem like there's an increased spate of these things — But I don't know that anyone has done an actual study to see if there's any actual increase in these kinds of attacks, or if it's just that they're being noticed more because of our media culture.
But the underlying battle that all of us are engaged in - to be authentic disciples of Jesus Christ - means that we have to engage the cross, and this is part of that.
I'm fascinated by your observations about social media and our media climate. And it's become a common cultural trope to say that social media is making us angrier, especially in public discourse.
So you talk about the importance of Catholics embracing the cross, and engaging the cross - but is there an importance for Christians to do that joyfully?
Is there a witness to happiness, as it were, that events like this can call us toward, even in an uncomfortable way?
Bishop Konderla:
That is a general concern of mine as a bishop — it's easy for all of us to imagine that what we see on our various forms of media is representative of what's actually going on, and we can be influenced by that and sometimes in negative ways, and we sometimes even fall into participating in that with a cynicism and a kind of pessimism.
But of course, none of those things are worthy of us as people of faith. And so, it's absolutely important for us to stay more focused on what Jesus is doing in our world than on what we or the devil are doing in our world.
What's a practical response for Catholics, when confronted with that kind of media and social media environment? What do you recommend to help us live in this reality in a more positive way, and to stay close to Christ?
Bishop Konderla:
All of our devices have an off button, and I think that we forget that or we forget how to use them.
I tell this story to groups here in the diocese:
I do woodworking as a hobby. And in my shop I have quite a selection of different kinds of hammers which I use to hit different kinds of things.
But I never go into my shop and pick up a hammer and go walking around the house looking for something to hit with it.
I only pick up a hammer when I have a job to do with it, then I do the job, then I put the hammer down.
We need to think of our devices as tools, just like that. They serve a purpose, but they should not become a stand in for our attention. And we can use them for entertainment, but in a limited fashion, and according to the obligations of faith.
I understand that an employee of the cathedral was injured during the incident on Wednesday. How is he faring?
Fr. Gary Kastl:
Rod, our cathedral staff member, had surgery last night and it was a successful surgery in restoring the wounds to his hands. He had a second surgery today to work on a bone that was broken in his hand.
But he's fully alert and is able to recount everything that happened yesterday. And so we're very hopeful that he will have a full recovery. Of course, at this point you don't fully know how all the ligaments and nerves will respond. But we're very hopeful at this point.
How will your diocese respond to what's happened here at the cathedral?
Fr. Gary Kastl:
Tomorrow, on Friday, the bishop will gather with those who wish to come from our school and parish communities, to pray a Mass of healing for Rod, and also to pray God's blessing, for the restoration of peace on this campus.
And then we'll proceed with a Eucharistic procession around the block of the cathedral and with praying a perimeter prayer. We'll just aim to reclaim this place for its purpose, which is the worship of the one true God.
And really, we'll be asking Jesus to do his work, to restore — in the midst of our brokenness — hope. Hope that the terror meted out here will be triumphed, through our faith in the Lord, and how that comes to us, in the sacrament of Eucharist, and also in our own procession — an invitation that Jesus will bless our campus through the Eucharistic procession.
So our response is prayer. Our response is a public witness to hope.
📰
Get 'The Pillar' in your inbox every Tuesday and Friday - and help make subscriber-supported journalism happen - with no clickbait, and no nonsense
Comments