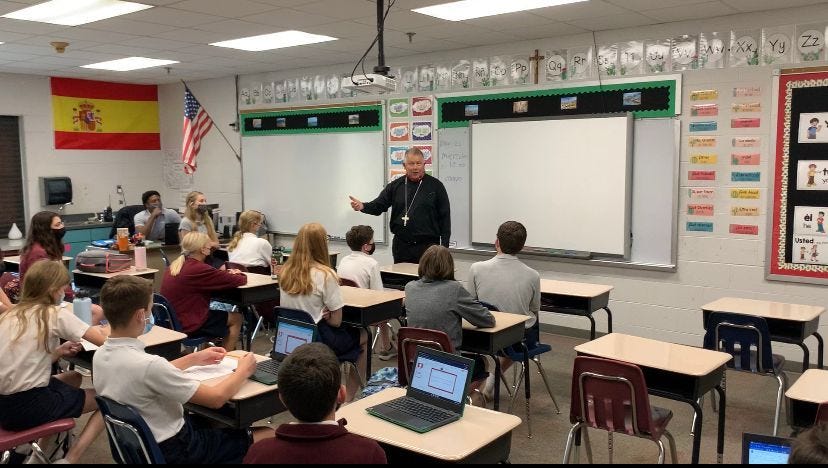 Twenty months after priests in East Tennessee first sounded an alarm regarding their bishop's leadership, they got what they asked for: A pair of Virginia bishops traveled last week down to the Smoky Mountains for an apostolic visitation with the clergy of the Diocese of Knoxville.
The Vatican-ordered inspection came after earlier enquiries by Archbishop Joseph Kurtz, after media coverage of their bishop's administrative misconduct - on matters both alleged and confirmed - and after a letter last year in which priests asked the apostolic nuncio for "merciful relief" from a diocesan culture they said was demoralizing and dysfunctional.
Priests in Knoxville have alleged that Bishop Rick Stika bullies and threatens to get what he wants, has acted with disregard for the Church's financial laws, and intervened to cover up, or at least blow over, serial allegations of sexual misconduct on the part of a favored seminarian.
Stika has admitted to intervening in an investigation into that seminarian, telling The Pillar he knew the man was innocent, and had wanted to stick up for him. Even after complaints were filed against him, Stika took the seminarian on a long road trip vacation last summer, visiting historical sites and St. Patrick's Cathedral in New York.
Financial records demonstrate that Stika authorized unusual payments, gifts, and stipends to the seminarian, while seminary reports detailed the seminarian's alleged forcible sexual contact against a peer.
Even earlier this year, according to multiple sources in the diocese, Stika pressured a diaconal candidate in Knoxville to buy his once-favored former seminarian a car — it was actually the second car Stika helped procure for the seminarian, but the first since the man was dismissed from seminary under scandal.
Stika faces other allegations and several lawsuits, many of them suggesting that the bishop failed to act appropriately when presented with clear allegations against priests in the diocese.
While all of that is well-documented, priests in Knoxville have told The Pillar they've been frustrated by the Holy See's apparent reluctance to respond quickly to their allegations and requests for intervention — or even to respond at all.
Want to know more? Read The Pillar's 2021 profile of Bishop Rick Stika, right here.
Still, last week apostolic nuncio Christophe Pierre did respond, dispatching Bishop Barry Knestout and Bishop Michael Burbidge to meet with several priests in Knoxville, to sit and hear their concerns about the diocese and its leadership. Presumably, the bishops met with Stika as well.
So what happens now?
Of course, there is no publicly delineated procedure for an apostolic visitation of the kind which took place in Knoxville. And Knestout and Burbidge have declined to answer questions from The Pillar about the matter.
But it would be reasonable to expect the bishops - and the priest assisting them - will compile what they heard in Knoxville, and summarize their impressions and findings in a report.
The report will likely chronicle what priests have said, what Stika said, what's been reported by Tennessee media and Catholic media, and whatever's been sent to the visitation team, after some local Catholics urged that laity send letters to the visiting bishops.
Through the nuncio, the report will likely be forwarded to the Congregation for Bishops in Rome — and the nuncio might take the occasion to offer his own thoughts on the situation in Tennessee.
At issue, most likely, will be a few questions:
One: Whether there really are big governance issues in the Diocese of Knoxville, or whether the problems are over-inflated media accounts, mostly from The Pillar, as Stika has told his priests on several issues.
Two: Whether governance issues could be addressed with some correction from the Holy See - an admonition or exhortation of some kind - or whether they require a more serious kind of intervention.
Three: Whether Stika has lost the trust and confidence of his priests, and whether the bishop's relationship with his presbyterate could be restored.
Four: Whether Stika's resignation or removal could itself become a source of scandal, or of more grave difficulty, for the Diocese of Knoxville.
It's possible that the visitators could report to the Holy See that the challenges in the Diocese of Knoxville are ordinary diocesan problems, and don't merit any particular intervention from Rome.
That conclusion, of course, would be demoralizing to many in the diocesan presbyterate, who say the visitation was the first time they've been heard.
If the visitators give Knoxville a clean bill of health, there would probably be no public indication of their work's conclusion — especially since the entire affair has not actually been officially acknowledged by ecclesiastical officials.
On the other hand, the visitators could affirm that there are problems in the Knoxville diocese. In that case, their report on the subject will likely come under consideration by the full-membership of the Vatican's Dicastery for Bishops — some 25 or so cardinals and archbishops, appointed from around the world, including American Cardinals Joseph Tobin and Blase Cupich.
A third American, Bishop Robert Prevost, OSA, who serves as a diocesan bishop in Peru, is also a member of the dicastery.
The dicastery's membership meets twice monthly, on Thursday mornings, to discuss the appointment of bishops and other pressing business. While most members - those living outside Rome - do not attend most meetings, it seems likely that dicastery prefect Cardinal Marc Ouellet will try to allow for the possibility of American attendance at any discussion on Knoxville — which means that even if the report is filed before Christmas, the earliest it might be discussed is January.
But there is precedent to suggest a longer timetable.
In 2018, Bishop Martin Holley was removed as Bishop of Memphis, Tennessee, after a visitation over his leadership — conducted in that case by then-Archbishop of Atlanta Wilton Gregory and Archbishop Bernard Hebda.
Holley was removed Oct. 24, while the visitation took place in late June, four months earlier.
More recently, Bishop Michael Hoeppner resigned from the Diocese of Crookston in April 2021, more than 18 months after a Vos estis lux mundi investigation into his leadership began.
It is not likely to be another 18 months before there is resolution on Stika's case - especially since the first complaints against him, prompting a review by Kurtz, were made under the aegis of Vos estis lux mundi.
But in both Hoeppner and Holley's cases, the Holy See seemingly took a number of months to announce a final resolution.
On the other hand, Bishop Richard Malone resigned in 2019 almost exactly two months after Brooklyn Bishop Nicholas DiMarzio was deputed to conduct a visitation in his diocese.
If the Dicastery for Bishops does conclude that it's time for a change in Knoxville, the idea will be communicated to Pope Francis as a suggestion; the pontiff must make the final determination on the question.
If Pope Francis okays a change, Stika will likely be asked to resign.
If the bishop does step down, he will likely cite his health — Stika has had cardiac issues, health complications from diabetes, and is blind in one eye.
If Stika declines to resign, Francis will have to decide whether to remove him, as he did in Holley's case, and in the case Puerto Rican Bishop Daniel Fernandez Torres, who says he was removed with no visitation, and no clarity on what he's alleged to have done.
If Stika does not decide to resign at the pope's request, the back-and-forth between Rome and the bishop, with messages mediated by the nuncio, will likely add at least a few weeks to the entirety of the deliberations. That may well explain why Malone was out in two months, while Holley was out in four.
The Dicastery for Bishops, of course, might also recommend that Stika stay in place, and be given support to resolve the issues in the diocese. The dicastery could recommend, for example, that Stika be given a coadjutor bishop - an auxiliary with right of succession - and that the coadjutor be given faculties to exclusively manage certain parts of diocesan governance.
That solution has not proven fruitful in the past — when then-Bishop Donald Wuerl was made a Seattle auxiliary with governing faculties in the 1980s, it proved to compound dysfunction, rather than address it.
But there might be concern that decisive action on Stika would be seen to empower a certain kind of press accountability in the life of the Church — both Pierre and Stika have been occasional critics of the kind of public accountability journalism that has covered the allegations in Knoxville. There could well be concern that a removal of Stika would lead to a groundswell of reporting on other bishops, even in cases where complaints are less well-founded than they are in Tennessee.
Moreover, Stika has a once-powerful friend in his housemate, Cardinal Justin Rigali, and has thus far managed to dodge the clerical complaints against him, avoiding a visitation for more than a year after 11 priests wrote their "plea-for-help" to Pierre.
Through Rigali, Stika has more friends in Rome than the average Tennessee bishop, although most of Rigali's peers are long retired from active Church leadership. Earlier this year, Stika posted on social media a photo of a friendly Rome visit with Cardinal Giovanni Battista Re, the dean of the College of Cardinals, who is a well-known figure, but, at 88, is not involved in the daily governance of the Church.
Still, those factors make predicting an outcome all the more difficult.
For his part, Pope Francis told America magazine last month that investigations into bishops should be approached with "equal transparency" as investigations into priests, which in the United States are announced publicly, and concluded publicly.
"If there is less transparency, it is a mistake," the pontiff explained.
But whether the pope's words mean that more transparency is coming to East Tennessee remains to be seen. The diocese's clergy are eager to find out.
📰
Get 'The Pillar' in your inbox every Tuesday and Friday - and help make subscriber-supported journalism happen - with no clickbait, and no nonsense
Comments