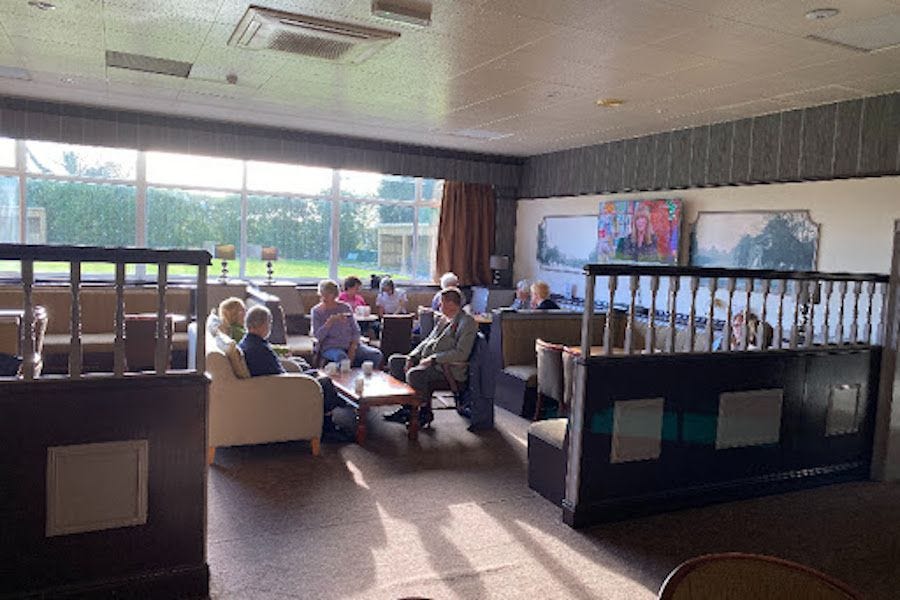 An idea that could help improve the lives of hundreds of people this winter came from a conversation between two sisters.
Jill Boggan was speaking to her sibling in the early summer about headlines predicting that millions more people in the U.K. would struggle to pay their energy bills when prices were hiked again in October.
One study published in August suggested that more than three-quarters of U.K. households would suffer "fuel poverty" — defined by fuel costs representing more than 10% of household income — by January 2023.
The U.K. is particularly affected by soaring natural gas prices as a higher proportion of homes are heated with natural gas boilers than in other European countries and around 40% of electricity is produced in natural gas-fired power stations.
Boggan's sister reminded her that when the coronavirus pandemic struck in 2020, she compiled a list of places that local people could visit or phone for help. There should be something similar, her sister said, but telling people where they could go to stay warm if they couldn't afford to heat their homes.
Working as the Catholic Archdiocese of Liverpool's director of finance, Boggan is responsible for managing the 37 licensed parish centers across the archdiocese. The centers have premises licenses, meaning they can serve alcohol for events such as weddings, birthdays, and funerals, and provide entertainment including films, dance, and music. They also host parish and local community activities where the bar is closed.
Boggan spoke with two colleagues about whether the venues could be made available to all comers when winter began to bite. They discussed how the centers could provide not only warmth, but also tea, coffee, cookies, free Wi-Fi, and television.
The proposal was presented to the archdiocese's finance committee, board of trustees (chaired by Liverpool Archbishop Malcolm McMahon), and pastors overseeing parish centers.
"The support for this has been great across the archdiocese," Boggan told The Pillar in a phone interview on Nov. 10. "There's nobody who thinks it's a bad idea."
The archdiocese's communications manager helped to prepare posters and social media images ⁠— and the "Warm and Cozy" project was ready to launch in October, in time for the price rise.
Start your day with Starting Seven - a daily news roundup in your inbox.
Fr. Stephen Pritchard, the pastor of Our Lady of the Assumption in Gateacre, told The Pillar he was happy that his parish was taking part in the initiative, but sad that it was necessary in 21st-century Britain.
"I would really hope that 'Warm and Cozy' wouldn't need to happen. It is a very sad reflection of society when we've got to do this. It is incredibly sad that we've got to this stage," he said in a phone interview.
"But I'm delighted that we're doing it. It's a great initiative. I'm glad we're being so responsive so quickly, and sort of ahead of the curve before the winter really does get worse."
With "Warm and Cosy" up and running across the archdiocese — which encompasses a total of around 1.8 million people including half a million Catholics — Boggan is thinking about ways to develop it further.
"One of the things that we're doing at the moment is putting a rack in each parish center, where if people wanted to donate a good quality winter coat that they no longer use, hats, gloves, scarves, it will be in that area," she said.
"We're calling it a 'complimentary winter warmers,' so that people can just take what they need if they want to, or they can donate something that they no longer need that might help someone else stay warm."
She went on: "A lot of the parish center managers in their local area have liaised with other churches and community groups, so they can make sure that there's a spread of spaces available. So our parish centers might do a Monday, but another community organization might do Tuesday, Wednesday, Thursday, and so on. So there's been a really good partnership working locally."
All the archdiocese's warm spaces are being registered with local authorities and a national database. Boggan hopes that the fire service will hold advice sessions at the parish centers for people intending to use old appliances to heat a single room during the winter.
"We've also developed a volunteer role description with risk assessments, because lots of people from local parishes have come forward wanting to volunteer with this initiative," she said.
"So not just in our licensed parish centers, which trade commercially, but also in parish halls that haven't got that licensed training. There are more and more centers being added to our website and on to the national database as it's developing and taking off."
The initiative has been featured on the BBC News website and local radio.
Boggan recently visited one of the parish centers, Our Lady, Queen of Martyrs, in the Croxteth area of Liverpool.
"Three gentlemen came in," she recalled. "They'd never been there before. They'd seen something — I don't know whether it was on the website or they noticed it on the radio — and they were a little bit nervous."
"We just watched the parish center manager in action. She put them at their ease, welcomed them in, and said they could either sit in the room that we'd set aside or they could go into a bigger room that had a bingo session in it. And they did. They eventually felt comfortable enough to join in that bigger group."
Fr. Pritchard, whose parish includes some of England's areas of highest deprivation, said he hoped that people visiting the two clubs connected to Our Lady of the Assumption would find "not just a warm place, but a sense of belonging, a sense of welcome, a sense of being together with other people, just watching TV, having a drink together."
"For me, it's not simply the availability of food and drink, a place of warmth," he reflected. "I think there's an epidemic of loneliness. That's a key thing in this community. People feel displaced and maybe not knowing where they quite belong."
"More than just people coming together to get warm, it's actually creating a sense of community, a sense of belonging, and people care for each other. That's why 'Warm and Cozy' for me is important."
Catholic parishes in other parts of England are also offering warmth and hospitality this winter.
---
Catholic parishes in other parts of England are also offering warmth and hospitality this winter.
Thanks to an enterprising parishioner, Our Lady, Star of the Sea in Weymouth, southern England, is welcoming people in need to its parish hall as part of a national scheme called Warm Welcome.
Pastor Fr. Anthony O'Gorman told The Pillar that the initiative was also providing community as well as respite from the cold.
"What we're finding is it helps for people who are lonely," he said. "The people we've got coming in are coming for a cup of coffee and a bit of heat. But when you go in there, there's a buzz. There are conversations going on. Also, we've got lots of helpers from the parish and they enjoy it because they get in there to have a chat as well."
"One day, they were saying: 'Oh, I don't think we've got many people today.' I said: 'The thing is, even if you just get one person, that one person could be lonely or could be cold, and you're making a difference to their day. That's the way we look at it here: that it doesn't matter how many people we've got, actually for those people this is an important place."
---
Jill Boggan said she believed the initiative in the Liverpool archdiocese was a reflection of her Catholic faith.
"We can't solve everything for everybody, but where we can do something in a practical way to help other people, it is hopefully fulfilling that, and it is an expression of us caring for others, especially during these very difficult times," she said.
"I'm a finance professional. Whilst everything that we're doing on an administrative level is very necessary for the functioning of the organization, to be able to contribute in that very tangible way as well is fantastic. I would say personally, it's the most rewarding aspect of the job."
She added: "I can't speak for everybody else, but one thing I can say is that all the members of staff within the diocesan offices here have said how proud they are to work for an organization that's helping people in these times. Everybody's behind it really with that feeling of common purpose, and it is an expression of our faith, I think."
This article was updated on Nov. 18, 2022, to include quotes from Fr. Anthony O'Gorman, pastor of Our Lady, Star of the Sea in Weymouth, England.
📰
'The Pillar' covers news you won't read anywhere else. We do it intelligently and reliably, because our subscribers know good journalism is worth paying for. So subscribe today – or upgrade your subscription!
Comments