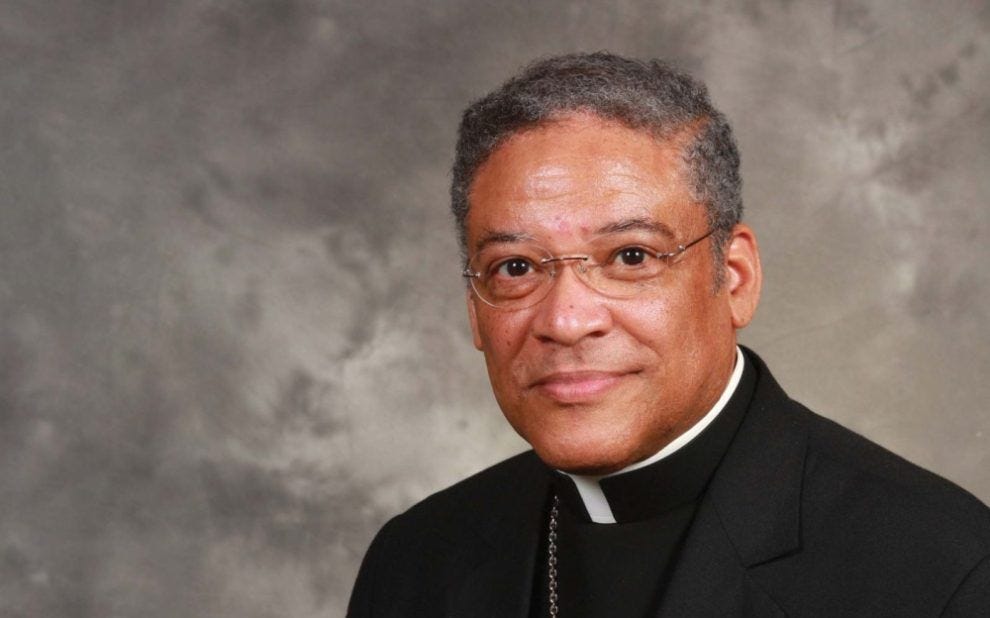 Every year, dioceses across the United States celebrate National Black Catholic History Month, taking time to highlight the unique contributions and history of Africa-American Catholics to American society and the Church.
Parishes, dioceses, schools, and all kinds of Catholic institutions, including the U.S. bishops' conference, hold special events, make resources available and encourage Catholics from all backgrounds to learn and value better the witness and experience of their Black brothers and sisters.
But as the Church continues its efforts to value the contributions of Black Catholics and work to end the scourge of racism both within the Church and in our wider culture, how can Church leaders ensure Black Catholic History Month isn't just a calendar event, but something that takes root in the family of faith?
To address those questions The Pillar spoke with Bishop Joseph Perry, auxiliary bishop of Chicago.
Bishop Perry was born and raised in Chicago before attending St. Lawrence Seminary High School in Mt. Calvary, Wisconsin, the Capuchin's Seminary of St. Mary in Crown Point, Indiana, and then St. Francis Seminary in St. Francis, Wisconsin.
He was ordained a priest in 1975 for the Archdiocese of Milwaukee and later taught canon law at several seminaries and universities.
Perry was consecrated a bishop for the Archdiocese of Chicago in 1998, and is the former vice president of the National Black Catholic Congress and the current chairman of the USCCB's Subcommittee on African-American Affairs.
This interview has been edited for length and clarity.
---
Bishop, it's been four years since 'Open Wide, Our Hearts' [the USCCB pastoral document on racism]. Is there a criteria for judging it as a success?
Like most other documents the bishops put out, I guess we notice where it appears in other people's commentary, in speeches, homilies, newsprint, media announcements, quotes of other bishops and of other leaders in the church, and even people in the pews. We notice those kinds of things, but there have been no measuring instruments for the reception of our documents. We've never done much of that.
These documents are put out because the Church perceives there was still work to be done within the family of the Church itself on racism. Is that an issue on which you perceive progress has been made, or is it a sort of constant, ever-evolving process?
I think it's a constant ever-evolving process. I like to believe, I like to give an optimistic read on the reception part of our teaching with 'Open Wide Our Hearts' and similar social documents.
We don't know how the seeds sprout out there, in other words.
We like to think that this part of the Church's social teaching is being sown in the hearts of people. Sometimes we get a little depressed about it when certain incidents happen, and are given wide media attention, or something happens on Catholic soil that really seems to be a backwards step from what we're trying to get across. But that's the nature of the beast.
You talk about Church teaching being sown in our hearts, and this is National Black Catholic History Month.
Thinking about your own history, when you were a young man in seminary, and in priestly formation in the late sixties and early seventies, the civil rights movement and ensuing racial tensions were a big part of the public conversation and the national psyche.
How did that play into you discerning your priestly vocation? How did that play out in your discernment of a vocation?
Well, I was fortunate to be formed, especially in high school and college, by a religious community that was at the heart of social outreach and social ministry, the Capuchin Franciscan fathers.
They were working in African-American parishes in places like Detroit and Chicago and Indiana. They had missionary locations in Central America, Nicaragua, and up in Native American reservations in Montana and so forth. So I always had that training and that backdrop and as a youngster, teenager, college student, that was very impressive.
You heard about other things going on around you at the time as part of that experience, but I had a very good training and formation in that way. So it didn't discourage me that much. I think about the excitement and vision that young people have, something I think was stirring in us and we thought that was possible for us. If we could get to priesthood, we could do some of the same things that these friars were doing.
In many dioceses, like Chicago and Washington DC, there are very well established Black communities and Black parishes, but there is often the sense that they're not necessarily widely known in their dioceses, beyond the simple understanding that they're "there." And when we speak about Black American Catholic culture, it can often be done reductively.
For you, what's the spiritual core of Black American Catholic identity?
Well, Black Catholic spirituality has a lot of hopes sewn in there. And that hope goes all the way back to images that we pick up from the Old Testament, from the liberation and the freedom of the Israelites — that movement of a peoples through the desert to find the freedom that only God could give them, because other nations that oppressed them, other nations surrounding them are unable to give that.
What was the pledge and the fulfillment of a people for ancient Israel, Black Catholics hope for themselves in a society that in some ways is a spinoff of the ancient oppressions. You see, that's the seed or the kernel, I think, of Black theology and Black spirituality.
It's hope for freedom in the law, a little material freedom here, but we know we're not gonna have it here perfectly.
Sr. Thea Bowman famously spoke about the Church being a 'family of families,' and institutional programs like National Black Catholic History Month can bring the sort of institutional awareness, a kind of broader awareness of an idea.
But for Catholics that come from different parishes in different parts of dioceses that have very distinct cultural identities, how do we get to know our own family? What does that look like at a practical level — how do families get to know each other?
There are some obstructions there. Because most of our life as Americans, is very, how should I put it, socially divided.
We live in communities where we don't necessarily have to know one another. We have to make extra efforts in order to cross certain boulevards and streets and railroad tracks where those people live.
In our day-to-day lives, people may work in a situation or place where there's some measure of racial and ethnic integration, but when they go back home, it's not necessarily the case.
Even on Sunday, the primary day of worship, if parishes and churches are going to do something, they really have to go out of their way to be constructive in order to connect with people.
I think the Church can lead with a lot of that. But I know for myself, as a bishop, I move around and that's not always necessarily the case. People have to desire it. They have to want it. And it takes some energy, and some mistakes and pardons and those kinds of things, but to keep doing it.
Comments