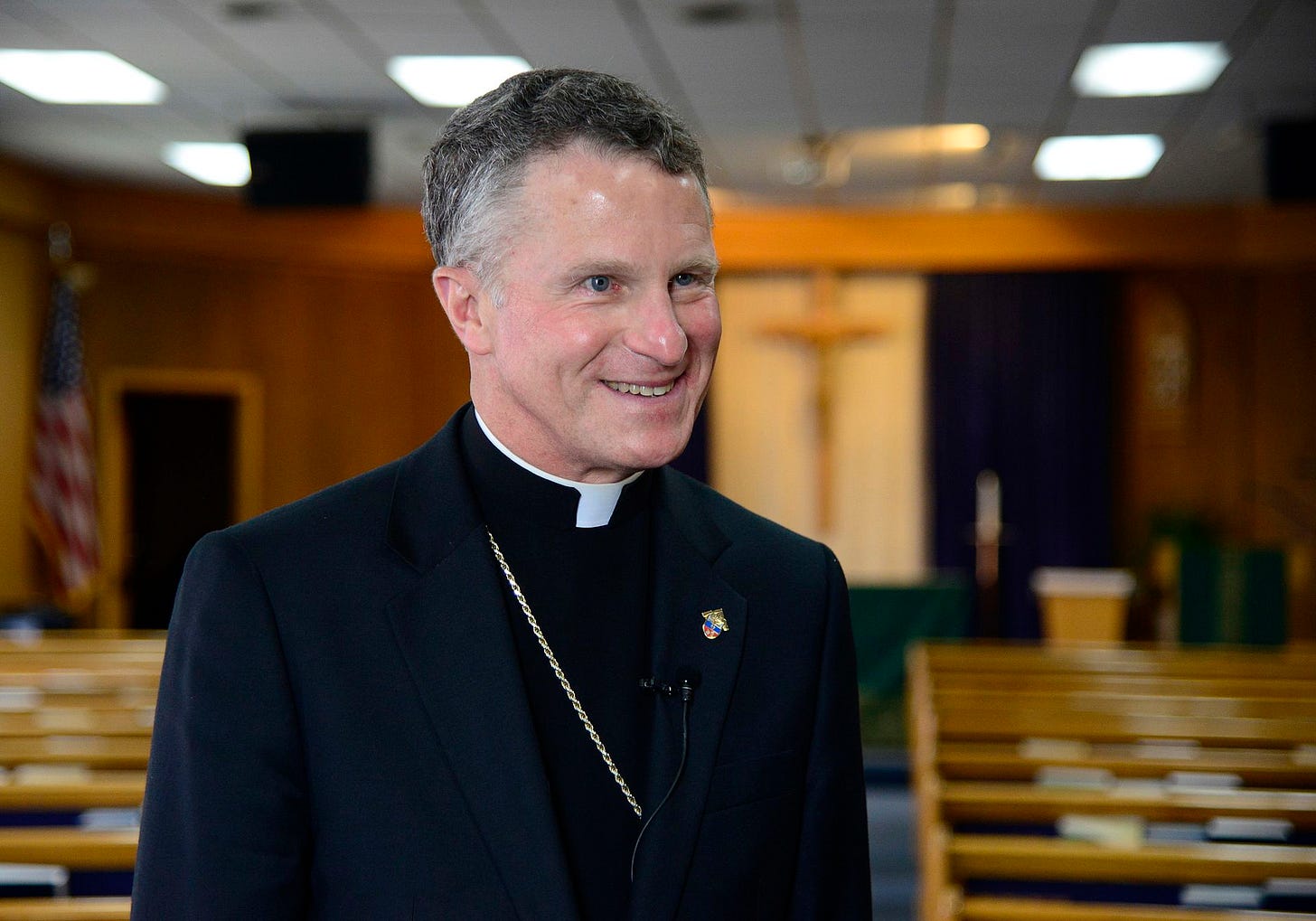 Archbishop Timothy Broglio was elected president of the United States Conference of Catholic Bishops last Tuesday, during the bishops' fall plenary assembly. Immediately after his election, the archbishop faced questions about his time working in Rome as priest secretary to former Vatican Secretary of State Cardinal Angelo Sodano.
Sodano, who was secretary of state for nearly 15 years, shielded senior churchmen from accusations of sexual abuse and stymied investigations into their conduct. Broglio addressed those questions in his first post-election press conference, but he is likely to face more questions as his term gets underway.
But Broglio is not the only bishop elected last week in Baltimore who spent time working for a controversial cardinal, nor is he the most senior serving American prelate to have done so.
And while there is legitimate interest in what the archbishop knew or saw during his time working for Sodano, Broglio seems to be facing a unique level of scrutiny as he begins his presidency.
Does the reaction to Broglio's election represent a new era of heightened accountability for bishops with links to past scandals? Or is the scrutiny political — a kind of selectively applied "guilt by association," leveraged over theological or ideological differences?
That scrutiny is worth examining.
Start your day with Starting Seven - a daily news roundup in your inbox.
Well before Timothy Broglio was the president of the USCCB, he was a young Cleveland priest plucked by his bishop from a parish in Euclid, Ohio, to send to the Academia, the Vatican diplomatic training school across the piazza from the Basilica of Santa Maria sopra Minerva, where the Holy See's ambassadors and embassy staffers are trained.
Broglio was 28 years old when he entered the diplomatic pipeline, and the priest never again saw a parish assignment. Instead, he had the unusual life of a papal diplomat, doing academic and diplomatic training, picking up some languages, then working in Vatican embassies in West Africa and South America.
It's unlikely that Broglio asked to go into the Vatican's diplomatic corps — few do, and those who might ask their bishops to join the diplomatic corps are probably most often given a pat on the head and some notes of concern in their personnel file.
Diplomatic service is not a normal presbyteral life, nor an especially easy one.
But former members of the diplomatic corps tell The Pillar that it is a life in which one grows accustomed to saying yes, if one is asked at all - that assignments are given, for posts all around the world, and that when one is assigned, one packs his bag. That the job is the job, and is done according to direction and protocol, because it's said to be critical for the mission and flourishing of the Church.
And - for better or worse - the culture of the diplomatic corps has generally discouraged asking questions about the affairs or portfolio of a superior, given that any particular item may well be a matter of state secrecy.
Archbishop Broglio's service in the diplomatic corps has an asterisk, because it includes a decade in the office of former Vatican Secretary of State Cardinal Angelo Sodano, a Churchman who impeded Vatican investigations into claims of sexual abuse against high-ranking clerics, and is widely reported to have defended or enabled some priests and bishops accused of serial sexual abuse, including former cardinal Theodore McCarrick.
Sodano, for example, blocked Vatican investigations into Legion of Christ founder Marcel Maciel, who was eventually found to have serially sexually abused minor seminarians, young priests, and numerous women around the globe, to have fathered children, and to have been a drug addict for decades.
After Sodano resigned as Vatican Secretary of State, a thorough investigation into Maciel found the cleric was "devoid of any scruples and authentic sense of religion."
Anyone who knows how the Church works understands that Broglio almost certainly didn't choose to work in Sodano's office, he didn't apply for the job in any meaningful or discernible way.
But Broglio was Sodano's secretary. And given what's now known about the late cardinal, that has raised questions about what Broglio knew or didn't know about abusers like Maciel.
📰
'The Pillar' covers news you won't read anywhere else. We do it intelligently and reliably, because our subscribers know good journalism is worth paying for. So subscribe today – or upgrade your subscription!
—
During a press scrum at the USCCB meeting where he was elected conference president this week, The Pillar asked Broglio about his time in Sodano's office.
"I think hindsight is 20/20, so many things that we've learned now perhaps were worth knowing then," the archbishop said.
"These things are always a good reminder that we have to be attentive, and we have to be proactive."
Broglio added that Maciel "had everyone fairly well-buffaloed because there were so many vocations," while noting that he had left Sodano's office before the "great accusations" against Maciel had been reported.
Some reports have already raised questions about that timeline, noting that a Hartford newspaper had begun reporting accusations against Maciel four years before Broglio was appointed to a different job — though it's not clear Sodano's office was involved in questions about Maciel by the time Broglio left his desk there.
In either case, it remains to be seen whether Broglio's initial answers will satisfy Catholics looking for transparency on episcopal reform and accountability.
Some victims' advocates have told The Pillar they don't believe Broglio was aware of his former boss' cover-ups, while others are likely unconvinced.
The archbishop will probably face more questions about the issue, and investigative reporters will probably scour what records they can, for the sake of public accountability and good governance in the life of the Church.
Given the state of the Church, questions about Broglio's association with Sodano are both fair play and responsible journalism, and the archbishop likely realizes that.
If implicating facts about the archbishop emerge, most Catholics will expect him to resign his office or be removed, and the Church's law would expect that too.
But at the same USCCB meeting at which Broglio was elected, Bishop Barry Knestout was elected chairman of the conference Committee on Child and Youth Protection, which is responsible for ensuring compliance with the conference's safe environment commitments.
Not one report has noted that Knestout spent time as secretary to former cardinal Theodore McCarrick, with whom he lived in the Archdiocese of Washington.
Knestout has twice declined requests from The Pillar to answer questions about whether the bishop's time as secretary to McCarrick might have influence on his work chairing the USCCB's child protection committee.
And while Broglio answered questions as Knestout avoided them, the difference in media coverage is obvious.
A cadre of journalists covering the conference led the Broglio election news with his Sodano affiliation; none of them made mention of Knestout's work for McCarrick.
—
So what's the difference?
It might be that the presidency of the conference, a more prominent role, is regarded as more significant than that of conference safe environment chairman.
Or it might be that Knestout has addressed McCarrick before.
The bishop wrote a 2018 letter in which he said that "throughout the time that I was in Washington, I can tell you I was not approached by anyone with any allegations or evidence of sexual harassment or abuse involving [McCarrick]."
The letter did not specifically address questions about McCarrick's questionable financial practices, including a controversial fund in the Archdiocese of Washington which still remains unaddressed. But it did cover some issues.
Knestout also addressed the McCarrick scandal at the USCCB's 2018 fall meeting, in a lengthy and personal reflection from the floor.
For some members of the media, Knestout's prior interventions may seem to resolve questions about his time working for McCarrick.
But it is also possible that the disparity in coverage between Broglio and Knestout suggests a political motivation among some journalists.
Indeed, a number of editorials and news reports covering Broglio's work in Sodano's office have also lamented that the archbishop is "anti-Francis," a "culture warrior," and a "mistake," and criticized the archbishop's views on homosexuality and abuse.
The juxtaposition of his Sodano affiliation with discontent over his presumed theological positions could seem to suggest - at least to some - a kind of selective indignation.
And among some journalists framing Broglio in reference to Sodano, very few questions have been raised regarding another close affiliate of McCarrick's — Cardinal Kevin Farrell, who lived with McCarrick in Washington, and was the cardinal's principal deputy on matters related to finances, parishes, schools, charitable projects, ministry programs, and the chancery staff of the Washington archdiocese.
Farrell has said that he never had "any reason to suspect" the multiple sex abuse allegations against McCarrick, or the payouts made on his behalf. For some journalists, that's been enough of an answer — even while Farrell has become camerlengo of the College of Cardinals at the Vatican.
Indeed, some of those lamenting Broglio's association with Sodano have in the past defended Farrell from attempts to "slime" the cardinal with a "guilt-by-association slur."
—
In the years since the McCarrick revelations of 2018, the Church has grappled with a number of difficult questions about how to move forward — how to investigate allegations against bishops, how to respond when transparency is not forthcoming, how to ensure that accountability is more than a crisis management phrase.
Both lay Catholics and Church leaders have had to ask whether McCarrick will mean any lasting and meaningful ecclesiastical reforms, and - if not - how they'll continue to live as Catholics, with trust in the promises of the Church.
And among the most difficult questions for lay Catholics and bishops is how to deal with those in leadership positions who have some affiliation with bishops now revealed to be notorious — now demonstrably negligent in office, or abusive of power.
That question isn't easy, and it continues to be important.
Should anyone who worked for a bishop of ill repute recuse himself from future leadership positions — regardless of how long ago, or under what circumstances?
How much should clerics like Broglio, Knestout, and Farrell be expected to explain about what they knew, or what they didn't? Will their critics believe their explanations? Will their supporters examine them critically?
For their part, advocates for abuse victims have taken pains in recent years to point out that abuse of power, persons, and office is not the purview of only some ecclesiastical camps — that abuse is an equal opportunity demon.
Those advocates have warned against reducing questions about abuse and cover-up to cudgels with which to discredit political adversaries. They urge that public accountability on abuse and cover-up not be sacrificed at the altar of ecclesiastical politics.
Is that an ongoing issue for the Church?
At the USCCB meeting, the disparity of coverage between Broglio and Knestout suggests as much.
Comments