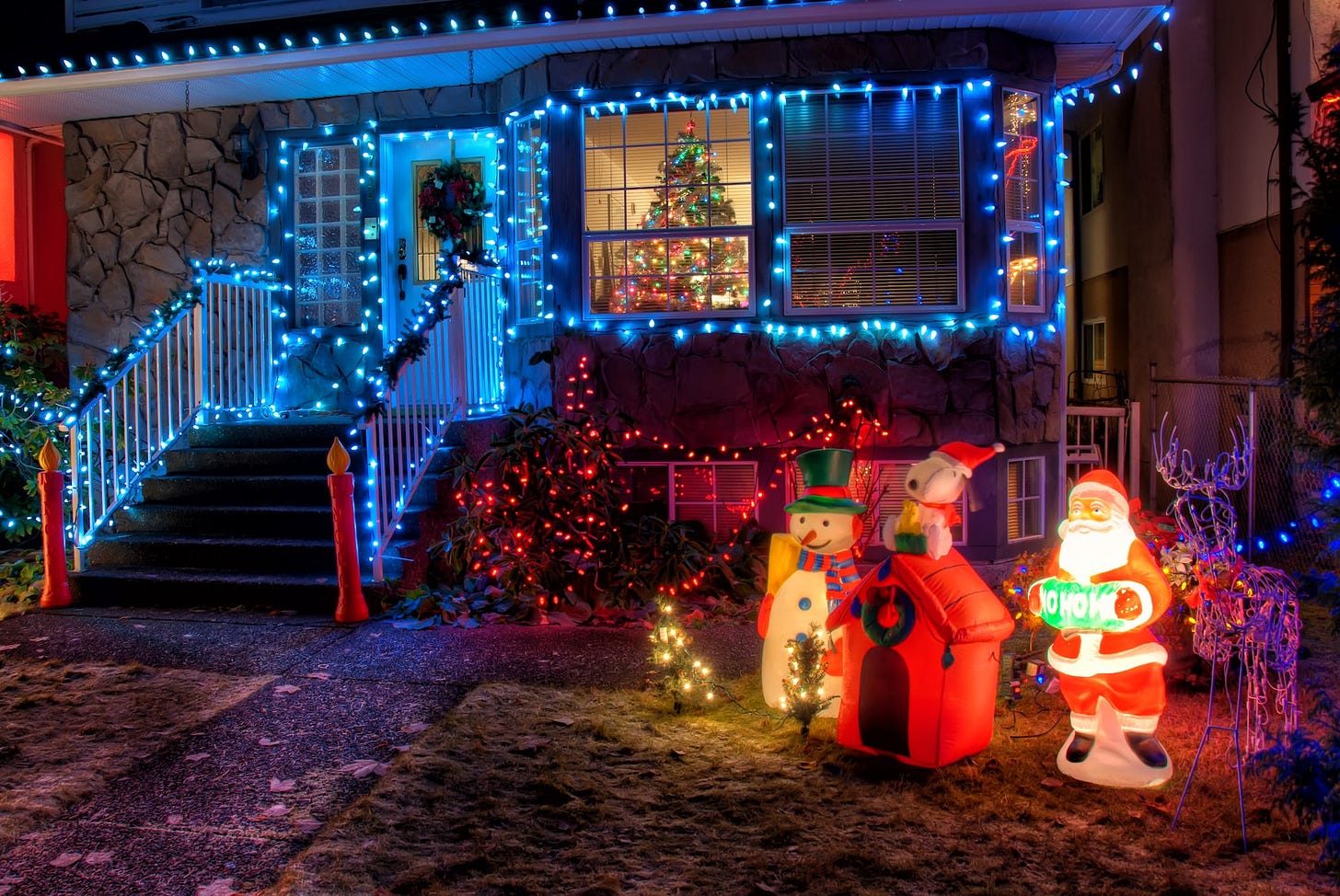 Happy Friday friends,
And a belated happy Candlemas to you all.
For those of you playing along at home, this really is the weekend where, if you haven't taken down your Christmas lights by now, your neighbors now have license to judge you for it.
Candlemas is, of course, not just some arbitrary day when your husband acquires the canonical right to forbid you playing Christmas music in the house and car (I'm kidding darling, this is just a joke), it is the Feast of the Presentation of the Lord in the Temple.
I love this feast, though I missed the chance to mark it properly yesterday, I spent most of yesterday on a plane. This newsletter is coming to you from Dallas, where JD and I (and Michelle) have come to record a podcast doubleheader at the University of Dallas today and tomorrow as part of their big Groundhog Day festivities — which I still do not fully understand, but am looking forward to learning about through immersion.
This afternoon at 4 p.m., we'll be in the Rathskeller (which is the campus bar, I hope) for a live show. Tomorrow morning at 10 a.m. we'll be taping a very special episode of the Pillar Podcast with the university president Jonathan Sanford, talking about the theory and reality of a Catholic university.
Both of these are going to be great — I didn't fly all this way not to have a good time. So, if you're within 200 miles of Dallas, you really need to start thinking about getting in the car about now. See you all there.
Or see y'all there, if you prefer. Yee-haa, etc.
📰
You're our business plan! The Pillar relies on subscribers, and subscribers rely on us. If you know good journalism is worth paying for, subscribe today – or upgrade your subscription!
There's a lot to love about yesterday's feast, not least the great prayer of the Nunc dimittis. But I love most the somewhat enigmatic reaction of Mary and Joseph to everything.
I have always been struck by the relative silence of Herself; after giving her fiat to the angel, she is most often found treasuring and pondering things in the silence of her heart. St. Joseph, of course, isn't recorded getting a single word in for the whole of the Gospels.
It's probably irreverent to speculate too much on why this all is. Maybe Our Lord just wasn't big on telling stories from his childhood. But I do think part of the wonder of the Incarnation is that it invites us to project our own humanity, just a little, onto the Holy Family of Nazareth.
For myself, I delight in the way Mary and Joseph receive the prophecies of Anna and Simeon with apparent wonderment. Both have been visited by angels and had this child's nature and purpose revealed to them. Both have given their assent to the role they were to play in Christ's life. And neither seem to know what to make of it all.
I'm sure the correct reading of the Gospel is that Mary and Joseph presented Jesus in the Temple at the appointed time because, in all things, the Christ came to fulfill the law and the Scriptures.
But part of me also likes to imagine that at some point after Christ's birth, when the Magi and the shepherds had all cleared off, Mary and Joseph looked at the child in their arms, then at each other, and asked "what are we supposed to do now?"
After a little more than a year into parenthood, it's a feeling I understand. And like them, my reaction, too, is to do what I've been taught — to bring our little family to church, to the Church, to rely on the rhythms and disciplines handed down, to trust that God will work His plan as He will, and to accept it might leave me wondering what it's all about much of the time.
Anyway, let's get to the news.
---
The News
Cardinal George Pell was laid to rest in the cathedral crypt in Sydney yesterday.
Thousands of mourners attended a Requiem Mass in St. Mary's Cathedral, including two former prime ministers, while hundreds more gathered outside to watch the liturgy on big screens.
Tony Abbott, who served as prime minister from 2013 to 2015, offered a personal testimony to Pell, hailing him as "a thinker, a leader, a Christian warrior, and a proud Australian who wanted our country, and our civilization to succeed."
"In the pulpit, from the lectern, on TV, in the opinion pages, across the dinner table, after Mass, in confession – as everyone here would know – he was always thoughtful, often charismatic, occasionally imperious, constantly concerned for the well-being of others, and a pastoral priest, who could find an echo of Christ even in the worst sinner.
"In short, he's the greatest Catholic Australia has produced; and one of our country's greatest sons," Abbott said.
I'm told by friends of Pell who attended the Mass that it was "a fabulous send-off" for the cardinal.
Outside the cathedral, others also gathered to protest Pell's "conservative bigotry," and his long career proclaiming and defending Church teaching in an increasingly secular society.
Inside the cathedral, Abbott made a joke of the vitriol outside, telling the assembly that as he heard the chant "Cardinal Pell should go to Hell," he thought "at least they now believe in the afterlife! Perhaps this is St. George Pell's first miracle."
Prior to the Requiem Mass, earlier in the week, others had gathered to protest another issue in a different way — tying ribbons around the cathedral fence in memory of victims of clerical sexual abuse. Though, as one survivor put it "many hold George Pell in such high regard. And that's OK, because he did do good things, but we believe to honor him properly, we have to be able to talk about the legacy he's left."
Pell's legacy will be debated for some time to come, undoubtedly. You can read all about it, and the demonstrations around his final farewell here.
—
Pillar reader Bishop Rick Stika of Knoxville was back in the news this week.
We confirmed new reports that the bishop told priests that a seminarian accused of sexually assaulting a parish organist had actually been victimized by the organist – essentially recasting the story so that the accused seminarian was the victim, rather than the alleged aggressor.
The allegation came in a lawsuit refiled last week, which charges that Stika impeded an investigation into the claim that a former seminarian sexually assaulted the lawsuit's plaintiff, who worked as a musician at the Diocese of Knoxville's cathedral.
We asked the diocese for comment, but none came — Stika instructed all diocesan staff last year that they should not acknowledge requests from The Pillar. Back in 2021, he also accused us of reporting "fake news" and promised that he would "sue [our] ass[es]" for reporting on the allegations against him, though no lawsuit has followed.
You can stay up to date with the story here.
—
The Diocese of Steubenville is getting an external audit of its financial viability, as part of the ongoing prospect of merging the diocese into a neighboring Ohio diocese.
The process is going to be "facilitated" by Archbishop Dennis Schnurr of Cincinnati, along with three diocesan finance officers, from Cincinnati, Columbus, and Youngstown, "in communication with the Holy See."
As we have previously reported, the initial plan to merge the diocese out of existence was formulated without local Catholics - including the priests of the diocese - being told, which triggered something of a backlash and led to the proposal being taken off the USCCB's agenda last November.
But that doesn't mean the plan has gone away, or the diocese has suddenly become a picture of viability.
Stay up to date with the whole story here.
—
📰
The Pillar covers news you won't read anywhere else. We do it intelligently and reliably, because our subscribers know good journalism is worth paying for. So subscribe today – or upgrade your subscription!
—
Since it's Catholic Schools Week, we had a long conversation this week with Bishop Thomas Daly, chair of the USCCB's education committee, about what's going well, and what's a challenge for Catholic education in this country right now.
Daly was pretty blunt on the basics, which I think a lot of people will find refreshing: "You can't have a Catholic school if you don't have it solid in its theology and if you aren't clear on its mission, especially in an increasingly secular, and at times hostile culture," he told us.
But Daly was also blunt about moves by some dioceses to convert their Catholic schools into charter schools; the Spokane bishop cited the example of the dioceses of Oklahoma, which are in the process of doing exactly this:
"I am very suspicious about this idea, because charter schools are essentially public schools with different rules. And if we lose our ability to hire and fire according to the mission of the school, we will have problems. But my fear is that charter schools will look like a quick-fix solution to dioceses, because schools were struggling after Covid.
"I am very wary, because I think that's the frog in the boiling water. You'll get so used to it, you won't realize that we've lost our schools."
You can read the whole conversation with Daly here, and you should.
But since the bishop brought up the example of Oklahoma, we went and asked the Archdiocese of Oklahoma City about the plan, and what they saw and the needs for it and benefits from it.
They told us they had a special eye on Catholics that live in rural areas, especially where there aren't brick-and-mortar Catholic options for them to choose — in Oklahoma, you have to be a charter school to offer virtual programs, and charter schools are defined as secular, so the archdiocese doesn't see another way offering something for these communities.
"Entanglements are a concern for any mode of school choice whether tax credit scholarship, income tax credits, ESAs, or any other," their Director of Catholic Education told us. "The question is whether the statutory framework in the state is favorable both to education choice and to protection of religious liberty. The answer to both of those in Oklahoma is yes."
"Our biggest concern is school choice in general: giving parents the right to choose the school with the program that best meets the needs of their kids. They should not have the choice made for them based on a zip code, nor should they have to pay twice for the type of education they want for their children, or have it excluded because it is religious in nature .
"What is most important is parents having the choice and then having the resources to follow through on that choice."
This is a conversation that I think is going to carry on for some time. Get started here.
—
This weekend in Prague is the start of the European continental meeting of the synod on synodality. If that doesn't immediately grab you as an important event, it should.
The continental assemblies are the last phase of the global synodal process before the synod of bishops meets in Rome beginning in October.
Europe — through the German bishops' conference, aided by other thriving international powerhouses of evangelical zeal, like Belgium and Luxembourg — has been at the bleeding edge of calls for radical reform to Church teaching and discipline under the aegis of the synod.
But also at the assembly will be delegates from Poland and other countries that have steered a much more faithful process of engagement with Pope Francis' calls for a root and branch conversation within the Church, and expressed real reservations about how the synod is playing out.
In an analysis this week, Luke Coppen looked at what to expect from the meeting — is it going to be a big showdown between two wings of the Church? Or is the whole thing likely to be a stage-managed stitch-up, with the assembly's final recommendations carefully choreographed in advance?
Remember that it was just the other week that the synodal secretariat in Rome had to issue a worldwide letter on the process, underlining the importance of the bishops' own authority in the process and trying to squash concerns of a plot "to impose an agenda on the Synod, with the intention of steering the discussion and determining its outcome."
Put simply, what happens at the meeting beginning this weekend will show how real those concerns are, and how seriously the synodal secretariat's reassurances can be taken.
This matters, read all about it.
—
The war in Ukraine continues, and we cannot allow ourselves to forget it — the suffering of the people there is real and urgent.
And, as we have been reporting since before Russia's full-scale invasion actually began, the religious dimension to the conflict is key to understanding it.
The Russian Orthodox Church, under Patriarch Kirill, has been a key supporter of Russian aggression, and cloaked President Vladimir Putin's invasion in the language of a Christian war of good against evil — with incredibly complicated consequences for the ecclesiastical landscape, both in Ukraine and worldwide.
But it would be wrong to assume that Kirill is the only voice or viewpoint in the Church he leads. This week, Filipe d'Avillez spoke to Bishop Petru Pruteanu, who is the leader of the Russian Orthodox in Spain and Portugal — and he had a very different assessment to offer.
Despite being consecrated a bishop by Kirill, Pruteanu called the war "nothing short of scandalous."
"Nobody thought this could happen in the 21st century, especially between countries with the same ethnic background and the same religion," he said.
Pruteanu talked to us about the history of the Russian Orthodox Church in Europe, and the geopolitics of the Russian-Ukrainian border, which is essential reading if you want to understand where we are and how we got here. He also has some very nuanced opinions and interesting experiences, serving as a ROC bishop in Western Europe during the conflict, and how he has tried, and sometimes been blocked, from showing solidarity with Ukrainian refugees.
I urge you to read the whole conversation.
---
As evil does
While I was in London earlier this week, a radio show I used to appear on infrequently asked me if I was free to discuss the concept of "evil" with specific reference to the war in Ukraine and Russian President Vladimir Putin.
For those of you unfamiliar with "The Moral Maze," the basic premise is a regular panel take turns interviewing guests on the topic du jour, and the questioning is meant to be somewhat inquisitorial.
Your line of reasoning and your personal beliefs are probed and taken to extreme conclusions to see where the limits of your argument lie, and to inform the panel's discussion at the end of the show. In my case, I tried to lay out my belief that evil was a real, objective, and observable phenomenon.
I argued that calling a particular person "evil" was a bad idea because it tends to dehumanize them, and dehumanizing your neighbor is a hallmark of evil itself, which I tried to define for the secular panel as the opposite of the mandate to love your neighbor as yourself. But, I said, every person is possessed of free will, and capable of cooperating in, facilitating, or voluntarily committing acts that we can, absolutely, call evil — and I gave some topical examples.
There are, of course, gray areas, and degrees of evil, I conceded under questioning. But hiding behind situational complexity and refusing to denounce evil where we see it — and especially where we see it beginning — is the surest way to allow it to flourish under our very noses.
I wish I had read this article before I went on as a case in point.
Apparently, the Massachusetts legislature is to consider a bill that would allow prison inmates to become organ donors, which they are currently prohibited from doing, even for family members.
So far, so reasonable, I guess. I'm not a medical ethicist, but I can see where there's room for a conversation here if you are in jail and your brother needs a kidney.
Where it gets bad, fast, is that the bill also proposes that inmates could qualify for early release — up to a year "on the condition that the incarcerated individual has donated bone marrow or organ(s)."
First of all: "organ(s)" plural?
Second: What?
The proposal, however framed, that prisoners be encouraged to commute their sentences with a literal pound of flesh is so macabre as to beggar belief.
Leaving aside the utterly dystopian premise, it takes less than a minute, and even less imagination, to see where this would lead. Imagine, for example, how someone separated from their families, perhaps young children, might feel the coercive need to get home to them as soon as possible, by any means necessary.
You might think that this is all overblown, and the idea of prisons turned into organ farms is absurd, and no one would think of allowing prisoners to be coerced into trading their organs to free the rest of themselves.
But consider that in countries like Canada, euthanasia has already proven a major source of donor organs — despite ever more vocal fears about how the disabled, the chronically infirm, and even the poor and mentally unwell are being steered towards ending their own lives.
You might think that would give any rational person, let alone a moral actor, pause. Yet the director of the Centre for Professional and Applied Ethics at the University of Manitoba has said he's "rather proud that Canada has done so well in terms of organ donation by MAID patients."
Many cannot, it seems, see the problem here.
For myself, it's obvious that we are looking at the most vulnerable, fragile, marginalized, and captive among us and pricing them up for parts. And that is evil.
If we do not say so — shout so — we cannot be surprised as we watch that evil spread and grow with a gathering, malignant momentum.
See you next week.
Ed. Condon
Editor
The Pillar
Comments