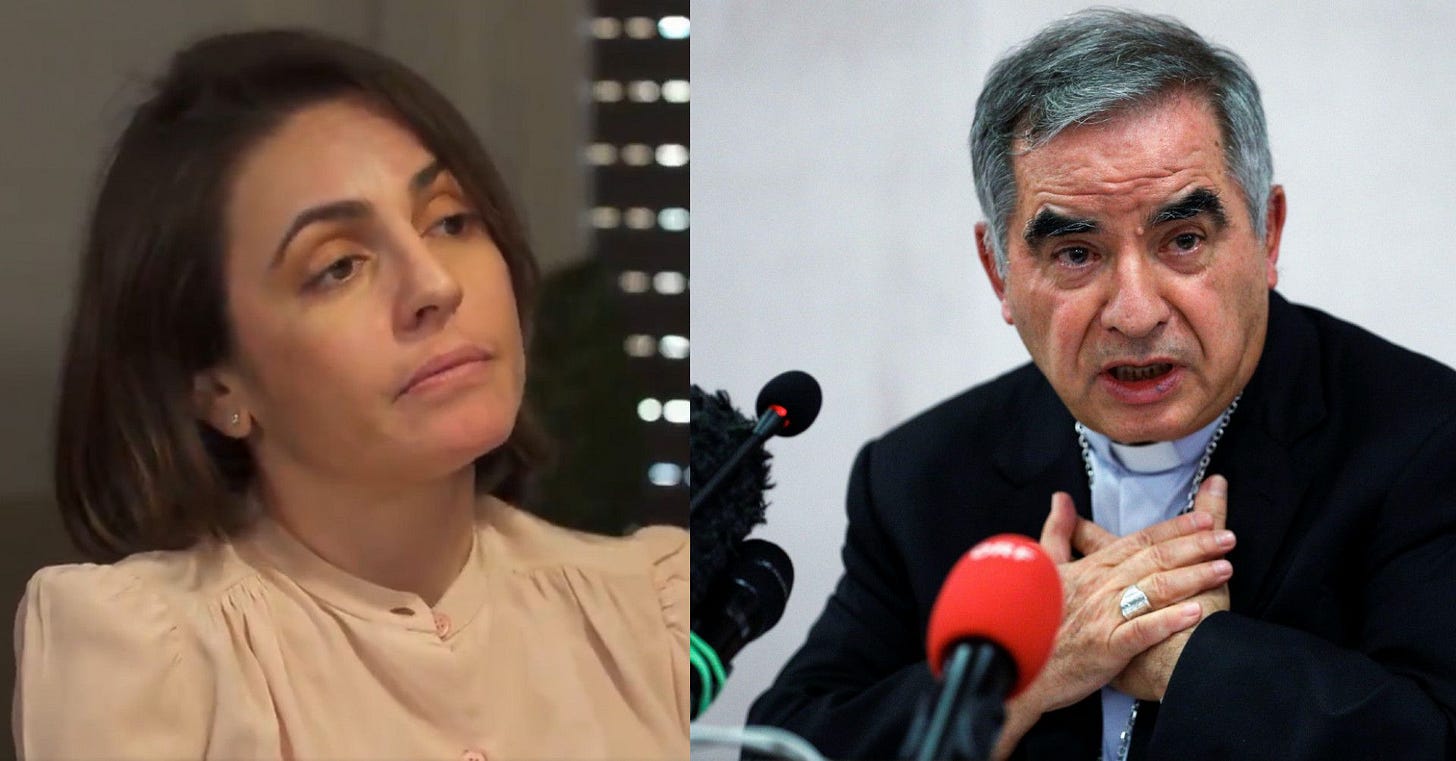 Cardinal Angelo Becciu offered to personally reimburse the Holy See for funds paid to Cecelia Marogna, the Vatican City court heard on Wednesday.
In testimony from the cardinal, and from a senior Vatican police officer, judges in the Vatican's sprawling financial crimes trial heard that Becciu made the offer after he was informed Interpol had flagged payments to Margona, the self-styled international security consultant and private spy, which had been authorized by the cardinal.
According to Stefano De Santis, a senior officer in the Vatican City's corps of gendarmes, he and Vatican police chief Gianluca Broccoletti visited Becciu at his Vatican apartments in early October of 2020, at the cardinal's request, to update him on their findings regarding Marogna.
De Santis told the court that he and Broccoletti informed the cardinal that Interpol had flagged a series of payments totaling some 575,000 euros to Marogna's Slovenian-registered company, which had been spent primarily on luxury goods and hotels.
According to the police investigator, Becciu offered to repay the funds from his personal account at the IOR, a Vatican bank, and asked them to keep the matter confidential because it would cause "serious harm" to the cardinal and his family.
Marogna, who is charged with embezzlement during the current Vatican trial, has not presented herself in court and successfully fought against extradition to the Vatican in 2021. She claims she worked for the Secretariat of State on sensitive diplomatic cases, like those of kidnapped clergy and religious, while also boasting of work as a kind of personal spy for Becciu, gathering dossiers of information on the private moral failings of other senior Church officials.
Becciu has said that the payments to Marogna were to help secure the release of Sr. Gloria Cecilia Narváez Argoti, a Colombian religious sister abducted in 2017 by jihadist militants in Mali, and freed last year. The cardinal previously told the court that Pope Francis personally approved the payments to Marogna under strict state secrecy.
The Italian foreign ministry and intelligence services have taken credit for Narváez' freedom and have previously rejected claims that Marogna was a joint agent for the Vatican and Italian governments.
After De Santis' testimony to the court on Wednesday, Becciu offered a spontaneous statement to the court saying that while senior Vatican policemen had come to his apartment on Oct. 3, 2020, he had not asked them to.
He also conceded that he offered to repay the money sent to Marogna and asked for the matter to remain confidential but, he said, this was not out of concern for himself or his family, but for Pope Francis, who had approved the operations with Marogna.
Becciu told the court that although he had been willing to take personal responsibility for any embezzlement by Marogna, the police had told him he and the Vatican were victims of a "swindle" by the consultant.
The meeting between Becciu and the Vatican police at his apartment took place a week after the cardinal was sacked from his curial posts by Pope Francis and forced to resign his rights as a cardinal, after the pope was presented with a preliminary report from prosecutors on their investigation into Becciu.
In July 2021, Becciu was formally charged with abuse of office, embezzlement, conspiracy, and subornation of witnesses.
In previous court sessions, he has sought to explain his relationship with Marogna, as well as his role in the Secretariat of State's complicated financial affairs.
The cardinal, who served as sostituto at the Secretariat of State from 2012 to 2018, has previously said that Pope Francis had approved "every step of the operation" with Marogna and insisted on total secrecy.
The operation, according to Becciu, had a budget of up to a million euros to be paid through Marogna to a U.K.-based consultancy firm The Inkerman Group, which provides "protection," "risk analysis," and "intelligence services" to private clients.
But financial records show that the hundreds of thousands of euros Marogna was paid by Becciu, were spent on designer-label fashion items, luxury goods, and high-end resort hotels around the world.
In a 2020 interview with the Italian newspaper Domani, Marogna said that her work for the secretariat had involved the use of London-based brokers, adding that the sums of money she was paid - 500,000-600,000 euros - was "small change."
"I can also tell you that Becciu and I weren't the only ones running certain businesses," she said at the time.
According to previous testimony from Msgr. Alberto Perlasca, a former official at the Secretariat of State and star witness for the prosecution in the current trial, Becciu continued to authorize payments from the secretariat to Marogna even after he left the department in June 2018.
Perlasca has told Vatican investigators that Becciu ordered him to prepare large sums of cash for him and to transfer money to Marogna's bank account, but the cardinal would not discuss the purpose of the payments and Perlasca himself did not know Marogna's identity until it was revealed to him by prosecutors during their investigation.
Perlasca has also said that Becciu "was extremely troubled" on learning that Perlasca had discussed the payments with investigators and "became very angry with me."
"He asked me 'Why didn't you eliminate the transfers [from secretariat records]?' I said 'Why should I have eliminated them if they were ordered by His Holiness?'"
On a separate occasion, Perlasca recounted asking Becciu what the money was for and being told "that the 500,000 we gave was more of a 'contribution,' because [Marogna's] request was much higher, it was millions ... it was millions, it was three or four million, something like that."
"I said [to Becciu] 'Look, but how long and for what did we give her this money?' 'Eeeeeeh! We can talk about that in four or five years,' he told me."
Last month, after being invited by Pope Francis to attend the consistory of the college of cardinals in Rome, Becciu publicly stated that the pope would rehabilitate him and restore his rights and privileges as a cardinal in the near future. To date, the pope has yet to do so.
Becciu and Marogna are two of 10 defendants in the landmark financial crimes trial underway in Vatican City. The trial is the result of a two-year investigation by prosecutors into the financial affairs of the Secretariat of State.
The investigation was triggered by a complaint by the leadership of the IOR, which the secretariat pressured to approve a 150 million euro loan to finance the purchase of a London property development.
The hearings, now in their second year, are due to continue later this month.
Comments