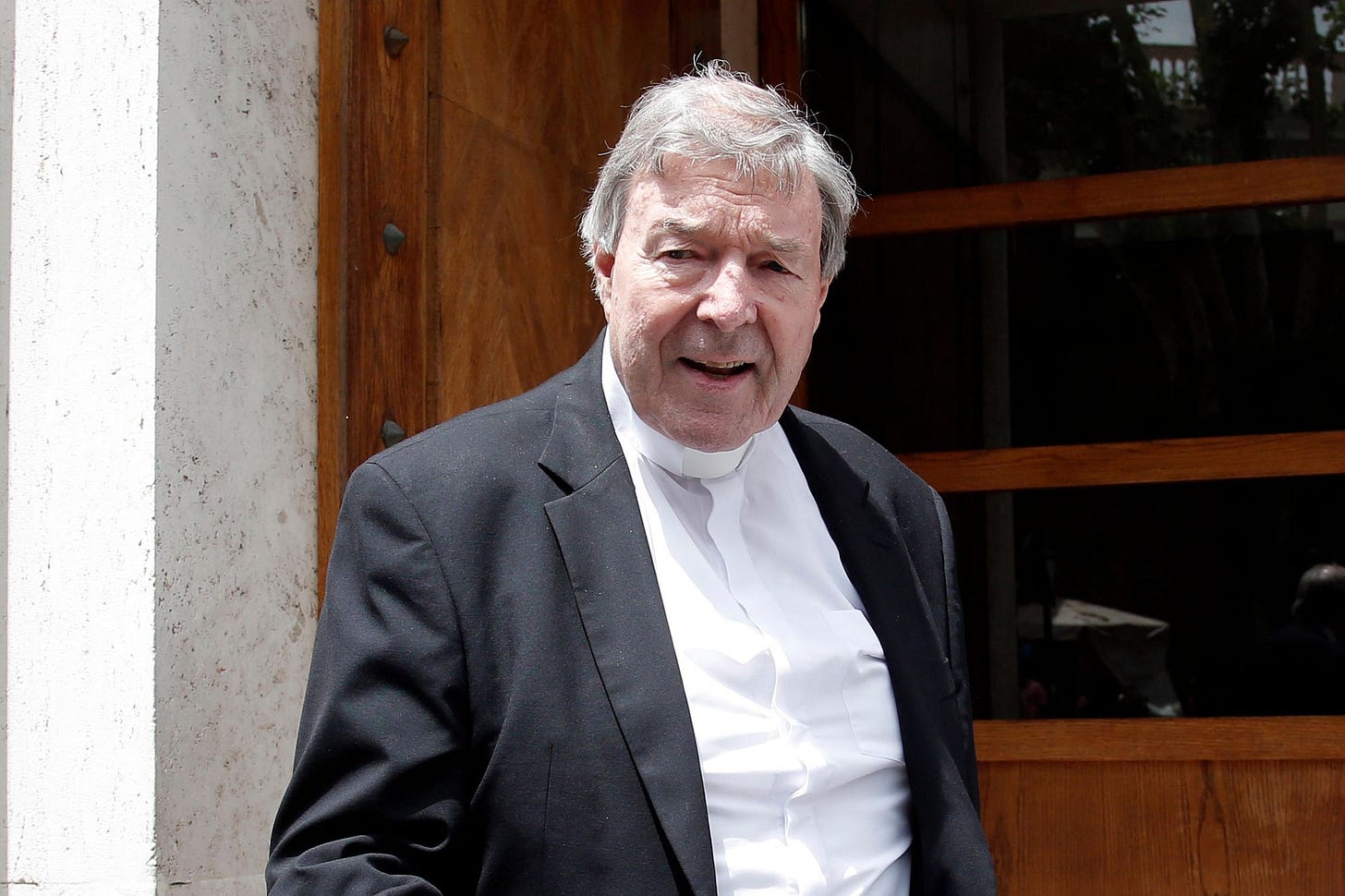 Cardinal George Pell was, in life and in death, a polarizing figure.
After Pell's death on Tuesday, tributes to the churchman have poured in from around the world. But in Australia, the cardinal's critics marked the occasion by denouncing Pell, repeating long-standing charges of the cardinal's tenure in Australia.
As a bishop in Australia, Pell was well-known among Catholics around the world as a strident defender of the Church and the faith in the face of secularism. And following the election of Pope Francis, the cardinal was charged with leading the pope's efforts to combat financial corruption in the Vatican, making him a truly global figure.
But he was also controversial in his home country. His unflinching defense of Catholic teaching on issues like marriage and human sexuality made him a magnet for criticism from secularists and social progressives.
And as the country's most visible and most senior bishop, Pell also became for many the face of the Church in Australia, as it faced both its own reckoning with the clerical abuse scandal and a Royal Commission investigation into institutional responses to child abuse.
That impression was reinforced when Pell faced his own accusations of abuse — accusations which he successfully refuted in court, but which continue to be touted in the media as a stain on his character and legacy.
Whatever Catholics conclude about Cardinal Pell, it's probably helpful to have the facts. So The Pillar breaks down what's known - and not known - about some of the most well-known criticisms of Cardinal Pell.
📰
'The Pillar' covers news you won't read anywhere else. We do it intelligently and reliably, because our subscribers know good journalism is worth paying for. So subscribe today – or upgrade your subscription!
Ballarat, Ridsdale, and 'that photo'
Born in the Diocese of Ballarat and ordained in 1966 a priest there, in the 1970s Pell spent 12 months living in a seminary where Fr. Gerard Ridsdale also lived. Ridsdale was later found to be Australia's most prolific clerical abuser, with more than 130 victims.
Pell has said since that he was unaware of Ridsdale's crimes at the time, but that Bishop Mulkearns knew about them, and that the bishop moved the priest from assignment to assignment despite allegations against him.
Mulkearns gave Ridsdale "chance after chance after chance," Pell told Australia's Royal Commission in 2016, and "initially at least, trusted excessively in the possible benefits of psychological help."
Pell called his former bishop's actions "a catastrophe for the victims and a catastrophe for the Church."
"I'm not here to defend the indefensible," Pell told the commission. "If effective action had been taken earlier, an enormous amount of suffering would have been avoided."
Because Pell had a role in diocesan administration - serving for a time as a episcopal vicar for education - some media coverage has insisted Pell must have known about Ridsdale's crimes at the time the priest was being reassigned. The cardinal always denied it.
But Pell faced enduring criticism for appearing in court with Ridsdale during his abuse trial in 1993, by which time Pell was auxiliary bishop in Melbourne. And a photo of Pell walking into court with Ridsdale - Australia's most notorious priest abuser - has long featured prominently in media coverage of the cardinal — with critics saying it demonstrates Pell's callous attitude toward abuse victims.
In 2012, Pell was asked about his decision to go with Ridsdale to court, despite insisting that he "was not in any sense a close friend of his."
Pell told a reporter that he often appeared in court with parishioners when asked to, as a matter of principle: "I always said, 'I am here just to say that there is a good side to this person, and I support them to the extent that is compatible with justice.'"
"I said I would only do that [in Ridsdale's case] on the condition I would say that I don't dispute the allegations. I don't dispute the good faith of the victims," Pell said. But the cardinal also admitted: "I didn't realize then what a wrong impression it would give to the victims."
"At that stage, none of us, or at least I, had no idea of the enormity and the number of Ridsdale's crimes."
As Pell noted, when the photo was taken, Ridsdale was pleading guilty to charges of abuse, though the full extent of his crimes was not yet known.
The priest was initially sentenced to 12 months in prison. But the following year new charges were filed against him. He faced a series of trials over the next two decades and remains in prison today.
In 2017, the Royal Commission released a report on its five year enquiry into sexual abuse of minors in the country and institutional responses, but redacted the sections of the report relating to Pell until the conclusion of his criminal trial.
The redacted sections were published in May 2020, following Pell's acquittal by the country's High Court, and concluded that Pell knew about the abusive activities of two priests during his time as a priest, and had failed to stop them — one of them being Ridsdale. The commission decided that, as a member of Mulkearns' presbyteral council, Pell must have learned about Ridsdale's crimes during discussions about clerical reassignments.
In response, Pell said the commission's findings were "not supported by evidence," again denied having any such knowledge, and pointed out that other former members of the priests' council had testified they had no knowledge of the accusations against Ridsdale at the time, and had been deceived by the bishop.
In 2017 Pell had told the commission that he "would never have condoned or participated in a decision to transfer Ridsdale in the knowledge that he had abused children, and I did not do so."
The Melbourne Response
During his three appearances before the Royal Commission, Pell was frequently questioned about the Church's failures to take the issue of abuse seriously, act to remove predators from ministry, and care for victims.
But while Pell was forthright in addressing the "enormous mistakes" made by Church leaders in previous decades, he also highlighted the work that had been done to remedy them.
In 2016, Pell noted that "there are very few countries in the world who have advanced as far as the Catholic Church has in Australia in putting procedures into place nearly 20 years ago."
And many of those procedures were implemented by him.
Pell became Archbishop of Melbourne in 1996. Within his first four months in office he established a new policy to respond to victims of clerical sexual abuse.
The program was called the "Melbourne Response." It created an independent body to which victims of abuse could come forward and have their claims investigated. The independent body was also responsible for issuing apologies to victims on behalf of the Church, and provided them with counseling and financial compensation.
In later years, including during the Royal Commission inquiry, the Melbourne Response was criticized for the amount offered to victims — initially capped at around $50,000 and later rising to $150,000.
But Pell could claim credit for creating in 1996 an independent commission to investigate claims and compensate victims, and for doing so years before most dioceses recognized the scope and scale of the historical abuse crisis, or formulated their own responses. And some bishops say that Melbourne became a template when formulating their own policies.
📰
You're our business plan. The Pillar relies on subscribers, and subscribers rely on us. If you know good journalism is worth paying for, subscribe today – or upgrade your subscription!
On trial
In 2017, Cardinal Pell took a leave of absence from his role overseeing Vatican finances to return to Australia, where he was put on trial for sexual abuse charges dating back to his first days as Archbishop of Melbourne.
The event made global headlines. But the trial began with a years-long investigation into Pell begun by local police in 2013.
That investigation, dubbed Operation Tethering, was open-ended and begun without suspicion of Pell having committed any specific crime. No alleged victims had come forward when the investigation began, and no criminal complaints had been made against him.
In 2014, senior police officers in Melbourne exchanged emails discussing how the investigation could be used to generate headlines against Pell, in order to derail media coverage and public outcry at a major mafia informant scandal engulfing the force at the time.
By 2015, still without any alleged victims or criminal complaints, the operation was extended and given more funding.
In 2018, Pell was convicted of sexually abusing two members of the choir in the Melbourne cathedral sacristy after a Sunday morning Mass in 1996.
The conviction was initially upheld on appeal in 2019. After the charges against Pell had been announced, a court order prevented any mention of the case, the result, or the evidence against Pell in the media.
But some journalists reported the details anyway: Pell was accused by a single individual, one of his two supposed victims — the other, who died in 2014, had denied he was abused before his death.
The alleged victim charged that Pell, while fully vested and standing in the cathedral's open plan sacristy at its most crowded time of the week, physically restrained and raped two teenagers in a window of mere minutes.
The jury was not allowed to hear any evidence which might impune the personal credibility of the accuser, including any criminal record.
The prosecution offered no corroborating witnesses or evidence.
It was proven in court that because of cathedral renovations, Pell only celebrated the 10:30 Sunday Mass twice during the months given by prosecutors for when the attack was supposed to have taken place, and he would have supposedly attacked the boys after one of his first Masses in the cathedral as archbishop.
Pell's defense team produced dozens of witnesses saying that Pell was highly visible after Mass on both of the Sundays given as possible dates for the assault. On one of the days, he was seen by several people on the cathedral steps after Mass.
On both possible dates of the abuse, witnesses testified that the choir had taped a Christmas performance immediately after the Mass, meaning the two teenagers would have been immediately missed by choir directors if they had been waylaid by Pell.
After months of hearings, Pell's first trial ended with the jury deadlocked 10-2 in favor of acquitting the cardinal, and a retrial was immediately convened. It convicted him in a matter of weeks.
While reports on the verdict began to circulate in the international media, the court gag order remained in place in Australia.
But even before charges were filed against Pell, some local journalists had predicted the cardinal would be unlikely to get a fair trial.
In 2015, one prominent commentator argued that Pell was the victim of a "modern-day witch hunt" and that "the lack of balance in the media's reporting of child sexual abuse in the Catholic Church reflects the fact many journalists detest Pell's conservatism."
Indeed, in the week before Pell's conviction, another Australian court overturned the conviction of the former Archbishop of Adelaide, Philip Wilson, on charges he failed to report complaints of sexual abuse. The judge in that case noted the possibility of undue media influence and anti-Catholic bias on the verdict.
Judge Roy Ellis ruled that media coverage of that case "may amount to perceived pressure for a court to reach a conclusion which seems to be consistent with the direction of public opinion, rather than being consistent with the rule of law that requires a court to hand down individual justice in its decision-making processes."
"The potential for media pressure to impact judicial independence may be subtle or indeed subversive in the sense that it is the elephant in the room that no one sees or acknowledges or wants to see or acknowledge," the judge said.
"It is not for me to punish the Catholic Church for its institutional moral deficits, or to punish Philip Wilson… simply on the basis that he is a Catholic priest."
When Pell's conviction was overturned by the High Court of Australia in 2020, the judges found that a jury "acting rationally" would not have found enough evidence to convict him.
Comments