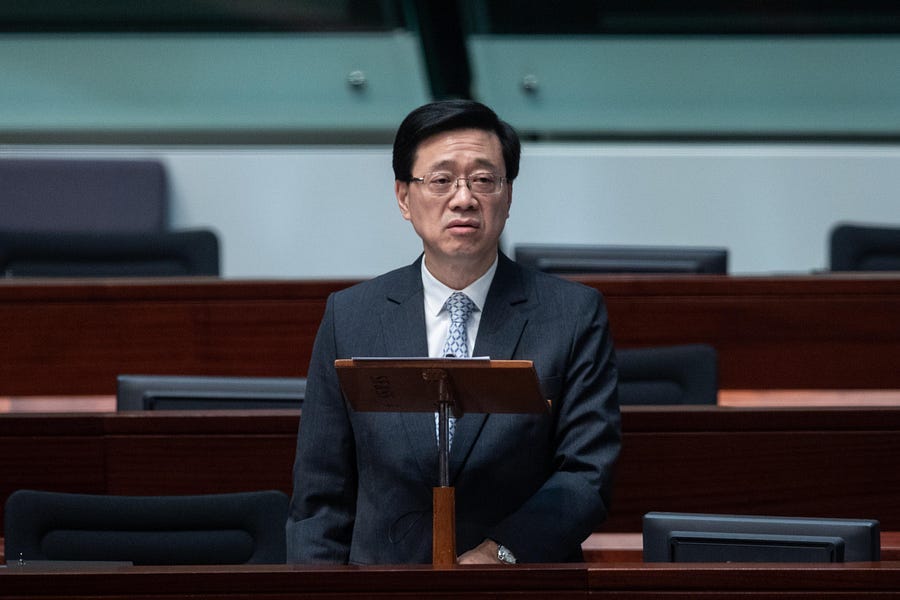 Hong Kong's chief executive promised Wednesday to crack down on civil liberties and press freedom in the region, as he aims for "faithful adherence" to the National Security Law imposed in 2019 on Hong Kong by Chinese authorities in Beijing.
John Lee Ka-chiu, who is Catholic, said he will enact new security measures that will pushback against anti-Beijing and free speech demonstrators in Hong Kong, and keep local political groups from working with foreign governments.
The changes announced by Lee are likely directly linked to the trial of Cardinal Joseph Zen, who is on trial for his involvement in a charity which provided support for imprisoned pro-democracy demonstrators.
Lee says that policy changes will aim to better implement Article 23 of Hong Kong's Basic Law, the territory's governing constitution, which binds the Hong Kong government to pass laws opposing "treason, secession, sedition, subversion" against the mainland government, and to "prohibit political organisations or bodies of the Region from establishing ties with foreign political organisations or bodies."
The chief executive announced the coming crackdown Oct. 19, in the first policy speech he's made since taking office in July, when Lee succeeded former Chief Executive Carrie Lam, also a Catholic.
Lee specifically committed on Wednesday to regulating fundraising by and in support of political demonstrators, both online and by other means — the kind of fundraising Cardinal Joseph Zen has been accused of conducting in the region.
Zen, emeritus bishop of Hong Kong, is in the midst of a criminal trial in Hong Kong, after he was charged in relation to his role as a trustee for the now-closed 612 Humanitarian Fund.
Prosecutors allege the organization, which provided financial and legal aid to people arrested during mass demonstrations in 2019, failed to properly register itself with the government.
Zen and several other trustees were arrested in May under the terms of the National Security Law, over alleged collusion with foreign agents via the 612 Fund. His trial is set to resume later this month.
Lee was the sole candidate for chief executive in the election held in May of this year. Thousands of riot police were deployed ahead of the election to prevent demonstrations against Lee's election.
During his campaign for office, Lee, who previously served as Hong Kong's security secretary, credited his Jesuit education for his drive to "help society as a whole."
"I think we have to create a caring and inclusive society for everybody," Lee said in May. "I am in fact practicing this principle in my manifesto and in my future governance."
Lee also said during his campaign that new security measures would not be a "priority" for his administration.
But, that campaign statement notwithstanding, in addition to his promised crackdown on dissident voices, the politician hinted Wednesday at new restrictions on press freedom in Hong Kong, saying he wants to study new measures against "false information."
The National Security Law came into force in Hong Kong in 2020. It criminalized many forms of free speech, both by individuals and in the press, leading to the arrest and imprisonment of dozens of prominent pro-democracy activists, former legislators, and media figures, many of them Catholic.
Lee said in May that those jailed for pro-democracy protests in recent years should be given "a chance to reintegrate back into society after serving their sentences," and that "the government, the public, different organizations, NGO bodies, charities and businesses are happy to offer help."
Such individuals would include Agnes Chow, the Catholic pro-democracy activist who was released from jail in June last year after serving a six-month prison sentence for attending an "unlawful" assembly in 2019.
Chow, 25, was convicted of attending public protests against a law that would have allowed for political prisoners to be extradited to mainland China to face trial in some circumstances. Prior to her imprisonment, Chow was banned from standing in Hong Kong elections following the election reforms and accused of "sedition" under the terms of the National Security Law.
Currently in prison is Jimmy Lai, the Catholic media tycoon and former publisher of the now-closed newspaper Apple Daily.
Lai was handed a four-month sentence for attending a Christian prayer vigil in August 2019, on top of a one-year term after he pled guilty to making public statements judged to have invited foriegn interference in Hong Kong affairs by allowing his paper to highlight the erosion of civil liberties in Hong Kong.
He also faces charges under the National Security Law for encouraging Hong Kongers to participate in a banned Tiananmen Square Massacre memorial vigil in 2020.
Despite the arrest and imprisonment of prominent political and media figures, Lee told a campaign event in May that journalists in Hong Kong could "go about their media work" with "maximum freedom," and blamed international actors for attempting to subvert Hong Kong's government and society.
Comments