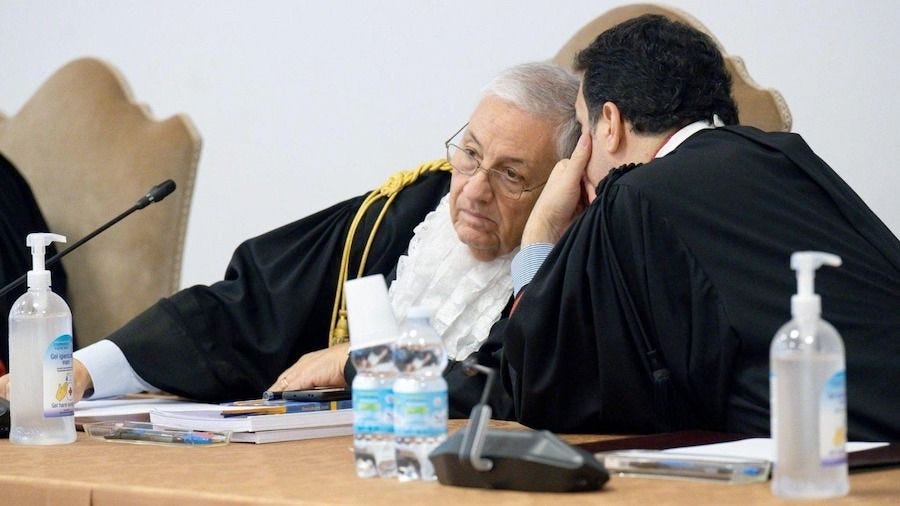 The Vatican finance trial was marked last week by two very different days of testimony. One centered on fiscal data about Vatican investment projects, and the other was more like the stuff of soap operas – testimony focused on personality conflicts, conspiracy theories, and an emotional statement from Cardinal Angelo Becciu, who stood in the courtroom to accuse a witness of pursuing a vendetta against him.
While the court considered the ins-and-outs of complicated financial agreements which cost the Holy See hundreds of millions of euros, it also heard a series of often-outlandish accusations leveled between some of the figures involved in the trial.
In short, hearings on Jan. 12 and 13 were two very different days in the courtroom. And The Pillar knows that some readers prefer the facts about the money, while others want a Bravo-style showdown – Watch what happens!
So we've decided to let you choose your own Vatican trial coverage.
Click here for serious coverage of Jan. 12's detailed fiscal testimony on the London property deal.
The London deal
The Vatican City court heard Jan. 12 testimony from Manuele Intendente, a lawyer formerly employed at Ernst & Young who first introduced Gianluigi Torzi to the Secretariat of State in 2018 during meetings with Enrico Crasso, a former Swiss banker and Vatican investment manager, and Fabrizio Tirabassi, a former official at the Secretariat of State.
Torzi, Crasso, and Tirabassi are all defendants in the current trial.
Torzi was employed by the secretariat to convey ownership of the London building at 60 Sloane Ave, which the Vatican acquitted as part of its terms of separation from Rafaele Mincione, the investment manager with whose Global Opportunities Fund the Secretariat of State had invested some 200 million euros in 2014.
The Vatican has called Mincione's management of its money "speculative," and a "conflict of interest, but the businessman has insisted the Vatican would have realized a profit from his fund had it not withdrawn its investment early.
At the time of the separation in late 2018, ownership of the building was transferred to Torzi's Luxembourg holding company, and the company was meant to be turned over to the Vatican — instead, Torzi restructured the shares of the company, handing the Vatican a theoretical majority stake but keeping control of the company, and therefore the building, for himself. Torzi is accused of blackmailing the Holy See for millions of euros for control of the building.
Intendente told the court on Thursday that while he had introduced Torzi to representatives of the Secretariat of State, he had not had any say in the decision to appoint him, though had played a role in arranging the Vatican's separation from Mincione.
The Pillar has previously reported that company records show at the time Torzi is accused of extorting the Vatican for control of the building for which they paid some 350 million euros, he made Intendente a director of the holding company he was using to commit the alleged extortion.
Previous reporting has also established that Torzi and Mincione, who is also a defendant in the trial, had a long history of business dealings. Mincione invested Vatican money in debt products marketed by Torzi, some with links to mafia-affiliated companies.
Mincione invested Vatican money into one such debt product called Sierra One bond, while Torzi, in turn, used his companies to lend Mincione tens of millions of euros during the same period.
While he was questioned by prosecutors as a witness on Thursday, Intendente appeared to give intentionally vague answers about his involvement in the deal and the details of how it was structured, prompting the judges to twice warn him to be more candid.
At one point during the testimony, chief judge Giuseppe Pignatone reminded Intendente that he was appearing as a witness and not a defendant and that prosecutors had already made the decision not to charge him — prompting the promoter of justice, Alessandro Diddi, to interject that "We came close."
—
Intendente also told the court Thursday that in initial discussions about the Secretariat of State withdrawing early from Mincione's fund, the plan was for ownership of the London building to be passed to Centurion, the controversial fund managed by Enrico Crasso for the Secretariat of State.
Vatican media called Intendente's testimony about that proposal "previously unpublished." But it was actually central to evidence Torzi gave to UK courts in 2020 and 2021, when the businessman successfully appealed both a court-ordered asset freeze and his extradition to the Vatican.
A judicial decision issued in March 2021 recorded Torzi's claim that Crasso and Tirabassi had allegedly pressured him to sell the management of Gutt SA to the Centurion Fund to give them control of the building.
In fact, Torzi claims that Crasso and Tirabass threatened his life and his family when he refused to sell the management rights.
Torzi claims that Crasso and Tirabassi were direct.
He alleges they told him: "You either give up the property and go away, or your life and that of your children is at risk."
According to a leaked audio recording of the 2018 meeting between the men, Torzi had demands of his own. The businessman demanded that Crasso and Tirbassi arrange for the Vatican to invest millions of euros in a real estate bond he was marketing, called Augusto.
"Tomorrow if you don't buy Augusto I'm in the shit," he told Tirabassi and Crasso, according to the recording. He later offered to drop the amount he demanded to 8 million euros.
The Pillar has previously reported that Torzi had to sell the Augosto bond to repay an Italian insurance company from which his companies were accused of expropriating millions.
Several of the same companies involved in the missing millions were used by Torzi to lend money to Mincione.
If you want every detail from Friday's tense, surprising, and strange day in the courtroom, click here.

On Friday, Jan. 13, the court heard from Francesca Chaouqui and Genoveffa Ciferri.
Both women claim to have helped Msgr. Alberto Perlasca, the prosecution's star witness, as he drafted the evidence he offered to prosecutors in 2019 and 2020, during the early stages of the investigation into Cardinal Angelo Becciu.
But Ciferri and Chaouqui offered often-contradictory and often emotional accounts of how they apparently worked with Perlasca to prepare him to give evidence to prosecutors.
Their day in court involved accounts of alleged attempted murder, claims of a secret anti-Becciu podcast produced for the pope, and a long unexpected monologue from Becciu, in which the cardinal read aloud from emails in which he accused the pope of meddling in the case – and in which the pope, according to Becciu, apologized for meddling.
It was a strange day.
Two women and a 'little fox'
Genoveffa Ciferri is a retired analyst for Italian intelligence agency DIS and was a longtime friend of Perlasca.
She told judges Friday that in 2019 she had become concerned about her friend, whom she called "volpetto" - the little fox - because in that year the Vatican's internal financial institutions had begun to square off against each other amid fallout from the Vatican's failed London investment.
Ciferri told the court that in July 2019, the same month Pope Francis authorized a criminal investigation into the Secretariat of State's finances, she met with Cardinal Becciu — currently on trial for embezzlement, abuse of office, witness intimidation, and conspiracy — to advocate for Perlasca. Cifferi said that Perlasca wanted to cooperate with investigators at that time, but was stuck "under the heel" of Becciu.
At the time, Perlasca was head of the Secretariat of State's administrative office, which handles the department's financial affairs. He reported to Becciu until June of 2018, when Becciu was promoted to lead the Congregation for the Causes of Saints.
But even after Becciu was moved from the department, he continued ordering Perlasca to make large clandestine payments to Ceclia Marogna, a woman who has claimed she acted as a private spy for Becciu.
Last year, an Italian court found Becciu had abused the legal process by attempting to sue Perlasca and Ciferri for defamation, and ordered the cardinal to pay tens of thousands of euros in costs and damages.
Ciferri told the court Friday that during their July 2019 meeting she found Becciu to be "an elusive person, very worried" about the investigation.
She said her meeting with the cardinal ended whe she told Becciu she had become his "enemy." Later that month, Perlasca was transferred out of the Secretariat of State, and appointed a prosecutor at the Vatican's supreme canonical court.
And a few days after her July 2019 meeting, Ciferri said she found Perlasca in a "zombie-like" state and believed he had been drugged.
She contacted an Italian TV journalist to report the priest's "attempted murder." But the facts about her allegation are unclear — the court also heard testimony explaining that Perlasca been prescribed Valium after an "hysterical crisis."
—
For her part, Francesca Chaouqui is a former Vatican advisor who was convicted by a Vatican court in 2016 of leaking classified Vatican information in the so-called "Vatileaks 2.0" scandal.
On Friday, Chaouqui testified that she had contacted Ciferri in 2019, and offered to assist Perlasca in coming forward with accusations against Becciu. Chaouqui added to the judges that she blames for orchestrating her arrest and 2016 conviction.
But Ciferri told the judges she worked to keep Chaouqui's involvement from Perlasca, telling him instead that she was consulting with a retired Italian magistrate, because she believed the convicted former Vatican employee would make things complicated.
Chaouqui, Ciferri testified, was "like coal, anyone who touches it gets dirty."
Ciferri also said that Chaouqui had claimed to be working with Vatican gendarmes and prosecutors to build a case against Becciu, who was sacked by Pope Francis from his curial positions in and made to resign the rights of a cardinal in September, 2020, before criminal charges were filed against him the following year.
But Chaouqui denied working with Vatican prosecutors or gendarmes. She instead claimed to have been feeding information about Becciu directly to Pope Francis, providing him with "constant" updates,
Chaouqui even said that to help Pope Francis understand the case against Becciu, she had arranged for Perlasca to make a series of recordings — a podcast essentially — only for the ears of the pope.
But while Chaouqui did deposit with the court a series of audio files by Perlsaca, narrating a series claims about Vatican finances and Cardinal Becciu in particular, there has been no independent confirmation that they were actually delivered to Pope Francis.
—
Becciu's response
As the women testified Friday, they were frequently interrupted, or they spoke over each other as tension escalted. Chief judge Giuseppe Pignatone more than once had to intervene, aiming to restore order in the courtroom.
He was sometimes successful.
But at the end of Friday's session, Cardinal Becciu stood to deliver a "spontaneous" statement to the court, in which he claimed he was the victim of vendetta — that Chaouqui had made a "plan to take revenge" on him.
The cardinal insisted the testimony of both women was completely unreliable.
Becciu challenged Chaouqui's claim to have direct access to Francis, by which she allegedly deliver statements from Perlasca. The cardinal noted that the convicted former Vatican advisor was claiming to have better access to the pope then he had enjoyed when serving as the effective papal chief of staff.
The cardinal also denied having approved or orchestrated Chaouqui's arrest and prosecution. But he said that he had warned against her appointment in the first place: "I had received serious reports about her person... I said: 'This lady is not worthy of working here in the Vatican.' They didn't listen to me."
The cardinal also claimed that after her criminal conviction, Chaouqui had approached him and asked him to help arrange a papal pardon.
In an unusual move - even for the circumstances - Becciu read to the court from what he said was correspondence with Pope Francis about the request, which, he said, Francis flatly ruled out.
For her part, Chaouqui denied, in court, that she ever asked Becciu to help her get a pardon. She said the entire exchange narrated by Becciu was a fabrication.
But Becciu also read to the court from what he said were emails he had exchanged with Pope Francis last August, soon after Chaouqui was greeted by Francis at a general audience.
In those emails, Cardinal Becciu accused Pope Francis of meddling in his criminal case.
"You speak with my accuser," Becciu said he wrote to the pope.
"With yesterday's gesture you, Holy Father, broke your much acclaimed commitment to neutrality in the process. You will know that this lady appears from the judicial documents as one of my accusers, now upon receiving her you have shown solidarity with her and indirect support for her accusations against me!"
"In procedural terms, this act will not be seen as emanating from the pope, but from the first magistrate of the legal system of the Vatican State, and therefore as an interference in the process."
The cardinal then read what he said was an email from Francis in response, in which the pope allegedly said he was "sorry that this gesture of greeting could do harm. They asked me if the lady could come with her children to the General Audience and have a kiss on the hand… and I thought it would do her good, for her to come."
"I tell you that I have almost forgotten this lady's 'adventure' [her 2017 conviction for leaking secret information], I didn't even know she is mixed up in the [current] judgment, I won't go into that," Becciu claimed Francis wrote to him.
"I apologize and forgive you if this has offended you. It's only my fault, also the habit of forgetting the bad things. Please forgive me if I have offended you. I pray for you, please pray for me."
Although Becciu claimed Francis' receiving of Chaouqui at a general audience was a breach of "neutrality" by the pope in his case, Becciu himself has frequently boasted of private meetings with Francis throughout the judicial process, and insisted the pope has assured him of his support.
In 2020, after Francis ordered Becciu to step down from the curia and resign his privileges as a cardinal, the pope joined the cardinal for a private Holy Thursday Mass in Becciu's apartment. Criminal charges against the cardinal were filed later that year.
In September 2021, Becciu announced that Francis had called personally to invite him to attend the upcoming consistory for the College of Cardinals, and that the pope would soon reinstate his rights as a cardinal — while Becciu did attend the consistory and has attended other public Vatican functions since, including the funerals of Pope Benedict XVI and Cardinal George Pell, his rights as a cardinal have not been restored.
In November, Becciu had a private audience with the pope, two days after Vatican prosecutors filed new evidence against the cardinal showing that Becciu had secretly recorded the pope discussing state secrets, and allegedly conspired with members of his family to embezzle Church funds.
Whether you chose the high drama of Friday, or the financial testimony from Thursday – or even both – the Vatican financial trial remains ongoing.
Stay tuned for much more, we're certain, to come.
Comments