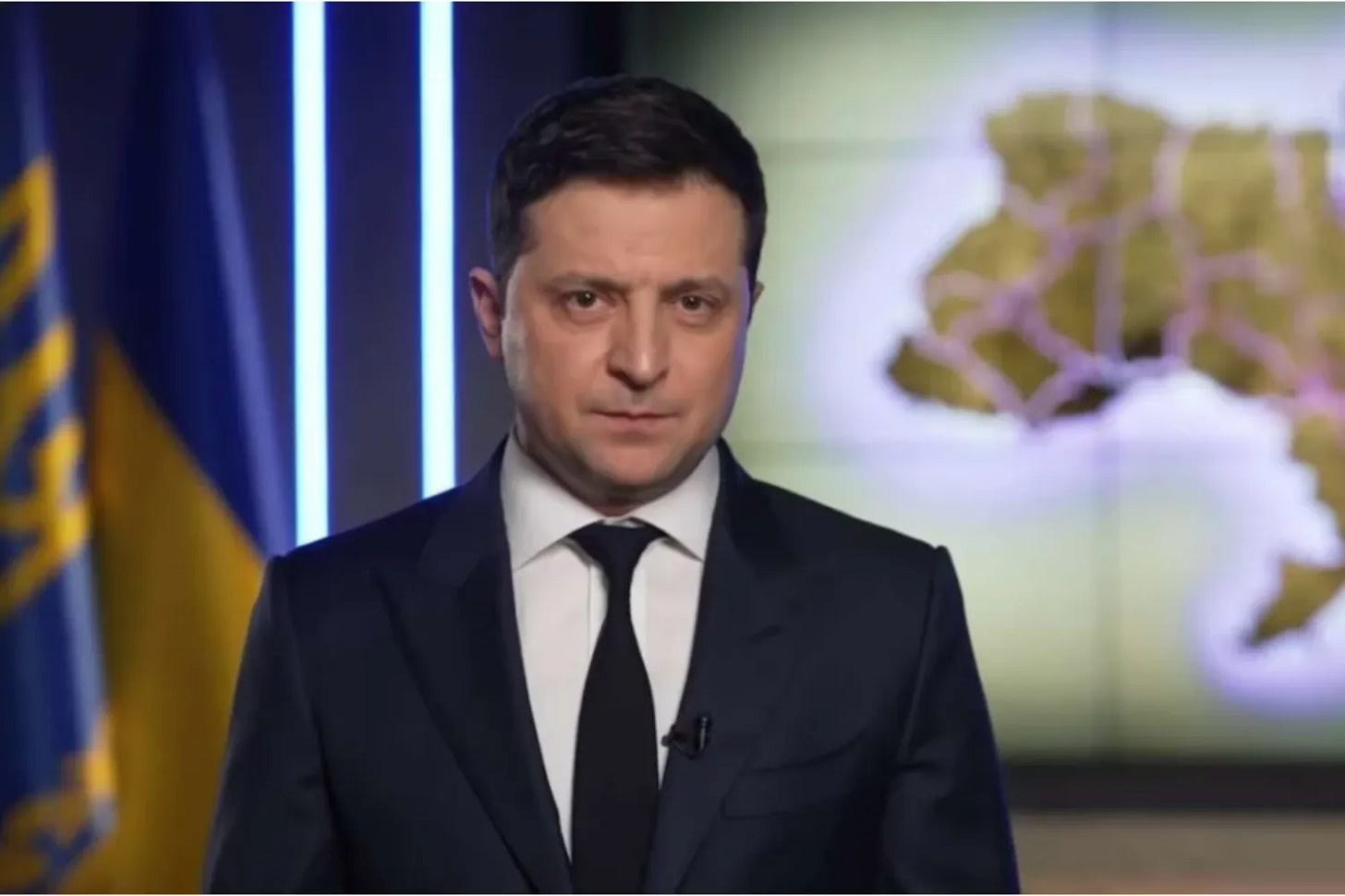 Happy Friday friends,
It's been something of a busy week in the news, so I am going to spare you the banter up top as we dive right in.
The News
Our top stories this week both come from Ukraine via our correspondent, Anatolii Babynskyi.
Yesterday, Ukrainian President Volodymyr Zelensky announced a coming major crackdown on the operation of Moscow-affiliated Orthodox churches in the country.
For weeks, Ukrainian intelligence services have been staging raids on monasteries, rectories, and chanceries belonging to the Ukrainian Orthodox Church of the Moscow Patriarchate (UOC-MP). The government claims to have found reams of Russian propaganda material promoting the Russkiy-mir worldview of Vladimir Putin and denying the right of Ukraine to exist as an independent nation.
Now, Zelensky says, there will be "a bill to prevent the activities in Ukraine of religious organizations affiliated with the centers of influence in the Russian Federation," and he's instructing national security authorities to "intensify measures to identify and counteract the subversive activities of the Russian special services in the religious environment of Ukraine."
Which brings us to our second big story of the week from Ukraine:
On Nov. 24, Russian forces announced they have detained two Catholic priests from the occupied city of Berdiansk. According to Russia, the two Redemptorists had weapons and explosives in their house.
We spoke to the priests' superior, and to the bishop of the region, all of whom told us that the allegations were "clear slander" and that they had real fears the priests were being tortured into making a false confession.
They also told us that, commentators' hot-takes to the contrary notwithstanding, their abduction was not a Russian response to an interview by Pope Francis last week in which the pope took a more explicit tone talking about the brutality of Russian troops — it couldn't have been, because the priests were actually abducted several days before the pope's interview was published, but only announced on Nov. 24.
Instead, they told us, the detention of the two Catholic priests in eastern Ukraine was retaliation for the raids on UOC-MP Church properties by Ukrainian authorities.
All of this is a big deal, and could get very messy indeed.
Is it possible that some UOC-MP clergy and churches are being used as distribution points for Russian propaganda in Ukraine? It is certainly possible. But it's by no means true to say all the UOC faithful are pro-Russian — on the contrary.
Yet this doesn't mean, necessarily, that UOC Christians are going to simply walk across the road to the autocephalous Orthodox Church of Ukraine (OCU) and sign up there.
As we have been reporting since before the Russian invasion of Ukraine actually started, there is simply no way to understand this conflict unless you understand the religious dimensions. And Zelensky's move is a hugely complicating factor.
It is far from sure how cracking down on the second-largest religious community in the country as a national security threat will play out; you can bet Russia, and the Russian Orthodox Church, will denounce it as an attack on the freedom of religion. And it's probably safe to say there will be (more) retaliation in kind in Russian-occupied regions.
We could be about to see churches and clergy become front and center in this conflict.
That is a very big deal indeed, and we will be covering it from the ground, thanks to our peerless correspondent, Anatolii Babynskyi. You can keep up with his coverage right here.
📰
'The Pillar' covers news you won't read anywhere else. We do it intelligently and reliably, because our subscribers know good journalism is worth paying for. So subscribe today – or upgrade your subscription!
—
Police yesterday confirmed the identities of both a retired Catholic priest and pastoral assistant whose bodies were discovered in Covington, Louisiana, on Monday.
New Orleans Archbishop Gregory Aymond called the deaths of Fr. Otis Young, a retired priest at St. Peter Catholic Church, and pastoral assistant Ruth Prats, "beyond shocking."
One man, Antonio Donde Tyson, has been arrested in connection with their deaths and charged with two counts of first-degree murder, two counts of second-degree kidnapping, two counts of obstruction of justice, one count of resisting an officer, and one count of illegal possession of stolen property.
The pair went missing Sunday night, and on Monday, two bodies were discovered behind a local glass business about half a mile from St. Peter's church. The bodies were badly burnt.
The parish held a prayer vigil Monday evening while awaiting autopsy results, and the community is, as you can imagine, devastated.
The police believe the crime to have been random. Young, who lived at the parish rectory, had been pastor at St. Peter's for a decade, before he retired four months ago amid mounting health problems that included a major stroke and heart surgery in 2020.
Prats has helped care for Young since his stroke, driving him to appointments and to the church.
Please pray for the response of their souls, and for their community.
—
In Chicago this week, five people were arrested as they protested the removal of a Pietà statue from a shuttered local Catholic church.
The arrests came after months of protests, as demonstrators have tried to prevent both a sale of the St. Adalbert's church building in Chicago's Pilsen neighborhood, and the removal of a large Pietà statue, which was relocated Tuesday to a nearby parish church.
The whole plan for the sale for the church building has been subject to several legal appeals, civil and canonical. While the Vatican's final court of appeal has already found in favor of the archdiocese, the matter is now in federal court amid complaints about political allies of Mayor Lori Lightfoot allegedly interfering in the rezoning process for the building.
While I cannot recall another time Catholics have been arrested, events in Chicago echo similar protests which have taken place in dioceses across the country, as bishops make difficult decisions in the face of shrinking congregations, mounting cost to repair aging buildings, and declining church funds to maintain historic buildings.
—
When Natalie Schuldt heard this spring that her bishop had invited members of the Institute of the Incarnate Word (IVE) to establish a presence in their Diocese of Fairbanks, Alaska, she was concerned.
The IVE was founded in San Rafael, Argentina in 1984 by Fr. Carlos Miguel Buela who, in 2016, the Vatican confirmed had been found guilty of sexual misconduct with IVE seminarians. He was effectively expelled from, and barred from contact with, the institute he founded.
But, Schuldt found, multiple IVE webpages continue to promote Buela's life and writings, despite the findings against him, and without any mention of his abuse and subsequent Vatican-imposed restrictions. And the order had a long connection with the disgraced former cardinal Theodore McCarrick.
Schuldt talked with Michelle La Rosa about her concerns, her questions, and what happened when she tried to raise her concerns about the IVE coming to her home diocese, and especially the reaction it could cause among Native communities.
Schuldt tried to contact her local bishop, and the apostolic nuncio in Washington, looking for answers about the IVE. What she got was not a lot of answers — instead, she was told to read some of Buela's writings to seek "spiritual enlightenment" from them.
Schuldt's experience raises a broader question within the life of the Church: What happens after the founder of a religious institute is found guilty of sexual abuse?
Michelle dug into that question in a very thorough report, asking insight from some real experts.
Like Schuldt, Michelle didn't come up with clear answers. There aren't any. And that's why asking the question matters so much.
—
Sex and gender are some of the most contentious topics in the Catholic Church today, as is how the Church should frame its pastoral approach to the issues and people involved.
And, according to Archbishop Salvatore Cordileone of San Francisco, Pope Francis is a model of how to encounter people with love, while not shying away from the truth about hard subjects.
Archbishop Cordileone spoke with Charlie Camosy this week about the challenges and opportunities found in presenting Church teaching on sex and gender to a skeptical world. Here's part of what he had to say:
"I would appeal to Pope Francis' call for a culture of encounter. This is something I discovered a long time ago: it is far easier to connect amidst profound disagreements in face-to-face encounters than in any kind of a remote fashion, such as news media and social media…
"We need to sit with the angry, the suffering, the lonely, the marginalized, with those who are different from us, and sincerely listen to each other's stories. We need to empathize with the suffering even if we cannot all agree on the solution. Face-to-face conversation is the most powerful means for changing the way those who hate us see us. That means getting off social media and getting into conversation with each other."
Read the whole conversation here.
—
New statistics from the Church in England and Wales paint a grim picture for the future, with priestly ordinations dropping for a third year in a row.
Our senior correspondent Luke Coppen and our data supremo Brendan Hodge looked at the numbers and charted how vocations have been slipping in English dioceses for the last several years, and it isn't good news.
Even more worrying, perhaps, is that there doesn't seem to be a plan, or a sense of urgency to address the trend — vocations hardly got a mention in the national synodal synthesis document released earlier this year.
📰
You're our business plan! The Pillar relies on subscribers, and subscribers rely on us. If you know good journalism is worth paying for, subscribe today – or upgrade your subscription!
—
Meanwhile, in Belgium, a rising number of Catholics are demanding the Church delete records of their baptisms altogether.
The Church's latest annual report, published on Nov. 30, said there were 5,237 such requests in 2021, compared to 1,261 in 2020 and 1,800 in 2019. The report also suggested that the Vatican doctrinal office's reaffirmation last year that the Catholic Church does not have the power to bless same-sex unions might "partly explain" the spike in requests.
Of course, you cannot "undo" your baptism, and the whole thing is a theological nonsense and something of a stunt, but we spoke to the Belgian bishops' conference about how they handle the requests, and I would urge you to read the whole report.
But what sticks out for me is this: There has been a concerted push from bishops in several wealthy European countries with shrinking populations of practicing Catholics for the Church to revise its teaching on human sexuality.
These calls are often presented as some kind of inspired call from the Holy Spirit and an authentic development of Church doctrine — both of which theologians at the Vatican has consistently refuted.
What these calls are not, we are often told, is a secularist bid to change the Church into a less religious, more liberal-humanist institution. But I'd argue the Belgian figures suggest otherwise. People moved by authentic concern for and faith in the Church are, it seems to me, unlikely to try to "undo" their baptism, the means of salvation, in protest.
If faith in the nature and efficacy of baptism comes second to views on sexuality, it doesn't argue for the authenticity of a movement as "Christian."
---
I could, as I am sure you know by now, write a whole weekly newsletter just on the developments of the Vatican financial scandal and trial. Frankly, it could be daily, given how things have been developing of late.
For starters, the prefect for the Secretariat for the Economy resigned this week. Fr. Juan Antonio Guerrero Alves, S.J., told staff he was stepping down for health reasons. And he is now succeeded by his number two in the department, Maximino Caballero Ledo, a layman.
The secretariat has done some good work under Guerrero's tenure, after essentially drifting for a few years when the previous prefect Cardinal George Pell had to take a leave of absence. But, as the priest acknowledged in his farewell letter to staff, most of the big projects of reform remain still to do.
I wish Caballero every luck during his tenure in the saddle. As anyone with a passing familiarity with Vatican financial reform can tell you, laymen in senior financial roles rarely last long, or see their terms end happily at the Holy See.
—
Meanwhile, in the Vatican City court, the so-called trial of the century took another step in its descent from melodrama into farce this week.
The prosecution's star cooperating witness confirmed to judges this week that he'd actually been prepped on coming forward to investigators in 2020.
At first, Perlasca said he'd drafted his 20-page statement on his own. Then he said he'd had the help of a friend. Then he said that friend had been chatting with "a retired elderly Italian magistrate" to give him the best advice. Then it turned out that the "retired magistrate" was actually Francesca Chaouqui.
Chaouqui, if you didn't know, is not elderly, nor a retired magistrate, though she is at least Italian.
For those of you unfamiliar with "La bomba sexy," as the local media dubbed her at the time, she is the woman convicted in 2016 of leaking classified Vatican information in the so-called "Vatileaks 2.0" scandal.
The court also heard that chief prosecutor Alessandro Diddi had recently received a cache of messages between Chaouqui and the friend who helped Perlasca draft his statements to his office and he'd opened a new investigation which could lead to charges against Perlasca.
If, as it seems at the moment, the Vatican's lead prosecutor has been led through his investigation unwittingly by a very… controversial figure at the center of a previous financial scandal and trial, it is bad news for his credibility.
And let's be honest, Diddi needs all the credibility he can get.
His efforts to have the Ur-suspect in the London property deal, Gianluigi Torzi, extradited from the U.K. were thrown out by a judge in London with scathing criticisms of his office's competence.
And his apparent decision to reopen a criminal investigation into the former Vatican auditor general, Libero Milone, means he's simultaneously going after what he alleges is a ring of corruption around the Vatican Secretariat of State AND the guy who was fired for uncovering it in the first place.
I do not blame anyone who reads all this and concludes the whole trial has become a goat rodeo and decides to switch off.
But here's the thing: while increasing parts of this story read like a bad joke, at its core is how the universal Church is governed, and how hundreds of millions of dollars of Church funds — including those meant for the poor — are spent. And there is nothing funny about that.
That's why we've been reporting and investigating every corner of this story for years, and we are going to continue to do so.
Accountability matters in the life of the Church.
---
Il faut affirmer les amis
French President Emmanuel Macron has been in the United States this week, accompanied by his former high school teacher, Brigitte Trogneux. The tour culminated in a state dinner at the White House last night.
Once the French president made the customary offer of surrender, I don't what Macron and Biden talked about over dinner, though I would assume that French culture will have come up, perhaps along with Wednesday's UNESCO announcement that the baguette has been enrolled on the UN agency's list of global "intangible cultural heritage."
I'm unsure what exactly is "intangible" about a loaf of bread, but according to UNESCO's director general it's "kind of a way of life," and apparently the loaves are in danger of falling by the cultural wayside, thus meritting special recognition and protection.
It seems French bakeries, or boulangeries as they foppishly call them, are closing at a rate of knots — at an average of 400 a year for the last half century.
If my past experience of French people is anything to go by, Marcon probably blames America for the bakery closures, and will have raised the issue last night with Biden — though Biden probably just tried to explain he's actually "Irish," as he does with every European he meets, like the worst kind of Yankee tourist.
The French like to style themselves the lumière du monde, but it's hard to miss how strikingly fragile their national ego is, and how much international reassurance they demand that they are the most cultured of peoples — French subscribers of the The Pillar excepted, of course. Obviously not you, mon ami, I'd expect you to dismiss these friendly observations with a shrug.
I'd estimate that some 67% of European Union regulations are devoted to enshrining the cultural significance of one or other type of wine or cheese or booze of which everyone makes a version, but the French insist they invented.
Believe it or not, in 2010 they actually got UNESCO to list the concept of a big family dinner as a uniquely "French" cultural invention. I'm not kidding. You'd need a heart of stone not to hear the cri de coeur of a people longing for affirmation, and you'd need to be devoid of Christian charity not to offer it.
Back to baguettes, it's not clear if the UNESCO designation commits the UN to dispatching a peacekeeping force to keep French bakeries open, but if boulangeries are going bust, it's the French, not the rest of the world, who don't see the value of baguettes.
That is a shame, and it underlines what I have long suspected — that under its bluster, France is losing self confidence.
It is true the baguette has its drawbacks: no other loaf conceived by man can match its ability to go stale within minutes of coming out of the oven. And they are geometrically designed to be impossible to transport, except in a silly wicker basket on the front of a bicycle.
But, like men wearing berets or eating snails, it's something unmistakably French and requires a self-assurance bordering on arrogance to pull off without laughing.
While I myself don't choose to dress like a mime or eat slugs, French culture is something we would miss if it were gone, and we should affirm the French for persevering with it.
Our efforts will not always be welcomed. With hundreds of glorious chateaux going to wrack and ruin across their country, Americans constructed, at no cost to the French state, Le Château de la Belle au Bois Dormant just outside of Paris to signal our appreciation of their architectural heritage, and small thanks did we get for that.
But true love of our neighbor demands we not expect it to be reciprocated. So, in that spirit, do something French this weekend to encourage our old allies in their best traditions: have an existential crisis, go on strike, be rude to a stranger, have some Germans over for an extended stay, or just bake some "global heritage" bread.
But, whatever you do, do it with insouciance.
See you next week.
Ed. Condon
Editor
The Pillar
Comments