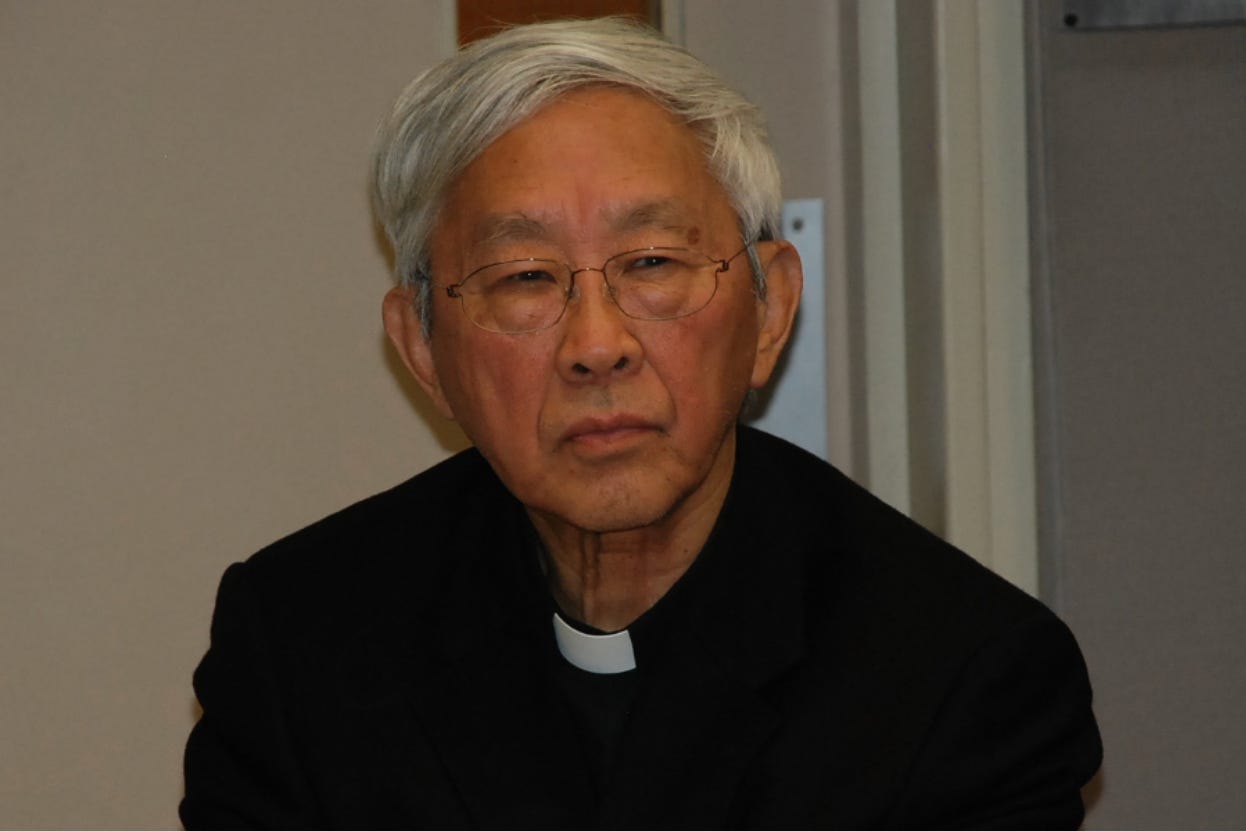 The trial of Cardinal Joseph Zen Ze-kiun continued in Hong Kong Monday, with the defense arguing that the case should be dismissed.
Lawyers representing the 90-year-old cardinal and five other trustees of the 612 Humanitarian Fund said that trustees did not have reciprocal rights and obligations, and therefore did not establish a society under the terms of Hong Kong law, reported AsiaNews, citing the Chinese-language newspaper Ming Pao.
Zen, the Catholic bishop of Hong Kong from 2002 to 2009, was initially arrested in May on national security grounds, including alleged collusion with foreign agents. But he is now only facing charges that, as a trustee, he failed to properly register the fund, which gave financial and legal aid to pro-democracy campaigners arrested during mass demonstrations in 2019. If convicted, Zen would face a fine, but not prison time, for his role as a trustee.
Hong Kong's chief executive, John Lee Ka-chiu, who is Catholic, said this month that he will enact new security measures that to crackdown on anti-Beijing and free speech demonstrators in Hong Kong, and keep local political groups from working with foreign governments.
The changes announced by Lee are likely directly linked to the trial of Cardinal Zen, who is on trial for his involvement in a charity which provided support for imprisoned pro-democracy demonstrators.
Zen is one of the most prominent advocates for religious freedom, civil liberties, and democracy in Hong Kong, a former British colony that became a special administrative region of China in 1997.
The Chinese government promised to maintain the city's existing governmental and economic structures for 50 years after British rule under the "one country, two systems" principle, and to abide by Hong Kong's Basic Law, which guaranteed certain basic civil liberties.
📰
Get 'The Pillar' in your inbox every Tuesday and Friday - and help our make subscriber-supported journalism happen - with no clickbait, and no nonsense.
In 2019, the Hong Kong government attempted to pass legislation that would have allowed political arrestees in Hong Kong to be deported to the mainland to face trial. In response, the city saw months of mass demonstrations and protests, leading to a police crackdown.
While the extradition bill was ultimately withdrawn, Beijing imposed a sweeping national security law on Hong Kong in June 2020. The law restricted basic civil liberties, including free speech.
Zen is the latest in a series of high-profile Catholics to be arrested in Hong Kong, including the jailed newspaper publisher Jimmy Lai, and Agnes Chow, a pro-democracy activist who was released from jail in June last year after serving a six-month prison sentence for attending an "unlawful" assembly in 2019.
A Hong Kong court convicted Lai of two counts of fraud on Oct. 25, prompting condemnation from the U.S. State Department.
A judge convicted Protestant pastor Garry Pang Moon-yuen of sedition on Oct. 27. UCA News reported that this was the first time that a Christian leader had been convicted of sedition since the introduction of the national security law. Pang was sentenced to a year in prison for two convictions, according to the Associated Press.
In addition to speaking out for civil liberties in Hong Kong, Zen has also been a forthright critic of the Holy See's provisional agreement with the mainland Beijing government, which grants the Chinese Communist Party a joint role in the appointment of bishops to mainland dioceses.
The Vatican announced on Oct. 22 that it had renewed the deal, first agreed in 2018, for a further two years.
Although the cardinal has received support from Western human rights organizations and lawmakers, who denounced his arrest, the Vatican's response has been more muted. On the day of his arrest, the Holy See only expressed "concern" at the development and said it was "following the evolution of the situation with extreme attention."
Pope Francis spoke about Zen's trial on Sept. 15, during his in-flight press conference after a three-day trip to Kazakhstan.
"Cardinal Zen is going to trial these days, I think. And he says what he feels, and you can see that there are limitations there," Francis said, adding that he would not describe China as "undemocratic because "it's such a complex country."
Comments