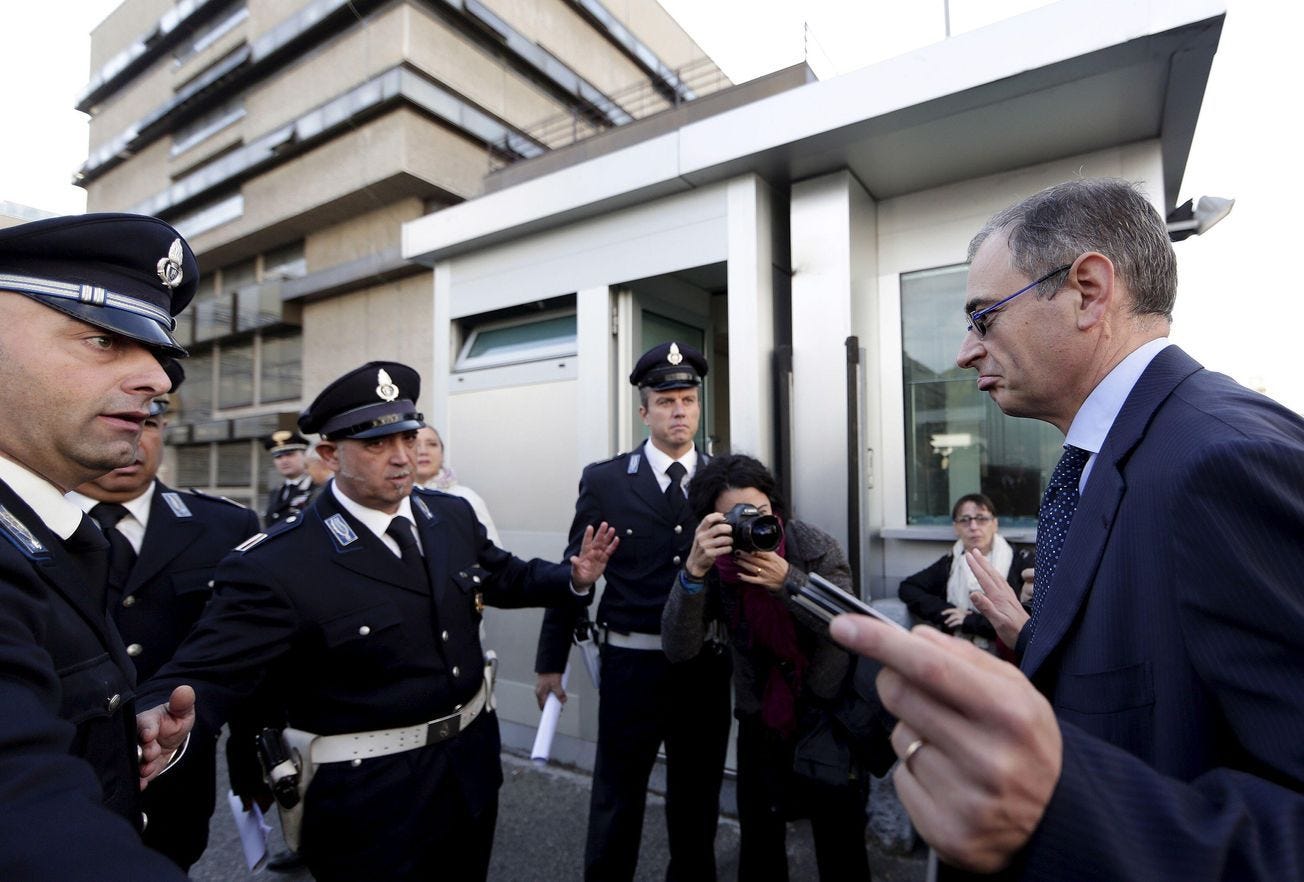 Since he was appointed to the job four months ago, the Vatican's chief prosecutor has had a busy few months, opening new investigations and reopening old ones, while prosecuting a major criminal trial.
As he gets to work in the Vatican, the Alessandro Diddi's combustible courtroom manner has become a hallmark of the financial crimes trial currently underway.
But is there a strategy to Diddi's style, or is the new promoter of justice throwing more heat than light on the cases under his charge — and to what end?
In September last year, the Holy See announced Diddi as the new head of the Office of Promoter of Justice, making him the Vatican's chief public prosecutor. Diddi had served as the department's deputy since 2015, and was already the driving force behind the investigation leading to the so-called "trial of the century" over the Secretariat of State's financial scandal.
At the time of his promotion, some in the Vatican saw Diddi's appointment as a doubling down on the landmark prosecution of ten defendants in that case — most notably Cardinal Angelo Becciu, with whom Diddi had already clashed repeatedly in the courtroom.
But in the months since his appointment, Diddi has made a number of unexpected moves, raising questions about his tactics, his focus, and his ability to deliver results.
In November, he reopened the criminal investigation into Libero Milone, the former auditor general of the Vatican, forced out by Becciu in 2017.
Milone was ousted from his role after a months-long investigation into his office, conducted by Vatican gendarmes, and he was accused of "spying" on the private finances of senior officials, including Becciu. Milone, for his part, has said he was threatened with prosecution for being too good at his job, and uncovering evidence of corruption across the curial leadership.
Milone has said he has physical evidence of financial crimes by senior churchmen, including cardinals, from his time in office, and many trial-watchers have long wondered why he was not an early and obvious witness for Diddi's office in their case against Becciu.
Instead, by reopening the criminal investigation into Milone while pressing charges against Becciu, Diddi looks to have set himself up to fail — Milone and Becciu have very opposite narratives of their time working together, and each is fairly open about believing the other to be a crook.
But their accounts are also mutually exclusive — both men cannot be right in their assertions about the other. For many Vatican watchers, it doesn't seem possible for Diddi to pursue both cases without undermining his efforts to secure a conviction in either.
But the prosecutor may have had more on his mind than getting a conviction when he reopened the case against Milone, and more in mind for what it might get him.
Diddi's decision to reopen the criminal investigation into Milone immediately followed the former auditor general's decision to file a wrongful dismissal lawsuit against his former office and the Vatican's Secretary of State — a suit Diddi immediately registered an interest in, making his office a legal third party to the case. Those decisions have not been seen by anyone as coincidental.
Some around the Vatican have quietly suggested that Diddi is acting as a cat's paw by the Secretariat of State; that his decision to reopen the criminal file against Milone is a kind of retaliation or bully tactic to scare him off pursuing his claim for compensation. That is certainly one possibility.
In 2021, a UK court tossed out a court order freezing the assets of Gianluigi Torzi, the businessman at the center of the Vatican financial scandal and trial who successfully fought off extradition to the Vatican.
In that decision, the judge found that while Vatican prosecutors — with Diddi leading the case — had alleged fraud and extortion, they did not produce evidence that would have implicated senior clerics in the Secretariat of State for their role in approving the financial deals under suspicion. To many, the judge's findings read like the Promoter of Justice's office was fighting the case with one hand tied behind its back, trying to spare the Vatican's chief department further damage and scandal.
But another theory is that Diddi has opted to charge Milone, and to insert himself into his lawsuit, because he wants what Milone has — his files, supposedly containing proof of senior curial corruption.
Milone has, so far, refused to hand them over or to make them public. Instead, he has said he will deliver his proof when he appears in court to argue that he was forced from his job and lost his professional reputation because, effectively, he knew too much.
And, despite being a third party to the suit, Diddi does appear to have put himself in the driving seat of Milone's case. The auditor's lawyer, and senior Italian jurist, has been refused permission to practice in Vatican City — normally granted as a formality — and several sources close to the case pointed to objections from Diddi as the reason.
And, while Diddi's criminal investigation should, as a matter of Vatican law, prevent Milone's lawsuit coming to court until it is concluded, a preliminary hearing is currently scheduled for later this month. At that hearing, Milone's legal team will have to turn over what evidence they plan to use to substantiate their claims (the Vatican's version of discovery) or risk the case being dismissed.
Scheduling that hearing, many close to the case believe, is a procedural bid by Diddi to force Milone to turn over his files and allowing Diddi to use them as evidence in the financial crimes trial.
If that's true, and depending on what his files show, Milone could find the investigation into him closed in short order. Or Diddi might decide to keep the case going and belatedly invoke the precedence of his criminal process to put the lawsuit on indefinite hold now that he has Milone's files.
If the latter happens, it could prove a canny move by Diddi, but it would also likely strike many court-watchers as a clear abuse of the legal process by Diddi's office — though it's unclear what, if any, recourse Milone could make against it.
But there is another school of thought around the Vatican courts, which holds that Diddi is more driven by bombast than hard-nosed tactics. Some close to ongoing cases have expressed concern that, for all of the apparent evidence at his disposal, the prosecutor is more comfortable making a spectacle than making the charges stick.
Sources close to the financial crimes trial point to Diddi's combative courtroom style, which at times seems to lean more on provoking witnesses than forensic questioning of them.
On one occasion, after a heated exchange between Diddi and Cardinal Becciu saw both men raising their voices and Becciu banging the table in anger, chief judge Giuseppe Pignatone had to call a recess to calm things down.
Last year, leaked footage of Diddi questioning Msgr. Alberto Perlasca in pre-trial depositions appeared to show the prosecutor badgering and shouting down his own star witness, and demanding on tape that he change his account of what Pope Francis knew and when about the now infamous London deal. That exchange led to a flurry of legal objections from defense lawyers.
Some also point to Diddi's career history as an explanation for his tactics — before he joined the Vatican prosecutor's office in 2015, he was a well known Italian defense attorney, specializing in high profile mafia cases. In Italy's signature mafia capitale case, Diddi actually squared off against Pignatone, then the Roman prosecutor and now the Vatican court's chief judge.
Diddi had considerable success quashing some of his high profile client's convictions, and getting sentences reduced. But some around the current Vatican financial trial worry that his style is well-suited to creating reasonable, even compelling suspicions and doubts, but not proving the minutiae of specific crimes needed to secure convictions in complicated cases.
That might explain why Diddi chose to charge ten people simultaneously in a nearly 500 page indictment covering a wide range of often unrelated alleged crimes, instead of charging individuals with specific crimes in separate cases.
📰
'The Pillar' covers news you won't read anywhere else. We do it intelligently and reliably, because our subscribers know good journalism is worth paying for. So subscribe today – or upgrade your subscription!
—
There is a third school of thought about Alessandro Diddi and his work in the Vatican prosecutors office, once less flattering than the others but with a growing number of adherents. Diddi, the third school claims, is simply a showman, and revels in spectacle and attention.
Some observers argue that the "trial of the century" may be thin on connective tissue between many of the defendants, but the point was, and is, to live up to the name the Italian press have given it,.
Those around the Vatican critical of Diddi as more eager to make headlines rather than cases point to the treatment of Milone and suggest the prosecutor isn't so much acting as a tool for Vatican higher-ups as making sure he is a character in every plot around the courts as it unfolds.
They also point, somewhat skeptically, to Diddi's announcement this week that he is reopening the investigation into the 1983 disappearance of Emanuela Orlandi.
That case, which has been the subject of decades of conspiracy theories and rumors, has been linked to everything from curial sexual predators to the Italian mafia, to the plot to assassinate St. John Paul II, but never made any substantial progress.
The Vatican announced on Monday that Diddi had ordered the investigation reopened "on the requests made by the family in various places," though Orlandi's family told press that they had not been given any prior notice of the decision.
But several people close to the Vatican courts have privately suggested that Diddi's decision was motivated as much by international interest in a recent Netflix documentary about the case as by anything the family had asked for — "if there is a circus, [Diddi] has to be in every ring" one source close to his office said this week, following the announcement.
The same source noted that the hearing date set for Milone's case is Jan. 25 — the same date the Secretary of State Cardinal Parolin is set to give evidence about his former deputy, Cardinal Becciu, in the financial crimes trial. "That's not a coincidence, it's an event," the source said.
Those who accuse Diddi of courting publicity also suggest it may be a matter of survival, as much as vanity, that the more high profile cases he has in train, the more secure his job is — though this would be an unusual concern for him to have so early in his tenure.
Either way, Diddi's success in office will likely be judged in the headlines, but the judgment will be on his ability to secure results in court.
The Orlandi investigation is a forty year old cold case, maybe high in press interest but probably low in new leads. If Diddi's inquiries go nowhere and the case is quietly closed again, it may well end up being assessed as an act of hubris.
Similarly, if the criminal investigation into Milone is invoked to stall indefinitely the former auditor's lawsuit but without producing any results, many may accuse Diddi of playing games with his office to stall, rather than promote justice in the Vatican.
More than anything else, though, Diddi will be assessed on the financial crimes "trial of the century." Progress so far has been a mixed bag: while he has overcome some serious procedural objections, and appeared to make strong headway on some of the charges, many court watchers are still waiting for the alleged grand conspiracy among many of the defendants to emerge.
While independent reporting has done much to lay out a case for some of this already, Diddi's ability to secure convictions in court will be the ultimate test of his tactics. But, even if the case against some of the defendants looks less than proven at this point, that may not matter.
If Diddi is even half as aware of media perceptions as some suggest he is, he likely knows all the focus will be on his star defendant, Cardinal Becciu. If he secures the criminal conviction of a senior cardinal in a Vatican court, it could easily overshadow any other decisions the court makes, and define his term of office, if not his career.
Comments