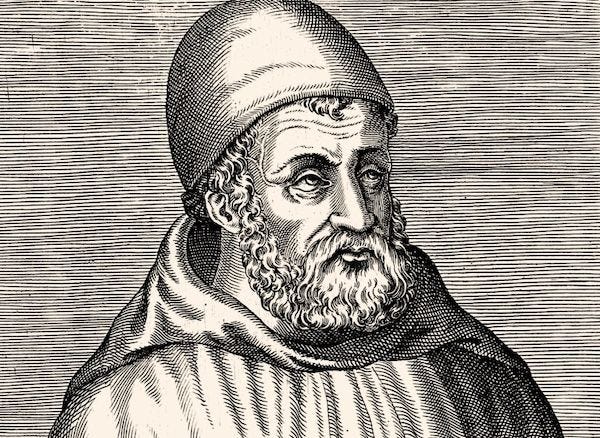 Hey everybody,
This is JD Flynn, and you're reading The Tuesday Pillar Post.
Today is the feast of Bl. John Duns Scotus, the 13th-14th century Franciscan friar remembered as the "Doctor subtilis," or "subtle doctor," for his nuanced and insightful mind.
Scotus was a priest, a brilliant philosopher, and, as John Paul II remembered him, "the minstrel of the Word Incarnate," and the "Defender of Mary's Immaculate Conception."
Whether you understand his subtle thought on the univocity of being, or - like me - you get lost in the distinctions, each of us can aim to give both our minds and our lives to the Lord, as did the great Scottish Franciscan himself.
I'll have more on him at the end of the newsletter.
Bl. John Duns Scotus, pray for us!
The News
The biggest story in the Church's life this week is a startling admission from French Cardinal Jean-Pierre Ricard, who revealed by a statement this week that 35 years ago, he "behaved in a reprehensible way with a 14-year-old girl."
Ricard, 78, did not explain the details of his conduct, but announced a "time of withdrawal and prayer," said that he would cooperate with Church and French investigations into his action, and added that his "behavior necessarily caused serious and lasting consequences for this person."
French prosecutors have announced an investigation into Ricard's conduct, but it is not yet clear whether the cardinal could face charges, because the details of his crime are not known publicly, and some kinds of sexual abuse would have already reached their statute of limitations.
The Holy See has not yet said anything about what ecclesiastical investigation the cardinal might face, or whether he will formally resign his membership in the College of Cardinals, or be removed. The cardinal's announcement comes as the Church in France is reeling from several high-profile abuse or cover-up scandals, with an announcement yesterday that 11 French bishops have recently faced investigations - some ongoing.
The French bishops are now concluding their plenary assembly at Lourdes, and trying to offer some response to the shock of the French Church over the scope of abuse and cover-up allegations among the bishops.
A delegation of French bishops is headed to Rome to discuss both the Ricard case and that of Bishop Michel Santier, who himself stands accused of very disturbing acts of abuse, and who was secretly sanctioned by the Holy See in October 2021, even after he was allowed to resign for "health reasons" earlier that year.
Ricard's announcement raises a broader set of questions for the Holy See, especially. The cardinal was in 2006 appointed to the Congregation for the Doctrine of the Faith, and, as of press time, he remains a cardinal member of that Vatican dicastery.
The CDF, as you might know, is responsible to handle graviora delicta canonical cases - penal laws cases involving the most grave canonical crimes in the Church's life, including the abuse of children.
And the cardinal members of the CDF were empowered in the early 2000s to vote during periodic Wednesday meetings (called Feria IV) on certain kinds of appeals made in certain kinds of penal law cases.
What does that mean? It means that Cardinal Ricard sat for years in the meetings at which appeals pertaining to sexual abuse cases would be decided. Presumably the cardinal voted in such matters. And all the while, he knew that he had abused a child.
I have sources who say that Ricard was not an especially active voice in CDF discussion of these cases, or assigned to deal with them more closely. But, nevertheless, there he sat, with a vote on crucial matters, as the Church worked to reform herself.
Surely, someone will ask about his track record in those votes, about whether he made any interventions, about whether he was a reliable arbiter of justice, given the injustice of his perdurance in ecclesiastical administration.
In short, the questions raised about Ricard's involvement at the CDF make this a story with broad implications, to say nothing of the pain they have caused in France, and most acutely, for his victim and her family.
I might be proven wrong, but I expect that Cardinal Ricard's admission - in the context of Santier and others - will begin in France, and among Catholics in other places, a period in which the call for serious ecclesiastical reform will be nearly as loud, and nearly as acute, as it was when the McCarrick scandal first emerged in 2018.
You can read our initial report here.
—
Meanwhile, The Pillar published on Friday a lengthy and detailed interview with Fr. Andrew Small, the recently appointed secretary for the Pontifical Commission for the Protection of Minors.
Fr. Small works at the center of the Vatican's efforts for ecclesiastical reform on safeguarding issues related to children and vulnerable adults. And he spoke candidly about that work with The Pillar, acknowledged the criticism that his commission's "trajectory and contribution have been disappointing at best and tragically non-consequential at worst."
The priest acknowledged positive contributions his commission has made, but also how much work there is to be done on safe environment issues in many places:
"With a problem so devastating and emotionally harmful as the sexual abuse of children in the Church, it is difficult to think of and celebrate 'successes' as a commission, because any improvements, while necessary, pale in comparison to the harm done; namely the sins and crimes that have literally destroyed lives all over the world.
Compounding the harm, which not infrequently has led to addiction and suicide, marriage breakdown, and further abuse by victims themselves, is the fact that many victims/survivors were rejected in their suffering by the very Church that held itself out as a place of healing for those wounded by the world. However, rather than comfort the afflicted by sexual abuse by the Church, too often the Church continued to harm those afflicted by its own ministers with the evil of sexual abuse."
He also said that while safeguarding policies for children have largely been addressed in the West:
"What keeps me awake at night is the scenario of a teenage girl going on a youth retreat overnight in a country in the Global South without any of the protocols and protections around standards of professional behavior that we have come to take for granted in the U.S. and elsewhere. And I fear that whatever abuse that may currently be going on by clergy or other ministers in the Church — and we know far too much to be naïve about the presence of such abuse — it may go unchecked for quite some time unless we quickly ramp up our training and policy formation in the Global South."
Small said his commission is able to do something about that. Among other things:
"That's why the commission recently took major decisions to implement abuse prevention training across those parts of the world where resources and expertise are scarce. It's not enough to train religious personnel in safeguarding if we don't also provide the funding to ensure they can implement their knowledge in the local church context."
Anyhow, there is much more in this interview that could be quoted. Fr. Small discussed the notion of transparency in a legal process, the importance of due process and the rule of law - and interesting developments on those fronts. He talked about restoring "trust in the Church's system of governance," - among both clerics and laity - and cautioned that:
"Bishops must resist the temptation to trust too quickly in their own 'wisdom' to solve problems and rather should rely more often on stable, publicly accountable policies and procedures that are overseen by competent and trained people, including members of the laity."
You might not agree with all the conclusions Small reached, but the interview is certainly evidence of thoughtful engagement with serious issues.
And seriously, if you're interested in the Church's reforming work on these issues - this interview is the one long thing you should read and think about this week.
It is, if nothing else, surprising candor for a curial official.
📰
'The Pillar' covers news you won't read anywhere else. We do it intelligently and reliably, because our subscribers know good journalism is worth paying for. So subscribe today – or upgrade your subscription!
—
The Pillar has covered for the last month news of a prospective merger between the Diocese of Steubenville, Ohio, and its neighboring Diocese of Columbus.
We told you that during an Oct. 10 clergy meeting announcing the merger, Bishop Jeff Monforton told his priests that the plan to merge the dioceses was a certainty, despite the need for final Vatican approval.
We also reported Monforton's admission - both to priests and to The Pillar - that he had not consulted with his priests and deacons, with laity, or with the diocesan finance council, before he began working more than a year ago for the merger, even while Monforton told The Pillar his process could be a "template" for other prospective diocesan mergers.
We reported that Steubenville's clergy pushed back - asking Ohio's bishops to change their mind, then asking the USCCB to delay a planned consultative vote on the issue. We reported that Monforton is facing two Vos estis lux mundi investigations, and that his priests say recent administrative decisions have crippled the potential of their diocese.
Well, here's the latest, which The Pillar broke Monday morning:
Monforton told his priests Nov. 7 that he had asked the USCCB to remove the prospective merger from the agenda for next week's USCCB meeting. There will not be a vote.
The prospect of a merger is going on the shelf, at least for a while.
The bishop says he will now do some local consultation about the future of the diocese, but I suspect those conversations will be delayed for a while — Steubenville priests for and against the merger have told me that Monforton's approach to the issue - and the lack of consultation - have sapped them of confidence in their bishop. And given the public pushback from priests - to say nothing of the media coverage - Monforton probably doesn't want to charge forward on the issue again anytime soon.
I'd guess that things will need to cool in Steubenville for a while before talk of an extinctive merger picks back up.
However, it is possible that the USCCB will discuss other potential changes to dioceses during their meeting's closed-door executive session next week. There has been talk among some bishops recently about the prospect of elevating the Diocese of Las Vegas to an archdiocese, with Salt Lake City and Reno as suffragan sees - and while the USCCB has declined to comment on the question, some expect the issue will be raised for consultation during executive session next week.
Here's the latest from the situation of the Steubenville diocese.
—
The USCCB last month urged lawmakers and business owners to implement family-friendly workplace policies, which demonstrate "radical solidarity" with working parents.
Since the conference made some specific suggestions about workplace accommodations and support for pregnant women and families, we wondered how its own employee policies would measure up.
So we asked - and here's what the conference told us.
Do the policies measure up to the rhetoric? Read about them here, and decide for yourself.
(By the way, several readers have suggested a similar set of questions to all U.S. dioceses. We've done some reporting on this question in the past, but we'd like to do more, and will aim to in the months to come. That kind of big-data gathering and organizing is one of the things we like to do most.)
Start your day with Starting Seven - a daily news roundup in your inbox.
—
Pope Francis last Thursday urged French bishops to provide pastoral care for those "who are disoriented by the motu proprio Traditionis custodes," which sharply restricted the use of the Extraordinary Form of the Liturgy, sometimes called the Traditional Latin Mass.
France has one of the highest concentrations of traditionalist Catholics in the world, and - as of September - only about 20% of French bishops had implemented the pope's restrictions on liturgy.
Given the other issues in the French Church, discussed above, it seems unlikely that many French bishops will begin to tackle this complicated issue anytime soon — but the pope urged bishops to implement his policies on the subject, while offering "the greatest solicitude and paternity" for impacted Catholics.
—
Next week, The Pillar will be at the U.S. bishops' conference annual fall meeting, where bishops will discuss their approach to guidance ahead of the 2024 election, several liturgical translations, and the budget of their conference itself. They'll also elect new leadership — Ed and I will break down all of that on The Pillar Podcast this week, and in some analysis and reporting ahead of the meeting.
Before that, here's an analysis I wrote last month on the election of the new USCCB president to tide you over. My thinking has changed somewhat since this was published, but I expect the results of the election will be about the same as I indicated then.
—
If you're not listening to Sunday School, A Pillar Bible Study, you should be. It's fantastic. And season 1 - a 5.5 episode dive into the Gospel of Mark - just concluded, so you can catch up on that before we launch our Advent mini-season on Luke's infancy narrative.
—
We are planning a party in Baltimore — and if you're a friend of The Pillar, you're invited.
Friends of The Pillar are invited to Todd Conner's Bar in Baltimore, on Nov. 16 at 7 p.m., the last night of the USCCB's fall meeting.
We'll tape a live show of The Pillar Podcast, unpack the meeting, and have a rootin-tootin good time.
— Fools for Christ
More on Duns Scotus:
First, this wonderful poem from Gerard Manley Hopkins.
Second, the dunce cap.
Scotus was born in Duns, Scotland, and was known by his contemporaries as John of Duns. He was not stupid, as I mentioned above. But he was a fan of tall, pointy, wizardish-looking hats, and after he died, some of his intellectual heirs wore the same kind of hat, as a tribute to the philosopher who so influenced them.
Well, by the 16th century, a lot of Scotus' approaches had fallen out of fashion in European intellectual circles. The thinkers who still followed his teaching - some of whom even still wore his hat - were regarded as fools in sophisticated European circles. To be a "Dunsman," or a "dunce" became a pejorative - and the hats associated with Scotus' intellectual movement became a symbol of foolishness.
And thus was born the dunce cap, which eventually - by the late 19th century - became a kind of cruel and craven feature of school discipline in some places.
Even though that trend is gone, thank God, the cultural notion of a dunce cap remains.
Still, God has chosen the foolish to confound the wise. It might even be a point of pride for Christians to be regarded as fools by the sophisticated and the powerful, as long as it's our faith in Christ that marks us out as such.
So maybe the dunce cap, and the Franciscan who started it, is a good reminder to be the minstrels of the Incarnate Word, no matter who thinks we're fools. To celebrate John Scotus, maybe we make dunce caps, and wear them with pride.
—
At any rate, Ed is in Rome this week, doing some important reporting, and praying for your intentions at the heart of the Church. I'm not in Rome, but be assured of my prayers too, and those of our entire newsroom. And please pray for us. We need it!
In Christ,

JD Flynn
editor-in-chief
dunce extraordinaire
The Pillar
Comments