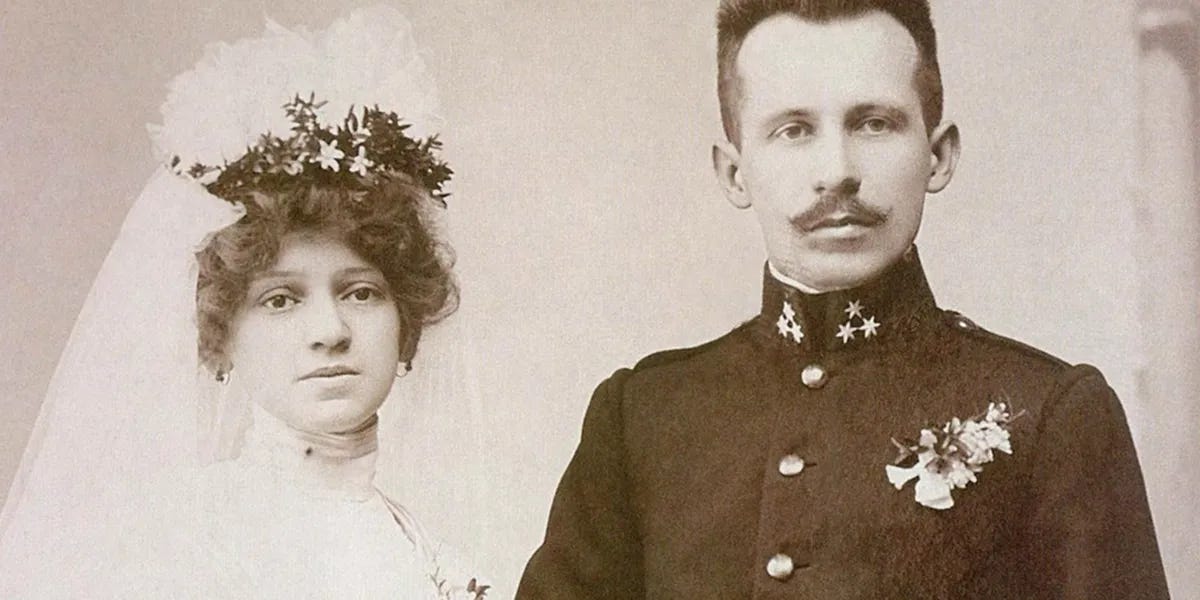 Experts will study an alleged miracle attributed to the intercession of St. John Paul II's parents, their postulator said this week.
Msgr. Sławomir Oder, who also served as postulator of the Polish pope's cause, told the Catholic news agency KAI that he had received multiple reports of purported miracles connected with Emilia and Karol Wojtyła.
Start your day with Starting Seven - a daily news roundup in your inbox.
"Several such testimonies have reached me, and one of them is very interesting," he said in an interview published Dec. 5. "I am now waiting for the medical records to be collected for expert opinion."
Msgr. Oder, who did not offer any further details about the reputed healing, noted that the initial phase of the couple's beatification cause, formally launched in the Archdiocese of Kraków on May 7, 2020, was "practically completed."
The postulator said that on his travels around the world, he had gathered evidence of the couple's "fama sanctitatis," or reputation for holiness, a prerequisite for the beatification process.
He noted that there were almost no remaining witnesses to the lives of John Paul II's mother and father, who died respectively in 1929 and 1941. But investigators were able to interview one person who knew the future pope when he was a youth and recalled his father.
"Apart from this one, the witnesses being questioned now are not so much witnesses to the lives of the candidates for sainthood, as they bear witness to opinions about their sanctity," he said.
"There are also quite a few testimonies of sanctity coming from overseas: from Latin America and North America. And the collection of documents about their lives, and heroic lives at that, is being handled by a historical commission specially established for this purpose."
📰
'The Pillar' does serious, faithful, Catholic journalism because of our subscribers. We depend on you. So subscribe!
After the diocesan phase of a beatification cause is completed, the documents are sent to the Vatican's Dicastery for the Causes of Saints, where they are reviewed by theologians and bishops, before being sent to the pope, who issues a decree recognizing that the candidate practiced heroic virtue and merits the title "Venerable."
The next stage, beatification, usually requires an authenticated miracle, as does the final stage, canonization, after which the candidate is officially recognized as a saint.
Emilia Kaczorowska was born in Kraków, southern Poland, in 1884, the fifth of 13 children. In 1906, she married Karol Wojtyła, John Paul II's father, who was five years older and serving as a soldier in the Austro-Hungarian Army. They had three children.
The first, Edmund, was born in 1906 and grew up to be a doctor. He died in 1932 after contracting scarlet fever from a patient. A conference in Warsaw earlier this month heard that he could be a candidate for beatification under the "offering of life" category introduced by Pope Francis.
KAI quoted Warsaw Cardinal Kazimierz Nycz as saying: "I deeply believe that Edmund Wojtyla is blessed, i.e. he is saved in heaven, while whether he will be proclaimed blessed — I do not know."
The couple's second child, Olga Maria, died in infancy in 1916.
Their third child, Karol, was born in 1920. Emilia was reportedly advised by a doctor to have an abortion due to her frail health but refused. Karol served as pope from 1978 to 2005 and was canonized in 2014.
Emilia, who worked as a seamstress, died of myocarditis and renal failure on April 13, 1929, in the town of Wadowice, shortly before her younger son's ninth birthday.
Karol senior died on Feb. 18, 1941, in Kraków, which was then under Nazi occupation.
John Paul II would later recall the deep impression his father made on him.
"Day after day I was able to observe the austere way in which he lived. By profession he was a soldier and, after my mothers death, his life became one of constant prayer," he said.
"Sometimes I would wake up during the night and find my father on his knees, just as I would always see him kneeling in the parish church. We never spoke about a vocation to the priesthood, but his example was in a way my first seminary, a kind of domestic seminary."
Comments