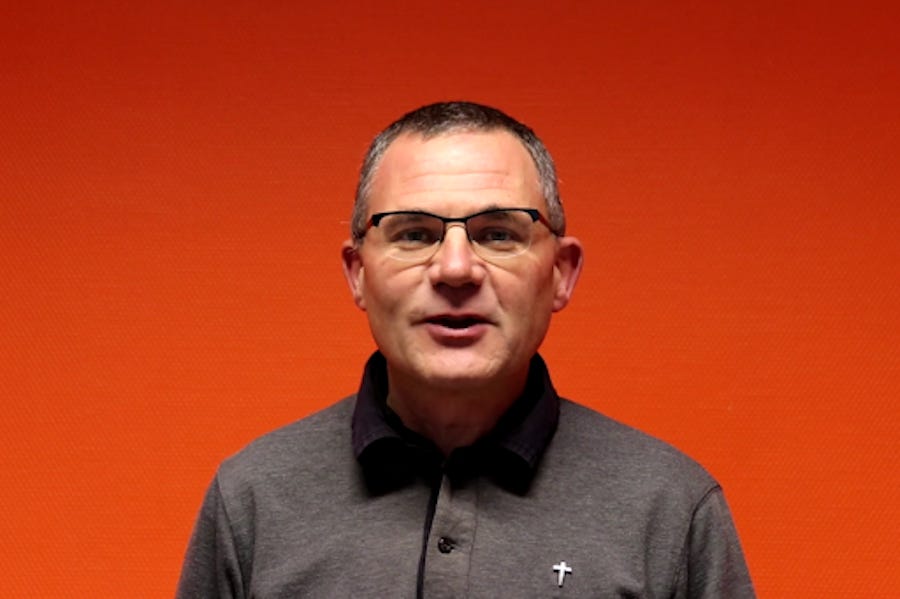 A French cleric named a bishop by Pope Francis in October said Wednesday that he would not take up the post, because of health problems he attributed to "burnout."
Msgr. Ivan Brient, 50, announced on Nov. 16 that the pope had accepted his decision to withdraw as auxiliary bishop of Rennes, northwestern France.
Msgr. Brient, vicar general of the neighboring Diocese of Vannes, was named a bishop by the pope on Oct. 7. His episcopal ordination was scheduled for Dec. 4 at Rennes Cathedral.
In a letter published on the website of the Rennes archdiocese, Brient noted that he had accepted the role on Oct. 2, "in a spirit of service, happy to be able to contribute in this new mission so that our Church may be ever more faithful to the Gospel of Christ."
But he said that he soon began to experience health problems.
"After consulting, alarming signs of the onset of burnout were clearly diagnosed. These signs allowed me to understand that I was, on the one hand, tired and, on the other hand, that I was apprehensive about the tensions that this mission was going to generate in me and that I would have difficulties facing them," he wrote in the letter to Catholics of the archdiocese.
"Two doctors strongly advised me to stop right away, otherwise I would burn out. I spoke about it with the nuncio and with [Rennes] Archbishop [Pierre] d'Ornellas, whom I thank for their fraternal listening and help."
He added: "After having discerned, it seemed wiser to me not to go any further in this mission that was entrusted to me. The burden seemed too heavy to me and I did not want to take the risk of having to give up along the way, nor of not being able to correctly accomplish this mission of auxiliary bishop."
"It is therefore with regret, but in peace, that I have taken the decision to renounce this mission, as I wrote to Pope Francis on Oct. 28 to inform him."
The decision means that 69-year-old Archbishop d'Ornellas will continue to govern the Archdiocese of Rennes, Dol, and Saint-Malo, which serves around 900,000 Catholics, without the assistance of an auxiliary bishop.
The Catholic Church is finding it increasingly difficult to recruit — and in a handful of cases, retain — bishops.
Cardinal Marc Ouellet, prefect of the Dicastery for Bishops, said in 2019 that around 30% of priests declined the request to lead dioceses and that the proportion had tripled in a decade.
In October, Pope Francis accepted the resignation of 59-year-old Swiss Bishop Valerio Lazzeri, who said that he had been overwhelmed by "inner fatigue" and struggled with aspects of governance, administration, and financial management in his Diocese of Lugano.
📰
'The Pillar' covers news you won't read anywhere else. We do it intelligently and reliably, because our subscribers know good journalism is worth paying for. So subscribe today – or upgrade your subscription!
Msgr. Brient's announcement comes at a challenging time for the French bishops. They are struggling to address an abuse crisis that has engulfed several retired members of the French episcopate.
Earlier this week, a retired archbishop admitted to inappropriate behavior toward a young woman in the 1980s. Archbishop Jean-Pierre Grallet announced on Nov. 15 that he was facing both canonical and civil investigations into his actions.
Grallet is the third French Church leader to face scrutiny since mid-October, when it emerged that Bishop Michel Santier had been allowed to resign in 2021 citing health reasons when he was facing claims of spiritual abuse dating back to the 1990s.
Cardinal Jean-Pierre Ricard admitted on Nov. 7 that he had behaved "in a reprehensible way" toward the girl when he was a pastor in the Archdiocese of Marseille in the late 1980s.
French bishops' conference president Archbishop Éric de Moulins-Beaufort said on Nov. 7 that a total of 11 French bishops had faced scrutiny by the secular or ecclesiastical justice systems on suspicion of committing or covering up abuse.
Moulins-Beaufort made the announcement at the bishops' Nov. 3-8 plenary assembly in Lourdes, where a series of resolutions were passed concerning clerical abuse.
The bishops took a further step toward establishing an interdiocesan canonical penal tribunal. They also approved the creation of a monitoring board to advise bishops on the application of the 2019 motu proprio Vos estis lux mundi, which set out new norms for combating abuse and holding Church leaders to account for their handling of cases.
A delegation of French bishops is expected to travel to Rome to meet with the prefects of the Vatican Dicastery for the Doctrine of the Faith and Dicastery for Bishops.
Start your day with Starting Seven - a daily news roundup in your inbox.
Comments