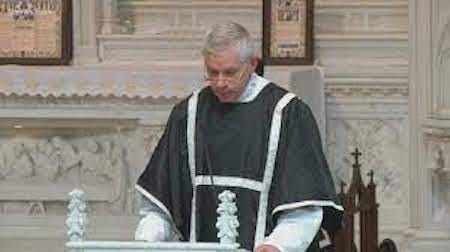 Newly released federal probation records reveal that Fr. James Jackson, FSSP, was investigated for possessing child pornography this summer, while he was awaiting trial on earlier federal child porn charges, for which he was arrested last October.
The priest could soon be charged with child porn crimes for a second time - this time in the state of Kansas, the federal records show.
"On July 11, 2022, the U.S. Probation Office in the District of Rhode Island was contacted by Detective Christopher Moore of the Overland Park Kansas Police Department," explained a July federal memo that was released to the public Oct. 5.
"Detective Moore advised this officer that a search warrant was issued for Mr. Jackson's residence on [redacted] in Leawood, Kansas in response to a child pornography investigation in which Mr. Jackson was the primary target."
"The child pornography investigated [conducted by Kansas police] identified internet activity linked to Mr. Jackson from May 2022 to June 2022 in which he allegedly engaged in accessing child pornography."
Jackson was at that time living in Kansas with relatives, under supervised release, after he was arrested in Rhode Island on child porn possession and distribution charges last October.
The priest has pled not guilty to the original charges, and charged in court this week that the October 2021 search leading to his initial arrest was unconstitutional.
Kansas police have not yet charged Jackson with child pornography possession. The federal memo said police are conducting a forensic examination of a hard drive and tablet it seized from the priest in July.
But the federal memo added that "Jackson appeared to have tried to [have] concealed/hidden the devices at the time of the search," adding that the priest "was not cooperative with officers throughout the search process."
Jackson is a prominent member of the Priestly Fraternity of St. Peter, a clerical association which offers the Extraordinary Form of the Mass, also called the Traditional Latin Mass.
The priest's initial arrest divided some traditionalist Catholics, with some claiming that Jackson was not computer savvy enough to have committed child porn crimes, and some suggesting the priest had been framed, or that child porn seized at his rectory belonged to someone else.
It is not clear whether second child porn investigation against Jackson will deter Catholic commentators who have led the campaign to defend the priest.
Jackson was taken into federal custody after probation officials were notified of the Kansas investigation, because he had unauthorized devices connected to the internet. He is now being held in a Rhode Island federal detention facility.
Editor's note: This report initially said that Jackson had "maintained his innocence" regarding the federal crimes with which he has been charged. In fact, the priest has pled not guilty, but has not otherwise made a statement as to his alleged crimes. The report has been corrected.
Comments