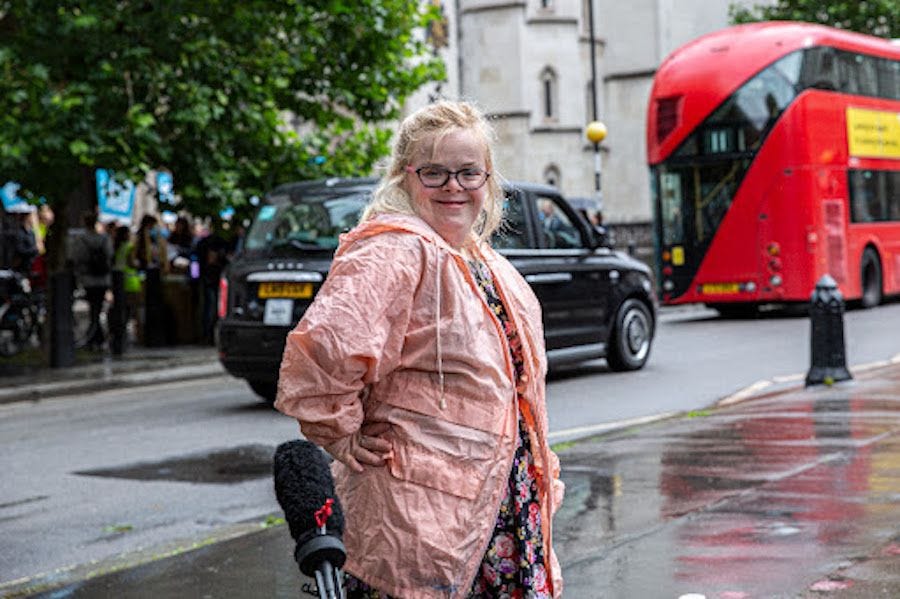 This has been quite a year for Heidi Crowter, the 27-year-old disability rights campaigner.
In July, she challenged a U.K. law permitting abortion up to birth on grounds of disability at the High Court in London.
When that failed, she brought the challenge to the Court of Appeal. When that too was rejected, she promised to take it to the U.K.'s Supreme Court.
In between, she published an autobiography, "I'm Just Heidi," appeared prominently in the media, and was named one of 2022's most "inspiring and influential" women by the BBC.
The subtitle of her autobiography is "living to the full with Down's syndrome" — and she's been doing that since she was born in Coventry, in England's West Midlands, on July 3, 1995.
She was diagnosed with leukemia, pneumonia, and kidney failure, and underwent surgery to repair a hole in her heart not long after birth. After battling through those challenges, she attended mainstream schools before qualifying as a hairdresser.
In 2020, she married James Carter at a socially distanced wedding in an Evangelical church in Coventry, and began chronicling her life - with panache - on Twitter.
That year, she also made a powerful television appearance in which she discussed the Abortion Act 1967, which allows abortion up 24 weeks for all unborn children but with no time limit if "there is a substantial risk that if the child were born it would suffer from such physical or mental abnormalities as to be seriously handicapped."
"It makes me feel unloved and unwanted," she told the interviewer, adding that she felt like the rejected character Grizabella in the movie "Cats."
From there, she embarked on a campaign that could change U.K. law — or, at the very least, help to upend antiquated prejudices about Down syndrome.
In an email interview with The Pillar, Crowter spoke about prayer, perseverance, and equality in the womb.
Congratulations on being named one of the BBC's "100 inspiring and influential women" for 2022. How did it feel to make the list?
It felt amazing and I am incredibly honored to be named alongside these inspirational women.
When did you first become aware that U.K. law discriminates against unborn children with Down syndrome and other conditions? And what was your reaction?
My mum told me when I was 16 and I was shocked to the very core because when I was growing up I didn't feel different compared to my siblings.
What does the abortion of people with Down syndrome say about the values, fears, or assumptions of our culture?
It shows that people still believe that people with Down's syndrome won't be able to do normal stuff.
How did you become involved with the effort to challenge the law?
It started back in February 2020, when we contacted a solicitor called Paul Conrathe, then we started a crowdfund to pay for the court cost and the barristers. We had a lot of generous people support us and donated to us, as they believe in equality in the womb.
What role does your Christian faith play in your activism?
My Christian faith is the driving force of my activism. As it says in my favorite Psalm 139, verse 14, "I will praise you because I am fearfully and wonderfully made." It doesn't say that only people without an extra chromosome are made in the image of God. It means everyone is, including me and my husband.
Prayer is also a big part of my activism as I have had a few disappointments in my activism.
Others might have given up after the challenge was rejected by the High Court and then the Court of Appeal. But you are now considering seeking permission for the case to be taken to the Supreme Court. Why are you so determined to continue?
Prayer has encouraged me to keep my eyes on Jesus coming again, to see the crown of life I will get, which no one can get rid of. With that in view, how can I give up?
I am so determined to bring this legal challenge to the Supreme Court as I am someone who has Down's syndrome. This law was made in 1967 when we weren't able to go to school. I want them to move with the times and actually meet people with Down's syndrome and see the person behind the chromosome. I want the law to reflect our lives in 2022.
I have a fantastic life. I have been married for two years. I have lived independently for seven years now. I can cook, clean, and I am a qualified hairdresser.
What do you think are the biggest misconceptions about people with Down syndrome?
People also say that people can't get married or have relationships. On the night I was born, my mum cried to my dad, saying "She will never get married or be a bridesmaid," which I proved wrong.
Do you think that your campaign — regardless of whether it succeeds — has helped to change perceptions of Down syndrome?
I think that seeing me on the news speaking confidently as a strong, independent woman has given new mums hope for their kids with Down's syndrome. Hopefully seeing all my abilities has helped people see Down's syndrome in a positive light.
In what ways can people without Down syndrome help to eradicate discrimination — including abortion — against those who do have it? What can people do — even those who don't know anyone who has Down syndrome?
You can try and help them learn about Down's syndrome. I have recently published my own book called "I'm Just Heidi," which is about my wonderful life, which I hope will open people's hearts and minds. If anyone who is reading wants to buy my book, it's on sale from Day One Publications for £8 [about $10].
📰
'The Pillar' does serious, faithful, Catholic journalism because of our subscribers. We depend on you. So subscribe!
Comments