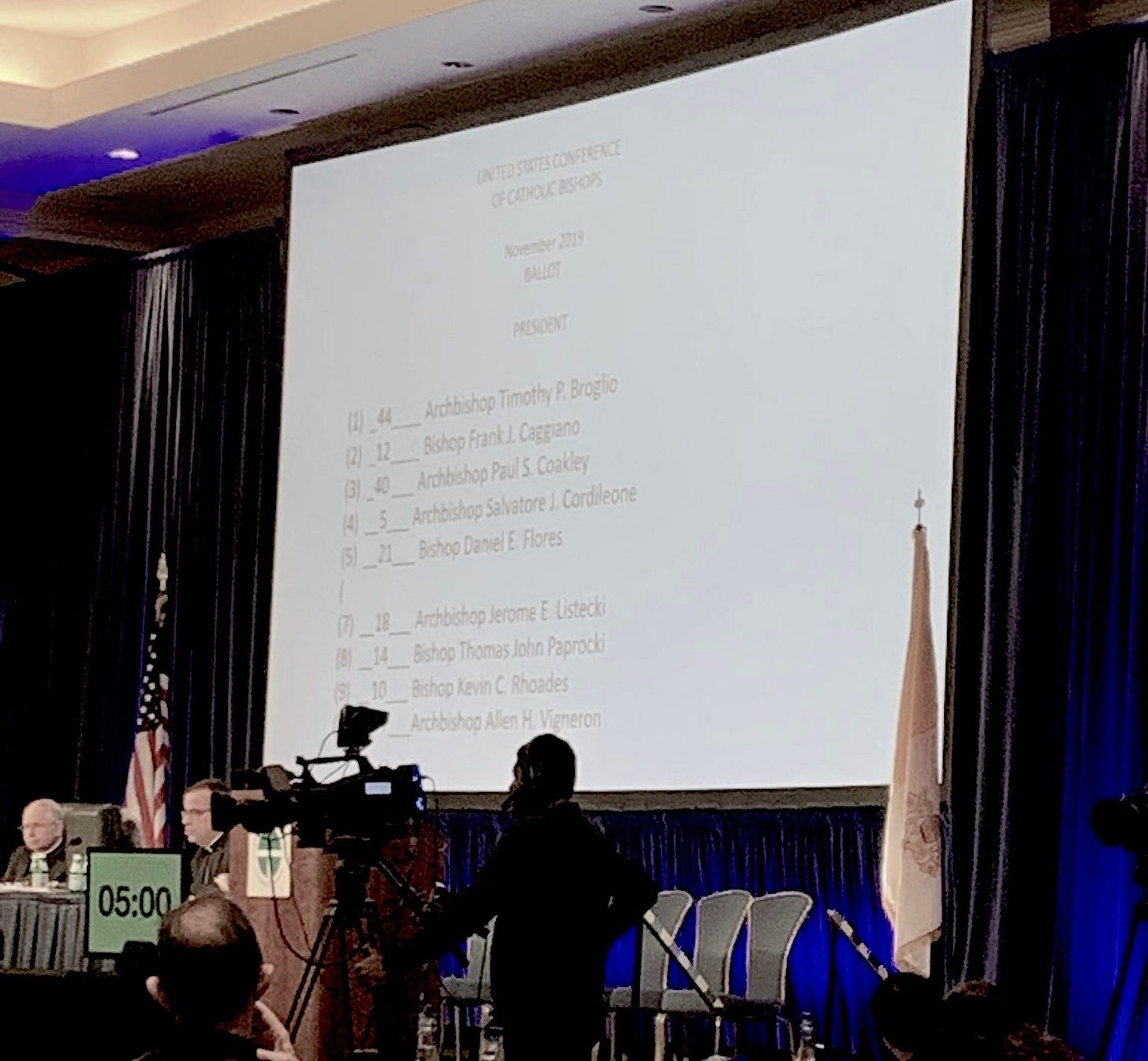 The U.S. bishops' conference on Tuesday afternoon will elect a new president and vice president, in an unusually open election lacking the customary presumption that the current vice president will be elected president.
The election breaks from tradition because conference vice-president Allen Vigneron is 74, too old to serve a term as USCCB president. Ten bishops have accepted the nomination to be elected USCCB president, and will be voted on during a run-off style election Nov. 15.
How does that election actually work?
The Pillar explains.
How are the candidates decided?
According to USCCB policy, diocesan bishops are eligible to be elected to the office of president and vice president. Several months before an election each member of the USCCB is asked to propose up to five names of bishops qualified for the office of conference president. The ten bishops with the most nominations - if they are willing to stand for election - become candidates for the offices of both president and vice president.
Who are the candidates?
Archbishop Timothy Broglio, Archdiocese for the Military Services
Bishop Michael Burbidge, Diocese of Arlington
Bishop Frank Caggiano, Diocese of Bridgeport
Archbishop Paul Coakley, Archdiocese of Oklahoma City
Archbishop Salvatore Cordileone, Archdiocese of San Francisco
Archbishop Paul Etienne, Archdiocese of Seattle
Bishop Daniel Flores, Diocese of Brownsville
Archbishop Gustavo García-Siller, Archdiocese of San Antonio
Archbishop William Lori, Archdiocese of Baltimore
Bishop Kevin Rhoades, Diocese of Fort Wayne-South Bend
How does the election work?
Presidential voting takes place every three years at the fall meeting of the U.S. bishops' conference.
The bishops first elect a president. All ten bishops are on the ballot, and the president is elected with a 50%+1 majority. If no bishop gets a majority on the first ballot, another vote is held — after the results of the first ballot are shown to the bishops.
If no bishop gets a majority after two ballots, the election moves to a run-off ballot— bishops may then choose between the two candidates who received the most votes on the second ballot; on the third ballot, whichever gets a majority of votes is elected president.
In 2019, Archbishop Jose Gomez was elected president on the first ballot, with 176 votes. No other bishop got more than 18 votes.
After the president is elected, the bishops vote from among the remaining 9 candidates for a vice president. A bishop needs a 50%+1 majority to be elected vice president.
If no bishop gets a majority in the first two ballots, a run-off is held, between the two candidates who got the most votes on the second ballot. The winner of that run-off is the conference vice-president.
In 2019, the vice-presidential race went to a run-off vote, between Archbishop Allen Vigneron and Archbishop Timothy Broglio. Vigneron got 151 votes in the run-off, Broglio got 90.
Archbishop Paul Coakley, a candidate for president again in 2022, got 44 votes on the second vice-presidential ballot in 2019, good for third place in the VP race.
When do the new president and vice president start?
The new president and VP begin their terms immediately after the fall meeting ends.
Start your day with Starting Seven - a daily news roundup in your inbox.
How are the other conference officers elected?
The treasurer and secretary of the USCCB are elected from a slate of nominated candidates. Both secretary and treasurer are elected for three-year terms, which are ordinarily preceded by a one-year term as "secretary-elect" or treasurer-elect."
Bishop James Checchio was elected conference treasurer in November 2021, and will take over treasurer duties beginning this week in Baltimore.
Archbishop Timothy Broglio was first elected conference secretary in November 2019, to complete the term of then-secretary Archbishop Allen Vigneron, who was in that year elected conference vice president. Broglio was elected to his own three-year term in fall 2020.
There are not scheduled elections for conference secretary or treasurer at the November 2022 meeting,
The other elected leadership positions at the conference are those of committee chairmen. Most of the bishops' conference's actual work is done by small standing committees of bishops, across a broad portfolio of issues, among them are committees on evangelization and catechesis; child and youth protection; liturgy; and clergy, consecrated life, and religious.
The conference also creates ad hoc committees with mandates to address particular issues - the most prominent of which is the ad hoc committee on racism, which was created in 2017, and saw its mandate extended for three years in 2020.
Candidates for committee chairs are selected by the powerful conference Committee on Priorities and Plans, which is chaired by the conference secretary. Nominations can also be made from the floor. Committee chairmen are elected for three-year term, and before that serve as "chairman-elect" for a single year.
The bishops' conference in 2021 elected chairmen of five committees, who will take up their new roles at the end of this year's meeting.
The bishops in 2022 will elect chairmen of six committees.
On most committees, chairmen are responsible for appointing the committee membership from among the bishops - though some committees are comprised of regional representatives.
Chairmen are also responsible for appointing "consultors" to conference committees — laity, religious, or clerics with particular expertise who advise committees. Some committees customarily involve consultors appointed from outside organizations, like the Leadership Conference of Women Religious, which collaborate with the bishops' conference.
Is anything else unique or unusual about the 2021 election?
We're glad you asked. There is, as a matter-of-fact.
Because this is a wide open election for the top slot, it's hard to predict how the presidential and vp elections might impact other elections down the line.
Here's what that means:
When a bishop is elected president or vice president of the conference, he is not eligible to be elected to head any other committee. So the results of the presidential election could trigger the announcement of new candidates in other elections.
Here's a breakdown:
Archbishop Timothy Broglio, current conference secretary, is a candidate for president, and a frontrunner for that position.
If he is elected to that job or as vice president, the conference would hold a special election Wednesday morning, to elect a new conference secretary. Nominees would presumably be chosen by the Committee on Plans and Priorities - no word if the committee meeting room is, to borrow an election cliche, actually a smoke-filled back room - or accepted from the floor.
Archbishop Salvatore Cordileone and Bishop Kevin Rhoades are candidates for conference president, and the two nominees to chair the Committee on Religious Liberty.
If either is elected president or vice president, the Committee on Priorities and Plans will nominate a new candidate to replace him in the religious liberty committee election.
While officers are not eligible to be elected as committee chairs, conference policy does not seem to require that newly elected officers resign the committee chairs they already occupy. But if a newly elected president or vice president chose to resign his committee chair, Tuesday's election could trigger new leadership at:
-the Committee on Pro-Life Activities, which is chaired by Archbishop William Lori, a candidate for president.
-the Committee on Doctrine, which is chaired by Bishop Daniel Flores, a candidate for president.
📰
'The Pillar' covers news you won't read anywhere else. We do it intelligently and reliably, because our subscribers know good journalism is worth paying for. So subscribe today – or upgrade your subscription!
Comments