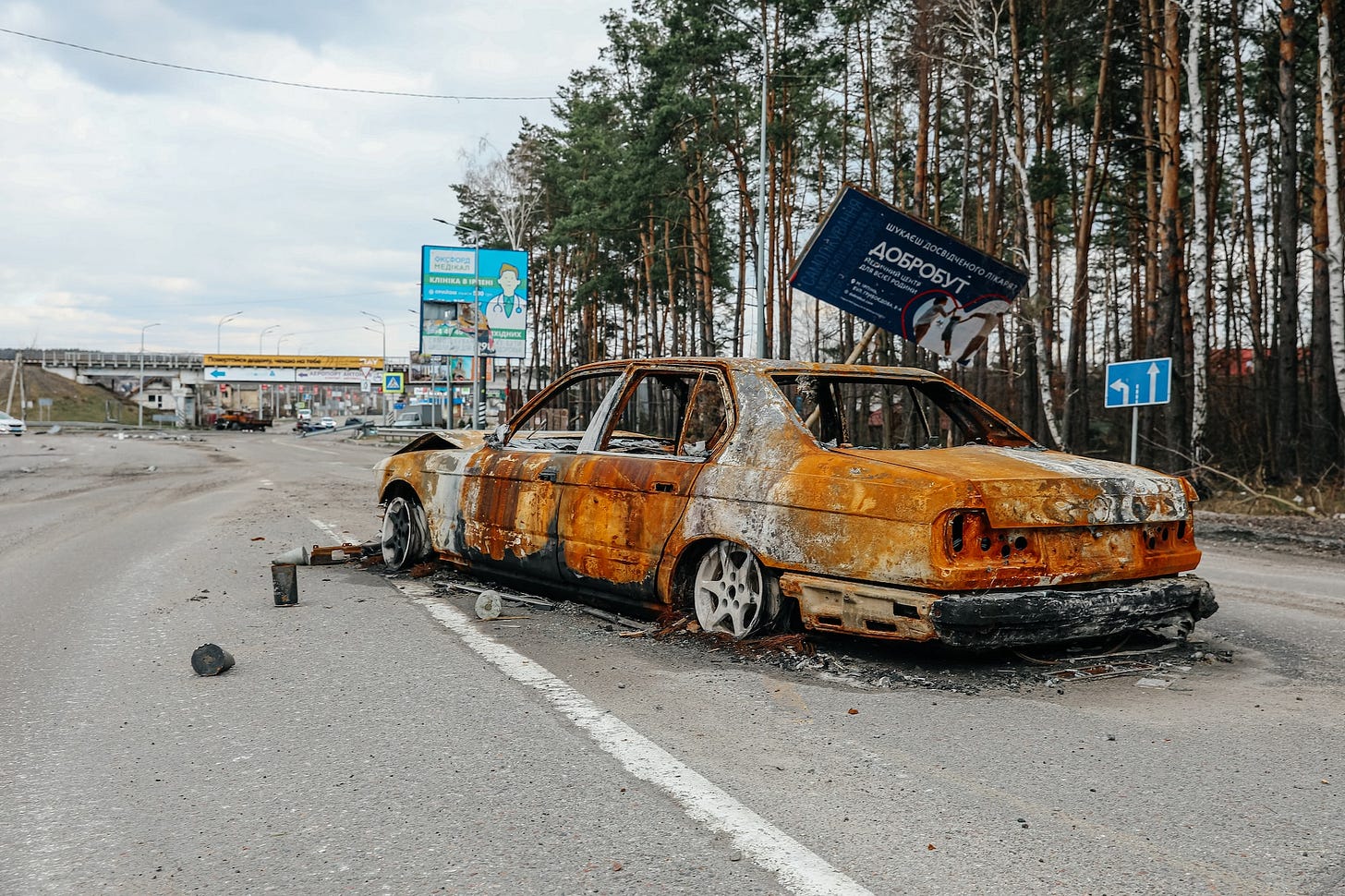 On the 258th day of Russian military aggression in Ukraine, the country continues to suffer human casualties among the military and civilian population, who face the shelling of Ukrainian towns and villages and large-scale material losses.
In recent weeks, Russian forces have focused on destroying Ukraine's energy infrastructure, which seems particularly threatening to most Ukrainians given the imminent onset of winter.
Along with the destruction of residential buildings and industrial facilities, buildings belonging to Ukrainian churches and religious organizations have also been damaged since the outbreak of the war.
They are damaged most often because they are located near the fighting, and are most likely hit by shelling accidentally. But according to the authors of a Ukrainian research project, "Religion on Fire,," there are also cases in which Ukrainian churches have been deliberately destroyed.
Members of religious communities close to the front line or under occupation are in even greater danger.
According to researchers, 20 priests and pastors have been killed since the war began — but there is reason to believe that an accurate figure might be five times higher.
And sources say the religious leaders who have not fled Ukraine's occupied territories are persecuted by Russian efforts to see them cooperate with the occupation, or to coerce them into urging Ukrainians to Russian loyalty.
'Establishing control'
Maksym Vasin, executive director of the Institute for Religious Freedom, told The Pillar that in occupied southern and eastern regions of Ukraine, religious leaders are of special value to Russian occupation authorities.
"Since churches and religious communities traditionally have a high level of trust among Ukrainian citizens, the occupation authorities are trying to use religious leaders to legitimize their occupation administration and to minimize the resistance of the local population," Vasin explained.
According to recent sociological data, about 70% of Ukrainians say they trust church leadership, which makes Russian authorities keen to influence religious leaders.
"Therefore, one of the primary goals after the occupation is establishing control over religious organizations of different denominations. If there are priests or pastors, imams or rabbis who demonstrate their pro-Ukrainian position or disagree with showing loyalty to the Russian occupation authorities, they face arrest and imprisonment. We are talking about arbitrary arrests because there is no force of law there."
Arrested religious leaders "are subjected to beatings, torture, threats against their relatives, and various methods of coercion to cooperate," Vasin alleged.
While the regions around Kyiv were liberated from Russian forces by April, southern and eastern regions of Ukraine are still under occupation, and experiencing a very different daily life than in the capital, with religious leaders often interrogated or detained by Russian intelligence agents:
"Such interrogations, coercion to cooperate are conducted not by the military, but by trained FSB officers who have a specific intention to minimize the resistance of the local population and to take control of all influential religious and public figures, in addition," Vasin continued.
"We even recorded the coercion of religious communities to establish links with Russian religious centers — to change affiliation from Ukrainian to Russian. And it is a purposeful policy."
But Vasin said that Russian attitudes toward religious communities in the newly occupied territories are gradually changing.
Since mid-summer, Russians have increasingly moved to shutter the activities of individual religious congregations.
He predicts that occupation authorities will follow a pattern they established in 2014 in Donetsk and Luhansk regions, in which Russian authorities deregistered disloyal religious communities and banned their activities.
"There is also information that Russian pastors began to come to the occupied territories, particularly Mariupol. For example, the Russian United Union of Christians of Evangelical Faith sends its missionaries and volunteers who aim to provide pastoral care to the residents under the guise of humanitarian aid," Vasin said.
"Still, we understand that they have to replace local religious leaders who were killed, repressed, or forced to leave the occupied territories. And these Russian pastors will now proclaim positions that will meet the interests of the occupation authorities, proclaim abstract sermons about the need for peace, without mentioning who violated this peace."
'Not interrogations, but torture'
Before the 2014 invasion of the Donetsk region, Ihor Kozlovsky was as an associate professor of philosophy at the Donetsk National Technical University.
Because he could not easily flee with his 37- year-old son, Sviatoslav, who has Down syndrome, Kozlovsky was forced to stay under occupation, while many of his colleagues fled Ukraine's east.
Together with representatives of various Christian denominations, Kozlovsky participated in a prayer marathon called "For Peace, Love, and Integrity of Ukraine," which was first gathered on the streets of Donetsk and, after being banned by the occupation authorities, went underground.
Kozlovsky was arrested on January 27, 2016, and spent the next 700 days in detention, until he was released as part of a prisoner exchange.
According to Kozlovsky, the first stage of occupation was accompanied by military pressure on religious organizations and the use of all types of repression: from the seizure of religious buildings to imprisonment and executions.
In the second stage, the Russian special services took the situation under control.
"We now see a similar picture in Kherson, Zaporizhzhia, and Luhansk regions. However, in the previous phase of Russian aggression, the second stage began about a year later, in 2015. In the territories occupied after February 24, the FSB was involved almost immediately," Kozlovsky explained.
"They systematically put pressure on religious communities. First are illegal detentions, arrests, and detention in inappropriate places -- basements, garages, and various industrial buildings. There are cases of kidnapping. Second, a network of informers is created, and a system of denunciations operates."
"Active believers and religious leaders are arrested. Their interrogations are not interrogations but torture; I do not even know who was not tortured... When I was in prison, everyone was tortured. Their main goal is not to get some information but to break a person, intimidate or destroy him if such a task exists," Kozlovsky told The Pillar.
"And then, they aim oust the active pro-Ukrainian part of the population from these regions and intimidate the passive ones, So that only those who will live quietly and not interfere in anything will remain, the goal is to create a regime of fear, and then using this fear to manipulate the more passive population."
According to Kozlovsky, who now lives in Kyiv, the final stage of the occupation policy is the introduction of a new legislative framework, which often copies Russian legislation, according to which all religious communities are divided into "traditional" - among which the Moscow Patriarchate occupies a prominent place - and "non-traditional," whose activities are subject to restrictions, and often a gradual marginalization in public life.
"Finally, everything is put under the supervision of special services through a network of informants. I had such a case when I was brought with a bag on my head to one office I heard a conversation between operatives and a man who brought information about the Greek Catholic Church in Donetsk. He was a parishioner of one of the communities and informed about the behavior of priests and believers. This is systematic work."
Kozlovsky told The Pillar that the Russian operatives involved in religious persecution are not very well versed in the Ukrainian religious landscape:
"They do not understand the Ukrainian religious situation; they are just trying to clean up everything that they think is dangerous. They are trying to create a picture like in Russia. They are perplexed by Ukrainian religious diversity. If something is incomprehensible, it causes a traditional imperialistic reaction, it must be destroyed, and everything else must be unified."
"One of my last interrogations was conducted by a representative of the FSB. He told me that in Ukraine, there are dangerous cults of Chabad-Lubavitch and Mormons - the Church of Jesus Christ of Latter-day Saints. I asked him what he knew about Chabad Lubavitch and whether he knew that it is a great Hasidic movement that emerged in the 18th century. It irritated him very much because it destroyed his worldview."
"They are accustomed to thinking in a way that has been common for a Russian citizen since Soviet times. There is a myth that FSB officers are very educated, experienced specialists; in fact, they are primitive and ignorant people," Kozlovsky charged.
—
'Quietly helping each other'
Ulyana Sevastianiv is a Ukrainian eligious scholar working with colleague on the "Religion on Fire" project, which aims to record and document the damage suffered by religious buildings, as well as the killing, wounding and abduction of religious leaders of various denominations.
Sevastianiv told The Pillar that as of Nov. 1, nearly 350 sacred sites in Ukraine have been destroyed during the war. When the smoke clears, there are likely to be more, as yet unrecorded.
"Most of the damaged religious sites - 179 of them - belong to the UOC-Moscow Patriarchate. After that are Protestant communities, which have seen 108 buildings destroyed," Sevastianiv explained.
"Also known are about 24 damaged or destroyed buildings belonging to the Orthodox Church in Ukraine, 14 which are Jewish, six Muslim, five Roman Catholic, and three Ukrainian Catholic. Several more destroyed buildings belong to the Russian Orthodox Church Abroad, Karaites, and Krishnaites."
"Most of these objects are temples and houses of worship, but there are chapels, cemeteries, and other objects of sacred significance for the respective communities," Sevastianiv added.
"We have documented at least 16 cases of targeted destruction of churches, which is a gross violation of international humanitarian law and can be qualified as war crimes. Among them are churches, some of which were destroyed, among them a historic wooden church of the 19th century in the village of Lukianivka, Kyiv region, which was deliberately shot from tanks."
"And for example, the Irpin Baptist Bible Seminary was partially destroyed. However, the sacred spaces were damaged in most cases by a shock wave or fragments from a mine or missile."
Sevastianiv said the researchers of "Religion on Fire," have used open source intelligence gathering to document 18 cases of murders of priests and pastors - seven priests of the OCU, seven of the UOC-MP, four Protestant pastors.
Another eight were injured, and 16 have been held in captivity, including 10 Protestant pastors, five priests of the OCU, and one from the UOC-MP.
"According to information from the chaplains in captivity, they were treated with particular cruelty, especially if [Russians] learned that they belonged to the OCU or Protestant communities," the Ukrainian researcher told The Pillar.
Start your day with Starting Seven - a daily news roundup in your inbox.
Tetiana Kalenychenko is another Ukrainian religious scholar, working in the field of conflict transformation and peacebuilding in the de-occupied territories.
Kalenychenko told The Pillar it is too early to determine the number of victims in the war, since state statistics are still classified, and unavailable to researchers. Accurate figures will be known only after the war, Kalenychenko explained.
The researcher, who herself was for some time under occupation near Bucha, told The Pillar that the situation for religious communities under occupation depends largely on Russian force commanders:
"If the commander goes nuts, then terrible things will happen around; he will not even give people water, will shoot and so on. This also applies to the religious sphere."
"But usually, [the Russians] do not understand the Ukrainian context and, therefore, often do not know how to act. What can be traced is that they have difficult relations with Protestants in Russia, so they are suspicious of them in the occupied territories. They act on Russian models, often accusing them of working for America. As a result, there are a lot of cases of persecution of Protestant pastors. They are often arrested, sometimes by whole families, which are then separated."
According to Kalenychenko, after a Ukrainian territory falls under occupation, Russian authorities conduct preliminary conversations with priests and pastors to clarify the situation and understand what local churches are actually doing.
Speaking about her own region, Kalenychenko noted that several priests and pastors managed to continue charitable and pastoral work under occupation; there was an extensive network of believers "quietly helping each other" without attracting the attention of the occupation authorities.
"Much depended on the local population. If one of the people cooperated with the Russians and gave information that a priest or pastor had a pro-Ukrainian position, the [authorities] immediately came to him. Where this was not the case, the priest could act, even conduct funerals. Not openly, but still, it was possible," Kalenychenko explained.

—
'Every community ... a target'
For his part, Maksym Vasin emphasized that it is difficult to establish an accurate number priests and pastors facing arrest, persecution, or death. "Today we hear of about 20 cases when religious leaders were killed or imprisoned…[but] the figure of 20 can be easily multiplied by five," Vasin said.
"I know of one case when a priest in eastern Ukraine reported a robbery attack on their community, after which representatives of the occupation authorities came to him and broke his legs. This settlement has already been liberated, and he is still being treated."
"There is also a great risk of talking about torture, even for those who left the occupied territories. Even now, pastors and priests are often afraid to testify because they fear their fellow believers will suffer if they make them public."
"There were cases when we could not get permission to document the crime, let alone make it public. There was a case when we waited two months until a person took all his relatives out of the occupation," he added.
"If it has not declared loyalty, every community under occupation becomes a potential target; leaders will not be able to remain neutral or go underground because they will be found anyway."
📰
'The Pillar' covers news you won't read anywhere else. We do it intelligently and reliably, because our subscribers know good journalism is worth paying for. So subscribe today – or upgrade your subscription!
Comments