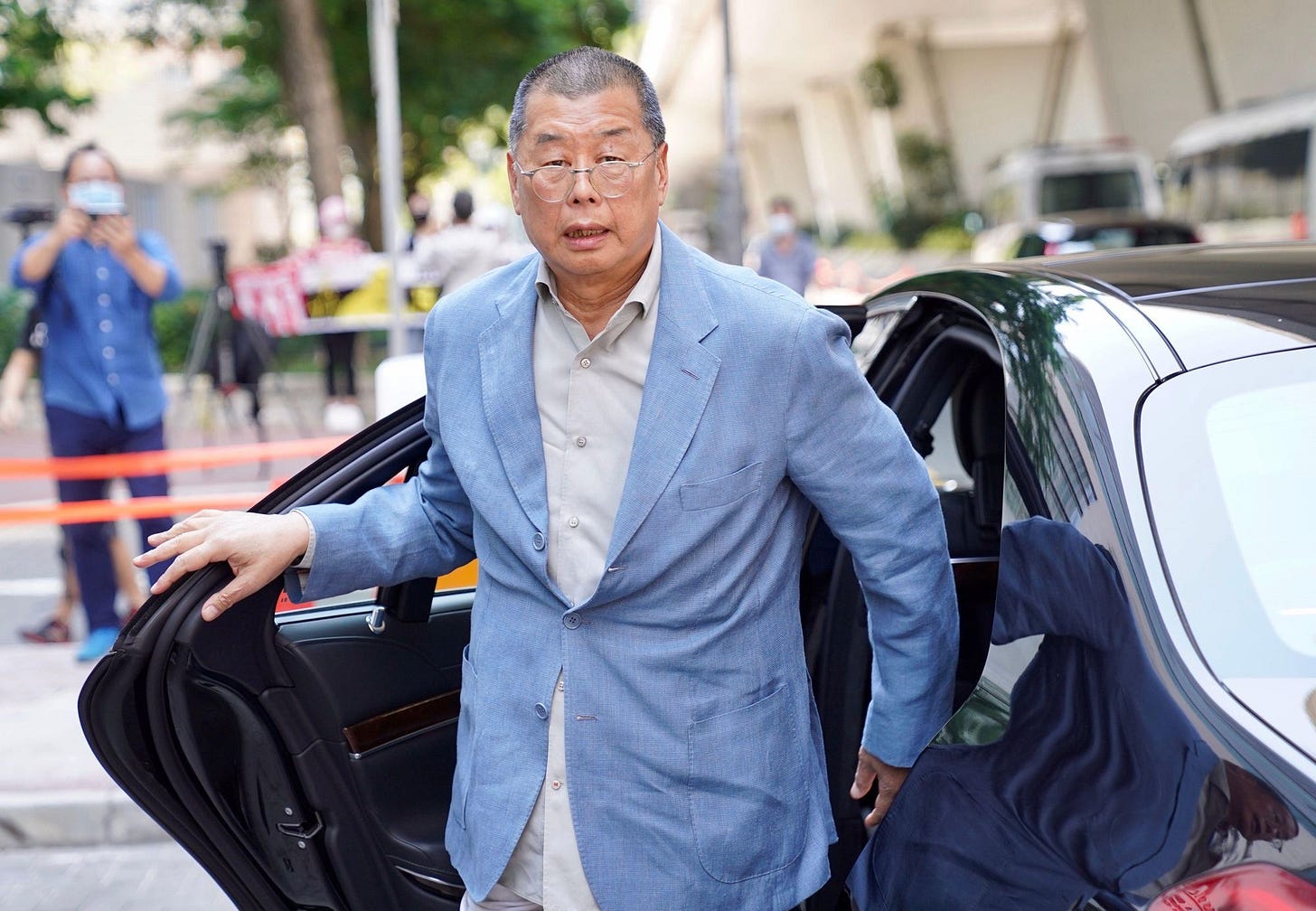 Jimmy Lai, the jailed Catholic pro-democracy advocate and newspaper publisher, will have to wait more than nine months before facing his latest trial in Hong Kong. On Tuesday, the judge in Lai's case adjourned the trial until September next year, after the local government appealed to the mainland to stop him being represented by a top lawyer.
Lai has repeatedly cited his Catholic faith as a motivating and sustaining force in his ongoing trials.
In October, John Lee, the Jesuit-educated chief executive of the local government, told Hong Kong media that he would enact new security measures to push back against anti-Beijing and free speech demonstrators in Hong Kong, and keep local political groups from working with foreign governments.
The changes announced by Lee are likely directly linked to the trial of Cardinal Joseph Zen, the emeritus bishop of Hong Kong, who was convicted by a local court last month for failing to officially register a fund helping pro-democracy protesters of which he was a trustee.
Lai has been in prison since December 2020 and faces life in jail if convicted of national security crimes.
After he was convicted of unlawful assembly for attending a 2019 prayer vigil and helping to organize other banned public events in Hong Kong, Lai was given a two and a half year sentence. Last week, he was handed a further six month jail term, after he was found guilty of fraud in relation to the subletting of office space by his publishing company — charges his supporters have called a pretext for shuttering his former newspaper Apple Daily, and keeping Lai in prison.
In addition to his previous convictions, Lai also faces charges under the National Security Law, brought in by the mainland government in 2020 in response to the wave of pro-democracy protests which swept Hong Kong the previous year. He is accused of encouraging foreign governments to impose sanctions on Hong Kong and Chinese officials over the suppression of pro-democracy demonstrations.
But that trial has been postponed until September next year, after the recently installed chief executive of Hong Kong, John Lee, appealed to the mainland government in a bid to stop Lai appointing a top lawyer to run his defense team.
When the government of the Special Administrative Region brought charges against Lai, he named the prominent UK lawyer Luke Owen to defend him in court. Because of its historical ties to the UK and UK law, British lawyers and judges have long served in the Hong Kong legal system.
But the local government objected to the appointment, claiming that the participation of Owen, a UK national married to a Hong Konger, in a national security trial would itself raise national security issues.
That objection was dismissed by Hong Kong's High Court, a decision subsequently upheld by the Court of Appeal. As a last ditch effort to prevent Lai naming legal counsel of his choice, Lee has appealed to the standing committee of the National People's Congress in Beijing.
Although the National Security Law, which was imposed by the mainland government on Hong Kong outside its ordinary governing process, does not specifically bar the participation of UK lawyers in national security cases in Hong Kong, Lee has asked the committee to clarify its provisions should be interpreted to exclude lawyers like Owen, since foreign lawyers could themselves pose a national security risk.
Since Lai has said he still wishes to appoint Owen, whose Hong Kong visa has lapsed during the appeal process, the judge hearing Lai's case adjourned the case for nine months in the expectation that Beijing does not intend to issue a swift response.
When the National Security Law was imposed in 2020, Lai called it the "death knell" of rule of law in Hong Kong. Soon after he was arrested and jailed on national security charges, he called his imprisonment "the pinnacle of [his] life."
📰
'The Pillar' does serious, faithful, Catholic journalism because of our subscribers. We depend on you. So subscribe!
Comments