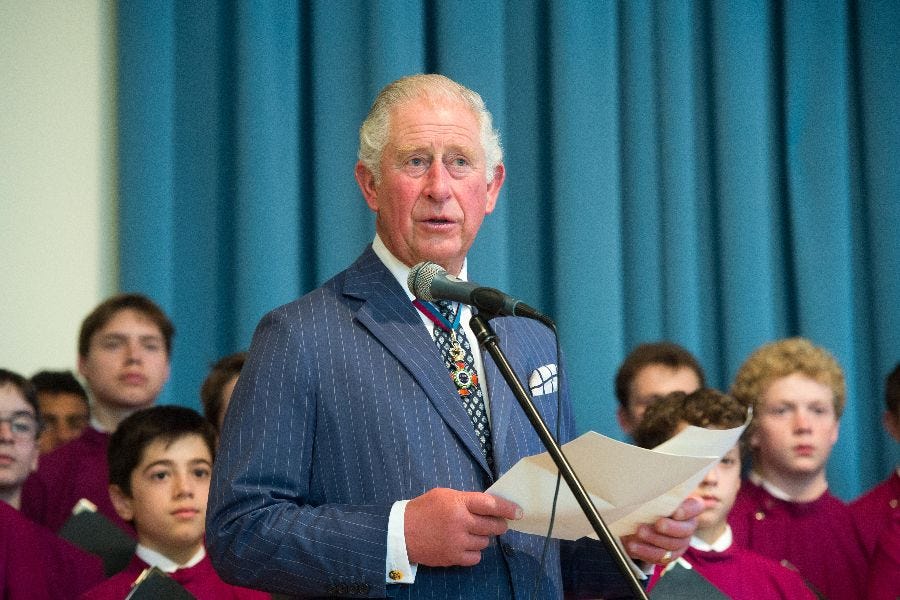 Britain's new monarch is known as a champion of unfashionable causes.
He was dismissed as "completely dotty" in the 1970s when he began raising the alarm about plastic pollution. In the 1980s, he was mocked for installing "strange machines" known as bottle banks - for recycling - at Buckingham Palace.
Environmentalism has long since gone mainstream, but in recent years King Charles III has attempted to draw attention to another unfashionable phenomenon, one often dismissed, downplayed, or ignored.
The monarch has emerged as one of the world's most influential supporters of persecuted Christians.
'Indescribable tragedy'
It's hard to identify the precise moment that Charles publicly embraced the cause of suffering Christians. But he took a significant step in 2013, when the Islamist group ISIS was rampaging across Syria and Iraq.
The future king visited a Coptic Orthodox Church center and a Syrian Orthodox church that year in southeast England, before hosting a reception for Middle Eastern Christians at Clarence House, his London residence.
"The Prince has expressed concern about the current challenges facing Christians in some Middle Eastern nations and wanted to meet members of those communities resident in the UK to find out more," his office explained at the time.
"The Prince of Wales wants to draw attention to the importance of harmony and understanding between peoples of all faiths."
Charles met the Middle Eastern Christians with Prince Ghazi bin Muhammad, a coordinator of the "A Common Word" initiative, in which Muslim leaders reached out to their Christian counterparts following Benedict XVI's Regensburg address. Through contacts like the Jordanian prince, the heir to the throne kept abreast of the deteriorating situation in the Middle East.
From 2013 onward, Charles began to speak out frequently and insistently on behalf of persecuted Christians.
In 2014, he sent a video message to the launch of a report on religious freedom by the Catholic charity Aid to the Church in Need (UK).
"It is an indescribable tragedy that Christianity is now under such threat in the Middle East, an area where Christians have lived for 2,000 years and across which Islam spread in 700 A.D., with people of different faiths living together peaceably for centuries," the prince said.
His message raised considerably the profile of the report, which might have otherwise received little coverage outside the Christian media.
Two years later, Charles talked about Christian persecution on BBC Radio 4's flagship news program. Speaking in the "Thought for the Day" slot — which has also hosted Benedict XVI and Pope Francis — he recalled a conversation with a Jesuit from Syria. The priest had told the prince that Iraq's Christian community could disappear within five years due to persecution and emigration.
"The scale of religious persecution around the world is not widely appreciated. Nor is it limited to Christians in the troubled regions of the Middle East," Charles said.
"A recent report suggests that attacks are increasing on Yazidis, Jews, Ahmadis, Baha'is, and many other minority faiths. And in some countries, even more insidious forms of extremism have recently surfaced, which aim to eliminate all types of religious diversity."
The prince compared the treatment of religious minorities around the world to "the dark days of the 1930s."
"I was born in 1948, just after the end of World War II, in which my parents' generation had fought and died in a battle against intolerance, monstrous extremism, and an inhuman attempt to exterminate the Jewish population of Europe," he said.
"That nearly 70 years later we should still be seeing such evil persecution is, to me, beyond all belief. We owe it to those who suffered and died so horribly not to repeat the horrors of the past."
In 2017, the prince met with persecuted Christians in London before a service organized by Melkite Greek Catholics.
He told the congregation: "As someone who, throughout my life, has tried, in whatever small way I can, to foster understanding between people of faith, and to build bridges between the great religions of the world, it is heart-breaking beyond words to see just how much pain and suffering is being endured by Christians, in this day and age, simply because of their faith."
The Guardian newspaper noted in 2018 that the prince had met regularly with Middle Eastern Christian leaders, "as well as priests and ordinary people who have been forced to flee their homes." It added that he had "reportedly made private donations to help Christians who have fled to Britain from countries such as Iraq and Syria."
The prince used his 2018 Easter message to express solidarity with persecuted believers.
"My heart goes out to all who this day, whatever their beliefs, are being persecuted on religious grounds," he said. "And at this time of Easter, when our minds are recalled to the suffering of Our Lord 2,000 years ago, we think especially of those Christians who are suffering for their faith in many places around the world. I want to assure them that they are not forgotten and that they are in our prayers."
Later in 2018, Charles spoke at a service honoring Middle Eastern Christians at Westminster Abbey, a royal church in central London.
He described an encounter with a Dominican sister from Nineveh, northern Iraq, which was seized by ISIS in 2014. He said that she had "got behind the wheel of a minibus crammed full of her fellow Christians, and drove the long and dangerous road to safety." Behind them, they left "the ruins of their homes and churches, and the shattered remnants of their communities."
After the fall of ISIS, the sister returned home, determined to rebuild her shattered community.
"Churches, schools, orphanages, and businesses are rising from the rubble, and the fabric of that society, which had been so cruelly torn apart, is gradually being repaired," the prince said, calling it "the most wonderful testament to the resilience of humanity and the extraordinary power of faith to resist even the most brutal efforts to extinguish it."
He added: "We can only give thanks for the truly remarkable strength of the Faith with which so many Christians face persecution and which gives them the courage and the determination to endure, and to overcome."
John Pontifex, head of press and information at Aid to the Church in Need (UK), told The Pillar: "Our new king has, as Prince of Wales, demonstrated a deep and abiding compassion for Christians targeted for their beliefs, an approach which was absolutely aligned to his commitment to religious freedom."
"Through Aid to the Church in Need and others, he met a number of survivors of persecution and Church leaders tasked with leading their communities in times of great suffering."
"Both in these meetings and his public statements, he has shown a thorough understanding of the importance of religious freedom and a recognition of the urgent need for action to help those who are persecuted."
The King's speech
In his first address to the nation on Sept. 9, King Charles highlighted the British monarch's position as supreme governor of the Anglican Church of England, the country's established church.
In this role, he will exercise influence not only on the Church of England but also the worldwide Anglican Communion, the third-largest global Christian community after the Catholic Church and Eastern Orthodoxy. The Anglican Communion has tens of millions of members in more than 165 countries, including persecution hotspots such as Nigeria, India, and Pakistan.
Therefore as King, Charles has even more reason to continue seeking to raise awareness of anti-Christian oppression. The years to come are likely to bring him many opportunities to do so. The advocacy group Open Doors USA estimates that more than 360 million Christians worldwide currently face high levels of persecution and discrimination, and 5,898 were killed for their faith in the past year alone.
Charles III is one of the seemingly few international figures who grasps the scale of the suffering and has no qualms about denouncing it.
Comments