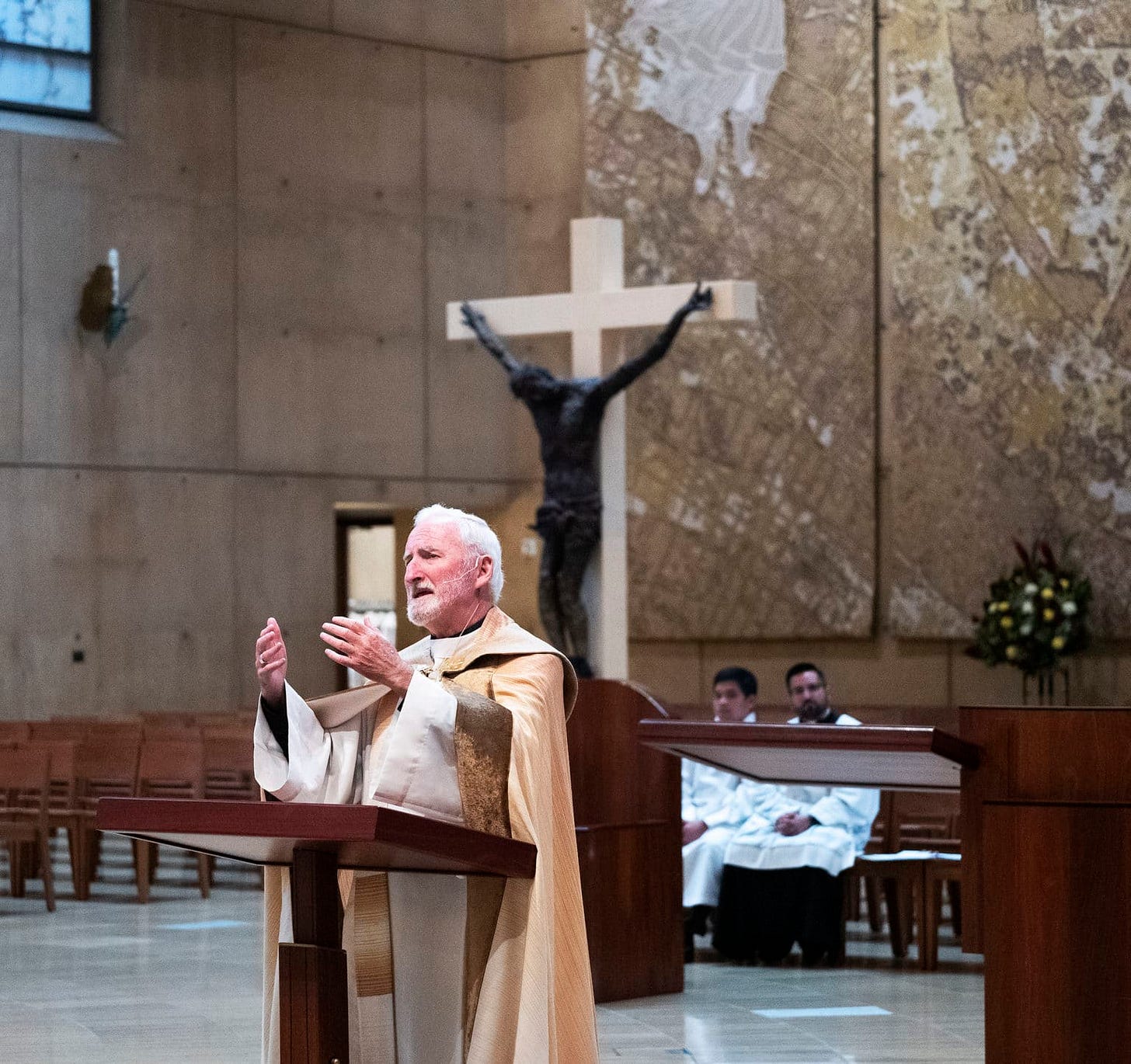 The man arrested Monday for the killing of Bishop David O'Connell has admitted to the crime, an LA prosecutor said at a press conference Wednesday, but the motivation for the killing is not yet known.
Prosecutor George Gascón also announced that Carlos Medina of Torrance, California has been charged with first-degree murder in the case, and could face life in prison if convicted.
Medina was charged in Los Angeles Superior Court Feb. 22 with murdering O'Connell, with the aggravating allegation that he used a firearm in the killing. He could face a sentence of 35 years to life in prison if convicted of the crime.
Los Angeles Sheriff's Lt. Michael Modica told has reporters that Medina has given several investigators several reasons for killing the bishop, but added that "none of them made sense to the investigators."
While Sheriff Robert Luna said Medina had told friends the bishop owed him money before his arrest, Modica said that investigators don't believe that was true.
Gascón said Wednesday that investigators believe O'Connell was likely asleep when he was shot. According to the Los Angeles Times, the bishop was shot five times with a small caliber weapon, and that the gunshot wounds were not immediately noticeable to the deacon who found O'Connell's body Feb. 18.
Medina was arrested Feb. 20 after a standoff with police at his Torrance, California home. He has since been held at the South LA Lennox Patrol Station, according to an LA Sheriff's Department database, and his bail was initially set at $2 million.
Medina, 61, has been arrested several times for drug use, most recently in 2017. He is believed to have recently resumed a drug habit, and had been acting erratically in recent weeks, the LA Times reported Wednesday.
Medina is the husband of O'Connell's longtime housekeeper, and had done some handyman work at O'Connell's house, Sheriff Luna told reporters Monday.
Medina's attorney, deputy public defender Pedro Cortes, is expected to request a mental health evaluation for his client, a process that could take up to two months to be completed.
O'Connell, an auxiliary bishop in Los Angeles, was killed Feb. 18 in his home, in the suburban community of Hacienda Heights, east of Los Angeles.
In remarks at a press conference Monday, Sheriff Luna said a deacon had gone to the bishop's house Saturday morning to check on O'Connell after the bishop missed a meeting. The deacon discovered that O'Connell was not breathing, and called 911.
When police and paramedics came to the bishop's house, they discovered that O'Connell had suffered gunshot wounds "in the upper torso, while in the bedroom of his residence."
Nevertheless, coroners did not determine that O'Connell's cause of death was homicide until Sunday morning.
Medina's wife, O'Connell's housekeeper, has reportedly been cooperative with police, according to Luna.
Bishop O'Connell, who was ordained a priest of Los Angeles in 1979, was appointed an auxiliary bishop of Los Angeles in 2015. A native of Ireland, O'Connell spent most of his priesthood in ministry among immigrant and Hispanic communities in Los Angeles.
The bishop was until his death the episcopal vicar of the San Gabriel pastoral region, one of five regional divisions of the massive Los Angeles archdiocese, which has in total more than 4 million Catholics.
The region overseen by O'Connell, which covers the eastern part of the diocese, includes some 69 parishes and 64 Catholic schools.
Los Angeles Archbishop Jose Gomez said Monday that O'Connell "was a good priest, and a good bishop, and a man of peace. And we are very sad to lose him."
While acknowledging that the bishop's death was a "sad and painful moment for all of us," Gomez asked Catholics to "please, let's keep praying for Bishop Dave and his family."
O'Connell is believed to be the first American bishop to die by homicide in the U.S. in nearly 140 years.
📰
Get 'The Pillar' in your inbox every Tuesday and Friday - and help make subscriber-supported journalism happen - with no clickbait, and no nonsense
This story is developing and has been updated.
Comments