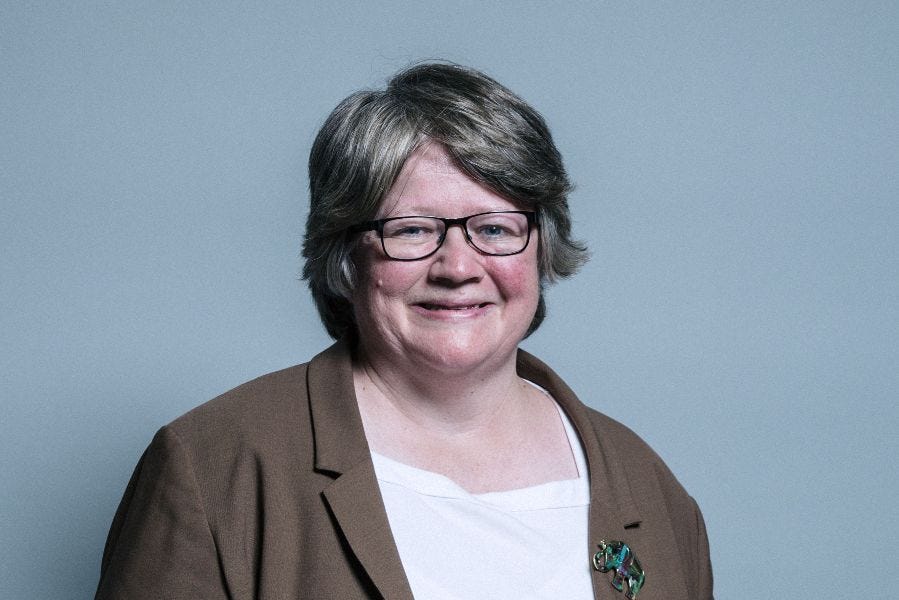 Britain's new health secretary is facing pressure over her stance on abortion.
Thérèse Coffey, a practicing Catholic, was named the U.K.'s deputy prime minister and health secretary on Sept. 6 by incoming prime minister Liz Truss, the successor to Boris Johnson.
Coffey, who has voted against measures to expand abortion, told Sky News on Sept. 7 that she was "a complete democrat."
"It's not that I'm seeking to undo any aspects of abortion laws," she said.
She added that her priorities as health secretary would be "A, B, C, D – ambulances, backlogs, care, doctors, and dentists."
The British Pregnancy Advisory Service (BPAS), a major abortion provider, criticized Coffey for voting in March against an amendment to make at-home medical abortions permanently available in England.
BPAS chief executive Clare Murphy said: "To have a health secretary who would place their personal beliefs above expert clinical guidance is deeply concerning."
Pro-life groups have argued that at-home abortions, permitted as a temporary measure during the first nationwide coronavirus lockdown, pose a danger to women as well as unborn children.
The U.K. permits abortion up 24 weeks for all unborn children but with no time limit if there is a "substantial risk" of disability or to the health and life of the mother.
A record number of abortions took place in England and Wales in 2021. The authorities recorded a total of 214,869, the highest figure since the passage of the 1967 Abortion Act.
According to the charity Right to Life UK, Coffey has voted for pro-life positions on 10 occasions since 2011, the year after she became the Conservative Member of Parliament for Suffolk Coastal.
She voted in favor of independent abortion counseling and an explicit ban on sex-selective abortion, and against moves to liberalize abortion laws in Northern Ireland.
In 2010, she was the primary sponsor of a motion in Parliament urging the government to "give its full backing to mental health assessments for women presenting for abortion" and "make available information on the possible mental health risks to women of an induced abortion."
Coffey said in June that she would "prefer that people didn't have abortions but I am not going to condemn people that do."
Catherine Robinson, a spokesperson for Right To Life UK, told The Pillar: "Thérèse Coffey's views on abortion are for her to answer on, but it's important to highlight that the positions she has taken on past votes are not controversial and are broadly supported by large majorities of the public."
"For example, in 2015, she voted to introduce a ban on sex-selective abortion, a change to the law that polling shows is supported by 91% of women."
"Similarly, she voted against a proposed change to legislation that was supported by the abortion provider BPAS, who are complaining in the media about her views on abortion, which would have introduced abortion for any reason up to birth."
"Only 1% of women support this change to the law. In fact, 70% of women want the current time limit on abortion to be lowered to 20 weeks or below, which would bring us closer to the most common time limit among European Union countries, which is 12 weeks."
Robinson added: "It's also worth the public knowing where these 'complaints' have come from — the BBC article that broke the story mentioned a charity in the headline, but did not mention that the charity, BPAS, are the UK's largest abortion provider, who make it clear that they want to see abortion, for any reason, up to birth, introduced across the United Kingdom."
Organizers of the U.K.'s annual March for Life said that more people than ever before took part in the event in London on Sept. 3. They suggested that the rise in numbers was related to the U.S. Supreme Court's decision to overturn Roe v. Wade.
Madeline Page, CEO of the Alliance of Pro-life Students, said: "We've seen a steady increase in the amount of young people wanting to take part in pro-life events since the news from America, many of these are stepping out for the first time and feel that since this issue is being talked about more, it's now acceptable to disclose their beliefs."
According to the Society for the Protection of Unborn Children (SPUC), the new prime minister Liz Truss has cast two pro-abortion votes and abstained from eight votes on the 10 most recent pro-life bills in Parliament.
Coffey is not the only Catholic in the new Cabinet appointed by Truss. She is joined by Jacob Rees-Mogg, who will be the business, energy, and industrial strategy secretary.
Tom Tugendhat, a Catholic who ran to replace Boris Johnson as prime minister, will attend Cabinet meetings in his role as minister of state for security.
New trade secretary Kemi Badenoch describes herself "an honorary or associate member of the Catholic Church," thanks to her Catholic husband.
Comments