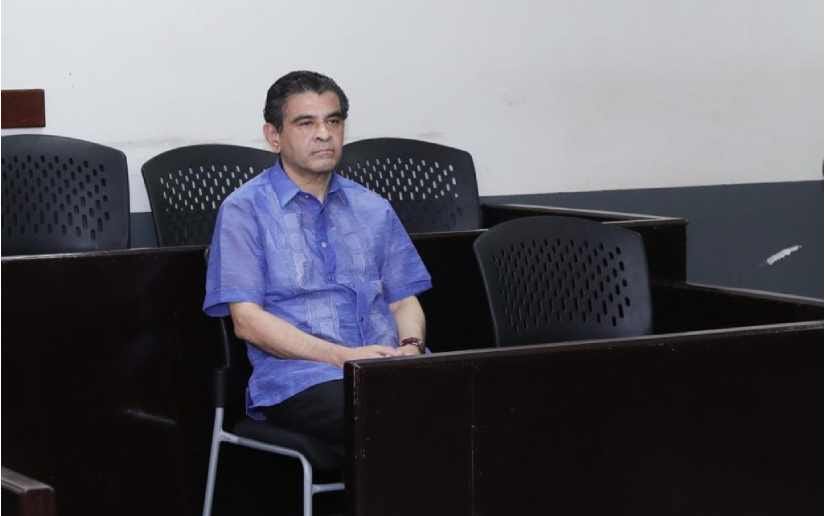 Nicaragua's Bishop Rolando Álvarez will face trial next month, after he was charged Tuesday with conspiracy against the Nicaraguan state. A Managua judge appointed a public defender for the bishop and formally ordered his house arrest, even while the bishop has been under an unofficial house arrest since August.
Álvarez, the Bishop of Matagalpa, was formally charged in Managua's Criminal District Court with "conspiracy to attack the national integrity and propagating fake news through information technologies against the Nicaraguan society and state."
The bishop's trial proceedings are scheduled to begin Jan. 10.
Along with the bishop, three laypeople connected with the Matagalpa diocese were detained by police this week, and officials ordered the arrest of a Matagalpa priest who is in exile in Italy.
Start your day with Starting Seven - a daily news roundup in your inbox.
If he is convicted, Bishop Álvarez could face between 10 and 15 years in prison. Local media outlets point out that the Nicaraguan regime has sentenced over 40 political prisoners of the same crime of "conspiracy against the national integrity."
Álvarez is the best-known voice of Catholic opposition against the regime of Nicaraguan President Daniel Ortega, which has cracked down in recent years on Catholic voices opposing human rights abuses in Nicaragua.
In 2022, the Nicaraguan government ousted from the country both apostolic nuncio Archbishop Waldemar Sommertag and 18 sisters of the Missionaries of Charity. The regime has jailed 10 priests and seminarians under different charges this year, ranging from sexual abuse to conspiracy, while at least 7 priests have been exiled.
Álvarez was an outspoken opponent of those moves, especially when the Nicaraguan government ordered this summer the closing of a Catholic television station overseen by Álvarez, and then closed 10 radio stations operated by his diocese.
After the bishop objected to police action in August, Nicaraguan police prevented Álvarez from leaving his residence, while he was investigated him for allegedly "inciting violence." The siege began after Álvarez had accused the Nicaraguan government for persecuting the Church.
Álvarez was detained in his residence for two weeks - along with four priests, two seminarians, and two laypeople - while Nicaraguan authorities urged the bishop to accept being exiled, according to local reports.
📰
Get 'The Pillar' in your inbox every Tuesday and Friday - and help our make subscriber-supported journalism happen - with no clickbait, and no nonsense.
After a stalemate, Álvarez and his companions were arrested Aug. 19. The bishop's companions were sent to a high-security prison, while Álvarez was placed under an unofficial house arrest. While the bishop was not charged with a crime, the Nicaraguan government said he was under "house custody," while critics called the detention kidnapping.
Álvarez initially stayed in a family home in Managua, Nicaragua's capital, where his family and Cardinal Leopoldo Brenes, the Archbishop of Managua, were able to visit him frequently. A month ago, he was taken to a government facility, where he was unable to receive visits, and speculations about his health abounded.
In photographs of his Tuesday appearance in court –his first public appearance since he was taken into custody – Álvarez looked noticeably thinner than he had when he was last seen in public.
Since he was placed under house arrest, there has been speculation about Álvarez's health, because the bishop suffers from several cardiac issues. Local outlets said that while he was in custody, Álvarez's family was not able to bring food or medicines to him.
Days before Álvarez was charged, Nicaraguan police took into custody Manuel Obando and Wilberto Artola, two local Catholic journalists.
Obando and Artola handled the diocesan media in Matagalpa and were known to be close collaborators with Álvarez.
Obando was the media director of the Diocese of Matagalpa and Artola worked at a Catholic television station, which continued distributing content through social media after the local authorities shut its broadcast down. Obando's wife, María Victoria Pérez, was called in for questioning by the police — Pérez is Matagalpa's diocesan attorney.
Including Obando and Artola, ten Catholics connected to the Diocese of Matagalpa are in custody over their connections with Álvarez, including four priests, two seminarians, and another layman. All are being held in a high-security prison called El Chipote, where, according to local human rights defenders, torture and beatings abound.
Álvarez is the eighth priest to be imprisoned and charged this year in Nicaragua. Fr. Manuel García was sentenced for allegedly hitting a woman while Fr. José Leonardo Urbina was sentenced to prison for the sexual abuse of a minor, both in trials criticized for irregularities, according to local human rights activists. Fr. Óscar Benavidez has been imprisoned for 90 days without charges, after he preached a homily critical of Ortega.. Fr. José Luis Díaz, Sadiel Eugarrios, and Ramiro Tijerino were taken into custody alongside Álvarez in August.
Along with charges against Álvarez, Nicaraguan officials announced Tuesday that Matagalpan priest Father Uriel Vallejos will be charged with crimes against the state.
When Vallejos refused in August to surrender radio equipment to local police his parish was placed under siege. The priest remained inside his parish rectory for three days while the police cut power and water access. He has been exiled in Italy since September.
Nicaraguan officials on Tuesday asked Interpol to arrest Vallejos.
Comments