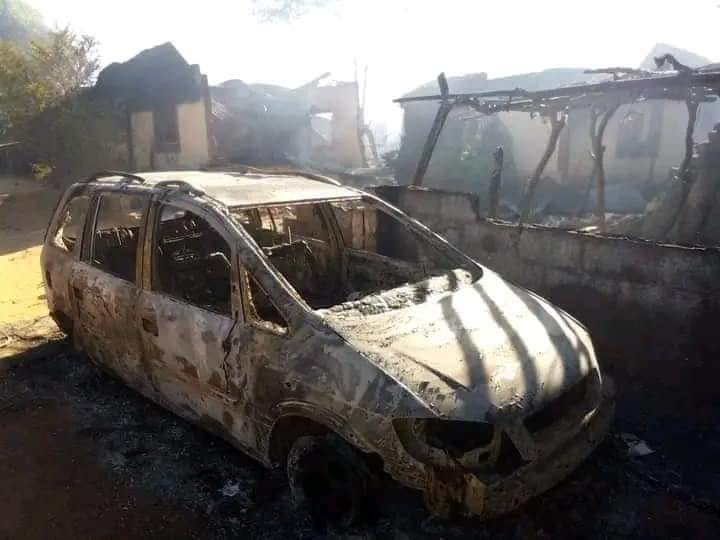 At least 46 villagers were killed last week in northern Nigeria, in two separate attacks believed to have been perpetrated by a group of Fulani herdsmen.
A local diocesan official told The Pillar that priests are providing spiritual care, as local Christians prepare for Christmas after a devastating and unexpected attack.
The attacks took place over three days, and across four villages in Kaduna, a state in the northern region of Nigeria.
Attackers reportedly lit fire to houses in two villages late in the evening of Dec. 11; humanitarian agencies report that some victims were burnt alive as they slept. The violence continued in attacks on two other villages in the days following.
"The killings … started around 11pm Sunday night simultaneously [and] lasted for long, poor innocent citizens were killed," the Southern Kaduna Peoples' Union, a local humanitarian agency, said in a Dec. 19 statement.
The carnage left no "less than 100 houses razed, with some victims burnt alive," the aid group said.
According to the release, "volunteers are still combing surrounding bushes in search of missing persons and more corpses."
The group blamed local security officials for failing to respond when villagers reported the prospect of danger.
"The villagers had noticed the gathering of strange herdsmen coming from different directions on motor bikes to set camp in nearby bush some days back...the security forces deployed there did nothing under this glaring potential threat to security," the Dec. 19 statement said.
While Kaduna state is near the epicenter of terrorist violence in Nigeria, the attacks last week came as a surprise to locals – including Church leaders.
Fr. Emmanuel Kazah Faweh, vicar general of the Kafanchan diocese told The Pillar Monday that there had been a lull in terrorist violence in the region in recent months, adding that "the diocese had expected that there would be a peaceful Christmas season."
Because "most attacks happen during the rainy season," – between April and October – "we did not expect that this would happen. In any case, that this is coming at a time of harvest, it presents greater challenges."
The violence will have economic impact on local farmers, in an economically important agricultural region of Nigeria.
Because of the danger of more attacks, and the damage to equipment, "our people can no longer go to harvest their crops," Faweh explained.
"These stable foods are a huge source of revenue for the people. As it is, they are riddled with challenges because they cannot take care of their needs," the priest added.
Faweh told The Pillar that his diocese is aiming to help families devastated by terrorist in Nigeria, while preparing for Christmas, which will be celebrated on Sunday.
"Just last week, the diocese, through the Justice Development and Peace Commission, organized a Christmas carol and lessons for Internally Displaced Persons. After the event, relieve materials such as bags of rice and cartons of maggi cubes were distributed to the victims."
"Before that, Kafanchan Diocese partnered with a Church charity, Aid to the Church in Need and provided credit cards to [internally displaced Nigerians] to enable them access aid directly without a third party being involved."
The priest explained that the Church has also provided moral and spiritual support to the victims, noting that the local dean, Fr. Michael Magaji "visited the communities and commiserated with the people," as soon as heard about the killings.
Diocesan officials also "paid a visit to affected communities to ascertain the level of destruction and generate data about lives that were lost and persons missing," Faweh said, pointing to the role the Church plays in documenting violence in the region.
Faweh said that Bishop Yakubu Kundi is also scheduled to soon visit villages razed by terrorist violence.
The priest lamented that "the security architecture of the country seems overstretched," and that local security officials did not prevent the December terrorist attacks.
"Security agents do not act on time; they appear after evil has been carried out by men of the underworld," he said.
Faweh also spoke to the motivation for violence in the region. "It is believed that the perpetrators are Fulani but one cannot explicitly say the attacks are religiously motivated," he explained.
"There are many ungoverned spaces which the terrorists take advantage of using guerrilla tactics" he pointed out.
But local survivors have said their villages had not previously clashed with Fulani herders, suggesting to them that the attacks were religiously motivated.
Local officials noted that spent ammunition suggested that herders had access to high-powered weapons, and might have obtained military arms from rogue suppliers.
📰
'The Pillar' covers news you won't read anywhere else. We do it intelligently and reliably, because our subscribers know good journalism is worth paying for. So subscribe today – or upgrade your subscription!
For its part, the Southern Kaduna Peoples' Union said the violence was the latest in a litany of terrorist attacks on Christians in the farming region.
They noted that "this dastardly act is coming five days after armed herdsmen herded their cattle into a farm owned by Cletus Dunia, 45, in Kpak village …and shot him dead at close range before mutilating his corpse and fleeing with their cows."
"The rampaging herdsmen also shot and killed Levi Zakaria, 19 as he was harvesting yams on a farm that was by the fleeing path of the killer herdsmen. [The] same day, the same herdsmen killed Ezra Sunday 16, about 2 kilometers from where Zakaria was killed."
"Herdsmen also caused the death of Gaje Habila, 31 when he fell and died of exhaustion while escaping the killer-herdsmen, leaving behind a widow and a six-month-old baby - his only child," the group said.
And "between last Tuesday and Wednesday, armed men described as herdsmen, invaded some homes in Kamuru … in Southern Kaduna, and killed 4 persons" for a total of "46 persons [who] were killed in unprovoked attacks in Southern Kaduna in the past five days," the group claimed.
Four other Nigerians were reportedly lynched by suspected Fulani herdsmen in Kamuru in attacks on Dec. 12 and Dec. 13.
The four people who lost their lives were identified as William Stephen (28), Francis Ishaku (18), Neyu Micah (27), and Yohanna Augustine (27), while others survived with various degree of injuries.
In northern Nigeria, Church leaders have often complained that government officials are reluctant to arrest suspected terrorists, even when they can be identified, in part because they fear reprisals from terrorist groups.
But local advocates urged government officials this week to arrest the perpetrators of violence in Kaduna.
"Let it be put on record that in the hundreds of attacks that has put many parts of Southern Kaduna into ruins and thousands killed since 2014, we have not seen anyone arrested and brought to book over these heinous crimes against humanity" the Southern Kaduna Peoples' Union said Dec. 19.
The group said that traditional tribal leaders, clergy and human rights' activists in the state are more likely to be arrested in Kaduna than are terrorists, often over "trumped up charges," or allegations of inciting government opposition.
"Governor Nasir el-Rufai has not shown any empathy with the victims by giving them the most little assistance that a responsible government owes its distressed citizens," the group said.
"Today, thousands of residents of these two sacked communities and surrounding villages are leaving their homes in drove as IDPs in any area they may find some measure of safety. Their survival will depend on the good will of kind-hearted persons and groups, certainly not his government."
"The killings and kidnapping continues," the group added.
The group's statement expressed worry that terrorist attacks are related to country's 2023 presidential election.
"We believe that the aim is to further destabilize Southern Kaduna and give excuse to the Federal Government to stop election in the area," the Dec. 19 statement said.
"Thousands have been chased out from their ancestral homes as a result of similar violence unleashed on them, especially between 2019 and this year," the aid organization emphasized.
In the last 20 years, Kaduna State has been the locus of segregation along ethnic and religious lines, along with long-standing tensions from previous regional conflicts.
Since 1980, an estimated 20,000 have died amid violence across the Kaduna state.
Commentators and analysts suggest that herder-farmer clashes have precipitated in the area because of grazing disputes, cattle rustling, land use and access disputes, electoral violence and criminal gangs who abuse drugs.
Kaduna is divided between a mostly Christian farming population in the south, and the mostly Muslim Hausa-Fulani herding groups in the north. Analysts generally regard the state's Hausa-Fulani population as more influential on local politics and policy, even while the Christian population grows.
Divided by River Kaduna, in the state capital, the northern part of the Kaduna state is referred to as "Mecca" while the south is called "Jerusalem" further highlights the seeming divide across the state.
Comments