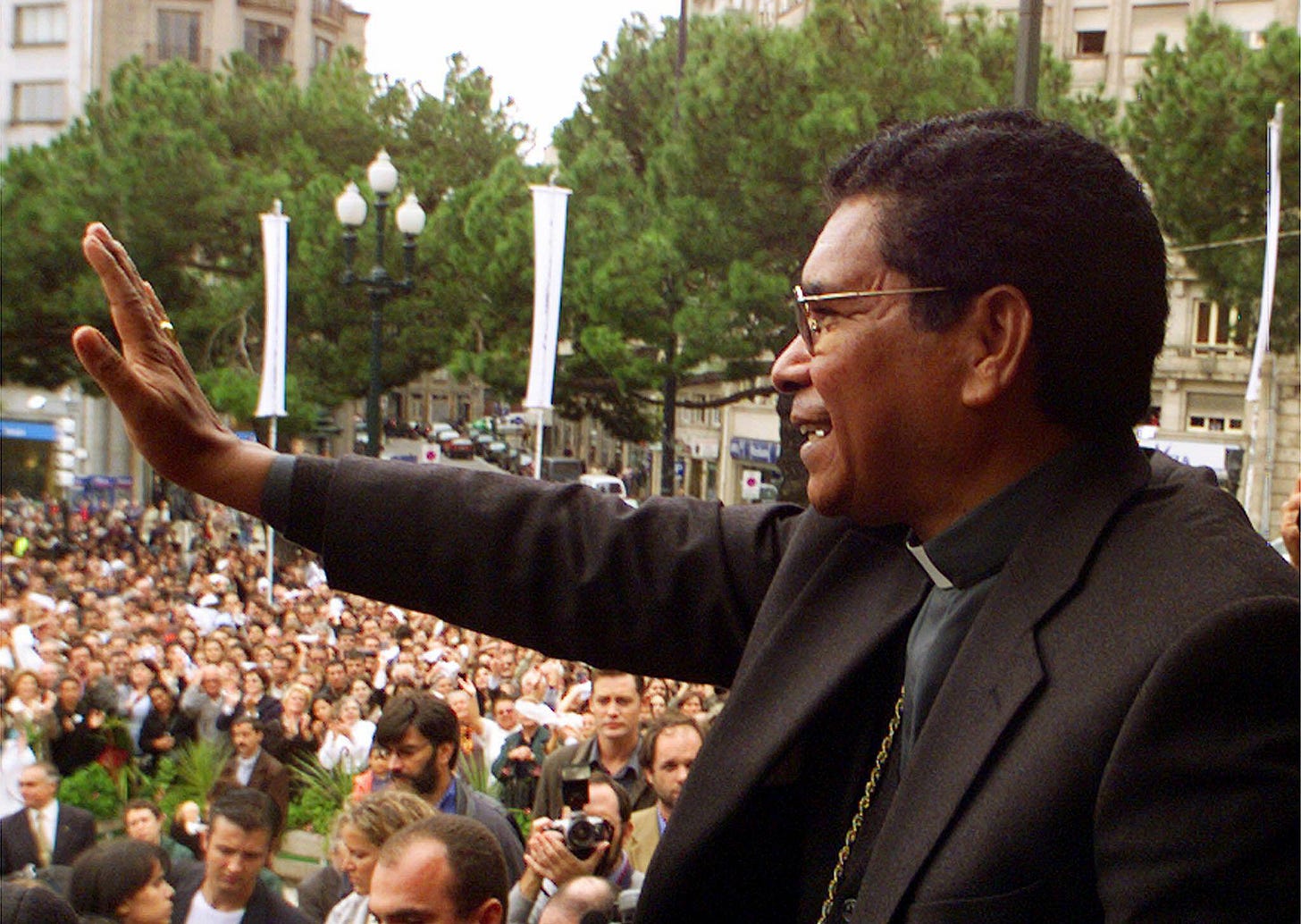 Bishop Carlos Filipe Ximenes Belo of East Timor has been accused of sexually abusing several teenage boys, according to a report published Wednesday in a Dutch news magazine.
Belo, 74, came to international attention in the 1990s for his outspoken role in opposing the Indonesian occupation of East Timor, which lasted from 1975 until 1999.
The bishop was awarded the Nobel Peace Prize in 1996 for his work "towards a just and peaceful solution to the conflict in East Timor." He shared the prize with José Ramos-Horta, who went on to become president of East Timor.
But in a Sept. 28 report, several men have claimed they were sexually abused by the bishop when they were teenagers. The allegations were reported by De Groene Amsterdammer, a Dutch magazine.
One alleged victim said he was sexually abused by Belo when he was 15 or 16, and that the bishop gave him money after sexual abusing him. Another man claimed he was raped by Belo when he was about 14 years old.
The allegations date back in some cases to the 1980s.
The magazine reports allegations of sexual abuse of minors against the bishop were widely known among the Catholic community in East Timor. De Groene Amsterdammer reported that it had spoken with "dozens" of individuals who alleged they had been victimized by the bishop, or claimed that they knew victims personally.
Belo has not responded to requests for comment.
A priest of the Salesian order, Belo was ordained in 1980. After studies in Rome and Portugal, he returned to East Timor in 1981, working as a teacher. In 1983, Pope John Paul II named him apostolic administrator of the Diocese of Dili, which was then the only diocese in East Timor.
Belo was consecrated a bishop in 1989, and remained apostolic administrator of Dili. While leading the local Church, he was a fierce critic of Indonesian oppression in East Timor, and denounced publicly the 1991 massacre of more than 200 pro-independence demonstrators in a Dili cemetery.
In a 1989 letter smuggled out of the country, Belo begged intervention from the pope, the UN secretary-general, and the president of Portugal, which had governed East Timor as a colony until independence in 1974.
In the letter, Belo wrote that "we are dying as a people and a nation" in East Timor, and said he feared he would be killed for his public denunciations of the Indonesian military occupation, which, according to human rights groups, killed 200,000 people.
"From one day to the next I could follow the path of Bishop [Oscar] Romero," Belo said.
Belo was well known in the country for sheltering demonstrators, mostly young men, in his own home.
According to De Groene Amsterdammer, the bioshop was also known to sexually abuse young men, and seminarians. In some cases, the magazine reports, Belo gave minors from poor families money after forcing sex acts on them, intending to buy their silence.
Belo unexpectedly retired from the Dili diocese in 2002. The bishop was only 54, and the country had just gained independence, but the bishop said he was resigning for health reasons.
He moved briefly to Portugal, took up a missionary post in Mozambique for several years, and then returned again to Portugal, where he is now living.
According to the magazine's report, the allegations against Belo were known to the Vatican at the time of his resignation, but the bishop was not publicly disciplined.
The magazine also reported that Belo has been under a Vatican-ordered travel restriction and may not return to his home country. While a penalty of effective exile is rarely imposed by the Vatican, it has been used in cases of sexual abuse by a bishop.
Belo did not attend an August consistory in Rome, at which his successor as Archbishop of Dili Archbishop Virgílio do Carmo da Silva was made a cardinal.
The Vatican has not commented on the report.
The accusations against Belo have drawn comparison to the scandal surrounding former cardinal Theodore McCarrick, who as archbishop in Newark and Washington, DC, was a prominent figure on the international stage, often praised for his work on global humanitarian issues.
In 2018, after an accusation of sexual abuse of a minor, McCarrick resigned as a cardinal. There followed months of revelations of accusations that McCarrick sexually harassed or abused vulnerable young men, including seminarians, for decades and that Church authorities both in the United States and the Vatican had failed to act despite their awareness of the accusations.
In 2019, Pope Francis convened a meeting of the heads of the world's bishops conferences to discuss episcopal accountability in the wake of the sexual abuse crisis and issued Vos estis lux mundi, providing new mechanisms for investigating allegations against bishops.
The following year, the Vatican issued a lengthy report on "the Holy See's institutional knowledge and decision making related to former cardinal Theodore McCarrick."
That report confirmed the knowledge of accusations of abuse and misconduct against the former cardinal by the Vatican and Church authorities for years, but did not assign blame for failures to properly investigate them or prevent McCarrick's rise in the Church.
📰
Get 'The Pillar' in your inbox every Tuesday and Friday - and help make subscriber-supported journalism happen - with no clickbait, and no nonsense
Editor's note: The Pillar initially said that De Groene Amsterdammer had reported that Belo had been under a travel restriction since 2002. That was an error – De Groene Amsterdammer did report a travel restriction, but did not indicate when it began. We have corrected our mistake.
Comments