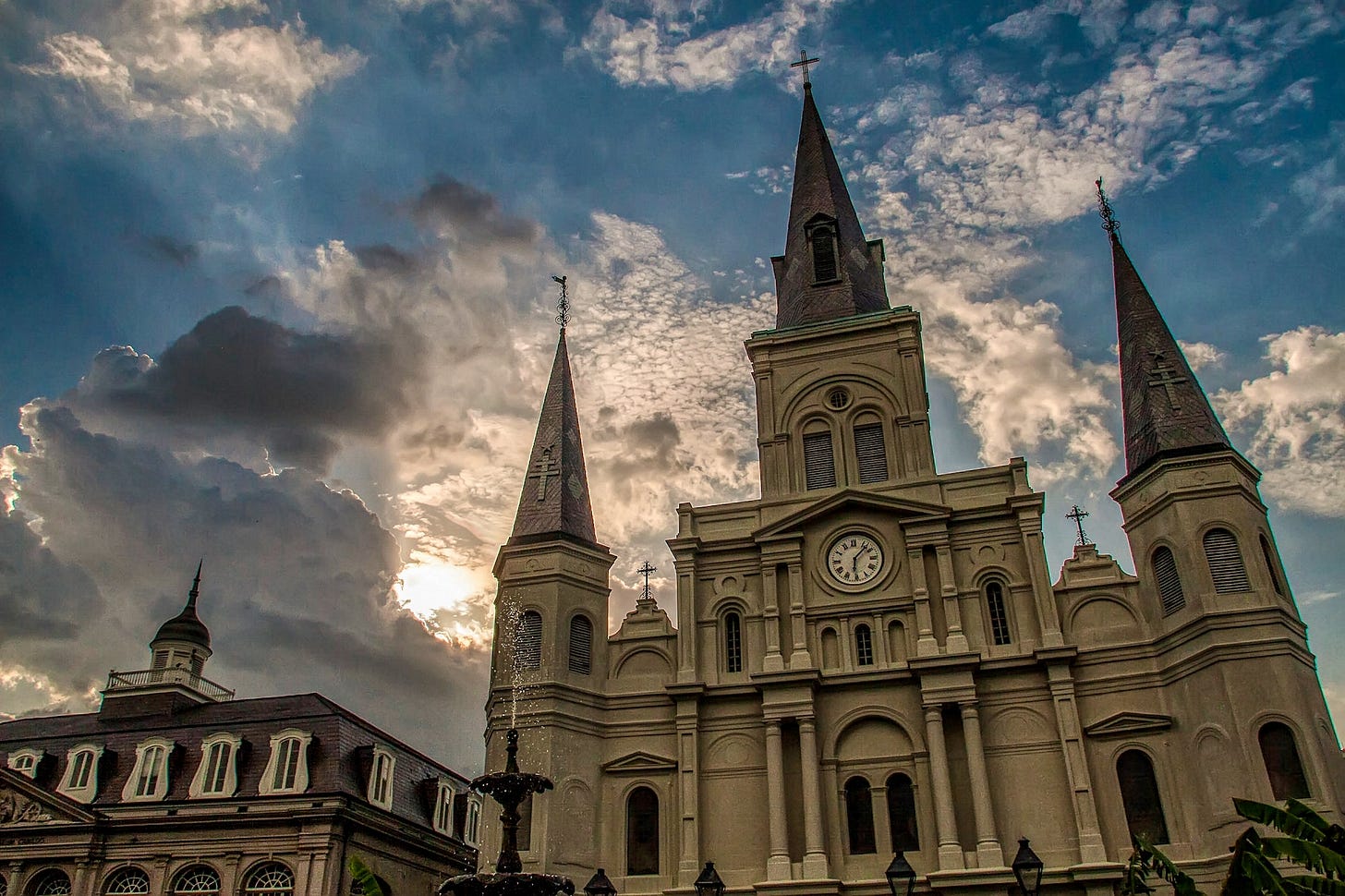 A federal bankruptcy judge ordered the Archdiocese of New Orleans to stop stipend payments to priests accused of sexual abuse, but not listed on the archdiocesan "credibly accused clergy" roster.
While it is not clear whether the New Orleans archdiocese will push back on the court's decision, the order raises significant questions related to the First Amendment, about due process for accused clergymen, and the residual fallout of the Church's sexual abuse crises of recent decades.
📰
'The Pillar' is a subscriber-funded journalism project. We do smart, serious, faithful does serious, faithful, Catholic journalism worth paying for. So subscribe!
Judge Meredith Grabill ordered Aug. 31 that the archdiocese must stop making stipend and other maintenance payment to five priests who are not in ministry, but who not included on the archdiocesan list of clerics credibly accused of sexual abuse.
The order came in federal bankruptcy court, where the Archdiocese of New Orleans has filed for Chapter 11 protection.
Like many U.S. dioceses, New Orleans maintains a list of clergy "credibly accused" of sexual abuse or misconduct, which is based on the findings and recommendations of its lay-led independent review board. The Louisiana archdiocese first published its list in 2018, soon after the Theodore McCarrick scandal and the publication of a report on clerical sexual abuse from a Pennsylvania grand jury.
Criteria for inclusion on the New Orleans list is not publicly available, though the archdiocese has said previously that the list is updated via recommendations from its independent lay-led review board.
But Grabill has made use of the list in bankruptcy proceedings already. In 2020, she ordered the archdiocese to cease financial support payments to all clergy named on the "credibly accused" list.
Catholics in New Orleans have noted that both "stop payment" orders raise obvious Constitutional issues.
Canon law establishes that incardinated clerics - even those accused of misconduct - have a right to "decent support," or sustenance from their dioceses — providing that sustenance is a religious obligation, enshrined in religious law. Ordering that it cease would seem to some observers to constitute an undue interference in the religious activities of the archdiocese.
While the bankruptcy judge has a duty to get the archdiocesan finances ready to make payments and settlements to creditors, it seems surprising that would come by a prohibition on fulfilling a fundamentally religious financial obligation.
And the more recent order is even more surprising.
The judge's 2020 order was based on an archdiocesan criteria - it used an archdiocesan list to intervene in financial support to a particular set of clerics.
The judge's new order takes that prohibition a step beyond the archdiocesan list.
After a review of archdiocesan personnel files, the bankruptcy judge has effectively created a particular class of clerics - "accused-but-not-credibly," and determined that the five priests in that group must wait for their monthly stipend payments behind other claimants to archdiocesan funds, including their alleged victims.
In some cases, the affected priests are more than 90 years old.
It is not clear whether that kind of categorization will stand up to additional judicial scrutiny.
But that's not the only striking thing about the decision.
Judge Grabill's August order came after her court spent nearly six months reviewing archdiocesan personnel files, including the minutes and proceedings of the independent archdiocesan review board — which presumably did not find that allegations against the priests met the local standard of "credibility."
Review boards have become a central part of adjudicating and addressing the clerical sexual abuse crisis in the United States, and have been frequently praised by plaintiff's attorneys and victim's advocates, who say they made a break from business-as-usual clerical culture in U.S. chanceries, and helped usher in new standards of accountability.
Review boards are often comprised of experts in fields related to abuse: law enforcement, psychology, social work, and law. It is not uncommon for review boards to include retired criminal court judges and prosectors.
And in the Archdiocese of New Orleans, both the independent review board, and a 2018 independent legal team, have reviewed the files of nearly 2,500 priests who served in the area since 1950. The archdiocese has said those processes are a sign of its commitment to addressing clerical sexual abuse.
Grabill's order would seem to refute that claim.
While archdiocesan processes apparently did not find credible the allegations against the five priests under review, victims' attorneys argued that diocesan files "substantiate credible accusations of sexual abuse committed by [the additional] five priests."
Grabill appeared to agree.
That agreement could be taken locally as a repudiation of the credibility of the local review board, and of the 2018 review. The judge's August order has effectively affirmed that, in her view, the judgments of both the 2018 review and the local review board are suspect — which could lead to other cases coming up for substantive review.
---
Of course, the judge's decision also points to a glaring inconsistency in the work of review boards and other kinds of accountability metrics: the ambiguous definition of the word "credibility."
In recent years, some clergy advocates have complained that the word "credible" is canonically and civilly undefined, leading to divergence of expectation and meaning in dioceses across the country.
While one diocese might use "credible" to mean "plausible," another might use it to mean "likely to have happened." And however it's meant, it is not uncommon to find dioceses which use the term in public-facing documents, but don't offer a publicly available definition.
That, experts point out, can quickly become a problem for priests "credibly accused," who don't find themselves able to defend themselves in canonical or criminal trials. It can also become a problem for victims, who expect that a "credible" accusation will lead to laicization, and find sometimes that it won't.
Some priests in recent years, "credibly accused" but neither exonerated nor convicted by canonical or state legal proceedings, have found themselves in a kind of clerical limbo — deemed unsuitable for assignment, but not laicized.
And it's entirely possible that Grabill's order came because she used a different standard of credibility than that used by the archdiocese. But the inconsistency leads inevitably to frustration - and to a crisis of trust for the Church.
At least one other U.S. diocese has addressed in recent years the issue of financial support for accused clerics.
In the Buffalo, New York diocese, a 2020 plan to stop financial support for accused clerics was walked back soon after it was announced.
While serving as apostolic administrator of the Buffalo diocese, Bishop Edward Scharfenberger announced in 2020 that he would discontinue maintenance payments and health benefits to "credibly accused" clergy of the diocese who were out of ministry — that diocese was also in Chapter 11 bankruptcy, after a slew of lawsuits over historical abuse accusations.
But shortly after that announcement was made, the Buffalo diocese clarified that the decision would not affect pension payments, and that "the diocese recognizes that there are certain canonical obligations to ensure that these individuals are not left destitute and is addressing this."
In Louisiana, it is not clear whether the New Orleans archdiocese will fight the bankruptcy judge's orders.
Details of the accusations against the five priests remain sealed. And a spokesman for the archdiocese told The Pillar this week that "we are evaluating the judge's ruling on this matter and currently have no other comment."
The spokesman declined additional questions.
But the archdiocese is inevitably facing questions this week from its priests — including those priests wondering whether the Church will comply with the judge's orders, and whether that compliance could leave them accused but not tried, or destitute but not laicized.
Comments