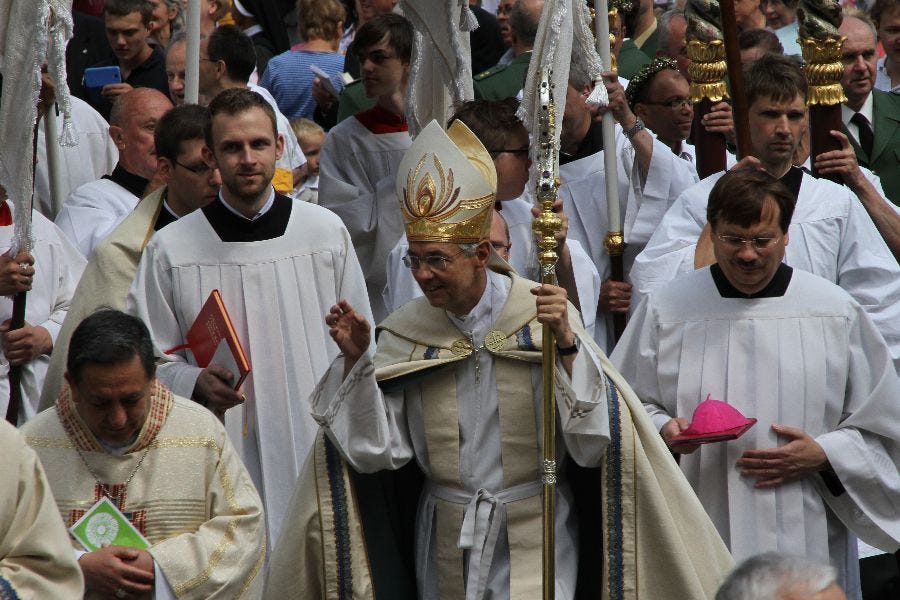 The Vatican announced Tuesday that Pope Francis had accepted the resignation of a 73-year-old German archbishop.
Archbishop Ludwig Schick told Catholics in his Archdiocese of Bamberg in a Nov. 1 letter that the pope initially asked him to remain in office after he first requested to resign in April, two years before the typical retirement age of 75.
Schick, who has led the southern German archdiocese since 2002, said that he petitioned the pope again and his request was granted at the end of September, but he was asked not to announce the decision until November.
German media said that Schick's resignation was a surprise, though he stepped down in September 2021 as chairman of the influential bishops' conference commission for international Church affairs after 15 years in the post.
The resignation was also unexpected as Pope Francis has recently turned down several German Church leaders' requests to step down before their 75th birthdays.
The pope has so far declined the resignations of Munich's Cardinal Reinhard Marx, Hamburg's Archbishop Stefan Heße, and Cologne's Cardinal Rainer Maria Woelki.
But he accepted the resignation of 74-year-old Archbishop Hans-Josef Becker of Paderborn on Oct. 1.
In a tribute to Schick, German bishops' conference president Bishop Georg Bätzing thanked the archbishop for his enthusiastic support of the country's controversial "synodal way."
German media reported in September that Schick was facing criticism over his handling of clerical abuse allegations.
In his letter to Bamburg archdiocese's Catholics, Schick wrote: "After much reflection and prayer, as well as many conversations with my spiritual director, I had already come to the conclusion in the first quarter of this year to ask the pope to relieve me of my duties on Sept. 21, 2022, after 20 years in office. I conveyed this request to the pope verbally and in writing during a private audience in April of this year."
Schick said he told the pope that he felt he had " fulfilled and completed my duties in the archdiocese."
"Beginning in the fall of 2022, there will be new decisions and projects that will far exceed the two years until my 75th birthday; for example: a new pastoral and staffing plan, new cathedral chaplains and leaders of the main departments are to be appointed, the implementation of the decisions of the synodal way and the [global] Synodal Process will be pending," he said.
"Reason and responsibility have persuaded me that this fall the appointment of a new bishop who can lead the archdiocese for at least the next 10 years should be addressed.
Pope Francis has listened to and considered my arguments. In between, he also asked that I remain in office. After presenting my reasons again, he then granted my request at the end of September."
Comments