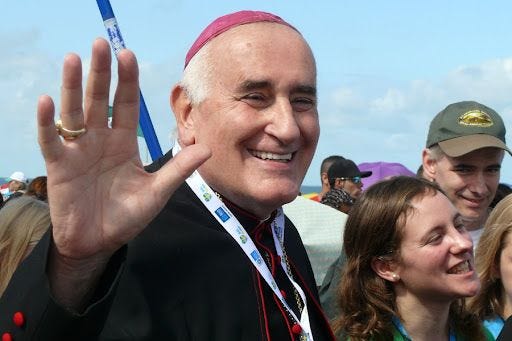 Pope Francis accepted the resignation of Bishop Donald J. Kettler Thursday and named his successor as bishop of Saint Cloud, Central Minnesota.
The pope chose Fr. Patrick Neary, C.S.C., to succeed Bishop Kettler, who had served three years beyond the typical episcopal retirement age of 75.
Bishop-elect Neary is a member of the Congregation of Holy Cross and has been pastor of Holy Redeemer parish in Portland, Oregon, since 2018.
He said: "No one is more surprised than I am to be asked to serve as bishop of the Diocese of Saint Cloud. Yet I have always trusted that Christ has guided me through every stage of my life as a priest."
"I so look forward to meeting everyone who is a part of this diocese, my new family. I especially ask God to help me build on the legacy of Bishop Kettler and all the clergy and personnel who serve in the diocese with zeal and devotion. Please pray for me that I can be a faithful and loving servant to all of you."
His episcopal ordination will take place Feb. 14.
Bishop Kettler, who previously served as bishop of Fairbanks, Alaska, for 11 years, has led the Saint Cloud diocese since 2013. He will remain as apostolic administrator until his successor's installation.
He said: "Fr. Neary is tremendously qualified with his experiences as a pastor, seminary rector, formation director, and missioner. I am very appreciative that he said yes to the call to serve the people of this diocese as their bishop, and I welcome him warmly to Central Minnesota."
Bishop-elect Neary was born on March 6, 1963, in La Porte, Indiana, the first of six children.
After graduating from high school, he entered the undergraduate seminary with the Congregation of Holy Cross at the University of Notre Dame, spending a semester in Mexico City, where he learned Spanish.
After graduating from Notre Dame with a bachelor's degree in history and completing a novitiate year in Cascade, Colorado, he studied at the Jesuit School of Theology in Berkeley, California.
He spent a year in Chile's capital, Santiago, before professing his perpetual vows on Sept. 1, 1990. He was ordained a priest at the Basilica of the Sacred Heart at Notre Dame on April 1, 1991.
He began working at Notre Dame's Office of Campus Ministry in 1994, ministering especially to Latino students.
In 2004, he was named rector of Moreau Seminary at Notre Dame, after serving as assistant rector since the year 2000. At the end of his six-year term as rector, he was appointed to oversee the congregation's seminary in the Kenyan capital, Nairobi.
Writing about his experience at the time, he said: "It has been a steep learning curve: three weeks of intensive immersion classes, the crazy traffic, and roundabouts of Nairobi, speaking Swahili in class like a Kenyan toddler, and worrying about thieves in a way I never have before."
"Deep down, however, I feel at peace and happy that God brought me here. The men in my charge are warm, zealous, and full of life. I learn something new every day. Once again I marvel at Divine Providence and how rich my life has been since I said my original 'yes' to God when I first entered Holy Cross."
In 2011, he was elected district superior of Holy Cross in East Africa, moving to Uganda. He returned to the U.S. in 2018, becoming pastor of Portland's Holy Redeemer parish.
The Diocese of Saint Cloud, erected in 1889, covers 16 central Minnesota counties, with a total population of around 555,400 people. Its 131 parishes serve an estimated 125,000 Catholics. While the diocese includes some of the state's most rural areas, it also encompasses the fast-growing suburban corridor between Minneapolis and St. Cloud.
It has 60 active and 50 retired diocesan priests, as well as 50 permanent deacons. There are 22 Catholic-sponsored hospitals, nursing homes, and assisted living residences in the diocese, which is also home to the College of Saint Benedict and Saint John's University.
Bishop Kettler and Bishop-elect Neary were due to hold a press conference in St. Cloud on Dec. 15.
📰
Get 'The Pillar' in your inbox every Tuesday and Friday - and help make subscriber-supported journalism happen - with no clickbait, and no nonsense
Comments