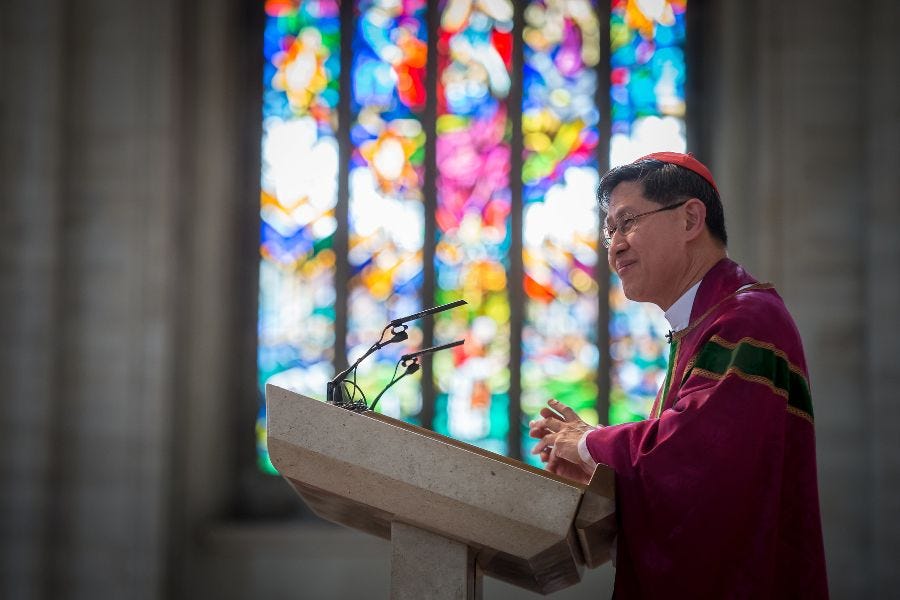 Pope Francis dismissed the leadership of Caritas Internationalis Tuesday, appointing a temporary administrator to oversee sweeping changes to the Vatican-based umbrella body for Catholic charities around the world.
In a Nov. 22 decree, the pope announced that the organization's senior figures were being relieved of their offices, including Caritas Internationalis president Cardinal Luis Antonio Tagle.
But the decree said that the high-profile Filipino cardinal would assist the temporary administrator, Italian management consultant Pier Francesco Pinelli, focusing on "relations with the local Churches and the member organizations of Caritas Internationalis."
Pinelli will also be helped by Maria Amparo Alonso Escobar, Caritas Internationalis' Spanish head of advocacy, and Portuguese Jesuit Fr. Manuel Morujão, "for the personal and spiritual accompaniment of employees."
Caritas Internationalis, founded in 1951, is a confederation with 162 members, including the U.S. Catholic Relief Services and Caritas Ukraine, which has lost members in the Russo-Ukrainian war.
Cardinal Tagle, the former archbishop of Manila, has served as the body's president since 2015, when he succeeded Cardinal Óscar Andrés Rodríguez Maradiaga. He was appointed prefect of the Congregation for the Evangelization of Peoples in 2019 and became a pro-prefect of the Dicastery for Evangelization, which is led by the pope, in June.
Vatican News quoted Cardinal Tagle as saying that the papal intervention was "a call to walk humbly with God and to a process of discernment."
Other senior Caritas Internationalis figures losing their posts include secretary general Aloysius John, treasurer Alexander Bodmann, and ecclesiastical assistant Msgr. Pierre Cibambo, who has served in the role since 2012.
Pier Francesco Pinelli is a former consultant with the Boston-based firm Bain & Company. He assisted Cardinal Blase Cupich with a 2021 review of the Vatican's Dicastery for Promoting Integral Human Development, which paved the way for leadership changes.
The papal decree said that Pinelli would work with the dicastery in his new role, which includes updating the organization's statutes, ahead of a May 2023 general assembly where Caritas Internationalis members are expected to elect a new leadership.
In a Nov. 22 press release, the human development dicastery said that Caritas Internationalis had been placed under temporary administration "to improve its management norms and procedures – even while financial matters have been well-handled and fundraising goals regularly achieved – and so better to serve its member charitable organizations around the world."
The dicastery insisted that the removal of the organization's leadership would have "no impact on the functioning of member organizations and the services of charity and solidarity they provide around the world; on the contrary, it will serve to strengthen such service."
It explained that earlier this year it had commissioned a review of the "workplace environment" at Caritas Internationalis and "its alignment with Catholic values of human dignity and respect for each person."
"No evidence emerged of financial mismanagement or sexual impropriety, but other important themes and areas for urgent attention emerged from the panel's work," the dicastery said. "Real deficiencies were noted in management and procedures, seriously prejudicing team spirit and staff morale."
The dicastery provided a brief biography of Pinelli, which said that he had "a more humanist than technical way of proceeding, which he uses to solve complicated contexts, rolling up his sleeves with professionalism and common sense to immerse himself in the problems from which to bring out and enhance the positive aspects and correct what does not work."
It added: "Formed in Ignatian spirituality, from an early age he was active as a volunteer in the recovery of drug addicts, in development cooperation, support for missionary works and catechesis."
It concluded by saying that Pinelli defined himself as "a happily married 'boomer.'"
Dicastery prefect Cardinal Michael Czerny commented: "In recent years we have seen the needs of the many whom Caritas serves increase markedly, and it is imperative that Caritas Internationalis be well prepared to meet these challenges."
Caritas Internationalis has had a sometimes uneasy relationship with the Vatican in recent years.
The Vatican reportedly blocked the re-election of Lesley-Anne Knight as Caritas Internationalis' secretary general in 2011. Cardinal Robert Sarah, then head of the Pontifical Council "Cor Unum," said at the time that the Vatican wanted the body to focus on its "Catholic identity."
This report has been updated to include a quotation from Cardinal Luis Antonio Tagle.
Comments