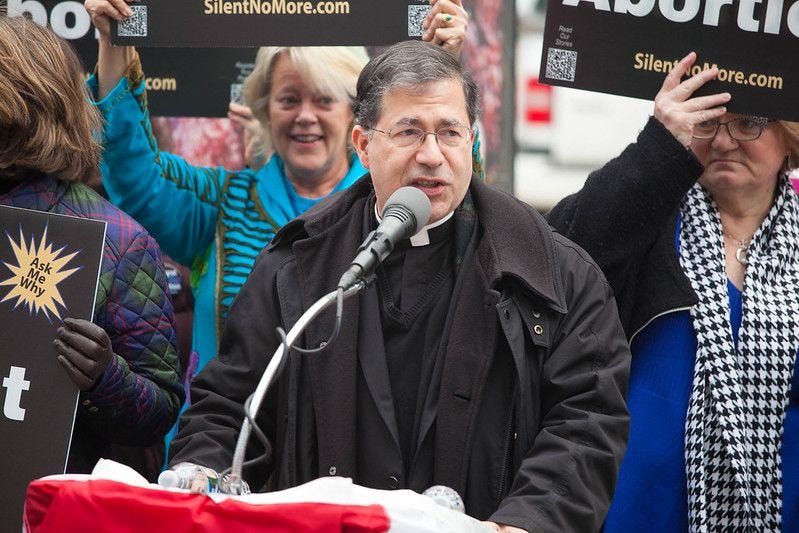 Several high-profile pro-life leaders have withdrawn from a leadership group organized by Priests for Life, amid ongoing fallout from allegations that Frank Pavone, the organization's director, has "groomed," sexually harassed, and manipulated several young women on his staff.
The Pillar has confirmed that leaders from the Pro-Life Action League, Americans United for Life, Progressive Anti-Abortion Uprising, and other organizations have resigned from the 115 Forum, a semi-confidential alliance of pro-life strategists and organizers, which includes both periodic meetings and a confidential email listserv.
The 115 Forum is organized by Priests for Life, now at the center of scandal after several women have accused director Frank Pavone, a recently laicized priest, of sexual and personal misconduct.
Some pro-life leaders say that scandal has had ripple effects, as a rift has emerged among pro-life campaigners over the place of Frank Pavone, and the Priests for Life organization, within the pro-life movement.
Eric Scheidler, executive director of the Chicago-based Pro-Life Action League, is among those who resigned from the 115 Forum last month, soon after The Pillar reported that allegations of sexual misconduct against Pavone were reported to the Diocese of Amarillo in 2009.
On Feb. 9, the day after The Pillar reported its second story about women who accused Pavone of misconduct, Scheidler wrote to members of the 115 Forum.
"The allegations of sexual misconduct — which have not been denied by Frank or anyone at Priests for Life, despite ample opportunities to do so — make it untenable for him to continue leading either the 115 Forum or Priests for Life," Scheidler's letter said.
Scheidler told the group he had other reasons for resigning from the forum as well.
"My decision is not based solely on the sexual misconduct allegations, which many here appear too willing to dismiss. Had these allegations not begun to surface last month, this would still be my position," he added.
"I believe that the way Frank and Priests for Life have handled the conflict with his bishop, ultimately leading to his laicization this past November, has been profoundly irresponsible, and is doing real harm to the pro-life movement and to the Church," Scheidler wrote.
Scheidler told group members that he had carefully reviewed the records Pavone makes available on his own website.
"What I find in that history—the history Frank invited us to review—is a continuous pattern of delay, obfuscation, equivocation, creation of chaos and confusion, always a new demand for another meeting, another 'clarification,' and ultimately an utter unwillingness to ever take responsibility," Scheidler wrote.
"In fact, it is the same pattern of behavior we have seen since the laicization was made public late last year, and especially since the allegations of sexual misconduct arose."
Soon after sending the letter, Scheidler resigned from the group.
Scheidler told The Pillar that his resignation came after he tried to get answers about the sexual misconduct allegations - and other issues - and got very little from Priests for Life.
"I tried for weeks to hold Priests for Life accountable for all of the obfuscation, confusion, and lack of transparency on both the issue of [Pavone's] laicization, and the issue of the sexual misconduct," Scheidler said.
"And I got nowhere. I tried to demand answers, and I wasn't getting them," he said.
"I'm not suggesting there weren't mistakes made by the bishops along the way, and there may have been personality conflicts that exacerbated the problem. But the primary figure responsible for the breakdown in communication and relationships, which ultimately led to his laicization, is Frank Pavone himself and his team — the Priest for Life staff, namely Anthony DeStefano, Janet Morana, and others who aided his years long deception of the pro-life leadership and of the entire pro-life movement."
Scheidler charged that "we were flat out lied to about such matters as whether Frank had the faculties or permission from his bishop to celebrate Masses when we would go to meetings."
"I've been to numerous meetings, and only now do I find out that he was not supposed to be celebrating Masses. He was not supposed to be wearing that Roman collar at these meetings, and in meetings and the like."
"There was just a callous disregard for the effect that his power struggle with the hierarchy would have on the rest of the pro-life movement," Scheidler said.
—
In addition to Scheidler, The Pillar has confirmed that leaders from other pro-life organizations have also resigned from the 115 Forum in recent weeks.
The first to resign from the 115 Forum were officials at Americans United for Life, a pro-life advocacy group in Washington, DC, who resigned from the leadership forum soon after initial reports of Pavone's alleged misconduct were published by The Pillar.
In a Jan. 27 letter obtained by The Pillar, AUL's president, Catherine Foster, and general counsel, Steven Aden, informed Pavone they were leaving the group.
"With sincere regret, we must inform you that Americans United for Life is withdrawing from the 115 Forum, and will not attend the February meeting or further meetings. Recent public reports regarding allegations of sexual misconduct and harassment by yourself toward Priests for Life staff have made AUL's involvement in the Forum untenable," Foster and Aden wrote to Pavone.
"The pro-life movement is and must always be a pro-woman movement. As such, leadership in the movement demands adherence to the highest standard of conduct. Consequently, with heavy hearts, we must withdraw, and commend to the Movement the importance of finding another means of collaboration."
AUL officials declined The Pillar's questions, but confirmed the authenticity of Foster and Aden's letter.
Terrissa Bukovinac, founder of the Progressive Anti-Abortion Uprising, also resigned from the 115 Forum over Pavone's sexual misconduct allegations.
In a February letter, Bukovinac told group members that "the allegations against Frank are credible and a huge red flag."
"And signs of grooming behaviors, repeated unwanted sexual advances, and/or boundary violations, especially by those with disproportionate institutional power and influence, must be followed up with protective action," she added.
"Therefore, my continued participation in the 115 Forum and work with Priests for Life is contingent upon Frank's removal," she wrote, in the Feb. 9 letter obtained from sources close to the 115 Forum.
Bukovinac declined a request from The Pillar for comment. But sources close to the 115 Forum said she discontinued participation in the group soon after sending her letter.
—
Some pro-life leaders have said the resignations are part of a broader split emerging among pro-life leaders over Pavone.
One pro-life leader, who asked not to be identified because he was not authorized by his organization to speak on the record, told The Pillar that: "The fallout has been immense. It has, in my judgment, split the pro-life movement right in half."
While some leaders have distanced themselves from Pavone, "a segment of the movement insists on blind adherence to a man who refuses to deal with repeated credible allegations of sexual harassment," he said.
Another pro-life leader said the Pavone allegations might foster "a 'Me Too' moment in the pro-life movement, and a more explicit recognition that we are a women-first movement. Because being pro-life means being pro-women."
Scheidler confirmed that some pro-life leaders have defended Pavone, and called into question the veracity of allegations against him.
"Sadly, we are divided. There are some who are standing by Frank, no matter what. And some of the ways they try to justify that is by dismissing the concerns that were raised by these women who say that Frank mistreated them. I think that is really disappointing."
"We are supposed to be a pro-woman movement. Women need to know that they can count on us. And yet these very credible allegations of sexual misconduct - which I believe are true - are being dismissed with the flimsiest excuses, with comparisons to Christine Blasey Ford, or with claims that the timing is suspicious."
"You know, Frank brought these sexual misconduct allegations to the forefront by his own shameful effort to cast himself as the victim [of his laicization]," Scheidler said.
In reference to a tweet after his December laicization, in which Pavone said he had been treated like the unborn, Scheidler said he was "profoundly offended."
"He compared himself to an aborted baby. I mean, as serious as it is, being stripped of your priesthood is nothing like being stripped of your arms and legs by a vacuum suction machine or a scalpel. And that comparison is absurd and offensive."
"So that's why people are stepping forward to say: 'Wait, I'm a victim,' That makes sense to me. That his crying victim is what encouraged and emboldened - and really placed a moral responsibility on the hearts of these women to step forward and speak the truth about this guy."
📰
Get 'The Pillar' in your inbox every Tuesday and Friday - and help make serious Catholic journalism happen - with no clickbait, and no nonsense
—
While Pavone has support from the board of Priests for Life, both a former board member and former staffer of Priests for Life have called for Pavone to resign, and for the organization to commission an investigation into the allegations against him.
But other pro-life organizers have been hesitant to speak out, sources say, even while a sharp debate over Pavone continues among leaders in the 115 Forum, and in text threads or in-person meetings.
"People are talking about this in private a lot," Scheidler said.
"I'm not at liberty to speak about other groups and what their decisions are. But there's a large [pro-life] group right now which is taking a wait-and-see approach, they are not willing to speak out. And maybe there's some prudence to that," he added.
"But I guess for me, the idea that the entire world would see the pro-life movement being silent on this — or offering nothing but support to a guy who's been stripped of his priesthood and accused very credibly of sexual misconduct, well, I think that's a really bad look for the pro-life movement."
Staff members at some pro-life organizations have told The Pillar that leaders at organizations are concerned about the prospect of retribution from Pavone if they raise concerns. The former priest has a large social media platform, and a strong fundraising operation, sources said.
"This guy is a lot more powerful and a lot more influential than you're giving him credit for," a staffer at one pro-life organization, who was not authorized to speak on the record, told The Pillar.
For his part, Scheidler acknowledged that there could be a cost to his speaking out.
"We have used endorsements of our work from Priests for Life and from Frank Pavone in our outreach efforts and fundraising efforts, because he enjoyed a good reputation in the fundraising movement. And for a lot of people, he still does," Scheidler said.
By raising concern about Pavone, "the Pro-Life Action League may suffer financially. We may suffer from people being angry with us. Leaders have called me an ungodly man, an unbiblical man, a man of low character. I've been called a dummy… for saying anything at all other than total support for Frank Pavone and Priests for Life," he added.
"But I think there's a higher value here than the fate of any one pro-life organization, even the one that I run."
"Harm has been done to the pro-life movement, by perpetuating false narratives about some kind of Church-wide conspiracy to undermine the pro-life movement, or some kind of lack of commitment on the part of the Catholic bishops to the cause of the sanctity of life, or the suggestion that any criticism of Frank and Priests for Life is fundamentally political. I have heard people claim that somehow the Biden administration reached out to Pope Francis to silence an effective pro-life leader."
"Those lies are so damaging to the movement, and are causing so much confusion amongst the pro-life people, and I had to speak out."
—
A spokesperson for Priests for Life said despite the controversy, Pavone and his pro-life organization will continue advocating for an end to abortion.
Leslie Palma, Priests for Life's communications director, told The Pillar that "the false accusations and vitriol of recent statements are truly unfortunate, and Priests for Life has not contributed or encouraged our supporters to respond in kind."
"We have great love and respect for all members in our movement, and we are grateful for the tremendous and widespread support amongst pro-life leadership. We will not be deterred by distractions of any kind, and are instead committed to our mission of protecting the sanctity and gift of life," Palma added.
But while Palma was optimistic, Scheidler had a different view.
"I think this kind of dishonesty is going to be really bad for our movement," he said.
"At this post-Dobbs moment, we need pro-life leaders to be working together more effectively than ever. We were not prepared for the overturning of Roe v Wade, and I have to wonder if the incompetent leadership of Frank Pavone and Priests for Life isn't part of the reason that we were so unprepared."
—
Pavone, formerly a cleric in the Diocese of Amarillo, Texas, was laicized in December last year through the special faculties provision of the Vatican's Dicastery for Clergy, after his bishop accused him of several years of "persistent disobedience," including presenting himself in clerical dress and celebrating Mass publicly even when he was prohibited from doing so.
In January, The Pillar reported that a former employee of Priests for Life had in 2009 told the Amarillo diocese that Pavone had inappropriately touched her, groomed her, and made unwanted sexual advances toward her.
The alleged misconduct occurred when the woman was a young assistant at Priests for Life in the late 1990s, while she was taking a break from undergraduate studies — and shortly before she entered religious life.
Her 2009 report, a copy of which was obtained by The Pillar, alleged that Pavone would rub her back, apparently unhooking her bra, and stroke her hair— and that he made an unwanted visit to her hotel room during a Priests for Life trip, during which he allegedly sexually propositioned her.
During her employment at Priests for Life, Pavone began to call her a "spiritual daughter," and urged her to call him "Dad," the woman alleges.
The report also details a disturbing incident which allegedly occurred shortly before the woman entered religious life in 2001. During that incident, Pavone reportedly took the woman to his private quarters, after "pressuring her to let him comb her hair before she cut it off to join the convent."
In his living area, Pavone allegedly urged the woman to sit on his bed, but when she declined and sat at his dining table, "he began to comb her hair. She said it was very painful, and he said he had never had a sister. [The woman] took out a brush to make it less painful. He then played with her hair some more. She cannot remember what happened after that. She does remember that Father was angry, short, distant, and temperamental when he dropped her off at the flat," according to her report.
Start your day with Starting Seven - a daily news roundup in your inbox.
-
In February, The Pillar reported that another woman, Mary Worthington, had also made a 2009 report against Pavone.
Worthington told The Pillar that her report detailed allegations that she was frequently sexually harassed and groped by Pavone during the two years she worked at the organization, from 2004 until 2006. She detailed allegations that Pavone frequently touched or groped her legs, buttocks, back, and hair, without her consent.
Pavone also required her to work in his private quarters, she said, and made sexual advances toward her.
While the Amarillo diocese has declined to comment on those reports, a diocesan official told Worthington last month that in her response to her allegations, "sexual harassment, safe environment training, and criminal background checks were conducted for all staff and Rev. Pavone."
Both Worthington and the other woman say that was not enough.
Since the initial report against Pavone, other women and former staffers have complained that the former cleric was sexually and personally inappropriate with subordinates at Priests for Life, even in recent years. ​​And journalist Jenn Morson wrote in America magazine last month that during her employment at Priests for Life in the late 1990s, she was subject to grooming and boundary violations, as Pavone "create[d] the sort of atmosphere where abuse thrives."
Still, Pavone has continued his leadership activities at Priests for Life. Despite his laicization and the allegations, he continues to engage publicly as the group's leader, appearing at conservative political conferences and at the January March for Life.
But sources say that Pavone took a backseat at a February meeting of the 115 Forum, which the former cleric ordinarily leads personally. Sources say that during that meeting, Priests for Life's director Janet Morana said that Pavone had the support of the organization's board, and would continue in his leadership position.
Nevertheless, public criticism of Pavone has continued.
Jennifer Roback Morse is director of the Ruth Institute, a think tank focused on a Christian response to the sexual revolution.
In an essay last month, Morse urged that "justice demands that we listen to the cries of the victims."
"The allegations are hurting the people in the pro-life movement who supported him, who believed in him, who donated to him," Morse wrote.
"These ripple effects illustrate why the Church is skeptical about the whole concept of 'victimless crimes.' The concept surreptitiously redefines the harms of the crime in order to narrow the class of victims. 'My sexual sins are my private business' is almost always untrue. Our sexual sins almost always bleed over into the entire family—and, in this case, the wider pro-life community."
After that essay, Morse told The Pillar that she hopes more Christians will raise objections to Pavone's alleged behavior.
"The Pavone affair gives an opportunity to say very clearly: 'This is what we as Catholic lay people expect of our clergy. This is the behavior we expect of our clergy. And what Frank did is not it.'"
"We should be real clear: 'This is what we expect of our clergy. And this is the level of transparency we expect of our institutions.' And Priests for Life is not doing it — we ought to be able to expect better than what we've gotten so far."
For his part, Scheidler said he expects that pro-life leaders will remain divided over the allegations against Pavone.
But he said that some leaders are looking to distance themselves from both Priests for Life and its leadership.
"Moving forward, we're trying to rebuild, and to find a new way for pro-life leaders who feel they can not work with Priests for Life in conscience anymore, to be able to collaborate together. I'm working with others in the movement to build a new structure of collaboration that will, I think, be more effective, and certainly more transparent — more democratic, and more open to scrutiny, to accountability, and transparency."
"I really feel that God is working in this moment. I think he wants us to be united in a more authentic way."
Comments