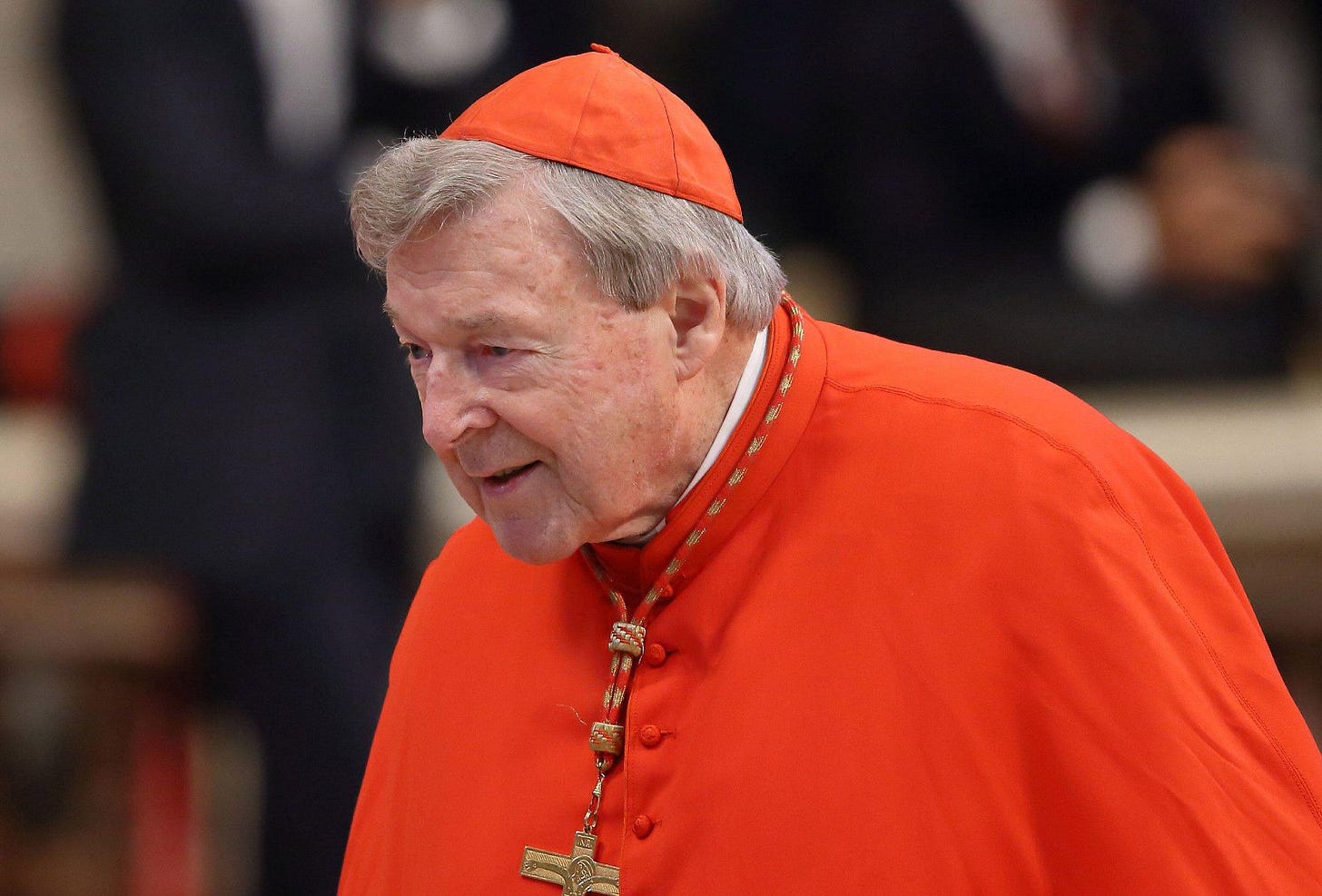 Pro-LGBT activists in Sydney are set to stage a protest during the requiem Mass Thursday for the burial of Cardinal George Pell, the former archbishop of the diocese and head of the Vatican's financial oversight department.
The demonstration, which is being organized under the slogan "Pell go to Hell" was given the green light to proceed after police initially sought a court order banning the event, but then agreed to a buffer zone around St. Mary's Cathedral and an alternative route for a planned march.
The cardinal, who led the Sydney archdiocese from 2001 to 2014, was regarded by many as one of the 20th century's central figures in Australian Catholicism. He was widely considered to be a defender of orthodox Catholic doctrine, and an articulate spokesman for the evangelical and social mission of the Church.
After his death, aged 81, from complications following a hip replacement operation on Jan. 10, tributes to Pell poured in from around the world.
Former Prime Ministers of Australia hailed the cardinal as "a great son" of the country, and called his death "a great loss to the intellectual and spiritual life of our country."
New South Wales Premier Dominic Perrottet, a Catholic, has said he will not be attending the requiem Mass for Pell but has urged demonstrators to "show respect."
Local LGBT activists, however, have branded the cardinal "homophobic" and "bigoted" for his long record promoting and defending Church teaching on issues such as marriage, human sexuality, and abortion.
On Feb 1, Kim Stern, an organizer for the group Community Action for Rainbow Rights told The Guardian that the protest event would begin in Hyde Park, across from the cathedral, where speakers would address Pell's "long track record of misogyny, homophobia and conservative bigotry," before an expected crowd of around 200 would march through the city.
Despite Pell being an internationally regarded churchman, intellectual, and public figure, Stern said it was "grotesque" that the Church be allowed to host a "celebration of his life."
Pell's body was returned to his native Australia for burial after a funeral Mass was celebrated for the cardinal in St. Peter's Basilica in the Vatican Jan. 14, presided over by Pope Francis and attended by mourners from around the world. Pell's body is currently lying in state at the Sydney cathedral ahead of a requiem Mass and followed by a private interment in the cathedral crypt, scheduled for Feb. 2.
In a statement released earlier this month, Fr. Don Richardson, dean of St. Mary's Cathedral, said the church was expecting thousands of mourners from around the world to attend Thursday's Mass.
"Cardinal Pell left a remarkable legacy for the Catholic Church in Australia and this will undoubtedly be one of the most significant funerals ever held at the cathedral," said Richardson.
The cathedral will live-stream the Mass, scheduled for Thursday at 11 a.m. local time and to be led by Archbishop Anthony Fisher, OP, Pell's successor as Archbishop of Sydney. Due to the large crowds of mourners expected, screens will be erected outside the cathedral so that the gathered crowds can watch the liturgy.
Protestors initially planned to march on the cathedral itself during the Requiem Mass, but New South Wales Police blocked the move and sought a court order to block the demonstration on public safety grounds. Instead, demonstrators will march away from the cathedral.
Ahead of Pell's burial, survivors of sexual abuse have also marked their own form of protest, tying colored ribbons to the building's fencing and gates. The ribbons were initially removed by cathedral staff but then restored.
Speaking to the Australian Broadcasting Corporation outside the cathedral on Tuesday, Paul Auchettl, an abuse survivor from Pell's home diocese of Ballarat, acknowledged that many Australians "hold George Pell in such high regard."
"And that's OK," Auchettl said, "because he did do good things, but we believe to honor him properly, we have to be able to talk about the legacy he's left."
For many Australians, the cardinal became inextricably associated with the cover-up of clerical sexual abuse, while many Australian Catholics long insisted that Pell was at the vanguard of the Church's safe environment policies and efforts to assist victims.
In 2016, after a controversial investigation lasting years and described by critics as "trawling" for accusations, police in the Australian state of Victoria brought charges of sexual abuse against Pell personally, all of which he strenuously denied.
After an initial trial failed to reach a verdict, Pell was convicted in 2018 before being vindicated on appeal by the country's High Court in 2020, which found that no jury "acting rationally" would have convicted Pell on the evidence presented.
After his release, having spent more than 400 days in prison, Pell continued to speak publicly in support of the rights of victim-survivors of sexual abuse.
After the cardinal's death, former Australian Prime Minister Tony Abbott called Pell's legal ordeal as "a modern form of crucifixion."
"In his own way, by dealing so equitably with a monstrous allegation, he strikes me as a saint for our times," Abbot said.
Comments