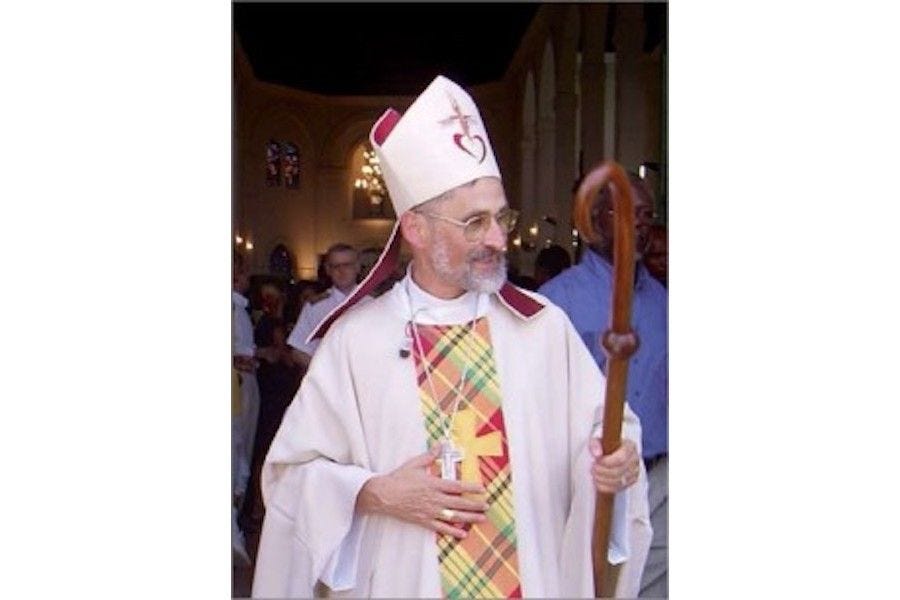 The Vatican has found French Guiana's retired Bishop Emmanuel Lafont guilty of sexual abuse and ordered him to observe a life of prayer and penance at a French monastery. The bishop has been accused of sexual misconduct with immigrants whom he had housed in his episcopal residence.
The retired bishop is also facing a civil investigation by the Cayenne public prosecutor's office, for human trafficking, breach of trust, and aiding illegal residents.
La Croix reported the Vatican verdict Dec. 19, saying it was actually handed down in October.
The Dicastery of Bishops' decision means that Lafont "is forbidden to carry out any pastoral activity, to wear the insignia of a bishop, to come into contact with his acquaintances in Guiana as well as with young migrants," the French bishops' conference (CEF) confirmed to AFP.
"He is under house arrest, in a monastery on mainland France," the CEF told French journalists.
Neither the CEF nor the Dicastery for Bishops clarified why the October verdict had not been made public before La Croix published it this week.
The Vatican ruling is the conclusion of a canonical investigation launched in April 2021, led by Archbishop David Macaire of Fort-de-France, Martinique, the metropolitan see of Cayenne.
The investigation began with two separate complaints against Lafont.
One complaint was filed by a 27-year-old Haitian asylum seeker who claimed that Lafont offered housing and help with his migration process in exchange for sexual favors.
The other complaint was filed by a former employee of the diocese, accusing Lafont of "moral harassment."
The French outlet Marianne interviewed the former diocesan employee - identified only as "Catherine" in the investigation.
She claimed that upon signing her employment contract in 2012, Lafont cautioned he "you have not seen or heard anything," apparently regarding inappropriate conduct in diocesan offices.
Catherine said that in 2017, a 25-year-old Indigenous man arrived to stay as a guest at the episcopal residency. She said that within a few days the man told her that the naked Bishop Lafont had entered his room and asked to sleep with him.
Catherine said she told the man to report the situation to the diocesan chancellor, who spoke with Lafont; but no other action was taken.
After discovering that Catherine knew about the situation, Lafont reduced her responsibilities and continuously mocked and verbally abused her, according to Marianne.
Eventually, on May 5, 2021, the woman filed a complaint with the police for "moral harassment" and "defamation."
Lafont was named Bishop of Cayenne in 2004 by Pope John Paul II. The Diocese of Cayenne covers all of French Guiana, a small territory located in South America with about 294,000 inhabitants. French Guiana borders Brazil and Suriname and is by far the largest French overseas territory.
When he became a bishop in 2004, Lafont was best-known for having been a missionary in South Africa for 13 years during the apartheid period, living in Soweto, one of the epicenters of oppression for Black South Africans. He was friends with Nelson Mandela and Desmond Tutu.
In 2019, Lafont participated in the Vatican's Synod of Bishops for the Pan-Amazon Region, and later wrote a preface for the French-language edition of Querida Amazonia, Pope Francis' apostolic exhortation after the synod.
Lafont is generally reported to be well-liked in mainland France, where he has been lauded as a champion for social justice causes.
But claims of misconduct against Lafont have been piling up since his 2004 arrival in French Guiana.
Marianne also interviewed a woman who worked in 2007 as a diocesan finance official. The woman said her husband had complained to the bishop about imprudence over the bishop's penchant for housing migrants - some of whom were minors - in the episcopal residency. The woman says her responsibilities in the diocesan office were subsequently reduced to supervising some cleaning staff She claims to have suffered verbal abuse from Lafont, and eventually, in 2008 was fired.
In 2008, she said, she wrote a letter to the Vatican and filed a complaint with a civil court for wrongful dismissal, and in 2012 the court ruled in her favor. She also filed a criminal complaint in 2011 for moral harassment, which has not received a ruling.
Also in 2008, five priests wrote a letter to the Vatican's apostolic delegation to the Antilles complaining about the financial, pastoral, and sexual practices of the bishop. The Vatican appointed emeritus Bishop Jean Bonfils of Nice to investigate the allegations.
At the time, Bonfils said he was surprised to be asked to conduct the investigation, because he was a close friend of Lafont. The investigation did not lead to a sanction against Lafont, but, according to Marianne, Bonfils instructed Lafont to stop housing migrants at his residence — though the bishop didn't actually stop doing so.
On October 26, 2020, Lafont turned 75 and submitted his resignation to Pope Francis, as is required by canon law.
The pope immediately accepted the resignation - an unusually swift move for bishops close to Francis.
Just five days before submitting his resignation, Lafont had accused one of his guests, a 27-year-old Haitian asylum seeker, of assault after an altercation between them.
When the asylum-seeker was questioned by police, he told them the argument stemmed from the bishop's insistence that the migrant houseguest perform a sex act upon him while the bishop watched television.
The immediacy with which Pope Francis accepted Lafont's resignation has led to speculation in French Guiana and mainland France about whether the Vatican had already been informed about the accusation being leveled against the bishop.
But that prospect has raised questions about why it seemingly took months before the Congregation for Bishops initiated an investigation — and about why the 2008 investigation of Lafont did not lead to additional action regarding the bishop.
The Pillar asked Fr. Mesmin Gaya, vicar general of the Diocese of Cayenne, Fr. Mesmin Gaya, if there had been additional accusations against Lafont, and whether the canonical investigators had collaborated with civil authorities in 2008.
Fr. Gaya said that he was only appointed as vicar general "a few months ago" and therefore he "does not know the details of the case."
According to the French publication Marianne, local police have interviewed at least four undocumented migrants that live or have lived in the episcopal residence.
A former employee of the diocese told the French magazine that she found one of those men engaging in a sexual act with the former bishop. The employee alleged that the migrant is now receiving financial support from the bishop in exchange for his silence.
Lafont has previously denied sexual misconduct allegations, claiming to have only "lacked prudence" in hosting young men in his residency.
The canonical verdict and civil investigation against Lafont comes at a difficult time for the Church in France. In October, an independent report estimated 216,000 cases of abuse between 1950 and 2020 within the Catholic Church in France, and at least 11 bishops emeritus have been accused of sexual abuse.
Comments