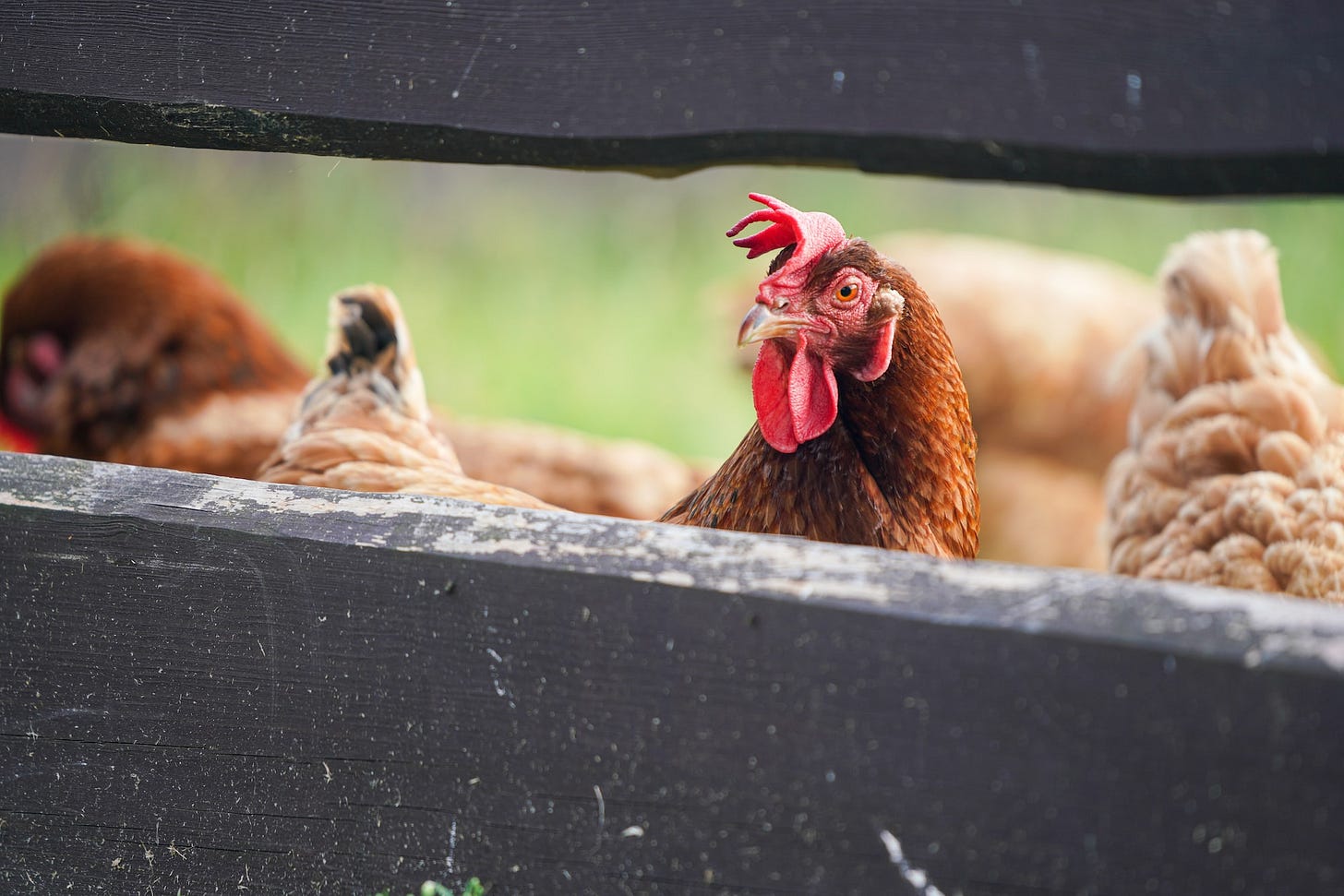 Hey everybody,
The turkey is finished, and the chickens are coming home to roost.
At least it feels like that to me.
We've got a number of stories to report that are each a big evolution of a news item we've been covering for months, or longer — stories we've worked hard to report, that are now reaching some major and important point of development.
You'll see what I mean when we run through the news.
But first, let me just note that a lot of news happened over the Thanksgiving holiday, and you were patient enough to let us take the weekend before diving back in. So thank you.
Now, before we get to those chickens coming home to roost, let me start with a very cool story.
'A spiritual work of God'
As most of you know, the Church in the U.S. has already begun a three-year process aimed at deepening faith, and at increasing ecclesial communion, intimacy with God, and the Church's works of mercy.
No, readers, I don't mean the synod on synodality — I am talking right now about the USCCB's Eucharistic Revival.
The revival is a multi-year project, intending to foster Eucharistic devotion in parishes and dioceses, and to equip practicing Catholics with actual opportunities to invite non-practicing Catholics to hear the Gospel, and to experience the truth, beauty, and goodness of the Church.
The project is ambitious, and not without critics. But it has generated enthusiasm among a lot of bishops, and already led to an uncommonly high number of Eucharistic processions this past Corpus Christi, back in June.
Part of the Eucharistic Revival is a planned 2024 National Eucharistic Congress in Indianapolis, to be held at Lucas Oil Stadium, and at which 100,000 Catholics are expected to be in attendance.
And earlier this month, Bishop Andrew Cozzens, coordinator of the Eucharistic Revival and Congress, announced a new element to the project: four "Eucharistic Pilgrimages," which will travel with the Blessed Sacrament to the Congress in Indianapolis over the course of three months, mostly by foot, from four corners of America.
Permit me, if you would, to chuck my journalistic objectivity and to editorialize, for just a moment: This is really freaking cool.
In fact, a quartet of walking pilgrimages bearing the Blessed Sacrament seems to me the most palpably Catholic thing we've done in this country in a very long time, and I'm excited to see how it plays out.
Of course, it's a long time until 2024, so one hardly wishes to count one's pilgrims before they hatch. But it sounds like plans for the pilgrimages are well underway.
In fact, I talked with Bishop Cozzens late last week about the pilgrimages, and their potential for the Church in the U.S.
The bishop told me he expects to see God work through these pilgrimages:
I have been trying to make the point that a revival is a spiritual work of God.
I think we can see that God has desired this revival — which is really what I see in the working of it, it's gotten so much bigger than I could have imagined because God's doing something.
In a spiritual work of God, I think we should expect to see miracles and healings. I think whenever you honor God by making a sacrifice, it's fruitful for the Kingdom. I expect we're going to see that as we try to honor Him by walking across the country in this way.
Read the entire interview — and take a look, again, at the pilgrimage's electric "adoration-mobile" (my phrase, not theirs).
More news
Many of you have been following carefully the back and forth of the German bishops' "synodal way," which reached a tipping point last week, when a number of Curial cardinals pushed the German bishops to put the synodal path on ice, and the German bishops said they wouldn't do it.
It's a situation fraught with tension.
But contrary to many expectations, it's not the only Catholic story happening in Germany. And last week, for a glance at something completely different, The Pillar's Luke Coppen spent time talking with Germany's "traditionalist" Catholics.
What he found out was quite interesting: A lively movement, by many accounts, of young families with children, many of whom say they're looking mostly for a place where basic Catholic doctrine isn't up for daily debate.
Have they found it? And what's it like to be a "traditionalist" Catholic in Germany? Read all about it.
Start your day with Starting Seven - a daily news roundup in your inbox.
—
Next, we have been covering for months the ferocious liturgical controversy in the Syro-Malabar Eastern Catholic Church, most of which is located in India. Long story short — since Vatican II, many Syro-Malabar priests have offered the sacred liturgy versus populum, toward the people, in a move they say is called for by Vatican II. Other Syro-Malabars objected to that, and urged a return to the ad orientem posture for Mass.
After many years of disagreement, most Syro-Malabar eparchies have accepted a Vatican-backed "50-50 formula" wherein the liturgy of the Word is offered versus populum, and the liturgy of the Eucharist offered ad orientem.
Except for one — the Ernakulam-Angamaly archdiocese, where resistance to the ad orientem approach is fierce among many priests and laity — and I mean seriously fierce, the kind where bishops are burned in effigy, police escorts are needed for presbyteral council meetings, and thousands protest in the streets.
And this Sunday, a group of protestors prevented the eparchy's apostolic administrator - a proponent of plan "50-50" - from entering his cathedral to offer the liturgy. Police had to escort him to safety — and now local police have locked everybody out of the cathedral, at least for the time being.
There will be a big meeting in January to address this. But readers, this story, which we've been covering for quite a while, has reached a major tipping point. The chicken, so to speak, is coming home to roost. And friends, the only place where you'll read about everything that's happened — and what's coming down the pike — is The Pillar.
So read up on a liturgical dispute unlike anything else happening in the life of the Church.
—
Now on to another long-simmering story reaching a tipping point: the Vatican-China deal.
Some of you on Saturday were eating turkey leftovers. Some of you were swearing about the Michigan-Ohio State game. Some of you (like me) were still reveling in Nebraska's Friday win over Iowa, which seemed almost enough to vindicate a very bad season of football.
But at the Vatican, Saturday was all about China. You see, on Saturday the Holy See released a statement expressing its "regret" over the recent "installation" of Bishop John Peng Weizhao as "auxiliary bishop" of the "Diocese of Jiangxi."
Why did the Holy See regret the installation of an auxiliary bishop?
Because Bishop Peng already has an office as diocesan bishop,

because the "Diocese of Jiangxi" is a creature of the Chinese Catholic Patriotic Association, and is not actually recognized as a particular Church by the Holy See,

and because the Vatican obviously didn't approve the transfer of Bishop Peng from his real job to a made-up job in a non-existent diocese.
Regret indeed.
Readers, the chicken has come home to roost on the Vatican-China deal, an agreement which critics have said for years will not prevent the Beijing government from treating the Church as its subject, and with no concern for the religious freedom or sovereignty of the Church.
The installation of Bishop Peng was in contradiction to the Holy See's goals in China, namely to see the end of a rupture between the "underground" Church and the officially recognized and government-regulated Church.
And while the Holy See has been quiet for years about serial violations of the agreement, this one was apparently too much, and the Holy See spoke out — leaving in question whether the Vatican Secretariat of State will continue its Ostpolitik approach with China, or whether it will begin speaking out about other issues, including the ongoing genocide of the Uighur people, or the very recent and burgeoning movement for human rights reforms, sparking protests across the nation.
You can read Ed's (excellent) analysis right here.
—
But if you want to know where Pope Francis sits on the China question, it's worth noting that on Monday, in an interview with America Magazine, the pontiff gave a very clear indication of his approach, by mentioning Cardinal Agostino Casaroli as the "greatest model" of ecclesiastical diplomacy.
Casaroli is the architect of the Church's Ostpolitik approach to engagement with Eastern European countries - a quite controversial effort to make agreements with Communist regimes, in order to keep the Church from facing an intolerable level of persecution.
So if you want to understand Francis' view, you should understand something about Casaroli and Ostpolitik. And you're in luck. We've got an explainer hot off the presses, just for you. Read up!
—
Pardon the Interruption
I've got a couple more big stories to talk about, but first, two things that readers have asked me about over the weekend.
First, the Diocese of La Crosse, Wisconsin, announced last week that Msgr. Jeffery Burrill, formerly of the USCCB, has been appointed a parish pastor. Msgr. Burrill was appointed a parish administrator back in June, to no small amount of controversy, given the circumstances of his resignation from the U.S. bishops' conference, and officially appointed pastor last week.
La Crosse's bishop said in June that Burrill had "engaged in a sincere and prayerful effort to strengthen his priestly vows and has favorably responded to every request made by me and by the Diocese."
The diocesan vicar general reemphasized that point in social media posts over the weekend, in which he wrote that the priest has "done everything he was asked to do to return to active ministry," and "has gone through his 'rehabilitation' with humility, honesty and integrity."
Given the controversy over the subject - and questions asked by The Pillar's readers - The Pillar asked the Diocese of La Crosse about the steps required to return to public ministry, after a resignation from a high-ranking position triggered by the frequent use of sex apps. The diocese has not responded to requests for comment.
—
Second, here's something you absolutely don't see every day.
The Ukrainian Catholic Eparchy of Toronto announced on Sunday that one of its priests - Fr. Josef Zyla - had spent 34 years pretending to be something he was not — namely, pretending to be one of its priests.
While the priest had presented himself as a married Eastern Catholic priest, and served as a parish pastor in Canada, the Polish priest was actually a Latin Catholic priest, bound to celibacy, who had abandoned his diocese and taken up with a woman, whom he had presented as his wife for the decades he spent ministering in the Ukrainian eparchy.
Again, not actually an Eastern Catholic. Not actually married.
Actually, though, a priest, which is good news, because it means the diocese determined that the sacraments he celebrated for 34 years were illicit, but not invalid.
The letter starts at the 1hr 10min mark in this video.
The priest has been laicized, but is not dispensed from the canonical obligation of celibacy, which means that he is not free to attempt marriage to his long-time companion.
"It's sad," said the priest in this video, after the letter was read to his congregation. "It's very sad, because lives are destroyed."
What's the lesson? Don't lead a double life. No matter who you are. Nothing good comes of it. Just ask Mrs. Zyla.
Ok, now back to some big stories.
—
'Eeeeeh'
Longtime readers of The Pillar know that we have been covering the minute details of Vatican financial scandals longer even than we've been The Pillar — with a central focus being the set of embezzlement, corruption, and intimidation charges leveled against Pillar reader Cardinal Angelo Becciu.
Those charges, like many other things, came to a head over Thanksgiving weekend in a major way.
How?
Well, a Vatican City prosecutor released last Thursday a phone call transcript which shows Becciu calling the pope, and urging him to sign off on Becciu's alibi in the case of a missing half-million in Vatican euro the cardinal is alleged to have sent to Cecilia Marogna, his private spy, amid a process aimed at ransoming a kidnapped Colombian nun.
The cardinal also urged the pope to reinforce that the whole matter was subject to state secrecy, seemingly so that Becciu couldn't be asked about it at trial.
The pope - just a week out of major surgery at the time - didn't take the bait, and instead asked Becciu to put things in writing, and got off the phone.
But recording a phone call with the Roman Pontiff without his knowledge is against the laws of Vatican City State, as is, seemingly, urging him to sign off on alibis while he recovers from surgery
At the same time prosecutors released that information, they also disclosed proof in another embezzlement charge.
Becciu is accused of illicitly funneling 250,000 euros in Church money to his brother, through wire transfers to the charity his brother runs. The cardinal has always claimed the funds were Vatican donations, used to deliver tons of bread to the poor.
Except, guess what?
Police searches found hastily and recently forged delivery receipts for nearly 20 tons of bread — suggesting that the Vatican's dough didn't actually make all that bread happen.
Pretty serious and concrete evidence for the cardinal. But Becciu took it all in stride, finagled a meeting with the pope on Saturday, and told reporters on Sunday that he had "clarified" things for Francis, and been told that he could keep attending high-level cardinal meetings, at least for the time being.
For anyone else, all of this evidence would seem to mean the certainty of conviction. But Becciu has wriggled off the hook more times than once, and seems to have a gift for survival.
So is this end for His Eminence, or is there more to come?
Read about what's happened — and what might be coming next.
Start your day with Starting Seven - a daily news roundup in your inbox.
—
Finally, we reported already last week that an on-site apostolic visitation is getting underway this week in the Diocese of Knoxville, Tennesse, where the Vatican has received serious allegations about the leadership of Bishop Rick Stika, especially concerning his alleged protection of a seminarian accused of serial sexual assault.
You'll recall that Stika admitted to The Pillar that he removed a review board-appointed investigator into some of that alleged assault, because, the bishop said, "I knew in my heart" that the seminarian was innocent.
Our sources in Knoxville continue to affirm that they have had meetings scheduled with the bishops appointed to visit the diocese, who can expect to hear about a lot of alleged issues in the diocese — including that Stika pushed a diaconal candidate to buy two cars for the former seminarian, the most recently in April, and that the bishop continues to tell clergy in the diocese that the seminarian was actually the one assaulted — despite mounting evidence to the contrary.
But it is not clear what will come after the visitation, and some priests in Knoxville say they're not especially optimistic, given that they've manifested their concerns to ecclesiastical authorities numerous times before, and without any direct response.
Several priests attribute the current intervention to current Louisville Archbishop Shelton Fabre, who came to listen to priests at a September meeting, and - Knoxville priests believe - subsequently urged the Holy See to address the issue.
In either case, it will likely be several weeks, at least, until there is any known result of the apostolic visitation, if there is.
But given this week that Pope Francis said there should be ecclesiastical transparency in the investigation of bishops, the apostolic visitation in Knoxville may prove a good test case of the pope's desire for openness on episcopal disciplinary matters.
—
Subscribing Tuesday?
Today is something in the United States called Giving Tuesday, which I don't quite understand, but the gist is that people are urged today to make particular donations to the charities of their choice, often with matching gifts or other incentives arranged for the day.
We at The Pillar would like to urge and encourage our readers to make such gifts, especially to Catholic charities, which are practically the most comprehensive network of charitable endeavors around the world.
If you're looking for a particular charity, and you live in Colorado, I would invite you to join the FIRE Foundation, which gives grants for special education in Catholic schools, at our Adventide luncheon on Friday. Full disclosure - I am a board member of said foundation, as is Mrs. Flynn.
But whatever Catholic charity you choose, supporting the works of mercy and apostolic evangelization is a laudatory practice for Catholics, and we wish you a satisfactory Giving Tuesday.
We at The Pillar have a different model, and are not soliciting from you a donation this Giving Tuesday. We are a journalistic operation with paying subscribers — a newsstand with an honesty box, as we like to say.
But several of the stories I mentioned in this newsletter show that our journalistic operation actually impacts the life of the Church on serious issues that matter — our coverage has impacted the trajectory of the Vatican financial trial, and the unfolding situation in Knoxville, and the question of ecclesial reform and clerical accountability.
On other issues, our in-depth coverage is the only place where you'll get consistent, fair, smart, serious reporting and analysis — on stories like the Syro-Malabar fracas or the Vatican's China agreement.
If you find that coverage valuable, we ask you to become a paying subscriber. When you do that, you keep our coverage free for tens of thousands of readers — including the dozens of religious sisters and seminarians who've asked us in recent weeks for free subscriptions to Starting Seven — calling it an invaluable part of their daily routine.
And if you find our coverage really valuable, we give you the option to increase your subscription amount, to help make good and serious Catholic journalism possible. Again, this isn't a Giving Tuesday pitch — we're a newsstand with an honesty box, and only you know what's possible for you, and what you think The Pillar is worth to the life of the Church.
—
And by the way, it's Advent.
That means we launched this weekend the first episode of our Advent mini-season of The Pillar's Sunday School Bible study podcast, led by Scripture scholar Dr. Scott Powell.
In each episode of our Advent mini-season, we'll look at what Scripture reveals about a set of Advent figures — Elizabeth and Zechariah, Mary and Joseph, and Anna and Simeon.
We designed these episodes to be Scriptural studies meant to help your Advent prayer - and I hope they will be.
__
And finally, here are some seriously talented foot pianists.
Enjoy:
Or if you don't like that, enjoy this girl absolutely shredding Vivaldi:

Blessed Advent!

Please be assured of our prayers, and please pray for us. We need it!
Sincerely yours in Christ,
JD Flynn
editor-in-chief
The Pillar
Comments