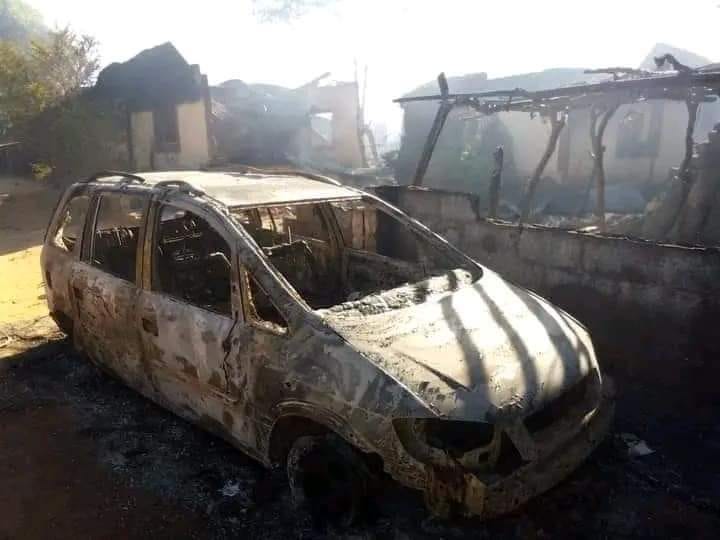 A Nigerian research center has built a database which tracks how thousands of Christians in northern Nigeria have faced displacement, kidnapping, or death, with little government attention or response to the problem.
Organized and compiled by the Kukah Centre of Abuja, the "Nigerian Atrocities Documentation Project" aims to compile evidence-based data into "an atrocities' database" recording Christian persecution in northern Nigeria.
The project has initially documented nearly 200 attacks on Christians communities in northern Nigeria during an eight-month period in 2022, in which hundreds of Christians have been killed, and thousands displaced, with little police or military intervention.
Among the atrocities, the researchers documented 18 cases in which priests were kidnapped in the eight-month period, and that 4 priests were killed in northern Nigeria.
Researchers say the historic roots of Christian persecution in the region date back centuries, and that Nigeria's government has been slow to respond to a burgeoning epidemic of violence in the country.
The database aims to provide information for researchers trying to understand Christian persecution in Nigeria, and for activists pushing the country's government to respond.
"It is important to gather evidence on the persecution of Christians for proper documentation and robust confrontation with the government on how best to address these current challenges" stressing that "where applicable, evidence collected can be used to call for compensation for victims," said a preliminary report on the project.
According to the report, the project aims to document and identify "reliable evidence on the facts about the persecution of Christians in Northern Nigeria, accurate, context-based and fuller pictures of the situation of religious persecutions in Northern Nigeria, as well as the immediate and remote drivers of conflict, and to support local faith-based networks to collect documentation on atrocities against their communities and others."
The report, partially funded by a grant from the government of Hungary, depicts the breadth of violence against Christians in Nigeria, and a rising frequency of persecution events.
It called on the Nigerian government to adopt a community-led policing approach, to develop an inter-religious commission to address religious conflicts, to increase military patrols in rural areas, and to establish camps for internally displaced Nigerians.
For an in-depth look at the "Nigerian Atrocities Documentation Project" and its findings, keep reading.
Start your day with Starting Seven - a daily news roundup in your inbox.
'An utter deprivation of basic amenities'
Preliminary data tracked violence in two time periods
In the first period, documenting February through May of 2022, 146 attacks on Christians were documented in Nigeria's north.
In that period, "one incident recorded that at least 50 persons were killed, while 26 incidences recorded that at least one person was injured…97 attacks recorded that an unspecified number of persons were missing while 22 recorded none [were abducted]."
Between June and September 2022, "37 incidents of attacks were recorded across the region, of which 316 persons were killed and thousands were displaced from their homes."
The NGO has emphasized that "incidences of marginalization, discrimination, and violent attacks against Christian communities in the region are often underreported and undocumented."
Underreporting "has given the perpetrators of these atrocities more impetus to execute heinous crimes against Christians in the Northern region" where "religiously motivated attacks are carried out against Christians, pretexting factors like the proliferation of arms, porous borders, and farmers' and herders' conflicts are presented as drivers of the conflict."
The report added that "many Christian communities are becoming soft spots for violent attacks because of the lack of government's failure to nip the crisis in the bud" maintaining that "their susceptibility is worsened with an utter deprivation of basic amenities such as good access roads, potable water, hospitals, schools, etc."
Citing concrete examples, the data indicated that "Christians are subjected to the Sharia law, mob killings, forceful conversion to Islam, violent extremism, kidnappings, rape, child labour, human trafficking, and other human rights-related abuses. But the various arms and tiers of the government have shown complacency amid the increasing rate of these forms of violations against Christians."
On "the complexity of the persecution of Christian in Northern Nigeria" the investigation underscored that it, "lies in the fact that both federal and state governments' resources are instrumentalized against Christians living in cities and local communities across the region…because more than 70% of office positions at the federal, state, and local levels are occupied by Muslims."
The report also noted that, "This has made equal access to job opportunities and resource allocations almost impossible. During employment exercises, Muslims are highly favoured even without having the requirements while Christians who have the requirements are denied job opportunities.
"The political atmosphere of Northern Nigeria is tense, taking into cognizance the number of political and religious violence. States like Kano, Sokoto, and Zamfara have not been able to separate the affairs of the government from Islamic doctrines. It has also not been able to regulate the violent and extremist preaching by some Islamic clerics.
"These have made the persecution of Christians and the imposition of some Islamic laws in the region thrive. of Islamic laws on Christians residing in the states. Generally, practicing Christianity in Northern Nigeria is difficult considering the historical, socio-cultural, and political circumstances in the region."
Historical context
The report traced the challenge Christians face in Northern Nigeria today to the formation of the 19th-century Sokoto Caliphate, in which Usman Danfodio fought a Jihad in "what now constitutes Northern Nigeria," and the report said, left a legacy of "radical ideology" in the region.
In unequivocal terms, the report argued that, "This historical event gave birth to Islamic dominance that has spread across Northern Nigeria. Though greeted with resistance, Christianity was able to thrive with the help of the missionaries who built schools, churches, and social and health infrastructure across the region."
"However, for decades now, contemporary Northern Nigeria continues to witness the dominance of Islam displayed (by Muslims) in a manner that stifles and undermines the freedom of Christian worship."
The data pointed out that "Boko Haram, ISWAP, and extremist Muslims have couched their ideologies on this historical background (and the extremist interpretation of the Quran) to advance the course of Islamic dominance which consequently leads to Christian persecution in Northern Nigeria" noting that "within this context, the separation of the state and religion (Islam) has been impossible" as "an average Muslim strongly believes that (against any religion, especially Christianity), state structures must be instrumentalized to promote Islam in the North. Largely, these have been the drivers of Christian persecution in Northern Nigeria."
The investigation found that the atrocities against Christians in northern Nigeria were perpetrated by Fulani herdsmen, Boko Haram and ISWAP and bandits and kidnappers.
In the Northcentral, Christian communities are faced with "lack of functional migratory laws, increased armed acquisition by herdsmen, and the lack of security presence especially in rural communities, and as a reaction to the ban on anti-grazing laws in some states like Benue" the report disclosed observing that, "tagging these attacks as a conflict between Fulani herders and indigenous farmers is but concealing the true reasons for the attacks."
It also maintained that "terrorist activities of Boko Haram and ISWAP in the North-east still affect Christian communities more. However, there are also cases of attacks by Fulani herdsmen in some communities like Suntai village in Taraba."
And in the northwest, "banditry and kidnapping have become prevalent because of a lack of government control and the absence of security in some rural Christian minority communities where the forceful conversion of Christian girls is also ongoing."
The center observed that "each region has a particular category of attacks. Fulani herdsmen attacks are prevalent in the north-central, Islamic terrorism in the northeast, banditry, and kidnapping in the northwest, it found.
"Due to the abundance of fertile land occupied by Christians in the north-central part of Nigeria, a spate of attacks has been ongoing to displace Christians and take over their lands. Terrorist activities in the Northeast mostly affect resettled communities while banditry, mob killings and forceful conversion to Islam takes the centre stage in the Northwest."
In its analysis, the Kukah Centre stated that "Attacks in north-central states have been prevalent because they are Christian majority states. The narrative is that Christians in these states are targeted to usurp their rich and fertile lands but also as a strategy to take hold of their resources."
It discovered that "In the northwest, there is a rise in banditry and silent, non-violent persecution of indigenous Hausa Christians as well as Christians who have settled in the region for civil service and business" bringing it to "a total of 127 persons [who] were killed by armed Fulani bandits" within the period.
Comparatively, it noted that "the number of persons killed is highest in the northeast, which suggests that activities of Boko Haram and ISWAP, Fulani herdsmen and bandits have a huge impact on the lives of victims. In the north-central part, herdsmen continue to attack indigenous farmers with little or no help from security operatives."
In its analysis of the period between June and September 2022, the center observed that, "although there are variations according to the three regions in terms of who the perpetrators of these atrocities are, the major victims are Christians and minority groups. Similarly, the mode of operations and the motives behind these attacks are identical."
Displacement of Persons, Destruction of Households
Between February and May 2022, according to the report, "about 200 houses were burnt on Sunday 20th March 2022 from the attack by suspected Fulani militia in Agban in Kagoro Chiefdom, Kaura Local Government of Kaduna State."
In same state, "bandits attacked and displaced people from the following villages - Tama I, Zangon Tama II, Dillalai, Igaga, Unguwar Bakko, Barere, Tsaunin Mayo, Gidan Gajere, Unguwar Gona, Hayin Kauwa, Unguwar Dan galadima and Zagezage."
The report indicated that "these villages had over 5000 people who were living in them, who have all been displaced by the bandits as of the time of filing this report."
According to the report, "violence erupted in Warji town, headquarters of Warji Local Government Area of Bauchi State, on 20 May 2022 following an alleged blasphemous statement against Islam by a 40-year-old lady, Rhoda Jatau, a staff of the health department of the local government council" which "resulted in the burning of 13 houses and the destruction of shops belonging to Christians."
In Kaduna "suspected terrorists attacked 6 communities in Giwa Local Government during which houses, and cars were burnt, and cattle were also rustled" the report highlighted stressing that "The police in the state were still investigating and accounting for the number of casualties, affected persons, and properties destroyed."
In a June 20, 2022 attack on Madagali ward in Madagali LGA of Adamawa State, ISWAP displaced "a total of 665 individuals from 133 households" the report highlighted.
The June 1 – Sept. 30, 2022 report showed that while "not less than 120,000 persons including women and children have been displaced by bandits in some communities of Ussa and Takum LGA of Taraba state," a similar humanitarian crisis occurred in North-western Nigeria where "thousands have been forced to flee their homes due to the violent activities of bandits and Fulani herdsmen."
According to the report, in the June - September period of 2022, there were "violent attacks of non-state actors (ISWAP and Boko Haram) in Northeast Nigeria led to the death of 154 persons while in the north-central [Plateau and Benue], attacks on indigenous Christian farmers by Fulani herdsmen led to the death of 64 persons" according to the documentation.
Within the same period, there 20 incidents of attacks across 4 states of the Northeast, 11 incidents in 3 states of the north-central, and 23 occurred in 6 states in the northwest.
'Forceful conversions, denial of jobs and freedom of worship'
Findings indicate that "the persecution of Christians in Northern Nigeria is consistently carried out in a coordinated form …This is even worse in Northcentral Nigeria occupied by a large number of Christians" and that "responses from the government at all levels have been poor…the government is found to have been complacent which suggests that these attacks will continue unabated."
According to the NGO, "Largely, Fulani herdsmen activities in the Northcentral region are a form of terrorism aimed at killing Christians and not a conflict between Christian indigenous farmers."
It maintained that "contrary to popular opinion and the news circulating in the media, the attacks on Christian communities are attributed to different factors, religion continues to play a significant role in the sustenance of conflict in Northern Nigeria. Christians have been disproportionately targeted both in terms of marginalization, exclusion, and physical violence."
The Kukah Centre reported that, "a member of the vigilante group in Zango Kataf and survivor of a terrorist attack, whose name is withheld for security reasons, narrated that the terrorists who attacked his community were seen in Hilux vans shouting 'Allahu Akbar' while shooting."
In the attack, "about 42 persons were killed and over 300 houses were razed. The attacks did not in any way suggest that it was a conflict between Fulani herdsmen and indigenous farmers."
Another survivor who gave an eyewitness account said, "we are talking about over 1200-armed persons. While the attack was going on, we ran to the priest and begged him to leave the village, but he refused, asking why he would run and leave his people. They succeeded in taking the priest around 6 pm. By the time the priest was taken, the bandits had killed over 40 people."
In Benue state, "no fewer than 23 persons have been killed by suspected Fulani herders in the Mbadwem and Tiortyu communities of Guma and Tiortyu Local Government Areas. The attack which occurred on Monday, 11th April 2022, came barely after two weeks when 3 persons, including a pastor, were murdered by the same Fulani herdsmen on 29th March 2022, at Waku village. Pastor John Torbee Ajav was shot by Fulani herdsmen on his way to attend a religious function in Gbajimba LGA" the report said.
The governor of the Benue state, Simon Ortom, described attacks in the state as "ethnic cleansing of the Tiv nation [who are predominantly Christians] by Fulani Muslims," and blamed the government for neglecting his people.
"We have cried for help against these invaders, but nothing is forthcoming…We are left alone, and it looks like it is a deliberate strategy. Now we have only one option; to defend ourselves or get extinct," Ortom said.
The report indicated that "the attacks on Christian communities in parts of Northcentral Nigeria have little or nothing to do with clashes between indigenous farmers and Fulani. This narrative is projected to stifle the religious persecution of Christians in Northern Nigeria."
Also, "Christians in Northwest Nigeria are victims of mob actions often tagged as blasphemy which has led to the deaths of many. Reports show that between 2019 and 2020, more than 190 people were murdered extra-judicially in Sokoto. This is similar in some other parts of northwest Nigeria like Kano.
"For instance, in June 2016, an angry mob in Kano beheaded a Christian, Bridget Agbahwe for allegedly blaspheming Prophet Mohammed. It was reported that Bridget, 74 years old, who was a trader in domestic plastic wares at Wambai market in Kano had a disagreement bordering on religion with some traders. The angry mob decided to behead her and attempted to kill her husband" the document stated.
It cited "the most recent of this mob action was the killing of a Christian lady, Deborah Yakubu from Repa Local Government Area of Kebbi State, an N.C.E 2 student under the Department of Home Economics. Deborah was stoned and burnt to death by some aggressive Muslim coursemates for alleged blasphemy against Prophet Mohammad. This happened on 12th May 2022."
It lamented that "forceful conversion of persons to Islam is ongoing in some communities in the Northwest."
For instance, "in Rano Local Government Area of Kano, a twelve-year-old girl was taken away from her guardians by the Hisbah (an Islamic Security Association) and converted into Islam because her guardians punished her for stealing. Two other similar cases have been taken up by the Christian Association of Nigeria, CAN, and were in court at the time of compiling this report."
The NGO observed that "Christian minorities are denied jobs and freedom of worship, and the government has deliberately refused to provide basic amenities to Christian communities."
An interview with a Hausa-Christian in Kano revealed that Christian minorities in the state are victims of persecution in the aspect of state employment, religious freedom, and the provision of basic amenities.
He decried the level of persecution they face when he lamented that, "Christians in some local governments in kano are facing challenges to freedom of worship, we have a series of reports on attacks on our people in their places of worship. Local governments like Sumaila, Kibiya Garko, and others have experienced many trials regarding their faith."
Attacks by Boko Haram, ISAWP, Fulani herdsmen, bandits and unknown gunmen caused 154 deaths the north-eastern region especially Borno state, epicenter of the violence within the second quarter, the documentation noted.
Christian leaders as 'targets of kidnapping'
According to the Kukah Centre's report, Christian religious leaders have become targets of kidnapping with 80% happening in the Northeast where, Fr. Stephen Ojapah MSP, the Regional Coordinator of the project in the region was kidnapped alongside his associate, Fr. Oliver Okpara at the parish house of St Patrick's Church, Gidan Maikambo in Katsina on the 25th of May 2022 by unknown gunmen who demanded a ransom of about 241, 000 dollars.
Eighteen Catholic priests in northwest Nigeria were kidnapped in different incidences during the period of documentation, while 4 were killed.
Providing two evidence-based reasons for targeting religious leaders, the think tank stated that first, "it is an attempt to extort money from the church by holding religious leaders hostages until their ransom is paid…because perpetrators have the perception that the Church has the financial capacity to pay the ransom on behalf of its priests" and second, because "it is outright persecution against Christians. Thus, they have adopted this strategy to instill fear in religious leaders to hinder them from continuing their religious functions in the region."
'Slow' governmental response
The research noted that: "The responses of the government to these frequent attacks and other related issues on Christian persecution have been slow, unsustainable, and unyielding."
"A major reason why these attacks continue to take place is a result of the poor responses of the government. Some of the short-term unyielding responses have been setting up military checkpoints that are usually operational during the day. This strategy was deployed especially in southern Kaduna when Fulani Muslims invaded some communities in Giwa and Kaura local government areas and killing about 32 persons and destroying over 300 households. This has not solved the problem as armed Fulani continue to attack Christian communities in the absence of the military" the report stated.
It stressed that, "Another unyielding short-term response to these attacks is site visits after attacks. In January 2022 for example, a delegation from the Kaduna state government with the joint team of Heads of Security headed by the Commissioner for Internal Security of the state, Samuel Arwan visited Kaura and Giwa LGAs to commensurate with victims and survivors of attacks. There, he assured the victims and survivors of the state government's efforts in addressing security issues. Despite this, Christian communities in the state are being attacked continuously.
"Most worrisome is the fact that the government has deliberately refused to recognize that these attacks targeted at Christians are religiously motivated. There is more attention to providing analysis of these attacks from the viewpoint of climate change, cultural clash, and economic contestation."
The challenge of documenting atrocities
On some of the challenges they encountered within, the Abuja-based NGO lamented that its regional coordinators could not "travel to the field and organize formal interviews with groups and key informants" because of "the increasing insecurity in Northern Nigeria (herdsmen attacks, banditry, Boko Haram, ISWAP attacks, etc.)" which "was aggravated by the abduction of the Northwest Regional Coordinators.
This made "the regional coordinators [to devise] informal interviews to collect data in order not to raise religious suspicion and be exposed to security risks" they stated.
During the project's data collection phase, there was also "difficulty in field travels for data collection" occasioned by "traveling across the huge land expanse in Northern Nigeria" which made the "regional coordinators [to rely] on the networks they have established with local individuals and communities to collect and verify data."
Policy recommendations
The center organized a webinar on the persecution of Christians and minority groups in Northern Nigeria on Aug. 15, 2022 "to converse on the causes and effects of the ideological and structural persecution of Christians and minority groups in Northern Nigeria, and to come up with policy recommendations that will address existing challenges."
The NGO urged to the Nigerian government to "constitute an inter-religious commission to hand issues on religious conflicts and persecutions, establish more IDP camps to accommodate persons stranded in conflict-torn areas and to deploy heavy military presence in rural areas and border communities exposed to external invasion."
It further recommended that, "The government should adopt community-led policing where indigenes and residents of communities are employed, trained, and equipped to secure their environment and communities against non-state actors like Boko Haram.
"The existence of indigeneity in Nigeria has advanced the course of religious persecution. Lawmakers should come up with legislation that will promote inclusivity, free access to land, place of worship etc. and equality in the country."
It challenged Churches and Christian organizations/institutions to "organize public lectures or programs (like the popular crusades organized by religious leaders) on the current realities of Christian persecution to amply the voices of victims and provide counter-narratives to the existing secular narratives of climate change and economic competitions as the causes of these violent conflict."
To further curb the menace of Christian persecution in the region, the NGO encouraged religious bodies like the Christian Association of Nigeria (CAN) and the Catholic Bishops' Conference of Nigeria (CBCN) to "continue to confront the government on the need to solve the current security challenge while it seeks collaboration with Christian INGOs to offer humanitarian assistance to victims whom the government has not adequately provided relief services."
By the same token, the think-tank urged CAN, to establish an organization saddled with the responsibility of conducting evidence-based research on the persecution of Christians to create narratives contrary to popular opinions suggesting the attacks on Christians are not religiously motivated.
It emphasized that "this will drive" the apex Christian body and "other religious leaders to confront the government on the issue of Christian persecution."
The center disclosed that the NADP implementation team will "continue with the collection of data across the regions" as well as organizing "a webinar on issues of persecution against Christians in Northern Nigeria."
In terms of sustainability, the Kukah Centre surmised that the two-fold approach adopted to make the project more impactful include "continuous data collection for advocacy and policy formulation to amplify the voices of victims and influence legislation" as well as "humanitarian intervention that will take care of the basic needs of victims."
Comments