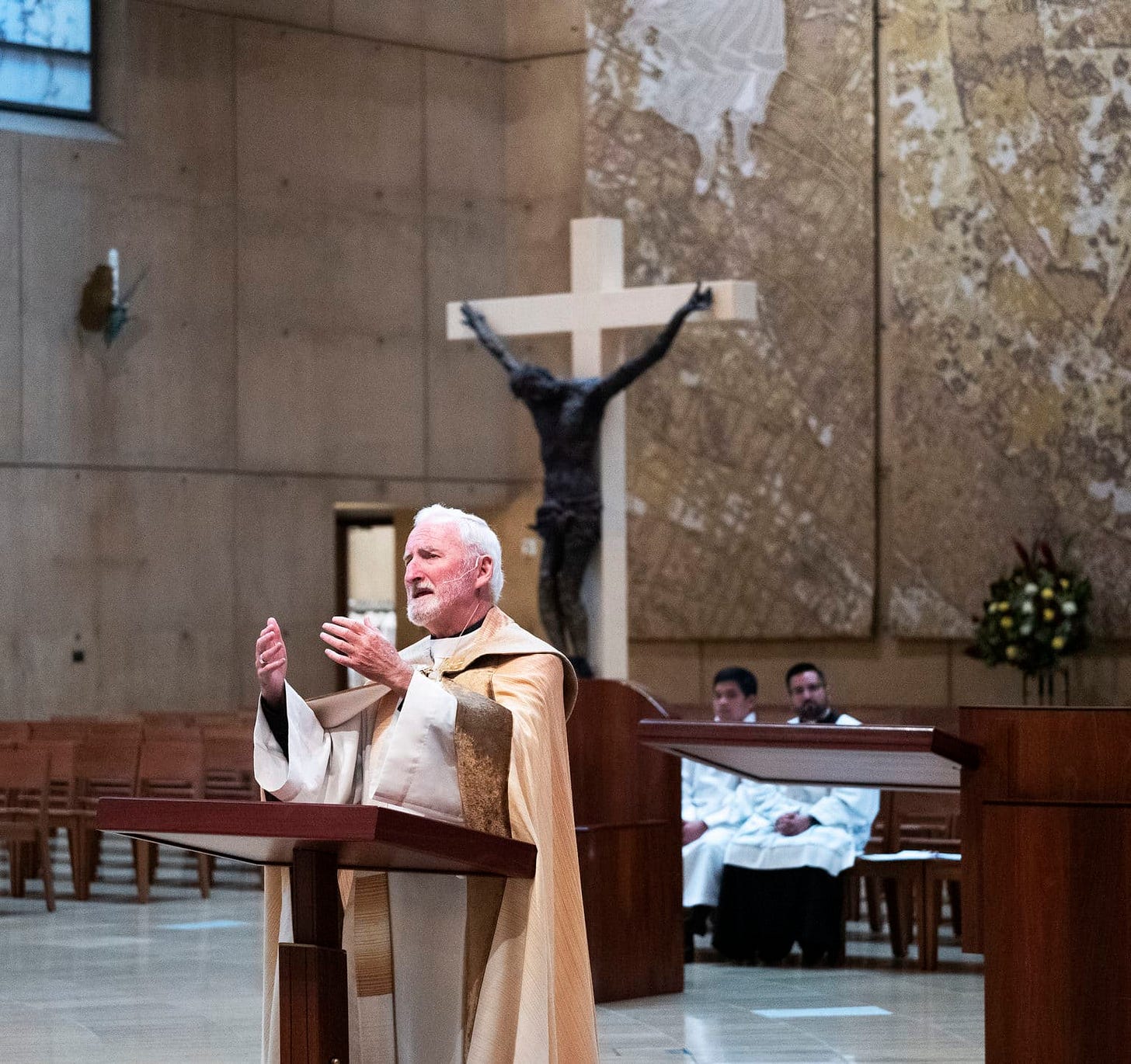 This is a developing story, and will continue to be updated.
A suspect was arrested Monday in the shooting death of Los Angeles Bishop David O'Connell, the Archdiocese of Los Angeles has told The Pillar.
A spokesperson for the Archdiocese of Los Angeles told The Pillar Monday morning that the archdiocese has been notified that a "person of interest" is in police custody, while the investigation is ongoing.
The archdiocese has "been praying for a resolution to help our community find healing from this terrible crime," she added.
A spokesperson for Los Angeles Sheriff's Department told The Pillar Monday morning that the department could not confirm provide details, but a press conference on the case is expected early Monday afternoon.
According to the LA Times, there was no sign of forced entry at the bishop's home when police arrived on scene Saturday. The bishop was found in his bed, and suffered from a single gunshot wound, according to police reports.
According to local media, a "person of interest" was arrested in Torrance, California after a nine-hour standoff outside a home in Torrance, California.
The standoff began at midnight and lasted until 9:00 a.m., when the "person of interest was apprehended," the Los Angeles Daily News reported.
The Los Angeles Sheriff's Department SWAT unit tweeted at 9:14 am California time that a "SWAT operation for an armed, barricaded suspect in Torrance has concluded," with the "suspect in custody."
Neighbors told the Daily News that the standoff happened after the suspect, described by neighbors as an "odd person" with "quirks," told police that he was armed.
According to the Daily News, the wife of the "person of interest" was not at home when he was taken into custody. It is not clear whether she is also a suspect, but LA County Sheriff Robert Luna indicated in a tweet Sunday that more than one person was believed to be responsible for the killing.
Several sources close to the case told The Pillar Monday that the suspect's wife had worked as O'Connell's housekeeper, and that she is believed to have been "on site" when the bishop's body was initially found by Church personnel Saturday morning.
O'Connell, an auxiliary bishop in Los Angeles, was killed Feb. 18 in his Southern California home.
The Archdiocese of Los Angeles initially announced Saturday afternoon that O'Connell had died of unknown causes.
Several local media outlets reported Saturday that the bishop was a victim of gunshot, after the Los Angeles County Sheriff's Department issued a report Saturday afternoon that an unnamed adult gunshot victim died Saturday afternoon on the same block as the bishop's residence, in Hacienda Heights, a suburban area east of LA.
Nevertheless, Sheriff's Department public information officers had repeatedly declined to officially confirm that O'Connell was the victim of violence, until Sunday morning, when both the sheriff's department and the archdiocese confirmed that O'Connell's death was being investigated as a homicide.
According to the Los Angeles County Sheriff's Department, on Saturday "deputies responded to the [bishops's] location regarding a medical emergency call. When they arrived, they discovered a male adult suffering from a gunshot wound. Paramedics arrived and pronounced him dead at the scene."
Bishop O'Connell, who was ordained a priest of Los Angeles in 1979, was appointed an auxiliary bishop of Los Angeles in 2015. A native of Ireland, O'Connell spent most of his priesthood in ministry among immigrant and Hispanic communities in Los Angeles.
The bishop was until his death the episcopal vicar of the San Gabriel pastoral region, one of five regional divisions of the massive Los Angeles archdiocese, which has in total more than 4 million Catholics.
The region overseen by O'Connell, which covers the eastern part of the diocese, includes some 69 parishes and 64 Catholic schools.
After his death was announced, dozens of Catholics gathered outside O'Connell's Hacienda Heights home to pray the rosary and leave tributes for the bishop.
Friends of Bishop O'Connell say he was devoted to the poor, to the rosary, and to the Blessed Virgin Mary.
In a statement Sunday, Los Angeles Archbishop JoseGomez urged prayer.
"Let us continue to pray for Bishop Dave and his family. And let us pray for law enforcement officials as they continue their investigation into this terrible crime," the archbishop wrote.
"We ask Our Blessed Mother Mary to intercede and be a mother for all of us in this moment of sadness and pain."
This story is developing and has been updated.
Comments