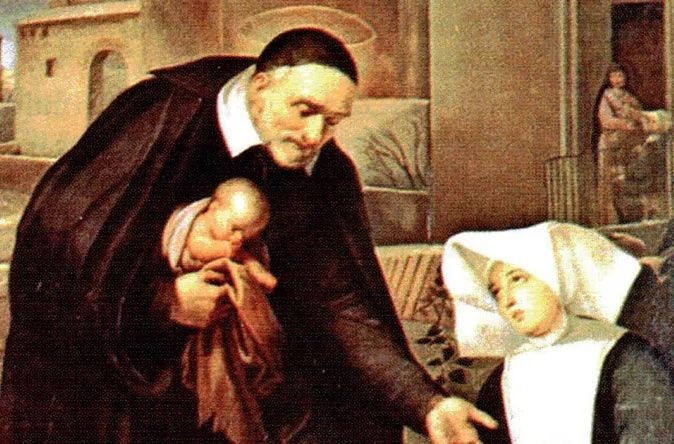 Hey everybody,
Today is the feast of St. Vincent de Paul, and you're reading The Tuesday Pillar Post.
Let's get to it:
The news
The USCCB last week published the "national synthesis" text of the Church's global synod on synodality process — a kind of summary of the months of consultation which took place in dioceses across the country.
Now, the synod on synodality is a controversial undertaking, as you know.
Despite big goals, the synod has struggled to attract participation from more than 1% of Catholics in most of the West. And critics say the process is a kind of Potemkin consultation, with an actually predetermined outcome.
More than a few Catholics say the process will be used by those who want to undermine or downplay the proclamation of some Catholic doctrines - especially as a key synod official has challenged publicly the Church's teaching on sexual morality.
But it seemed to me worth hearing about the USCCB's synod process from the people who actually organized it — and understanding their sense of what "synodality" means, now and in the future.
So I talked with them. And whatever you already think about the synod, if you want a well-rounded and informed view of what this process means for the Church, our conversation is worth reading about.
Richard Coll, the USCCB staffer who organized the USCCB involvement in the process, talked with me about the synod's critics. He said he understands where they're coming from:
"I don't think I would be critical of anybody who has suggestions, comments, criticisms, or observations, because this is a process, this isn't an end result cast in stone. This is accompanying one another on the journey, which we hope will be a continuing one."
"And we will continue to learn, and grow, and be sure that as many of those voices that want to be heard are effectively heard. So we're not critiquing anybody for misgivings they might have, or any concerns they might have had about whether they were able to access as much participating as they wanted."
"But this is an ongoing journey. And I'm sure we will all be learning about how to better integrate everybody who wants to be heard."

Julie McStravog, a USCCB synod project manager, also acknowledged that things weren't perfect:
"We needed to start exercising the synodal muscle, and so it's not perfect — this process was not perfect, but if we really are supposed to be a synodal Church, the 'Church of the third millennium' as Pope Francis called it, we need to start practicing."
McStravog and Coll had a lot more to say about the synod on synodality, and their sense of the actual reason Pope Francis convoked it.
You can read The Pillar's report, right here.
Meanwhile, in Rome, the Holy See announced on Friday that the Vatican City's chief public prosecutor has retired — and that the lawyer prosecuting the Vatican's financial crimes trial will take his place at the helm of the Office of the Promoter of Justice.
Why does that matter?
Well, Alessandro Diddi is a pretty controversial guy. His handling of the Vatican prosecution of Cardinal Angelo Becciu (along with other Pillar readers facing Vatican charges), has ruffled a lot of feathers — Diddi is a pit bull in the courtroom, and that's not really the Vatican's usual style.
But Diddi has been investigating the Vatican's London property deal for years now, and he hasn't been shy about following the case where it leads — except for a controversial moment recorded in some leaked tapes, in which the prosecutor seemed to push a witness who suggested the pope had been more involved in the London negotiations than he'd let on.
So what does Diddi's promotion mean?
In the first place, the prosecution isn't going to take its foot off the brake during the criminal trial.

Second, that while Francis has been conciliatory to Becciu, he's unlikely to intervene Diddi pushes for a criminal conviction.

But also that the prosecution is unlikely to try and put the Vatican's London deal squarely in Pope Francis' lap — even if that's where Becciu and company suggest it belongs.
Read more about the promotion, and its meaning, in this analysis from Ed Condon.
The Pillar reported Monday the Dutch Diocese of Amsterdam has a plan to close 99 of its 164 churches in the next five years. Thirty-seven more will close in the next decade, leaving just 28 parishes in a diocese of 425,000 baptized Catholics.
Why?
Well, of the 425,000 Catholics in the Amsterdam diocese, 12,000 were regular Massgoers in 2021. Obviously, that number might have been impacted by the pandemic, but consider that in 2013 only 25,000 Catholics in the diocese were regular Massgoers — fewer than 1,000 for each of the parishes that will eventually remain in the diocese.
The diocese says it plans to retool itself so that each remaining parish is an "active place of evangelization" — obviously necessary in a big diocese with no significant population of practicing Catholics.
But it will be worth watching to see if the Dutch develop a plan in the next few years for "those active places of evangelization."
If the diocese is serious, we might witness a major initiative to proclaim the Gospel in a Western secular culture. Of course, if that's not the plan, then even those 28 parishes will soon enough be too many.
In the meantime, of course, there's a fair amount of discontent about the diocesan plan — which is probably a harbinger of Church closing plans to come across most of northern Europe.
📰
Get 'The Pillar' in your inbox every Tuesday and Friday - and help make subscriber-supported journalism happen - with no clickbait, and no nonsense
Cardinal Joseph Zen is in a Hong Kong courtroom this week, facing charges that he and others failed to properly register a legal defense fund they created for pro-democracy protestors.
The cardinal's charges are fairly minor, at least compared to the national security charges he initially faced. If convicted, he'll pay a fine, but avoid jail time.
Our sources in Hong Kong say that Zen's charges were reduced so that the Beijing government could accomplish the goal of getting a prosecution for Zen without immediately incurring the kind of international pushback it'd face for putting the 90-year-old cardinal in prison.
But our sources also say this is kind of a "one-strike" approach for Beijing. Once Zen has the conviction in his file, if he continues speaking out against the Beijing government, it will become easier for authorities to hold over his head the prospect of future incarceration. And of course, there's some sense that all of this will tie into Vatican-Beijing discussions about the renewal of a deal with China regarding the appointment of Catholic bishops in the country.
You can read about the cardinal's trial right here.
I wrote last week about the controversy surrounding Germany's Bishop Franz-Josef Bode, who said Thursday that he will not resign from his office, despite a report which says that he had reassigned priests credibly accused of sexual abuse or misconduct — in some cases to youth ministry jobs — even when the probability of their guilt was well-established.
Bode, who is vice-president of the German bishops' conference, said at a press conference that he won't step down from his diocesan position because he is uniquely equipped to lead reform efforts there. And he said that he'd consulted about that decision with Fr. Hans Zollner, SJ, an influential Vatican expert on child sexual abuse issues.
Something's not right about that, I wrote last week.
Either Zollner didn't support Bode's plan to stick around - and Bode misrepresented him - or a key Vatican point-man on abuse didn't see a reason for a demonstratively negligent bishop to step down.
In either case, I wrote, that's a problem for the credibility of the Church's reform efforts — and will be demoralizing for the victims of clerical sexual abuse who are struggling to trust the Church.
Well, an intrepid reader of The Pillar sent me an interview of note.
Back in January, Zollner pushed hard for the resignation of bishops who've been negligent in office.
The priest criticized "​​bishops who say 'I would like to resign, but the pope won't let me.'"
"Instead, they should be man enough to say, 'No matter what the pope says, I can't continue [in office] and I'm not willing to. Period.'"
Period.
Did something change between January and now?
Did Zollner really believe in January that bishops should be 'man enough' to resign over negligent leadership, and change his mind by September? Or is Bishop Bode suggesting that he's got support from Zollner when he really doesn't?
I don't know, but I don't think this is the kind of thing we should let drop, either.
And looming over the whole thing is a much larger question - If Bode moved around or protected credibly accused priests for the first few decades of his ministry - as the report from his diocese says he did - why is it up to him to decide what happens next?
Don't we have a process for this? Isn't it called Vos estis lux mundi? Wasn't it supposed to reform everything?
What happened to all of that? We'll keep asking.
In Rome this week, the Portuguese Cardinal José Tolentino de Mendonça was appointed prefect of the Dicastery for Culture and Education — until recently called the Congregation for Catholic Education.
The education dicastery was one of several Vatican offices being led by bishops past retirement age — and Cardinal Mendonça's looming appointment had circulated as a rumor among curial officials for the past few weeks.
But on the same day the cardinal was appointed, Cardinal Luis Ladaria of the DDF and Cardinal Marc Ouellet of the Dicastery for Bishops had meetings with the pope — both men are 78 years old, and both are expected to retire soon.
So the juxtaposition of their meetings with Mendonça's appointment has set off rumors in the Roman curia that Ladaria and Ouellet will also be replaced soon — with some speculating it could happen later this week.
That's possible, of course, but I'm not sure. I am, however, fairly certain about a related Vatican-style rumor floating around:
There are a number of U.S. bishops and curial officials who've suggested to us recently that Cardinal Robert McElroy is set to be appointed the next prefect of the Vatican's Dicastery for Bishops. I suspect this rumor will reach a fever pitch in the next week or two, and that eventually some Catholic media outlets will report it's imminent.
But I wouldn't put down a lot of money on this prospect, if I were you.
Of course, anything can happen in the Church, but our sources in Rome are well-enough informed to be taken seriously, and they're pretty well-convinced the rumor is just that, and nothing more. So while I'm sure you'll be hearing about this, or seeing it posted on social media, I suggest you not put much stock in it — I don't think it's gonna happen.
If I'm wrong, I'll owe you guys something cool to make up for it. But I bet I won't be.
Hey! Give 'The Pillar' a few bucks so we can pay our reporters!
A few other news items:
— Cardinal Mario Grech has suggested that both civilly remarried Catholics seeking Holy Communion and same-sex couples asking for blessings should be "given the opportunity to express their intimate sense of spiritual realities."
— Cardinal Francis Arinze has described Belgian bishops' text allowing for same-sex blessings as "an error."
— Harry Scherer describes the last Traditional Latin Mass at a church in Washington, D.C.
— A team of writers and theologians recruited by the Vatican are working now on producing a kind of "global synthesis" document for the synod on synodality, drawn from the national syntheses produced by episcopal conferences. The work apparently includes a sketchbook of faces without eyes or noses, and a fair bit of hand-holding.
It seems they've also gotten their hands on some synodal artwork (?) — but I'm not actually sure whether it's fan art, or included in a national synthesis document, or has instead been sketched out while these folks are at work on the next stage.
Whatever the case, the art's taken a lot of criticism. Why? Well, take a look at it yourself:
The Patron of Pirates and Alchemists(?)
Today, as I mentioned, is the feast of St. Vincent de Paul — a priest who served the poor in 17th century France. You've heard about St. Vincent de Paul before, and you know about the global community of Vincentians who are still committed to solidarity and works of mercy among the poor.
But did you know that in 1605, when Vincent was 24 and already a priest, he was taken captive by pirates, and sold into slavery?
Well, that's the story — even while some modern historians have called its veracity into question.
The story goes that after he was nabbed by pirates, he was sold to a fisherman. But Vincent apparently got seasick a lot, and the fisherman sold him off.
Vincent was next sold to an alchemist. Yes. An alchemist. Just a guy who moonlighted as a doctor, but spent his days trying to turn metal into gold. The guy taught Vincent a little bit about the strange practice of spagyric medicine, but then he died.
After the alchemist died, Vincent was apparently sold to a priest who had converted to Islam and taken some wives. Eventually, Vincent's faith was such a witness to one of those wives that she started haranguing her husband for renouncing Christianity. The husband didn't want to hear about it, so he put Vincent on a boat and sent him back to France.
As it happened, Vincent eventually found a ministry among galley slaves, which changed his life, and may well have made a saint.
Providence works in strange ways, huh?
A quick favor to ask — We continue to grow The Pillar, and continue to cover the Church with serious, faithful, informed, and intelligent journalism. As you know, you can get The Pillar Post in your inbox, twice a week, for free.
Would you be so kind today as to forward The Pillar Post to those in your network who might benefit from reading it?
And of course, you can sign up to get this newsletter in your inbox, right here:
Or you can sign up to become a paying subscriber, or to upgrade your subscription right here:
You're our business model.
We are intentionally subscriber-supported, because we know that a subscription model, based on real relationships of trust with our subscribers, is the best way to do good journalism that's free of agenda-driven politicking or goofy clickbait.
So if you think we're doing journalism with paying for, upgrade your subscription right here. We'd appreciate it.
But if you can, share The Pillar with people who would love it as much as you do. We'd really appreciate it.
---

And by the way, I spent a bunch of time this weekend with a couple of sisters from the Sisters of Life. This isn't an advertisement — they didn't even ask me to say this. But every time I hang out with the Sisters of Life, I'm edified by healthy, sane, joyful, believing sisters with an apostolate really working with people on the peripheries.
So if you're discerning a vocation to religious life, maybe you call them up. But do me a favor — don't over-spiritualize this note and take it as a sign that you should definitely join the Sisters of Life or something. I'm just saying that I think they're usually pretty cool.
Please be assured of our prayers for you, and, if you would, pray for us this week. We need it.
In Christ,
JD Flynn
editor-in-chief
The Pillar

Comments