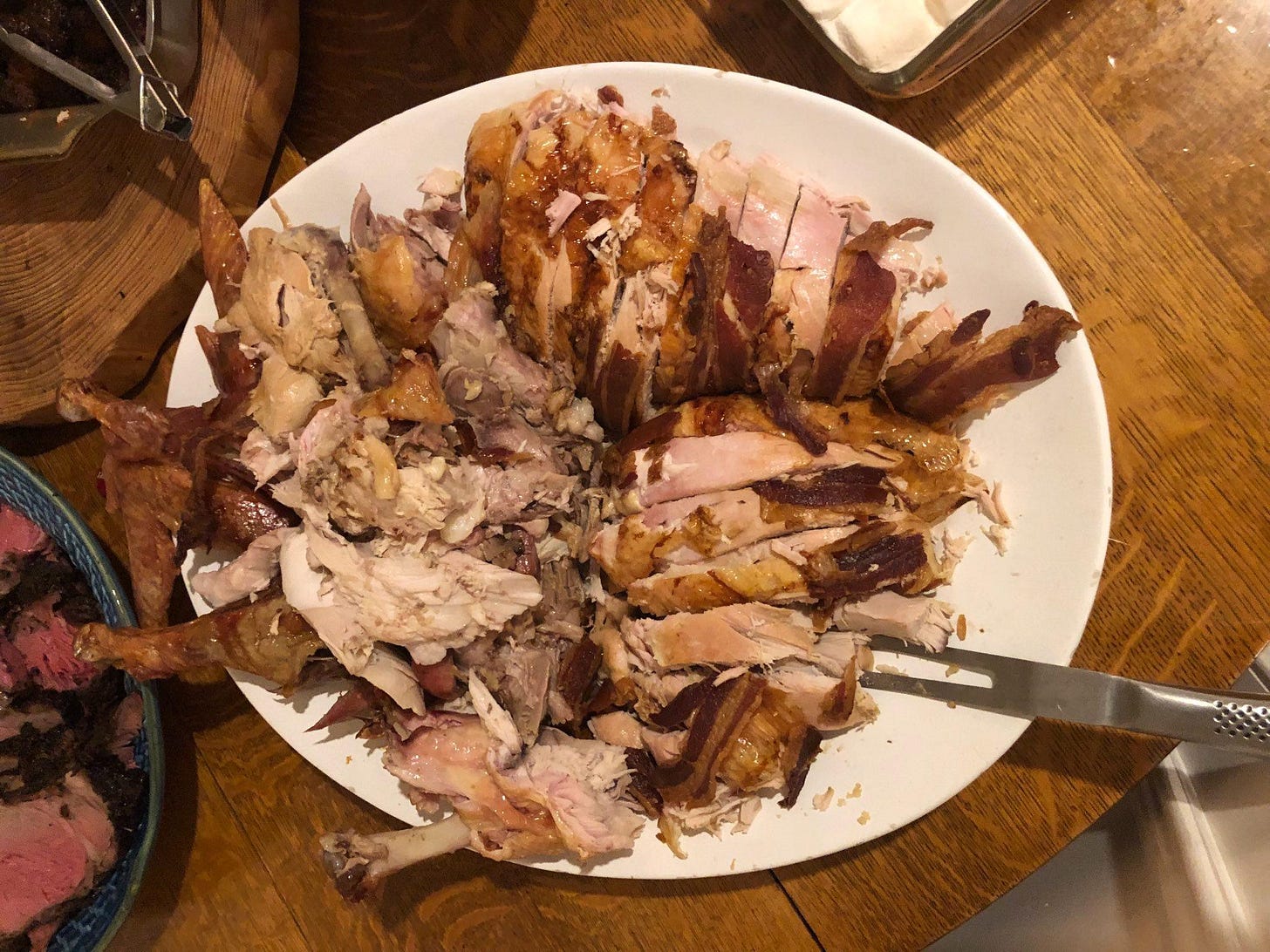 Happy Friday friends,
And a very Happy Thanksgiving to you all.
I confess that what I want most from this holiday every year is a very specifically defined "perfect meal" with my family.
For me, that means my immediate family, with more or less the entire day spent gathered around a smoker tending to a whole turkey, pork belly burnt ends, and several pounds of beef. If that sounds like overkill for food, bear in mind that my "immediate family" runs to 30 people with spouses and children.
This year, the table actually got a bit bigger still, with suitors to my youngest two siblings flying in to meet everyone, and a whole other family joining us to experience Thanksgiving in America for the first time.
Ordinarily, I would be a little hesitant about the extra people, but given that one of the additions was a canon lawyer and another was a watchmaker, I was pretty happy with the whole thing. But with around 40 people in the house, about half of them under 10 years old, it would be fair to say it was all a bit chaotic.
The temptation around holidays is, for me at least, to always be hunting for that perfect moment where you're doing exactly what you want, with exactly the people with whom you want to do it. It almost never happens, and I can lose out on so much of what is going on around me trying to make it happen.
Instead, this year, I made a concerted effort to stop every couple of hours and just, you know, be thankful for what I was in the middle of: a full house, with a full table, after a year in which the Lord has been unstintingly generous.
That is, as Linus might say, what Thanksgiving is really all about, Charlie Brown.
Of course, one of the things for which I am especially grateful is the likely survival of our little project here at The Pillar through a second full year. So, to all of the people reading this who have opted to become paying subscribers and kept us going and growing: Thank you, sincerely.
And if you're thankful for The Pillar in your inbox twice a week, or daily with Luke Coppen's Starting Seven, you can always shift from being a free reader to a paying subscriber right here:
It's better than a Black Friday sale
And holiday week notwithstanding, we didn't stop covering the news this week, and there was a lot more than usual. So let's get you caught up.
---
The News
Cardinal Joseph Zen has been found guilty by a court in Hong Kong over his role as trustee for the now-defunct 612 Humanitarian Fund. The cardinal, along with his four codefendants, was ordered to pay a fine of HK$4,000.
Zen's conviction was never really in doubt. Along with other prominent pro-democracy Hong Kongers, he was accused of failing to properly register the 612 fund, which provided legal and financial support to protestors jailed in the wake of the 2019 demonstrations.
The cardinal's conviction has made global news this morning, and I am glad that his case is getting attention. We've got an explainer here for you to keep up to date with what's going on.
The real story of his trial was what he wasn't charged with.
Zen was first arrested (still in relation to the 612 fund) under the terms of Hong Kong's draconian National Security Law for collusion with foreign powers — which is what taking foreign charitable or humanitarian donations can mean in HK these days.
Those charges against Zen weren't dropped, they just weren't pursued — for now. It seems to me that his whole trial, conviction, and relatively light sentence (the fine is about $500) was a way for the local government to show Beijing, Hong Kong, and the world that they are serious about putting people in court.
It's worth remembering that Zen was tried alongside a handful of other 612 directors, drawn from across Hong Kong society — including the top of the legal class, and an openly gay pop star. The trial was, in short, a warning for everyone. And if I've understood the message it was this: anyone, including a 90-year-old cardinal, can be charged, and next time it won't be a fine.
—
Bishop Rick Stika is facing a Vatican-ordered apostolic visitation in his Diocese of Knoxville next week.
We reported on Wednesday that Bishops Barry Knestout of Richmond and Michael Burbidge of Arlington have been directed to meet with priests, diocesan officials, and lay Catholics over several days, amid ongoing concern over the Stika's leadership.
The decision to commission an on-site assessment of the diocese - after at least one preliminary review of things - comes more than 18 months after priests in the diocese reported to the Vatican concerns about Stika's handling of reports against a former diocesan seminarian. In April 2021, we reported that the Vatican's Congregation for Bishops had received "about 10" accusations against Stika.
Read all about what's been going on in Tennessee here.
—
November is national Black Catholic History Month, and it has now been four years since the U.S. bishops issued "Open Wide Our Hearts," their pastoral letter against racism. But how does the Church measure progress in becoming a closer "family of families," as Sr. Thea Bowman once called it?
We spoke with Bishop Joseph Perry, auxiliary of Chicago, the chairman of the USCCB subcommittee on African-American affairs about this, and about his own experiences growing up and finding his vocation during the 1960s and 70s.
"Well, Black Catholic spirituality has a lot of hopes sewn in there. And that hope goes all the way back to images that we pick up from the Old Testament…
What was the pledge and the fulfillment of a people for ancient Israel, Black Catholics hope for themselves in a society that in some ways is a spinoff of the ancient oppressions. You see, that's the seed or the kernel, I think, of Black theology and Black spirituality."
It's a great conversation. Read the whole thing here.
—
Since Canada's Medical Assistance in Dying (MAID) law was first introduced in 2016, more than 30,000 Canadians have chosen to end their lives through assisted suicide.
Last year, nearly 1 in 30 deaths recorded in Canada was an assisted suicide death, and the Canadian Human Rights Commission has warned that people with disabilities are being pushed into situations where death felt like the only solution.
This week, Charlie Camosy spoke with Amanda Achtman, who works with Canadian Physicians for Life, about the speed with which the situation in Canada is becoming properly dystopian.
Please read the whole conversation.
What is happening in Canada is terrifying — and it will be seen and used by many as a template for other places.
---
Lame ducks
On Wednesday, the Vatican announced that Pope Francis has appointed a coadjutor for Bishop Thomas Tobin of Providence, Rhode Island. Bishop Richard Henning, currently the auxiliary bishop of Rockville Center, NY, was named to the post and will now succeed him automatically upon Tobin's resignation.
Bishops Tobin and Henning answered questions before a joint press conference this week and both seemed relatively at ease with the new decision, and with each other.
Henning is due to arrive in Rhode Island for good in January, and he said he's looking forward to "apprenticing" under Tobin for a few months as he gets to know the diocese.
For all the bishops' obvious goodwill, it is still a curious appointment. Tobin will be expected to submit his resignation when he turns 75 in April, and the arrival of a coadjutor means it's likely to be accepted right away.
But Tobin has no known health issues and doesn't seem to have been struggling with his governance of the diocese in any noticeable way. And, as he noted himself on Tuesday, there are nearly a dozen U.S. bishops currently serving beyond the retirement age, and several more due to cross that line this year. At the same time, there is a well-known shortage of candidates for episcopal office in the Church in the U.S.
So it's something of a mystery why, exactly, Rome feels it is absolutely necessary to plan for the orderly handover of the Diocese of Providence months in advance. I can't find it on anyone's map of "urgent appointments needed."
While the most likely reason for the appointment is that Tobin may be in poor health, and just not discussing it publicly, the absence of an official rationale has led to suspicion in some quarters — and it's just a suspicion for the moment — that Tobin's active use of social media and his profile as an outspoken conservative have made him something of a "tall poppy" in the U.S. episcopal field, and that an ordinary request to the Dicastery for Bishops for a new auxiliary bishop was turned into the appointment of a replacement nunc pro tunc by members of the dicastery.
If Tobin is wondering any of this himself, he didn't let it show during the press conference. Though he did say he expects the pope to accept his resignation promptly when he does submit it, and noted that he'd "rather be a dead duck" than a "lame duck."
Either way, given the flock of lame-duck bishops in the U.S. conference right now, the appointment of a coadjutor makes him a very odd duck indeed.
---
The synod on synodality remains, probably, the most important ongoing event in the life of the global Church.
As the process continues, and reports from around the world continue to feed up and into working documents ahead of next year's episcopal session in Rome, a key point of discussion — not to say controversy — is which themes and ideas appear to be getting the most play.
So, which regional reports are having the most influence, and which parts of the world are sounding like each other, or not? We wanted to know, and our data supremo Brendan Hodge took a look.
Brendan collected the texts of all the diocesan, regional and national synodal syntheses in the U.S., along with the text from the global "Working Document for the Continental Stage" and charted the linguistic and thematic overlaps.
The result is some of the most fascinating visualizations of the synodal process you are going to find. Take a look.
—
We also spoke recently with Bishop Daniel Flores of the Diocese of Brownsville.
Flores is the chairman of the U.S. bishops' committee on doctrine, and coordinator of the USCCB's role in the Church's global synod on synodality.
Flores talked with us about some of the knottiest synodal issues there are, like how some supporters of the process are trying to brand it as an expression of the Church's sensus fidelium, and some of its critics are lamenting low participation rates and ambiguity about synod goals and procedures.
Agree or disagree with Flores, this is, I promise you, is the most interesting, nuanced, and intelligent conversation about the synodal process you can read. These are the kind of conversations we think matter most in the life of the Church, and the kind we want to have here at The Pillar.
—
Meanwhile, in Rome, the German bishops have concluded their ad limina visit to the Holy See. As a send-off, the Vatican published a far-reaching critique of their "synodal way" delivered to German bishops by the prefects of the Dicasteries for the Doctrine of the Faith and for Bishops.
Cardinals Marc Ouellet and Luis Ladaria Ferrer couched their interventions in fraternal language, but there was no mistaking the message: the German synodal way presents "serious difficulties from an anthropological, pastoral, and ecclesiological point of view."
"It is striking, however, that the agenda of a limited group of theologians from a few decades ago has suddenly become the majority proposal of the German episcopate: abolition of compulsory celibacy, ordination of viri probati, access of women to the ordained ministry, moral re-evaluation of homosexuality, structural and functional limitation of hierarchical power, reflections on sexuality inspired by gender theory, major proposed changes to the Catechism of the Catholic Church, etc."
The German synodal way has set out to be the most influential force on the global synodal process, and the Roman verdict on it matters. Read all about it here.
---
Roll the papal tape
It has been an explosive week in the Vatican financial scandal. Yesterday, court sessions resumed in the trial of 10 defendants, including Pillar reader Cardinal Angelo Becciu, in Vatican City.
We will have full reporting on the day's events in due course, but since it was Thanksgiving, and we know you aren't looking for hot takes from us as a side to your turkey, we are still working through all the details.
The main headline is this — prosecutors in the trial submitted the transcript of a phone call into evidence yesterday. It was a call Becicu made to Francis in July last year, and which the cardinal recorded without telling the pope.
In the transcript Becciu is basically fishing for the pontiff to say on tape that he had approved a previous plan to help ransom a kidnapped Colombian nun, using a London private intelligence firm — over which Becciu had just learned he was facing criminal charges for embezzlement.
Becciu awkwardly thumbnails the plan to Francis, insists he'd told him all about it — "you remember?" Becciu asks. Francis says he "vaguely remembers" what Becciu is talking about, but not the details, and asks him to just put whatever he wants in writing.
I have spoken with several sources close to the trial, all of whom are in agreement: The call was seemingly Becciu's attempt to get the pope to agree on tape that he had approved a plan Becciu would be questioned about in court.
But here are some important details:
— Becciu didn't mention his private spy Cecilia Marogna at all, or the half a million euros he sent her, and which she seems to have spent exclusively on luxury travel and designer label goods, and over which both are being prosecuted.
— Becciu reminds the pope in a very pointed way that if "we don't observe state secrecy [about this]... eeeeeeh, we're all free to say whatever we have to say…" to which Francis responds "I understand."
Several people in the Vatican called me yesterday to tell me that they think Becciu was trying to implicitly threaten the pope if he was made to answer questions inside a courtroom.
As it happened, Francis waived the pontifical secret earlier this year and Becciu promptly blamed Francis for the whole affair — even though there's no indication Becciu ever mentioned Marogna to him.
But here's the real kicker: Becciu insists on the call, which he apparently recorded while outside of Vatican City and not on a Vatican device, that everything they are talking about is a state secret — and it was.
Violating the secrecy of "information or documents concerning the fundamental interests or diplomatic relations of the Holy See or of the State" is actually a crime in Vatican City and carries a penalty of 4-8 years in prison. There is a real chance that, by secretly recording Francis discussing a matter covered by state secrecy, Becciu has opened himself up to new charges.
And this is just some of what happened yesterday. As soon as I'm back at my desk, we'll bring you the full details in time for our next newsletter.
📰
'The Pillar' covers news you won't read anywhere else. We do it intelligently and reliably, because our subscribers know good journalism is worth paying for. So subscribe today – or upgrade your subscription!
Earlier in the week, we reported that Becciu has faced a series of legal setbacks in Italian courts.
The cardinal launched a series of lawsuits in Italian courts after Pope Francis sacked him from the curia and ordered him to resign his cardinalatial rights in 2020, none of which have gone his way.
This week, a court in his native Sardinia dismissed his claim against Italian news magazine L'Espresso that its coverage of the Vatican financial scandal cost him his chance to be elected the next pope.
Becciu wanted to sue the magazine for 10 million euros; instead, he's been ordered to pay their legal costs. That will now be added to a mounting tab for the cardinal — just over a week ago, a court in Como ordered Becciu to pay nearly 50,000 euros in costs and damages over another failed suit.
In that case, Becciu had attempted to sue his former deputy-turned-star witness for the Vatican prosecution, Msgr. Alberto Perlasca for half a million euros for damaging his health and reputation.
Among a range of other charges, Becciu is accused of attempting to suborn Perlasca's testimony in Vatican City. Go figure.
You can read all about that here.
---
And finally, Thanksgiving is over and this weekend is the first Sunday of Advent.
It's a wonderful time of the year when, in preparation for Christmas, we spend the first few weeks meditating on the end of the world and the coming of Christ in glory, before we turn to celebrating him as Word made flesh at Christmas.
To help you get ready, JD and Dr. Scott Powell are releasing a special Advent miniseries of our podcast Sunday School: A Pillar Bible Study.
The first episode will drop on Saturday and I promise you this is going to be a very cool thing indeed - and will help you prepare for Christmas in a deeply Scriptural way.
If you haven't been listening to the show so far, this is the time to jump in.
All our shows are here, but you can also sign up for Sunday School at Apple, Spotify, and wherever you get your podcasts.
—
One final thing. I know it's an American Thanksgiving tradition to listen to "Alice's Restaurant," Arlo Guthrie's rambling spoken folk anti-Vietnam draft song.
I'm all for tradition, even when I don't care for it personally — we still make mashed sweet potatoes topped with marshmallows for the big meal every year, and you couldn't pay me to eat them.
But, for my money, there's only one long, rambling, spoken-blues song I want to listen to:
See you next week,
Ed. Condon
Editor
The Pillar
Comments