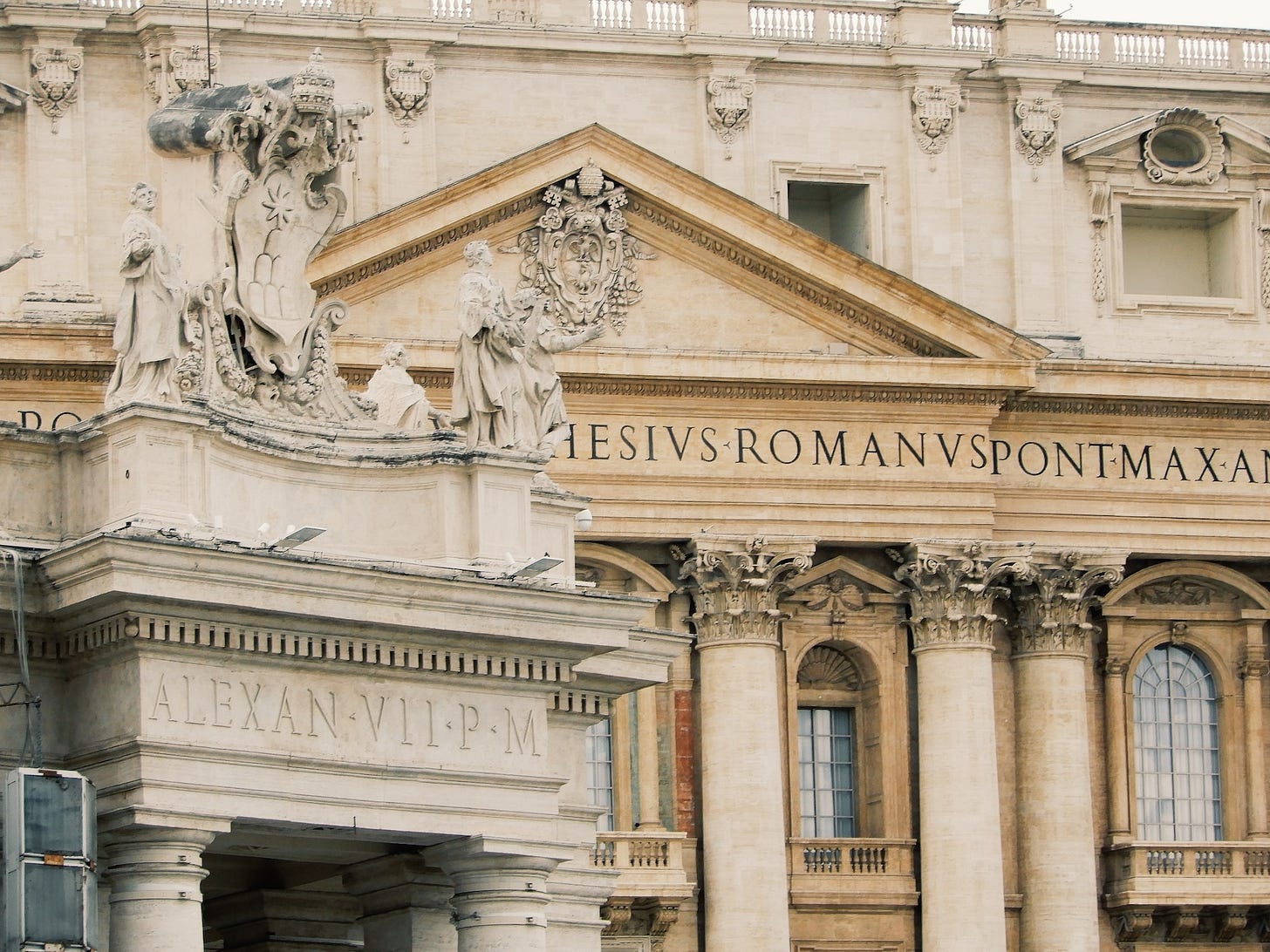 Pope Francis last week announced a dramatic policy change at the Vatican, ending the traditional practice of giving discounted accommodation to Rome-based cardinals and other senior curial officials.
The policy is likely to be unpopular, the pope acknowledged it will require an "extraordinary sacrifice" from those affected. But while the aim is to save money for the cash-strapped Apostolic See, it's not clear how much money the plan will actually generate for the Vatican's bottom line.
Still, with donations to the Holy See down after years of financial scandal, and with budgetary pressures mounting, it's possible the pope's new housing policy might really be focused on appearances — aiming more to demonstrate that the Vatican can be trusted with money, than to squeeze a few thousand extra euros out of Rome's resident cardinals.
If that's true — and the move is at least partly a public relations bid aimed at demonstrating integrity and consistency — what else could the Vatican do to demonstrate it's serious about financial reform?
—
The Vatican decision to end the grace-and-favor accommodation offered to Vatican cardinals and senior officials will be a big deal to those affected, especially as it came after a 2021 pay cut for senior Vatican officials.
The new policy was announced via a rescript posted on a public notice board in a Vatican City square, and cited the "particularly serious economic crisis" facing the Holy See. From now on, all curia-owned residential properties will be rented at open-market rates.
If asked to pay what their apartments could fetch in rent on the open market, some in curia-owned buildings dotted around Rome could find their cost of living double, or even triple, and become unsustainable on a Vatican salary.
The policy is likely to lead to some hard decisions in individual cases. But even if dozens of properties are repriced, it's unclear how much they could generate in cash terms, or how quickly.
Given that at least some, if not many, of the apartments will be located inside Vatican City itself, security concerns could also mean that they are simply not able to be listed as open-market rentals to the highest bidders. Some Vatican City digs might well even end up standing empty if they are priced beyond the means of curial employees and senior clerics.
But depending on the size of the budgetary hole facing the Vatican, and the reasons for it, it's possible that Vatican isn't pricing cardinals out of their apartments just to raise a few extra thousand euros a month.
While 2021 saw the Vatican books "practically balanced," senior officials warned at the time that the following two years would be "particularly difficult" and "not allow us to be very cheerful."
The Secretariat for the Economy, which requested the new rental policy, has yet to release financial results for 2022, or a projection for 2023, but sources close to the department have privately suggested the Holy See's 3.3 million euro deficit for 2021 has exploded, with some estimates suggesting it could be as much as 50 million for this year— almost entirely down to a drop in international donations.
After years of financial scandals, donor confidence in the Vatican is at a very low ebb, they warn, and in the face of global economic headwinds, so, too, is their generosity.
While repricing a score of apartments at the expense of cardinals and Vatican civil servants might not seem like the most obvious way to inspire Catholics to give, it could prove effective at creating a real impression of seriousness on the pope's part to make the most of every penny — even if the cash returns are themselves minimal.
When Francis was first elected a decade ago, he famously refused to move into the traditional papal apartments in the Apostolic Palace, and chose to remain at the Domus Sanctae Marthae hotel and guest house on the other side of St. Peter's square.
Even though Francis' continued residency there has actually cost more money — in lost revenue for the domus and increased security costs — than if he'd moved into the customary papal residence, the image of Francis as a man of spartan habits and modest tastes has become a fixed part of his image.
The housing policy change might, or might not, bring in some much needed extra revenue. But the international coverage of the decision, and the mental image it creates of cardinals moving out of frescoed apartments and into seminary guest wings, could be worth a lot more when the next Peter's Pence collection is taken.
📰
Get 'The Pillar' in your inbox every Tuesday and Friday - and help our make subscriber-supported journalism happen - with no clickbait, and no nonsense.
—
Compared to other financial reforms passed over the last ten years, last week's announcement about Vatican owned apartments should, in theory, register as little more than a footnote.
Pope Francis has, from his first weeks in office, ushered in sweeping changes to the way business is done in the Vatican — setting up new departments, and passing reams of new regulations and laws.
But the complexity of these changes has often meant that their full impact is hard for many ordinary Catholics to see, or even understand. At the same time, the reforming tide the pope has sought to bring in has often appeared to ebb and flow alongside a drumbeat of scandal, leaving many to wonder how much bite the new policies have actually had around Rome.
If the pope wants, and if the Vatican needs, Catholics in the pews to start giving again, convincing them that the progress made in the last decade is real, shaping the events of the last ten years into a coherent narrative of progress would be a real help — and it could be done.
For example, the legal changes last week regarding curial departments' property portfolios did not come out of thin air. A similar policy was pushed in 2016 by both Cardinal George Pell and Libero Milone, then the prefect for the Secretariat for the Economy and the Vatican auditor general respectively.
During their time in office, Pell and Milone argued that a centralized management structure for Vatican commercial properties would be good for revenues and, as Pell observed in the aftermath of the London real estate scandal, could have saved the Holy See a lot of money and grief.
Yet, as with several similar policies first put forward under Pell and Milone, blocked by other curial power bases, only to be brought back in recent years, there hasn't been any real push by the Vatican to mark the progress of reform over institutional and cultural setbacks.
But when it comes to, hopefully, convincing Catholics to support the mission of the Holy See, appearing consistently on the right side of financial reform shouldn't be a hard case for the Vatican to make — if it wanted to.
Changes like the Vatican apartment policy might appear tailor made as responses to scandals involving, for example, senior clerics diverting Church funds to support their lifestyle.
And even in ongoing scandals, like those being laid bare the Vatican City financial crimes trial, Pope Francis can reasonably point to specific legal actions he's taken to allow the trial to happen at all, and ensure defendants including a senior curial cardinal can stand trial.
Outside of the trial, there has been an almost total turnover in the departments which had been key centers of resistance to the early program of financial reform.
With the exceptions of Cardinal Pietro Parolin as Secretary of State and the widely respected team of Jean Baptiste de Franssu and Gianfranco Mammí at the IOR, the senior leadership of virtually every Vatican financial and civil government institution has been turned over since Pell and Milone left their roles under clouds of scandal and fierce internal opposition in 2017.
The former heads of the Vatican's own financial watchdog are now on trial, as are most of Parolin's former deputies in charge of departmental finances. More widely, many of the departments tainted by scandal and accusation, including the Vatican gendarmerie and APSA, the Holy See's sovereign asset management department, have seen a near-total overhaul.
In such circumstances, any other government might be hailing itself for cleaning house and claiming credit for making serious progress in reform, but the Vatican has struggled to do so. In large part, this may be because of a lingering discomfort with Francis' own first generation of reformers, and a reluctance to embrace their legacy.
Cardinal Pell, who died unexpectedly at the beginning of this year, returned to Rome after being cleared of false charges of sexual abuse in his native Australia, but never appeared to return to Francis' inner circle, and after his death, he was reported to be the author of a memo critical of many of Francis' wider policies in Church governance.
With Milone, the matter is even more complicated. After being forced from office in 2017, and threatened with prosecution — by Cardinal Angelo Becciu — for "spying" on the private financial affairs of senior officials, Milone spent several years out of the Vatican and out of the limelight, together with his former deputy at the Office of the Auditor General.
Last year he announced that is suing the Secretariat of State and his own former department in Vatican court, after years of unsuccessfully attempting to work with his former employers to clear his name and settle on some sort of compensation for his termination.
That announcement was followed by news of a renewed, seemingly retaliatory, criminal investigation against Milone, as well as a full court press against his legal claims.
In the wider conversation about the Vatican's perceived progress in taking financial reform seriously, Milone's ongoing legal battle with the Vatican functions as something of a stark counterpoint to dramatic belt-tightening moves, like the reform of Vatican apartments.
Prosecutors and lawyers for the Secretariat of State going after Milone on charges of "spying," even while they prosecute Cardinal Becciu — the man who blocked the Pell-Milone reforms and forced the auditor out — can appear deeply ironic to Vatican watchers steeped in the details of financial reform. For wider media, and to ordinary Catholics, it can look like an incoherent farce.
If policies like ending free or discount rent for curial officials might help persuade Catholics to support the Vatican financially, situations like Milone's case could prove to be an expensive distraction. But it could also be an unnecessary one.
Both Milone and his co-litigant and former deputy, Ferruccio Panicco, have insisted that going to court in the Vatican is, in their minds, a last resort in their bid for compensation and to get their reputations back.
If the separate but very much related Vatican financial crimes trial is any indication, it could prove to be a long and draining affair for all concerned, and carry the real risk of exposing the Vatican to further scandal and international disrepute — especially if Milone and Panicco make good on their threat to make public what they say they discovered in their attempts to bring in reforms in the first years of the Francis pontificate.
Closing down that possibility would seem like an obvious priority for the Vatican if it is facing a massive shortfall in donations, and looking to bolster credibility with Catholics in the pews.
From that perspective, offering Milone and Panicco some kind of mediated settlement, instead of opting for a potentially highly embarrassing (and expensive) lawsuit, might prove at least as prudent an investment as trying to squeeze more rent from senior staff.
More broadly, making public peace with Milone and the era of frustrated reform he represents would allow the Holy See to fashion a much more coherent narrative out of current efforts to bring Vatican balance sheets under control, as opposed to an image of increasingly desperate measures undertaken piecemeal in response to dire returns.
Convincing Catholics that Francis' Vatican has been fighting, and is winning, a long term game of financial reform may be crucial to ensuring it can raise the funds it needs to function. But doing that means acting to end the impression the curia remains at war with itself.
Comments