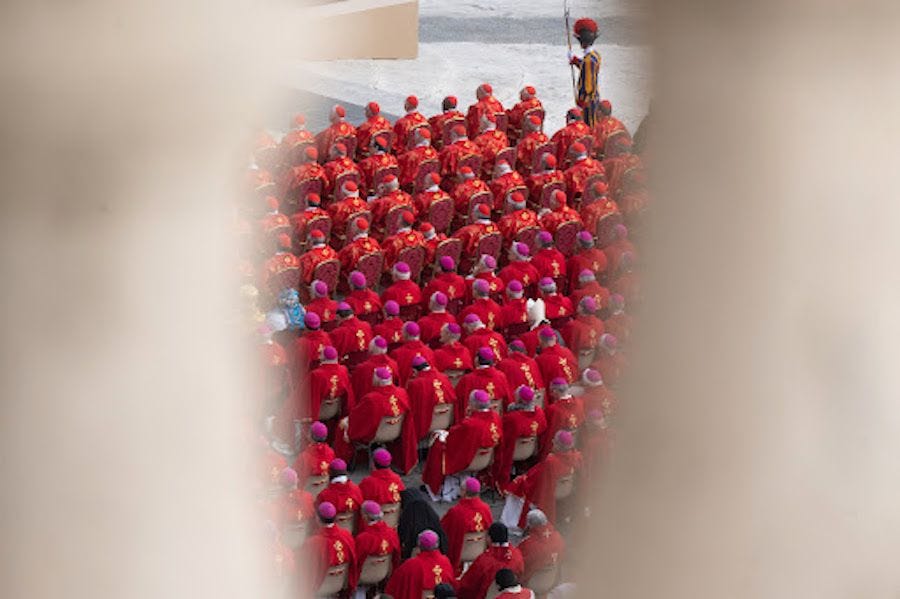 Hey everybody,
Today is the first Tuesday of Lent, and you're reading The Tuesday Pillar Post.
Let's start with the news, shall we?
The News
The international L'Arche federation is a network of communities, in which people with and without intellectual disabilities live and work together, in a model of care, common life, and accompaniment that aims to form real friendships, affirm human dignity, and help all community members flourish, and grow spiritually.
L'Arche has Catholic roots, but it's not a Catholic community — its ethos is rooted in the Christian faith, but is decidedly an interreligious community. Still, the project has long had a connection to the Church because of the public Catholic identity of its founder, Jean Vanier, who died in 2020.
When he was alive, Vanier was feted as a humanitarian, a spiritual master, and, by many Catholics, a living saint.
Except he wasn't. After his death, reports emerged that Vanier had been abusive — developing strange relationships of spiritual/physchological/sexual abuse with several women. (None of them were intellectually disabled.)
At first, L'Arche came forward with a report about six women who had been abused by Vanier — but last month, the results of an independent investigation were published, confirming that Vanier had sexualized spiritual relationships with at least 25 women, and indicating that from its founding, the story of L'Arche was intertwined with Vanier's abuse, and that of his priest-mentor and friend, Fr. Thomas Philippe.
Even the name L'Arche - the Ark - had a troubling double meaning, it turns out.
All of that you may have read already. But we at The Pillar have wanted to know more about how the members of L'Arche have taken the news. What happens to a community after its revered founder is found to have led an abusive double life? Is there any moving on? And, for L'Arche especially, how do you talk with intellectually disabled people about something like this?
We wanted to find out.
So The Pillar's Luke Coppen talked with L'Arche members about what they're experiencing.
We found a community trying to make sense of its history, and to chart its future. We found people discouraged, and people living in hope.
And we found that as L'Arche tells its story without Vanier in the center, the men and women of communities around the world, disabled or not, take center stage.
"What justifies L'Arche is not its founder, but the life of its members, with and without disabilities, at the service of a more human society. This task of re-reading our past will help us remain faithful to this commitment," some L'Arche members have written.
So what will L'Arche do? A lot remains to be seen. There is still time for discernment, the community's U.S. director told us.
"We're not a big corporation that is going to do a rebrand and then that's done. That's not the posture here," she said. "What we want to do is sit with what we're learning and figure out how it sits in our souls and beings and bodies, how it sits within the communities, how it sits within assistants, how it sits within people with disabilities, core members, and then go from there."
She said that first and foremost, there was "a task of listening," which would be followed by "the task of planning," and then "a task of doing."
"I think it'll take some time if we want to do it well."
You might know something about its past. But read about the present of L'Arche, and the questions for its future, right here.
You'll only read great and serious reporting like this at The Pillar, I promise.
—
Former cardinal Theodore McCarrick's lawyers were in a Massachusetts courtroom Monday, arguing that McCarrick has dementia, and can't stand trial for the criminal sexual assault he's accused of in that state.
McCarrick is 92, and is charged in Massachusetts of sexually assaulting a 16-year-old at a wedding in 1974. Of course, this is one of many abuse allegations leveled against McCarrick, which have seen him dismissed from the clerical state, and which set off a global abuse crisis from which the Church has yet to emerge.
But, except in canon law, McCarrick has not faced criminal charges other than those in Massachusetts. While most allegations are beyond state statutes of limitations, a provision of Massachusetts law allowed the former cardinal to face trial - and the possibility of prison.
McCarrick's lawyers, though, say the case against him should be dismissed because of his dementia. Prosecutors say they'll get another evaluation of the former cardinal before a judge makes a ruling.
—
And while we're on this unfortunate subject: French prosecutors have closed their criminal investigation into Cardinal Jean-Pierre Ricard, who admitted last year that he had sexually abused a 14-year-old girl when he was a parish priest in the 1980s.
Ricard said that in his memory, he had kissed the girl, and had "caressed her over the clothes." The victim has said those events happened several times over the course of three years. Nevertheless, the criminal investigation was closed because a statute of limitations bars the possibility of Ricard's prosecution, according to prosecutors.
But while Ricard won't face a criminal conviction, a Vatican investigation into the abuse - again, admitted by Ricard - is now underway. It's typical in abuse cases that ecclesiastical investigations only really get moving after state criminal investigations are over - so the Holy See may well be moving things forward more quickly in light of the weekend's news from France.
Meanwhile, Ricard reportedly resigned last year from his post as a member of the Dicastery for the Doctrine of the Faith. But while a cardinal-member of that dicastery, Ricard would have the opportunity to vote on certain kinds of procedural appeals in clerical discipline cases, including, at least in principle, any appeal oriented towards waiving the canonical statute of limitations in the notorious case of Fr. Marko Rupnik.
It is not clear whether Ricard remains a cardinal-member of the Dicastery for Divine Worship and the Discipline of Sacraments, and the Dicastery for Promoting Christian Unity.
But as the investigation proceeds, some Catholics have asked why Pope Francis has not stripped Ricard's membership in the College of Cardinals. They argue that since the cardinal has already admitted to sexual abuse of a minor, there is no need for a canonical investigation to conclude before the pope makes the administrative decision to remove Ricard from the cardinals' college.
Whether the pope will do so remains to be seen.
You can read more about this case here.

—
Next: Catholics and human rights advocates around the world have followed the case of Bishop Rolando Álvarez, the Nicaraguan prelate who was sentenced this month to more than two decades in prison for "conspiracy against national integrity" — namely, for speaking out against attacks against the Church by the regime of President Daniel Ortega.
Álvarez has been celebrated around the world for effectively choosing to be sentenced to prison — the bishop was given the choice to leave Nicaragua, to be exiled to the U.S., and he instead chose to stay in his country, and with his people, knowing full well what the Ortega administration had in mind for him.
While tracking the human rights abuses in Nicaragua, we at The Pillar thought you might also be wondering something more practical: With Bishop Rolando Álvarez in prison for 26 years, what happens to his diocese? Who leads the local Church in Matagalpa?
The Vatican has a number of options — but they come with diplomatic consequences, some of which could actually amplify Christian persecution in Nicaragua.
What could happen? And how will the Holy See decide? The Pillar explains.
—
And finally at The Pillar, an interesting look at the situation of some U.S. dioceses.
Pillar readers likely remember well the fracas last year over the prospect of merging the Diocese of Steubenville with its neighboring Diocese of Columbus, Ohio. Bishop Jeffrey Monforton of Steubenville said the move was an inevitability, but priests pushed back, arguing that they hadn't been properly consulted before the plan gained traction.
Merger plans have slowed down in Steubenville, but are still a live possibility.
But by Catholic population, Steubenville is only the fourth-smallest diocese in the U.S. And the Catholic population in at least two small dioceses is falling faster than it is in Steubenville. So if the diocese of the Ohio Valley is really a good prospect for merger, a few other dioceses might also soon be on the block.
The Pillar's Brendan Hodge did what he does best: He's crunched some numbers, made some cool interactive charts, and brought you a smart look at the prospect of "Other Steubenvilles" — the local churches that might also be merged in the years to come.
Start your day with Starting Seven - a daily news roundup in your inbox.
—
The shot heard round the conference
In any given week, a diocesan bishop in the U.S. spends time thinking about his priest pension fund, his personnel assignments, the mismatch between parish locales and population centers, vocations and retirements, the administration of his Catholic schools, how to ensure that the diocesan revolving fund is able to make and collect loans from parishes, and how to make work the Vatican's new pastoral placement requirement for transitional deacons.
When he's done with that, he thinks about litigation, probably, about the health of his priests, how to provide better pastoral and sacramental care for immigrant communities in his diocese, or how to address family ministry as cultures shift their definitions of family. He thinks about the challenges that religious communities in his diocese are facing, or the legislative issues of his state Catholic conference — including the protection of Catholic identity in his Catholic schools. He thinks about declining Mass attendance.
If he really has extra time, he might think about the data which shows he needs to repair relationships with his priests, or about creative ways for the Church to lead after the monumental Supreme Court decision overturning Roe v. Wade.
Diocesan bishops, in short, are charged with a considerable number of practical and immediate problems which demand a great deal of their attention.
They're busy men. And the things to which they pay attention matter, which is why The Pillar aims to give them attention.
But bishops are also teachers of the Catholic faith, and that matters to them — usually not as a distraction from those governance responsibilities, but as a matter of equal weight.
That's why a lot of bishops have been paying attention to the back-and-forth over sexual morality and Catholic doctrine, which has been unfolding between Cardinal Robert McElroy and a number of other bishops who are responding to him.
In an essay, a podcast interview, and a couple of recent lectures, McElroy has been urging a rethinking, or a reframing, of Catholic sexual morality - arguing that the Church's pastoral and teaching ministries spend too much time on sexual matters, and too little time on the rest of the obligations incumbent upon Catholics. In the same context, he's proffered a vision of synodality that has ruffled some feathers, and suggested that settled doctrinal issues, like the priestly ordination of women, can be relitigated, and he's urged a more open approach to the reception of Holy Communion.
The cardinal called on the Church to discard "a theology of eucharistic coherence that multiplies barriers to the grace and gift of the eucharist," in favor of "a eucharistic theology that effectively invites all of the baptized to the table of the Lord."
A number of U.S. bishops have responded to McElroy: Barron (twice), Aquila, Naumann, Conley, and Paprocki among them. Some of the responses have grown rather strong.
But the temperature of that argument turned up this morning, when Paprocki published an essay which accused McElroy of heresy.
Without naming McElroy, Paprocki set out to consider the implications of a cardinal who might teach heresy.
But the hypothetical became concrete when the Illinois bishop quoted an excerpt from McElroy's essay, which, he said, is "contrary to a 'truth which is to be believed by divine and Catholic faith,'" and thus constitutes heresy.
Paprocki pointed out that those who commit the canonical crime of heresy are excommunicated, and that clerics who do so might be removed from ecclesiastical office, or be stripped from other ecclesiastical honors or functions.
Then he looked to Rome:
"Only the pope can remove a cardinal from office or dismiss him from the clerical state in the case of heresy or other grave crimes. If he does not do so, the unseemly prospect arises of a cardinal, excommunicated latae sententiae due to heresy, voting in a papal conclave."
"We must pray that the Holy Spirit will not let this happen, and will inspire anyone who espouses heretical views to renounce them and seek reconciliation with our Lord and his Church."
Yes, you read all that right. The bishop of Springfield, Illinois, formally argued this morning that the cardinal bishop of San Diego has committed a heresy, and that he thus might have incurred an excommunication, and that he thus should be prevented by the pope from voting in a future conclave.
That's no small thing.
In fact, for all of the year-long debate over the USCCB "Eucharistic coherence" document, or debate over how to engage with President Biden, or the various episcopal debates over the Latin Mass, the word "heresy" has not, to my recollection, passed from the lips, or pen, of any U.S. bishop in reference to another
This is a new step — one which Paprocki, who tends to be careful with his words, likely weighed carefully.
And with it, any notion that the U.S. bishops have found some conciliar fraternity with each other should be laid to rest.
When the bishops decided recently to take their disagreements behind closed doors at USCCB meetings, they did so in part to demonstrate to lay Catholics a unified front. That can't be sustained. The division is obvious to anyone watching the Church.
Now, you might be thinking that this debate involves maybe 10 or 12 bishops altogether, that the rest haven't weighed in because they're busy running their dioceses, and they aren't paying attention.
That would be a mistake.
There is likely no U.S. bishop unaware of the profound chasm between cadres of bishops — one which is not limited to particular issues, but is a broad clash of theological worldviews, rooted in differing interpretations of the Second Vatican Council, and the popes who have followed it.
Paprocki's essay is the shot heard round the conference.
And while many bishops will be reticent to discuss this, few likely harbor the illusion that the debate doesn't pertain to them. Indeed, it will shape much of what happens among American bishops, and their conference, in the years to come.
The standard American episcopal allergy to internecine conflict might keep the sharpest debates kept behind closed doors, but likely not for long.
So what will happen?
Paprocki's essay will embolden both sides of the debate. Some bishops will invariably suggest he's the heretic. Some will claim he's opposed to the leadership of Pope Francis, while Paprocki and his allies will suggest that they're ones faithful to the pope's teaching, in continuity with all that has come before it.
Someone will probably argue that Paprocki has committed the delict of c. 1390 §2, and ought to be sanctioned.
Cardinals will likely lobby the Vatican to intervene, and if that happens, there will be cycles of debate about what the Vatican's intervention actually meant. The bishops will be likely unable to discuss nearly any issue of leadership or collaboration which goes untouched by their escalating division.
And let's say that the issues Paprocki raises go unaddressed ahead of the next papal conclave.
The Holy Spirit protects the Church, she will endure all tests of time.
But consider if the issue he raises go unaddressed, and a conclave happens - in our social media era - in which a number of cardinals accused of heresy were participants. If you think the periodic and isolated challenges to the validity of Benedict's resignation were just a one-time blip on the radar, you're probably wrong. Broader challenges to the credibility of a conclave could become a very live issue for the life of the Church, and for the pastoral ministry of American bishops.
All that might seem dramatic. Perhaps even melodramatic. After all, it was just an essay.
But an American bishop accused his brother bishop of heresy this morning, so the fierce debates of recent years will probably seem like prologue to what's coming next.
As I've said before, in debates over Sacred Revelation, there is a right answer and a wrong one. Truth is being debated, not preference or prudential judgment. But if history is any guide, that means the debate will be neither short, nor, for many people, especially comfortable.
I don't hyperbolize, readers – By disposition, I'd rather be measured and correct than inflammatory or exaggerated. But I don't want either to downplay the magnitude of the conflict in which American bishops are now engaged.
As the history of the Church in America is written, Feb. 28, 2023 will likely be a day well-noted.
—
'When were you last?'
I hope that the first week of Lent has been spiritually fruitful for you, and that your Lenten practices of prayer, fasting, and almsgiving have been a real penance, and maybe even a source of joy.
My Lenten practices have indeed been fruitful. But I've most been challenged this Lent by the daily examination of conscience my wife has offered to my children.
Mrs. Flynn is a far better catechist than I am, probably because her interior life is richer than mine, and she possesses considerably more virtue. And I've been struck by a question she's taken to asking our children.
Citing Matthew 20:16, in which Jesus exhorts that "the last will be first, and the first last," my wife has taken to asking the kids a simple question: "When were you last today?"
It's a simple question, but it's not an easy one. In fact, I've taken to hoping that when it's asked in our house, she won't call on me.
"When were you last?"
"What were the concrete instances today in which you put the needs, or good, or even preferences of someone else ahead of your own?"
It's a hard examination of conscience. It's fruitful fodder for finding the sinful habits of mind or action that are in need of the Lord's healing grace.
Mrs. Flynn has also taken to catching our kids being last, or putting their siblings first, and then to praising them for it.
That's even engendered some healthy competition to take the last place. Sometimes. We've still got a ways to go, probably.
But I've tried to do that too. Not only to recognize when others take the last place, and affirm it, but to look for the promptings of the Lord, or even just the circumstances, in which to take the lowest spot on the totem pole.
Each of those opportunities, I'm finding, is a very small chance to think of the crucified Christ, and to remember that "his power is made perfect in weakness."
It's a gift that we can find the Lord in the lowest place, because each of us can reach it. Each of us can get there. Each of us, no matter what else we can do, can deny ourselves in favor of another. We don't need to be the best, because Christ waits for us in the lowest place.
I hope you find him there this Lent. I'm really trying. And my kids, thank God, are leading the way.
—
Two more things.
First, when you read The Pillar, you probably realize that our paying subscribers are essential to keeping The Pillar going, and keeping our news, interviews, analysis, explainers, and podcasts freely available to everyone. You might not know about a small group of subscribers who've made a big commitment to that: The Pillar 1k club.
The Pillar, you might remember, is basically a newsstand with an honesty box. We do work as journalists, we publish stuff, and we ask that if you can pay to subscribe, you do so. That keeps it free for everyone. 1k club subscribers are Pillar readers who are in a position to offer a bit more than their fair share, to subscribe at the $1,000 level, so that seminarians, priests, religious, missionaries, and other people who can't afford to subscribe can keep reading The Pillar. We're grateful for them, especially this week, when a number of 1k club subscribers are renewing their subscription.
If you're able to join them, we want to invite you to at least consider it. You can help The Pillar grow, and keep it freely available. If you think that's a good idea, and you have the means, email me here and we'll get something set up.
-
And finally, I'm on the board of a non-profit called the FIRE Foundation. We raise money, and then give grants in the Archdiocese of Denver, where I live, to help Catholic schools enroll, support, educate, and welcome students with significant intellectual disabilities.
We're growing, and we're hiring an executive director. We've already got some good candidates, but we'd like to know whether you think you'd be a good fit for this very cool job. If you think it might be a good fit, apply. But do it soon, because we'll be closing the application window soon, and we'd really like to hear from you. It'd be fun to work together.
Thanks again.
Please be assured of our prayers, and please pray for us. We need it.
And let's pray for the Church.
Yours in Christ,
JD Flynn
editor-in-chief
The Pillar
Editor's note: The initial publication of this newsletter incorrectly spelled "blip." The error has been corrected.
Comments