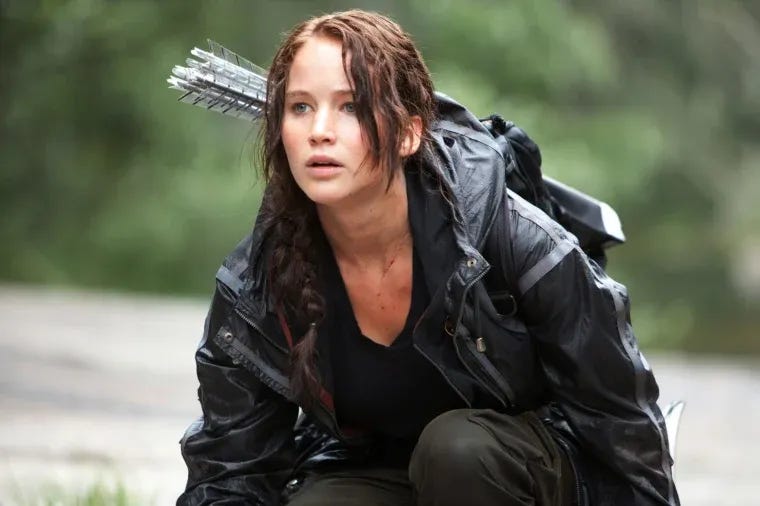 Happy Friday friends,
I hope your Advent is coming along well.
It's always a little bit of a fight for me to stay focused during the first few weeks of the season, not to preemptively look ahead to Christmas, and to actually make space to focus on "the coming of Christ in the fullness of time," as the Church says — or the end of the world, as I like to call it.
I do take a kind of delight in spending a few weeks trying positively to anticipate the Second Coming, and with it the breaking and remaking of the world. It is tantalizing counter-cultural.
People who live in imminent expectation of the end times are something of a shorthand for lunatics. And this isn't wholly without just cause — they have, after all, tended to be wrong, more often than not.
But even if it weren't for the somewhat risible examples of apocalyptic sects, usually in caves somewhere out West, I suspect our society would still recoil from the Church's witness to the (eventual) coming of the Apocalypse, and many of us would still find it just plain weird to make it the focus of joyful expectation.
Since the time of Protagoras, the core of our anthropocentric culture and mindset is the belief that we are the measure and meaning of our own existence. We grudgingly admit there was a time before we were, which we call "prehistory," and a time when we might no longer be, but we dismiss both from the practical calculus by which we live our lives.
We live this kind of egocentric immediacy both at the level of our culture, and as individuals. It is why, for example, a Hollywood film actress born in 1990 can claim, as Jennifer Lawrence did this week, to have become the first-ever "woman in the lead of an action film" in 2012 — Sigourney Weaver (Alien etc.), Anne Parillaud (La Femme Nikita), Uma Thurman (Kill Bill) etc. notwithstanding.
While I was surprised to see that a (reasonably famous, I'm told) actress has never, apparently, watched any film she was not in, I don't expect there was any hubris intended in Ms. Lawrence's claim. She was, as the Duchess of Sussex might say, merely expressing "her truth" and "resting in her authenticity."
We do much the same thing at the macro level. Every generation, and every civilization, tends to think it has invented the wheel for itself, and this conviction in our own novelty is where we derive the meaning of our existence.
The Christian witness in Advent is the answer to the crushing tedium of this hamster wheel view of history. We did not come from nothing, and we are not going nowhere, condemned to constantly do again what has been done before ad infinitum.
God has entered history for our salvation, breaking death and freeing us from sin. Each of our lives, and the whole of creation, has an author, a purpose, and an ultimate destination. Everything we do, each life we touch, and each day of our lives moves us closer to that final end.
There is tremendous meaning and worth in that, and tremendous freedom. Much more than can be derived from being the "first" to play make-believe with a bow and arrow in an adaptation of some bad young adult fiction.
---
The News
Experts will study an alleged miracle attributed to the intercession of St. John Paul II's parents, their postulator said this week.
Msgr. Sławomir Oder, who was postulator for the cause of St. John Paul II, said this week that he's now had multiple reports of purported miracles connected with the sainted pope's parents, Emilia and Karol Wojtyła.
The priest also noted that the initial phase of the couple's beatification cause, formally launched in the Archdiocese of Kraków in May 2020, was "practically completed."
A family of saints, it seems. Possibly. That's just some straight-up good news to start off with, right?
—
An archbishop in India has been granted police protection from local Catholics by the high court in Kerala.
The judge approved the protection for Archbishop Andrews Thazhath on Monday, "for the smooth ingress and egress to the Major Archbishop's House" in Ernakulam, as well as the removal of protesters gathered at the building in protest at the archbishop's drive to introduce a new form of the Syro-Malabar Church's Eucharistic liturgy in the archdiocese.
Thazhath was made apostolic administrator of the Archeparchy of Ernakulam-Angamaly by Pope Francis in July. His predecessor, Archbishop Antony Kariyil, was forced to resign by the Vatican for refusing to enforce the liturgical changes, which continue to inspire widespread public demonstrations by both local Catholics and priests of the Syro-Malabar Church.
Just to be clear — an archbishop has sought and obtained court-ordered police protection from his own people and clergy because of a liturgical dispute. This is a big deal.
—
Pope Francis issued another legal update on Vatican finances this week, bringing stricter oversight to the sprawling network of funds, foundations, trusts and so on which sprung up in the Vatican over the years.
In a motu proprio, issued Tuesday, Francis distinguished between those charitable endeavors which are directly intended to further the work of the Holy See from those which aren't Vatican institutions, per se, but happen to be located in Vatican City.
The former are now explicitly under the oversight of the Holy See's regulatory bodies. The latter are not, but it makes sense: while the idea of foundations just happening to be registered in Vatican City might sound iffy prima facie, they are actually a core customer base for the IOR, the Vatican's high street bank. They are usually charities or apostolates run by dioceses or religious orders in parts of the world without a reliable local banking system.
Anyway, the foundations which are directly attendant on Vatican departments and geared towards their work do merit some enhanced scrutiny. I have heard, just anecdotally for the moment, some wild stories about curial officials using such funds as basically off-books piggy banks — places where you can stash cash outside of departmental oversight to use and abuse as the mood takes you.
So this is a good thing. Read the whole story here.
—
The German bishops' conference published a survey this week assessing the global impact of their controversial "synodal way."
The study, co-funded by the German bishops, tried to gauge attitudes worldwide towards the four big themes of their not-synodal process: power, the priesthood, women in the Church, and sexuality.
It recorded significant support for the somewhat obvious assertion that "shared participation of lay and clergy in the mission of the Church helps in proclaiming the message," as well as strong but definitely minority backing for ending clerical celibacy, women's ordination, and revising the Church teaching on sexuality.
The former co-president and chief architect of the synodal way claimed last week that the Germans' reform plan, or thesis, if you will, had been an overwhelming success in garnering support for change worldwide. And, at first glance, the figures released by the bishops' conference would seem to support his view — but I'm not so sure.
According to the survey itself, there were a lot of regional variations in responses. Whatever the topline figures might say, there was little support for revising Church teaching among African respondents, for example.
And, frankly, having spent a lot of time having proper sample sizes and weighting explained to me by our data supremo Brendan Hodge over the years, the German numbers look a little shaky to me: All 599 participants from 67 countries, who were surveyed online in April, were either current or former beneficiaries of scholarships in Germany.
The survey organizers say that does "not mean that they automatically adopted the German perspective," and, indeed, they are clearly right.
But they didn't go on to draw what I would have thought was the obvious conclusion: the German proposals can't garner majority support among global Catholics, even when the sample size is a tiny number of people all of whom benefited directly from German largesse. Food for thought as we prepare for the Roman sessions of the global synodal process next year and people continue to throw around claims about the Holy Spirit speaking through survey results.
—
Bishops Barry Knestout and Michael Burbidge have now completed their apostolic visitation of the Diocese of Knoxville, Tennessee.
The pair of Virginia prelates were dispatched last week, some 20 months after local priests first sounded an alarm regarding their leader, Bishop Rick Stika.
As JD pointed out in an analysis this week, there is no clear process for what happens now, and given Church authorities have declined to confirm the visitation even happened, no guarantees that any of it will be made public any time soon.
There are, as JD says, some obvious options for what happens next, though, and some pretty clear clues on the timeline. At the end of which, one of the more likely possible outcomes is that Bishop Stika might be asked to resign, possibly for "health reasons."
But what if Stika doesn't feel like resigning? Or what if the Vatican doesn't want to make him go, lest it send the message that a bishop's governance can just be called into question, willy-nilly, by such trivialities as serial complaints from the clergy of the diocese, or a slew of lawsuits, or systematic reporting of interference in investigations of claims of sexual assault?
JD puzzles through all these questions. Read the whole thing.
—
The pope's Council of Cardinals met this week. It was a pretty minor event. They didn't really talk about much of any urgency, according to the Vatican.
But the fact that the pope's kitchen cabinet had so little to talk about, and now comprises mostly cardinals well past retirement age, is kind of a big deal in itself.
Once called the C9, then briefly the C6, and now (I guess) the C7, the body used to be billed as the pope's top-level think tank, helping him mull over the most important questions of universal Church governance. But the group has languished since completing its big project, the new apostolic constitution for the Roman curia issued in March.
As I wrote this week, while there are still some big names on the council, it now meets only to discuss distinctly medium-to-little issues, and not the obviously pressing matters of ecclesiastical affairs. But why? What is the council even for anymore?
More to the point: what might Francis do with the council, now its primary task is completed? And if he is content to just let the body list until it lapses, what does that say about Francis' own agenda for the coming years?
I think the answers are interesting, and important. But I won't spoil it for you: you can read the analysis here.
—
Since the overturn of Roe v. Wade earlier this year, much ink has been spilled in pro-life circles about the need to support women in difficult pregnancies. But if these efforts are really going to change lives and cultures, they need to be personal, not just institutional.
This week, our own Charlie Camosy talked to Katherine Jean Lopez, chair of Cardinal Timothy Dolan's Pro-Life Commission in New York, about the how individuals can take seriously the call to "radical solidarity" with women and their children after Dobbs.
Read the whole conversation here.
💡
The Lamp is a bimonthly eclectic but orthodox Catholic magazine, a beautifully designed print publication that Ross Douthat calls "Christian journalism that isn't just part of the culture war." Resist the dictatorship of noise by subscribing today with the discount code PILLAR to receive 50 percent off.
---
The Silences of Jesuits
The fallout in the scandal of Fr. Marko Ivan Rupnik, S.J., continued this week. The well-known contemporary church artist has been accused of preying on consecrated women, both spiritually and sexually. And despite his being removed from ministry, a Vatican investigation has left a lot of questions.
Accusations were lodged in Rome last year that Rupnik psychologically and sexually abused women in a religious community to which he served as chaplain, and a Vatican investigation was opened.
The Society of Jesus said last week that the priest was placed under restrictions during the investigation, and remains prohibited from public ministry and from offering spiritual exercises.
But the restrictions on Rupnik's ministry were not announced publicly — meanwhile, Rupnik continued his YouTube scriptural commentaries, gave a talk on Eucharistic adoration at a seminary, had a meeting with Pope Francis, and was permitted to receive an honorary doctorate.
The Jesuits have also said that the Dicastery for the Doctrine of the Faith declined to waive the canonical statute of limitations (which it has the power to do) to allow Rupnik to be prosecuted for his alleged crimes.
We also reported that, several years earlier, the DDF had received allegations that Rupnik had attempted to sacramentally absolved a sexual partner, a crime categorized as a "most grave delict" in the Church's law, but with no public acknowledgment or result.
And we reported that the senior DDF official who would have had oversight of Rupnik's case at the time was also a professor at the Roman theological institute of which Rupnik is the director.
As JD noted earlier this week, the fact pattern matches previous instances of serious accusations against well-connected clerics which seem to go canonically nowhere until there is a public stink made.
And there is a public stink about Rupnik now, alright.
Fr. Hans Zollner, S.J., the face of the Pontifical Commission for the Protection of Minors, has said that the Rupnik case, and the Jesuit's statement about it, "raised questions that, as far as I see, can only be answered by the Dicastery for the Doctrine of the Faith."
And the Jesuit Superior, Fr. Arturo Sosa, called the case "very painful" in an interview with Portuguese media. But, he said, "we have not hidden anything."
I suppose Zollner and Sosa both are correct, depending on how you look at things.
The Rupnik case does raise questions that only the DDF would seem to be able to answer. Like why prescription was not waived in the abuse cases, as it does as a matter of course in so many others.
Or about the now rampant rumors that in fact it was waived, on at least some charges, but a resulting conviction was suppressed and shoved in a drawer in favor of the current restrictions on Rupnik.
But, speaking from my own past experience as a canonist working on penal cases before the DDF, it's not unheard of for officials there to have their work interfered with — sometimes fast-tracked, sometimes shoved in a drawer — by others from outside the dicastery and across the piazza.
I suppose only the DDF could say if that was the case here. But if it was the case, they probably also wouldn't be able to say so. If you see what I mean.
Zollner is a man of that world and knows all of this, and I am confident he is also aware he's posing these questions into a kind of ambiguous silence at the DDF, which can be taken to mean anything and nothing all at once.
Similarly, Sosa's claim that the Jesuits didn't hide anything about the Rupnik case is, I suppose, true. They just didn't do anything to uncover it, either.
The Jesuit superior said that "You have to make public statements when it is public. When it's not public, there's nothing to do and that doesn't mean hiding."
It seems… unusual to me that the priest was on restricted ministry, but still allowed to hold himself out as a priest in good standing, travel around, give talks, post YouTube videos each week, meet with the pope, and receive awards.
Sosa's interview left the impression that when one of his priests has been accused of perverting the sacrament of confession to sexually and spiritually abuse religious sisters, he feels it is most neatly handled with… a kind of ambiguous silence. A sort of Jesuitical "don't ask, don't tell" policy, you might call it.
People are certainly asking now. We'll see if the DDF, or Fr. Sosa, find more to tell.
---
The spirit of Notre Dame
The University of Notre Dame has been in the news a bit this week. Two of its faculty members, who identified themselves as such in print, wrote an opinion piece in the Chicago Tribune laying into what they claim are the "lies about abortion [that] have dictated health policy."
The column was stridently pro-abortion, as you might surmise. It was also factually false in many of its assertions (as a secularist pro-life organization demonstrated point by point) and morally wrong in its premise: that maximal access to legal abortion is a necessary good for the health and wellbeing of mothers and their children.
Since it is the explicit teaching of the Catholic Church that i) abortion is the taking of an innocent human life and ii) the taking of an innocent human life is a gravely immoral act, there has been understandable consternation that two professors at the nation's most prominent Catholic university would use their positions oppose both truths.
In response, the university's president, Fr. John Jenkins, C.S.C., wrote a letter to the editor of the Tribune stating that while the professors "are, of course, free to express their opinions on our campus or any other public forum," he felt it necessary to "state unequivocally that their essay does not reflect the views and values of the University of Notre Dame in its tone, arguments or assertions."
Many were glad to see Fr. Jenkins make such an explicit public statement, though it seems to me the professors were expressing at least some of the values that have defined Notre Dame for the last half century.
In 1967, at a conference center owned by the university in Land O'Lakes, Wisconsin, then Notre Dame president Fr. Theodore Hesburgh hosted a gathering of Catholic educators to discuss the future of Catholic university education in America.
What they produced became known as the Land O'Lakes Statement, which didn't so much propose as assert as fact that "To perform its teaching and research functions effectively [a] Catholic university must have a true autonomy and academic freedom in the face of authority of whatever kind, lay or clerical, external to the academic community itself."
The statement, which went on to define the administration and ethos of Hesburgh and Notre Dame (as well as many other American Catholic universities whose presidents signed), set much store by completeness of academic freedom, enquiry, and expression, unfettered by the limits of Church teaching or the exercise of ecclesiastical authority.
It has been cited in the subsequent decades as a kind of Magna Carta for dissenting faculty on Catholic campuses, enshrining the right qua good of Catholic schools providing a home for ideas and arguments outside of and even against the Church's teaching.
It is also not what you might call fully aligned with the Church's own vision of Catholic university life as expressed in documents like Ex corde ecclesiae, St. John Paul II's apostolic constitution on Catholic universities.
JPII said the mission of every Catholic university is to "consecrate itself without reserve to the cause of truth," his italics, not mine.
Quoting Augustine's maxim on believing to understand and understanding to believe, the pope taught that serving and proclaiming the truth, and working diligently in its honest discovery, was and remains a work of service by Catholic educators to the world, but one which is undertaken as a dialogue between faith and reason.
Catholic universities, through the linked disciplines of science and ethics, contribute to the increasing sum of human knowledge, both empirical and moral, and academic enquiry and debate, while robust and free, is "enriched by the higher truth that comes from the Gospel."
In his own apostolic constitution Veritatis gaudium, Pope Francis criticizes "the fragmented and often disintegrated panorama of contemporary university studies and the pluralism – uncertain, conflicting and relativistic – of current beliefs and cultural options," and notes that "what is needed, then, is to practice a way of knowing and interpreting reality in the light of the 'mind of Christ'."
Francis goes on to highlight the essential need for authentic Catholic higher education to create a "spiritual atmosphere of research and [one] certainty based on the truths of reason and of faith."
In the teaching of both John Paul and Francis, Catholic universities are places of sincere study and inquiry — scientific and moral — but within the context of and subject to the truth as proclaimed by the Church. This contrasts starkly with the Land O'Lakes Statement's pointed rejection of ecclesiastical authority of any kind.
Getting back to Notre Dame, Fr. Jenkins may feel that the factually wrong and morally false arguments of his two professors do not reflect the spirit and values of the institution he leads. But the sad truth is, as he recognizes, they have the right to proclaim and promote their error as members of that university's community.
That freedom to preach a message of death against the Church's witness to life is not what the Church conceives as a part of a healthy Catholic university, but it is essential to the Land O'Lakes vision.
It is that statement which has guided Notre Dame for the last half century, and is very much part of the university's spirit and values.
---
Before we go, I'd like to ask you to do me a favor. Please.
As I've mentioned before, we've made some big changes during the last year hear at The Pillar, we've been joined by incredible talents like Luke Coppen, launched a slew of new newsletters and podcasts, and tarted up our website so it's (hopefully) a little easier to navigate and pleasant to look at.
All this growth is, or hopefully will be, funded by our subscribers. That's it. That's our plan: Readers choosing to pay $5 a month to keep us working and growing and free to read.
But getting our work in front of new people in the first place is the most important part for us. After that, we've never had a problem with our readers seeing the value of our work and choosing to become paying subscribers — maybe sometimes with a prompt or two, but whatever.
So would you please, as a personal favor to me, consider forwarding this newsletter to someone, or someones, who you think might like it? Maybe encourage them to sign up for free? That's how we're going to keep this show on the road in year 3, and I would really, really, appreciate it.
Thanks. You're awesome. I mean that.
See you next week,
Ed. Condon
Editor
The Pillar
💡
The Lamp is a bimonthly eclectic but orthodox Catholic magazine, a beautifully designed print publication that Ross Douthat calls "Christian journalism that isn't just part of the culture war." Resist the dictatorship of noise by subscribing today with the discount code PILLAR to receive 50 percent off.
Comments