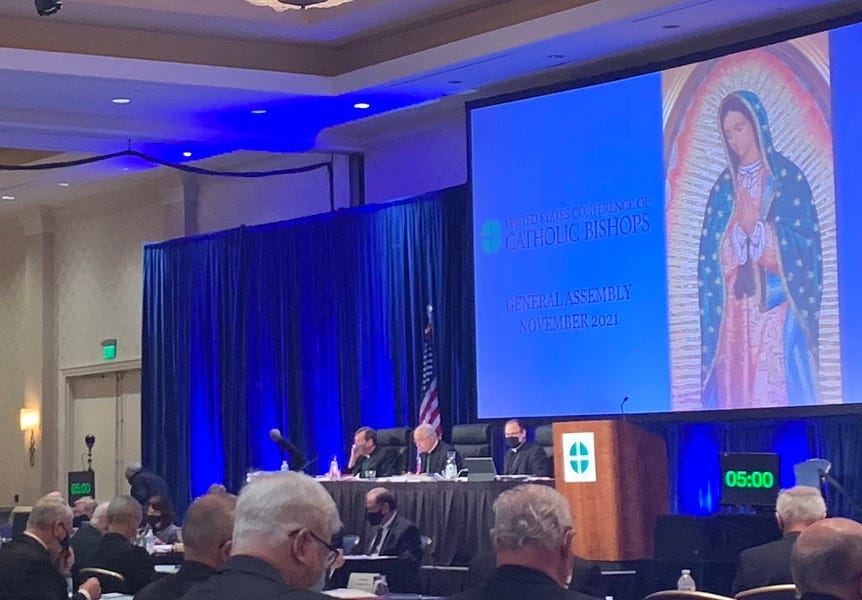 The U.S. bishops' conference last month called for government officials and employers to show "radical solidarity" with women, children, and families in the wake of the overturning of Roe vs. Wade.
"The post-Roe world presents uncertainties yet, amid them, an historic opportunity to redouble efforts toward a culture of life that respects and supports the dignity of every person at every stage," the bishop-chairmen of four USCCB committees wrote in an Oct. 26 letter.
"There are serious cultural, social, economic, and spiritual challenges that face women, families, and children today. These are challenges that concern the common good," the bishops added.
The heads of the USCCB committees on pro-life activities; human development; migration; and laity, marriage, family, and life said they wanted to offer federal legislators a "vision for an authentically life-affirming society that prioritizes the well-being of families," with "specific policy recommendations to assist [them] in developing legislation to advance these goals."
In a set of policy proposals, the bishops called for a range of pro-life and family policies for workplaces and employers, including practical support and accommodation for expectant working mothers.
While Church institutions and other pro-life apostolates often call for more pro-family and pro-life policies, advocates and employees have noted that Catholic organizations don't always practice what they preach on issues like maternity leave, support for adoption, and making parental accommodations at work.
So The Pillar asked the USCCB how its own policies measure up to the bishops' calls for "radical solidarity."
Here's what conference spokesperson Chieko Noguchi had to say:
Lactation support
What the bishops called for:
"Due to gaps in the law, millions of mothers were left unprotected under the Break Time for Nursing Mothers Act passed in 2010. We encourage Congress to correct this unintended result by passing legislation requiring employers to extend to a broader group of working mothers simple accommodations - such as a reasonable break time and a place other than a bathroom - to express breastmilk at their places of employment."
Does the USCCB offer "a reasonable break time and a place other than a bathroom to express breastmilk" for employees?
"Yes, the USCCB provides private rooms with privacy shades and a locking door for any employee who needs a space for lactation purposes."
Paid Family Leave
What the bishops called for:
"The USCCB has supported and continues to support a federal paid family leave policy. At the same time, we encourage a funding mechanism that will not be unduly burdensome to lower-income organizations and individuals, will not penalize larger families, and will not destabilize existing social service programs."
What is the USCCB's paid family leave policy for employees?
"The conference provides eligible employees with 30 working days (6 weeks) of paid maternity/paternity leave following the birth or adoption of a child. There is no waiting period for employees to take advantage of the conference's maternity/paternity leave. The leave can be taken prior to the adoption/birth of a child or after and can be taken consecutively or intermittently.
In addition, if the employee meets the requirements for FMLA (employed by the conference for 12 months), he or she may take an additional 10 weeks of FMLA leave within a 24-month period (under DC law), or an additional 6 weeks of FMLA leave within a 12-month period (under federal law), on either an unpaid basis or by using their accrued paid sick and/or paid annual (vacation) leave.
The conference also offers other forms of paid leave, including specified holidays and personal leave."
What's an eligible employee?
"Eligible employees are full-time and part-time employees (part-time employees receive 21 days). This benefit is not available to interns and other temporary employees."
Read more reporting from The Pillar:
For some Catholic employers, paid parental leave helps 'honor the family'
Educational support
What the bishops called for:
"We encourage the development of policies for secondary and higher education that will strengthen pregnant and parenting students' rights and opportunities to learn and build the life of their dreams, without fear that their child will put their future at risk."
Does the USCCB offer higher education support to employees?
"The conference provides educational tuition reimbursement of up to $5,250 per calendar year for all regular, full-time employees after one year of employment. Eligible employees may receive tuition reimbursement of up to 100% for undergraduate education and 50% for graduate education."
Adoption support
What the bishops called for:
"The USCCB supports laws and programs that encourage adoption and support adoptive families."
Does the conference provide adoption funding support to employees?
"Not directly, but the USCCB provides paid maternity/paternity leave, paid or unpaid FMLA leave, and other types of paid leave, as described above, for those employees who adopt a child."
📰
'The Pillar' covers news you won't read anywhere else. We do it intelligently and reliably, because our subscribers know good journalism is worth paying for. So subscribe today – or upgrade your subscription!
Pregnancy-related accommodations
What the bishops called for:
"Women in low-wage and physically demanding jobs are often denied pregnancy-related accommodations and are terminated from their employment or forced to take leave without pay. USCCB supports efforts to make the workplace more receptive to women and their preborn children by requiring employers to provide short-term, reasonable accommodations during pregnancy, such as being able to carry a bottle of water, a stool for jobs involving long periods of standing, or lighter duty for jobs entailing heavy lifting. No woman should be forced to risk her child's health, miscarriage, preterm birth, economic security, or losing insurance just because she requests a pregnancy-related accommodation."
Does the USCCB make pregnancy-related accommodations for employees? For contractors/vendors?
"Yes, the conference provides pregnancy-related accommodations when requested by an employee. Vendors are independently responsible for providing any required accommodations for their employees. In the case of an individual who does work for the Conference as an independent contractor, the USCCB would work with the individual in terms of providing accommodations needed as a result of pregnancy or childbirth.
In addition, the conference provides the option for a flexible work schedule as well as a hybrid schedule for most positions."
'Essential efforts and challenges'
Noguchi emphasized to The Pillar that there is not a one-size-fits-all approach to some employment issues, and that "each Catholic employer has different circumstances, and local and state laws may vary from jurisdiction to jurisdiction, so I can only speak for the U.S. Conference of Catholic Bishops."
But, she told The Pillar, "thinking through policies and employer benefits through the lens of Catholic social teaching raises awareness of the essential efforts and challenges of supporting parents and children to ensure that work and family are mutually complementary."
Comments