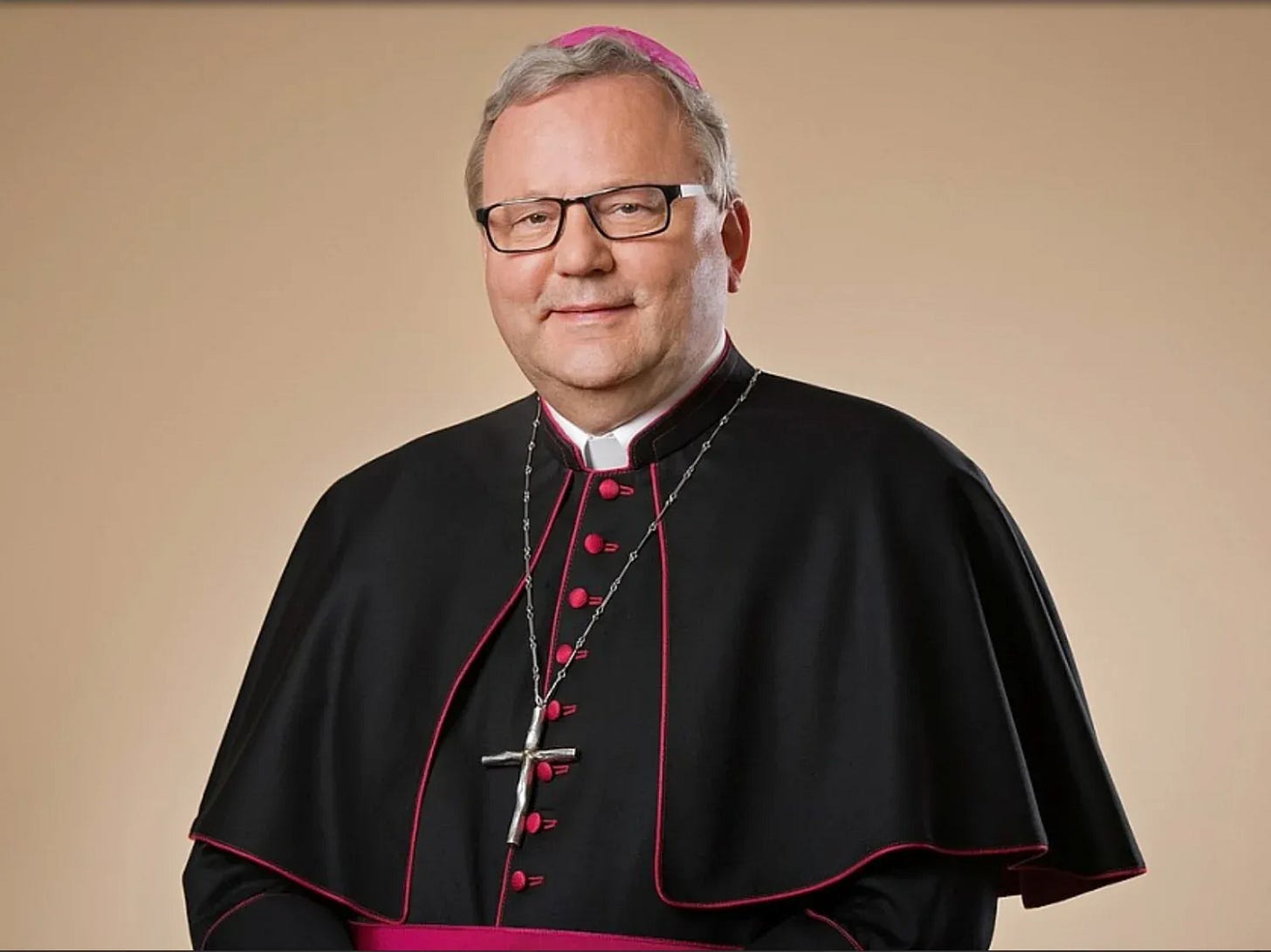 It makes sense that Catholics have news fatigue over the publication of reports detailing the failures of diocesan bishops to adequately address allegations of sexual abuse or coercion among priests.
In 2018, each new revelation about a bishop's failure prompted a new kind of outrage or dismay among Catholics. But four years later, the reactions have become muted – the roster of bishops found to have committed acts of negligence or misconduct is long enough that the names and details seem often somewhat muddled.
The problem can seem so enormous that tracking the details is either discouraging or exhausting.
But fallout from a report on abuse published this week — which touched on the negligence of Germany's Bishop Franz-Josef Bode — is worth giving some attention.
In fact, Bode's situation provides an important window into the actual state of the Church's reform efforts on the issue of clerical sexual abuse.

—
The report published Tuesday, some 600 pages, dissected decades of allegations in the Diocese of Osnabrück. It found that Bode, who has been diocesan bishop since 1995, allowed a number of clerics with apparently credible allegations to remain in ministry, and in some cases transferred them to positions – like youth ministry – which gave them opportunity for news acts of malfeasance.
Bishops have been removed from ministry – or stepped down - for less in recent years. But most remarkable about Bode's story is not his negligence, but the bishop's reaction when the report became public.
Bode, who is vice-president of the German bishops' conference, gave a press conference Thursday, during which he announced that he had decided not to offer his resignation to Pope Francis.
The bishop actually acknowledged his failings and offered apologies, but he said he believed that staying in his office would best allow his diocese to continue addressing the sexual abuse crisis.
As it happens, the report found that Bode has been insufficiently attentive to victims and their needs in recent years, noting that despite public promises to care for them, he has flagged on the actual commitment.
But Bode said that if he remained in post, a detailed plan for diocesan reform could stay on track.
"In my view, a resignation would delay this process rather than help it," the bishop told reporters.
As he explained himself, Bode invoked a familiar name.
The bishop said that when he considered resigning, he had consulted with Fr. Hans Zollner, SJ, a member of the pope's commission on sexual abuse, and the director of an influential Vatican-backed study center on abuse in Rome.
Zollner, in many ways, is the Vatican's go-to expert on the phenomenon of clerical sexual abuse, and on the work of ensuring safe environments for children and young people. He has generally been well-respected for his commitment to ecclesial reform.
So when Bode said he had consulted Zollner about what to do, it seems reasonable to conclude the remark was intended to give the bishop's decision credibility. And for some Catholics, it might do just that.
But for others, the reference might suggest some uncomfortable possibilities – including a rather dismal assessment of the state of the Church's reform efforts in the aftermath of her 2018 scandals.
📰
Get 'The Pillar' in your inbox every Tuesday and Friday - and help make subscriber-supported journalism happen - with no clickbait, and no nonsense
Bishops, experts, and victims of the Church's sexual abuse crisis have usually argued in recent years that to regain credibility, the Church must demonstrate that she has both effective safeguarding procedures, and a serious mechanism of accountability for the clerics who commit acts of abuse or coercion, and for the bishops who fail to adequately address them – especially when negligence allows the possibility that more people will be victimized.
Indeed, Bode's own remarks Thursday suggested the bishop has in mind a thorough and comprehensive plan to improve safeguarding procedures in his diocese– the plan seems methodically organized, in the manner of all great Teutonic policy schemes.
But while he begged forgiveness, the bishop's remarks did not address the issue of justice – especially the just consequence of his own negligence.
Victims of clerical sexual abuse have said often since 2018 that hearing serially negligent superiors will be removed from ministry is an assurance that their experiences matter to the Church's hierarchy, that their stories will be believed.
In fact, Pope Francis acknowledged as much during his 2019 global summit on sexual abuse, and with the promulgation of Vos estis lux mundi, which was meant to demonstrate that accountability for episcopal negligence would become an ecclesial priority.
Experts have often noted that victims will be hesitant to come forward - and to get the help they need - if they perceive that the enablers of abuse will not face justice. When victims don't come forward, they're more likely to engage in self-harming behavior, to lose relationships and goals, or to despair.
Real lives hang in the balance over this stuff, and Bode's decision to remain in office will be hard for some survivors to accept. If Zollner supported that decision, the situation will seem to some Catholics all the more dire.
Indeed, if a Vatican point-man on abuse supported the plan of a demonstratively negligent bishop to stay in office, some Catholics will conclude that the Church has failed to take into account anything her leaders might have learned in recent years about the effects of clerical sexual abuse.
And if Zollner, a world-renowned Catholic expert, actually advised Bode to stay in office, some Catholics will ask whether the Church has learned anything at all.
To some, it will seem the epitome of clericalism that a priest advised a powerful bishop to stay in office amid scandal, and that both seemed to think that plan was the best way to meet the Church's obligations of justice for victims.
Of course, it is also possible that Zollner did not especially support Bode's decision; that while the bishop consulted with Zollner, the priest did not back the notion of remaining in office.
If that's the case, the priest will have to consider whether to clarify Bode's remarks, which seemed intended to suggest that Zollner was behind him.
But whatever Zollner does, Bode's situation has revealed a few things about how the Church will handle sitting bishops who reassigned credibly accused clergy into dangerous positions.
First, that it will apparently be up to them, and not to Pope Francis, to determine whether negligent bishops should remain in office. And second, that at least some bishops believe it's possible to restore trust after a scandal by leaving things in the hands of the one who caused it.
It seems unlikely victims and their advocates will share that position. But as Bode made clear this week, the decision is not theirs to make.
Comments