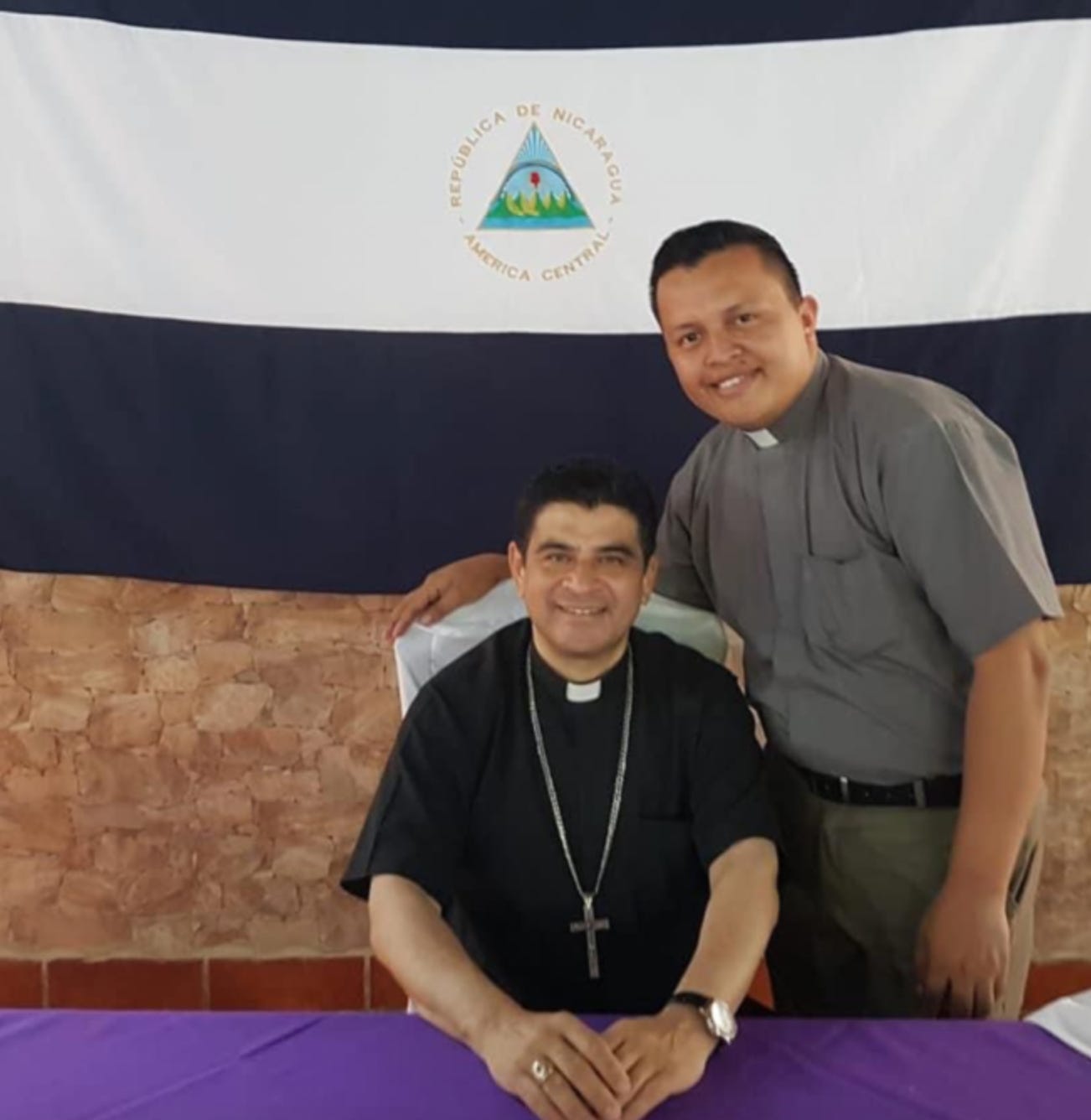 More than 50 Nicaraguan priests have asked in recent month for refuge in neighboring countries, a bishop reported last month, as persecution of the Church in Nicaragua has intensified, and clerics speaking against the regime of dictator Daniel Ortega have faced the prospect of arrest.
The Ortega government began cracking down on Church authorities in early 2021, when apostolic nuncio Archbishop Waldemar Sommertag was dismissed from the country. Persecution reached a peak this August, when Bishop Rolando Álvarez of Matagalpa was placed under house arrest, after a siege of his residence lasting several days.
More than 10 priests and seminarians have been sent in recent months to the El Chipote high-security prison, where reports of torture are frequent. At least two religious institutions have been pushed out of the country, more than a dozen radio and television stations have been shut down, among them a TV station operated by the Nicaraguan bishops' conference.
Ortega alleges that Church leaders were part of an alleged coup attempt to oust him during the 2018 protests, and the recent crackdown is seen as part of the dictator's effort to quell mounting criticism of his tenure in the Central American country.
Thousands of Nicaraguans have fled the country during Ortega's recent security crackdowns, especially to the neighboring Costa Rica and to the U.S. According to the CBP, almost 150,000 Nicaraguans have fled to the U.S. since last October.
Bishop José Antonio Canales of the Honduran Diocese of Danlí, which borders Nicaragua, told local reporters last month that he has received dozens of inquiries from Nicaraguan priests hoping to make their way to the safety of his diocese – as have other bishops in Honduras and Costa Rica.
"They have told us that they are against the injustice and violation of human rights in their country," the bishop said to reporters last month.
Canales told The Pillar that he is no longer willing to talk about priests fleeing Nicaragua.
"It might harm the priests that are still in Nicaragua. Their situation is very delicate," he said.
There have been in recent months at least six high-profile incidents of priests forced to leave Nicaragua, or forbidden from returning to their home country, including Father Uriel Vallejos, whose parish was sieged in August.
Father Guillermo Blandón went to Holy Land for a pilgrimage last month, and made a stopover in the US. Before he took off to Managau, the priest learned from his airline that Nicaraguan authorities said that he was not permitted to board the plane back home.
Fr. Juan de Dios García was also forbidden from returning to Nicaragua last month, after he spent a few weeks visiting family in the U.S. García had given refuge to Bishop Álvarez in his parish rectory in May, while the bishop was under federal police surveillance.
Little is known publicly about the whereabouts and ministry of priests exiled from Nicaragua. Most have tried to keep a low profile; some say fear for their families back home.
But a few are willing to talk about life as an exiled Nicaraguan priest. The Pillar spoke with three of them.
📰
'The Pillar' does serious, faithful, Catholic journalism because of our subscribers. We depend on you. So subscribe!
Father Rafael Bermúdez has been a priest for 26 years. For most of his ministry he served in the Archdiocese of Managua as parish priest, and in the vocations' office. He fled the country in 2018, as he was attacked by pro-government paramilitary.
Father Erick Díaz is one of the youngest priests to have been exiled from Nicaragua. He is only 33 years old, but he served for a while as rector of the San Óscar Romero Minor Seminary in Matiguás, in the Diocese of Matagalpa. He was after that a parish priest in the San José Obrero Parish, in Tuma.
On Aug. 23, Diaz announced on his social media that he had left his country.
"I had to flee. This decision was not easy (…) I know that you, men and women of God, are close to every pastor and I thank you for your closeness," he said on social media.
"My only crime was to be on the side of truth, of the pain of the people, and on the defense of the rights of each citizen," he added.
Father Edwin Román is a high-profile exiled priest; he was threatened by the first lady/vice president herself in 2018, while he was visiting family in the U.S. The priest was advised to ask for asylum rather than return to his country, because of the imminent danger he faced.
Why did they leave?
"I've been in exile for four years," Father Bermúdez told The Pillar.
"I was one of the first to go into exile. Prison was not option, you were exiled or you were killed. I worked with a local NGO to help the poor in Nicaragua and I served as the parish priest of a large parish with 20 chapels. Back in 2018, protests erupted and the government started repressing the marches, mostly student-led, by shooting people to kill."
"I was used to going out and serving people. But at that point, I didn't need to. People came to us looking for help. At first, the government respected the Church so we went to the prisons to try to help some of the protesters. We took the wounded to private hospitals –they would not serve them in public hospitals or even left them to die – and we accompanied the families in their pain. On April 20, they killed one of the members of the youth group of my parish, Jeisson Chavarría," he added.
"But defending the wounded, the imprisoned, protecting them, supporting their families became 'terrorism' for the government, so we started getting persecuted," Fr. Bermúdez told The Pillar. "And one day, I was driving in a rural area and was stopped by paramilitary, and they hit me with the stock and barrel of a gun and threatened me."
"I didn't want to leave because my mother was very sick," he added. "But she was in favor of me leaving. I didn't tell her anything, but some parishioners went and told her what had happened to me. She told me that they might kill me and say it was some robbers and I tried to resist or that they might do something to my car to fake an accident. And she said to me, 'You have to leave, I want you alive, you can do more alive than dead,' so I fled the country."
Fr. Bermúdez's mother died a month after the priest left Nicaragua.
Start your day with Starting Seven - a daily news roundup in your inbox.
"All I did was follow the diocesan pastoral plan," Fr. Erick Díaz told The Pillar about the persecution he faced in Nicaragua.
"What Church do we want to be today? What Christ do we want to announce? A Christ away from reality? Or an incarnate Christ that is close to those who suffer? All I did was try to be the priest I thought I had to be. I was near the people: with children, with our youth, our elderly, the families, those who suffer, everyone who sought my help. I was near the people giving them hope in difficult situations, as prophets, which is what we are called to be."
"But Nicaragua is a difficult country if you intend to be a prophet because the words of a prophet are uncomfortable," Díaz said
"If you want to be a priest and not have any issues, just shut up and don't look at reality. If you want to survive, you have to keep your mouth shut and not talk about injustice and preach a purely spiritual Christ that doesn't have to do with reality and not mention anything about the social doctrine of the Church," he added.
"We, the Church, have sinned, because we are all sinners. But we are not criminals, we have not committed a crime," Fr. Díaz said.
"I was locked in my parish for a day on Aug. 14, so I was not able to receive the image of Our Lady of Fatima in our diocese. A few days later, the agents of the regime arrived … and took pictures and videos during Mass. A good Nicodemus, a few days later, told me I had to flee because I was going to be sent to jail, and I had about half-an-hour to make a decision. I had to flee with the clothes I was wearing and a small backpack with personal belongings.''
"Nothing else, just dreams and hope," he said.
"I came to Miami for eight days to visit my family and while I was here a member of parliament, a pro-government journalist, and Rosario Murillo (the first lady and vice president) attacked me," Fr. Edwin Román told The Pillar.
"And before that, I had been constantly watched, defamed, persecuted while driving, and even was kidnapped within my parish in Masaya with the mothers of political prisoners for nine days. The faithful, some friends, and priests suggested that I stay here for a while. I don't know how long; God will tell."
"Today, being a priest in Nicaragua is not for staying in the sacristy."
"It is not to stay silent before injustice and become an accomplice. Today, being a priest is being the voice of those who do not have a voice, is being the pastor who lays down his life for his flock. Being a priest in Nicaragua is a crime for the dictatorship when you defend people and do not sell your conscience to the dictatorship," Román said.
Life in exile
"At first, I fled to Panama, but I have a good friend in San Francisco who had helped me with a lot of social projects, and he told me to come with him. At the beginning it was rough, and we both had to work a lot. Luckily, I found a priest friend who sheltered me in his parish and I was able to start celebrating mass, connecting with the diocese, and helping Nicaraguans coming to the US or in Costa Rica to re-start their lives," Bermúdez told The Pillar.
"It's not that I have the money to help them," he said, laughing. "But I put my face and my name on these projects."
"I remember two young men, one who was helped through our social projects back home, and one who was a catechist in my parish, who drowned in the Rio Grande trying to come to the US," he added.
"It is a blessing that the Diocese of San Francisco welcomed me and gave me permission to continue my ministry, with the approval of the Archdiocese of Managua. Right now, I'm serving in a group of three mission parishes along with the head pastor: Saint Anthony of Padua, Saint Charles Borromeo, and Saint Peter," Bermúdez said.
"I'm blessed with the fruits of my ministry," said Fr. Erick Díaz. "I've tried to be a pastor close to people both in spiritual and physical peripheries, as Pope Francis said."
"The Church in Nicaragua is more alive than ever. People have overcrowded churches because they found the peace of Christ there. They find refuge. Processions and public acts of piety are largely forbidden in some parts, but participation is massive. For example, in one of the last processions allowed to the Divine Child, we had 80,000 people. The situation of vocations is good, there are a lot of seminarians. We're a small diocese but with a lot of vocations, we have around 100 seminarians."
"Everything grew when Bishop Álvarez arrived as bishop. He visited every town, on foot, on horseback, however he could and thousands awaited him on the roads," he added.
"I first fled to Costa Rica and I just arrived in Miami, so I'm still doing all the transfer process. But wherever I've arrived, the doors have been open to me," Díaz added.
"I think that I have received many fruits in my ministry, I've done what the Lord has asked me as much as I can in my priestly vocation. I have tried to give everything, being faithful to the Church and to the people of God," explained Fr. Edwin Román.
"I am right now in Saint Agatha parish in Miami, thanks to the hospitality of its pastor, Fr. Marcos Somarriba, and with the approval of the Archbishop of Miami, Mons. Wenski."
"Here, a lot of Nicaraguans arrived and I spiritually help them. I hear their tragedies, the drama of how they arrive, and how they are now. I try to help them as much as I can. I visit the sick in their homes or in the hospital and continue celebrating the sacraments. It is a great sadness to leave my country, but I know I will return," said Román.
The spirituality of exile
"Leaving the country brought a lot of uncertainty, and it was tough," said Fr. Rafael Bermúdez. "At the beginning, it was only five of us who were exiled, and we felt like we didn't have a voice so people knew what we suffered because there weren't many of us."
"But kneeling before the Holy Sacrament and telling Him how I feel clearly has always been my source of comfort and strength," he adds. "It's what I've been doing since I was attacked in 2018."
"I've felt welcomed. My brother priests have helped me a lot with their fraternity and prayer," says Fr. Erick Díaz.
"Now in exile, I've found the same Church. The Church is universal, that's the beauty of being part of the same Church. Wherever we go, She is with us. I'm re-starting a new life. But I pray a lot that I can return soon," he added.
"I'm still in touch with my brother priests back home and those in exile. My family and friends back home send me sweets and cheese so I can enjoy a bit of our traditions," Father Edwin Román told The Pillar.
"My people and my flock in Nicaragua pray for me as I do for them. Nicaraguans are noble and thankful people who love their priests. Those persecuting us won't be able to change their hearts, on the contrary, they strengthen our faith," he added.
"I feel that God is talking to me, as He did to many prophets of the Old Testament –and to many prophets today—God has His plans and nothing stays static. I have assumed this reality with the strength of the Lord and with the love of and support of many people."
The priest paused, to reflect.
"I never thought I would endure this exile. But I will never regret helping the Nicaraguan people in their struggle for freedom and justice, no matter how great the cost was for me. One of my greatest joys was never selling my conscience nor putting a price to my ministry."
"I am a free man," he added.
📰
Get 'The Pillar' in your inbox every Tuesday and Friday - and help make subscriber-supported journalism happen - with no clickbait, and no nonsense
Comments