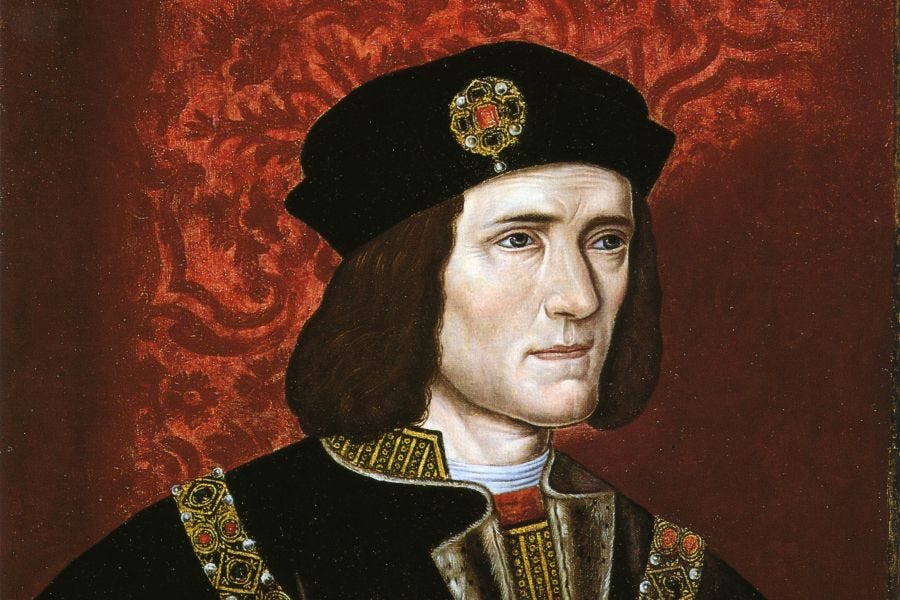 When was a Catholic monarch last buried in England? Or when was the last Catholic funeral for an English king?
Sometime around the Reformation, you might think.
If so, you would be out by almost 500 years. The last time a Catholic king was buried in Britain was in 2015. Yes, just seven years ago.
A violent death and strange afterlife
Richard III, who reigned from 1483 to 1485, was the last English king killed in battle.
He was slain on Aug. 22, 1485, in the Battle of Bosworth Field, which took place during England's War of the Roses.
The Renaissance humanist Polydore Vergil recorded that, after the battle, Richard III's naked body was "laid upon a horse back with the arms and legs hanging down on both sides." The king's remains were taken to nearby Leicester and buried unceremoniously in a Franciscan friary.
Richard III's tomb was lost following the friary's suppression during the Dissolution of the Monasteries, ordered by King Henry VIII amid the England Reformation.
Almost 500 years later, in 2012, a team of archeologists announced that they had found the king's body under a parking lot in Leicester. (Their discovery is the subject of a new film starring Sally Hawkins and Steve Coogan.)
The identification of Richard's remains posed a dilemma: where would be a fitting place to lay his body to rest?
According to British legal custom, bodies uncovered by archeologists should be reburied in nearby consecrated ground.
The proposed burial site — Leicester Cathedral — was an Anglican place of worship. Some Catholics objected, pointing out that the king lived and died as a Catholic — though perhaps not an exemplary one as many historians believe he ordered the murder of two young princes.
(The Richard III Society, however, questions the "traditional story" of the king's complicity in the killings, popularized by St. Thomas More's in his "The History of King Richard III" and Shakespeare in his play "Richard III.")
A petition calling for Richard III's remains to be taken to a Catholic church before his interment in the Anglican cathedral gained more than 3,000 signatures.
The king's distant relatives became involved in the dispute over his burial place, which ultimately reached England's High Court. A judge ruled in 2014 that the burial at Leicester Cathedral could proceed.
A man of prayer and child of war
The events leading up to the king's reburial began with the reception of his remains at Leicester Cathedral, followed by a Service of Compline, on March 22, 2015.
Speaking at the ceremony, the English Cardinal Vincent Nichols described Richard as a "man of prayer" and "anxious devotion."
"He was a child of war, for a while a refugee in Europe, as he was moved from place to place, always in search of safety and protection," the cardinal said. "At the age of 17 he emerged as a public figure and from then on showed his steely ability to pursue his ambitions."
"In his day, political power was invariably won or maintained on the battlefield and only by ruthless determination, strong alliances and a willingness to employ the use of force, at times with astonishing brutality."
The next day, the cardinal celebrated a Requiem Mass - a funeral - for the repose of the king's soul at Holy Cross Church, Leicester.
The funeral Mass took place three days before Richard III was reburied at Leicester Cathedral on March 26, 2015.
"Richard was not a man of peace," Cardinal Nichols conceded. "The times in which he lived and the role into which he was born did not permit that. But now we pray for his eternal peace."
He went on: "We offer this holy Mass that even while his remains are lying in the cathedral nearby, his soul is united with God in the glory of heaven there to await the final resurrection of all things in Christ. This was the hope he held in his heart. This is the hope we hold for ourselves, and our loved ones too. We share this one hope, and the faith and love which accompany it."
"In this grace we pray for this dead King and we pray that the kingship in Christ, given to us all, may truly guide our lives and make us builders of that eternal Kingdom here in our world today."
Comments