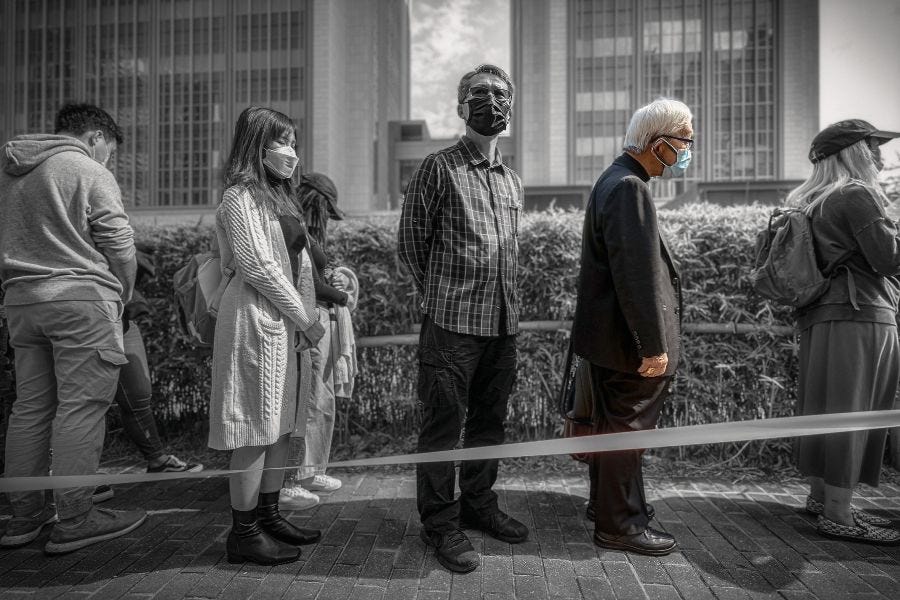 Cardinal Joseph Zen Ze-kiun was convicted and fined by a Hong Kong court on Friday for failing to officially register a fund helping pro-democracy protesters as a society.
The 90-year-old former Bishop of Hong Kong was found guilty alongside five other people connected with the now-defunct 612 Humanitarian Fund and fined 4,000 Hong Kong dollars ($512) at the end of a trial that opened in September.
The cardinal used a walking stick as he arrived at West Kowloon Magistrates' Courts on Nov. 25 to hear the verdict, reported the Associated Press, six months after his arrest, which caused alarm among local Catholics.
Principal Magistrate Ada Yim declared that the fund was required to register under Hong Kong's Societies Ordinance because it was not established solely for charity purposes.
Under the ordinance, organizations must register or apply for an exemption in the first month after they are founded, or face a fine of up to $10,000 Hong Kong dollars ($1,273).
Why was Cardinal Zen put on trial?
Although Cardinal Zen retired in 2009 at the age of 77, he continued to speak out for democracy and human rights in Hong Kong, a former British colony that became a special administrative region of China in 1997.
The Chinese authorities had promised to maintain the city's existing governmental and economic structures for 50 years after the handover under the "one country, two systems" principle, upholding Hong Kong's Basic Law, which guaranteed the rights and freedoms of Hong Kong residents.
But in 2019, the Hong Kong government attempted to pass legislation that would have allowed political detainees to be deported to mainland China to face trial. Months of mass demonstrations led to a police crackdown.
Although the extradition bill was withdrawn, Beijing imposed a sweeping national security law on Hong Kong in June 2020, curbing civil liberties.
Prominent pro-democracy figures, including Catholic media mogul Jimmy Lai, were detained, raising fears that outspoken religious leaders such as Cardinal Zen might also be targeted.
When he was arrested on May 11, the cardinal was originally held on national security grounds, including alleged collusion with foreign agents. But he was ultimately charged only with failing to register the humanitarian fund through the proper channels.
Days before Cardinal Zen's arrest, John Lee Ka-chiu stood unopposed in an election for Hong Kong's new chief executive, the city's highest office. Lee, a Catholic, led the crackdown on pro-democracy protesters while serving as Hong Kong's security chief.
Although Lee did not take office until July (succeeding fellow Catholic Carrie Lam), there was speculation that the cardinal's arrest was intended to send a signal that no one in Hong Kong was untouchable.
But AP quoted Cardinal Zen on Friday as saying that the trial was not connected to religious liberties. "I haven't seen any erosion of religious freedoms in Hong Kong," he said.
The Hong Kong Free Press said that the cardinal told reporters not to put too much emphasis on his religious identity. "I am a Hong Kong citizen who supported this humanitarian work," he commented.
What was the 612 Humanitarian Fund?
The 612 Humanitarian fund was founded in June 2019 with the aim of providing "humanitarian support to all persons who are arrested (regardless of charges), injured or affected" during mass protests against the extradition bill.
"The types of support include medical costs, psychological/mental counseling costs, criminal/civil legal costs, and emergency financial relief," the fund's website said.
It had a diverse group of trustees, including not only Cardinal Zen but also barrister Margaret Ng, Cantopop star Denise Ho, former lawmaker Cyd Ho, and cultural studies scholar Hui Po-keung, who were also found guilty on Friday and fined 4,000 Hong Kong dollars. Sze Ching-wee, the fund's secretary, was convicted as well but given a lesser fine of 2,500 Hong Kong dollars ($320).
The fund shut down in October 2021, but the South China Morning Post said that Friday's verdict could be a "prelude to more legal troubles" for the six defendants "as national security police continue probe into their alleged collusion with foreign forces."
What has the Vatican said?
On the day of Cardinal Zen's arrest, the Holy See press office issued a statement expressing "concern" and saying that the Vatican was following developments with "extreme attention."
Pope Francis was asked whether he considered the trial a violation of religious freedom during an in-flight press conference on Sept. 15 on his return from Kazakhstan.
After reflecting on progress in Vatican-Beijing relations, he said: "Qualifying China as undemocratic, I do not identify with that, because it's such a complex country ... yes, it is true that there are things that seem undemocratic to us, that is true."
"Cardinal Zen is going to trial these days, I think. And he says what he feels, and you can see that there are limitations there. More than qualifying, because it is difficult, and I do wish to qualify, they are impressions, and I try to support the path of dialogue."
The Catholic Diocese of Hong Kong told the Hong Kong Free Press that it had no comment on the trial's outcome.
Comments