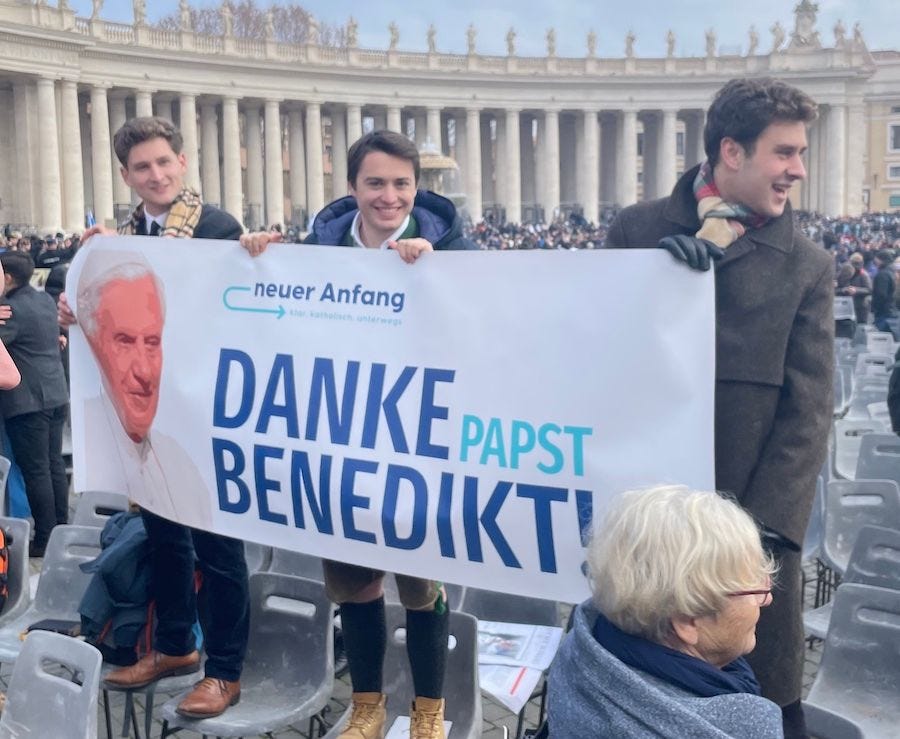 All was quiet in St. Peter's Square Thursday morning, as tens of thousands of Catholics prayed after Holy Communion, at the funeral of Pope Benedict XVI. And then the silence was broken, by the lone voice of a man who called for Benedict to be made a saint.
"Santo subito!" the man cried, prompting widespread applause among the funeral mourners.
Soon more voices called the same thing — "Santo subito!" — "[Declare] Sainthood now!"
Amid sustained applause, Catholics in the congregation yelled their approval of Benedict XVI's sanctity as the Mass concluded, and as his coffin was taken inside St. Peter's Basilica.
Nicholas Brüel, of Germany was among the first Catholics chanting "Santo subito!" during the conclusion of the funeral Mass, which was attended Thursday morning by at least 50,000 mourners..
Brüel told The Pillar after Mass that "we think [Benedict] is so venerable and his life was so holy, so saintly, that we think he should be a saint now."
"What he wrote was so true and so deep — and so many people are touched by that, myself included. It's partly the native language that we both share, but also his way of writing and speaking about God."
Bridget Kooser, a Catholic from Benedict XVI's southern German homeland of Bavaria, said that she too was calling for the late former pope's canonization:
"He deserves our full respect and he is a good symbol, or role model, for all Christians."
"I have a lot of deep belief in what he says — in what he was telling us," Kooser added.
📰
Get 'The Pillar' in your inbox every Tuesday and Friday - and help our make subscriber-supported journalism happen - with no clickbait, and no nonsense.
Others at the Mass told The Pillar they had similar expectations.
Fr. Israel Goitom, an Eastern Catholic of the Ge'ez Church from Ethiopia, told The Pillar that he agreed with the calls of "Santo subito."
"Yes, I agree," Goitom said.
"He's a great saint. He's a very great scholar. For me, I consider him as a Doctor of the Church because of his theological works, his contribution to the Church. I just appreciate him so much, especially with his theological books."
Abbot Maximilian Heim of the Cistercian Abbey of Heiligenkreuz is an expert on the theology of Pope Benedict XVI.
The abbot told The Pillar that "I think he is a doctor of the Church. And therefore he will be a saint in a short time."
—
Three of the four popes who immediately preceded Benedict were canonized, and the fourth - Pope John Paul I - was beatified by Pope Francis in September 2022. In total, 81 popes in the Church's history have been declared saints, and another 10 have been beatified.
Of course, it is not clear whether the Church might eventually initiate a canonization process related to Benedict XVI, who was a prolific contributor to the Second Vatican Council, a close collaborator of Pope St. John Paul II, and the first pope in more than six centuries to resign the papal office.
The late former pope has been criticized by some Catholics over his 2013 decision to resign, and others have suggested that Benedict did not adequately handle allegations of clerical sexual, during his time as an archbishop in Germany, and during his decades at the helm of the Vatican's Congregation for the Doctrine of the Faith.
But Benedict published last year an essay detailing his efforts to combat clerical sexual abuse in the Church, and prominent experts on the subject have defended the former pope's record on abuse, pointing out that Benedict championed reforms to canon law to push for the prosecution of priests accused of abuse.
Start your day with Starting Seven - a daily news roundup in your inbox.
_
For her part, France Damrarullas, a French Catholic who attended the funeral, said she believes that Benedict was a saint.
"He was a rock. Something solid, and something true. He was someone we could trust. He was a rock for me," Damrarullas said as she left St. Peter's Square after the Mass.
Nearby, Fr. Davide Lees of Rome diocese told The Pillar that Benedict XVI ordained him 15 years ago and was "like a father in my priestly ministry."
The priest said that he was "very grateful for everything Benedict said and wrote," and that his family was very attached to the late pontiff.
Lees described it as "wonderful" to hear the calls at the funeral Mass for Benedict to be canonized.
But the priest said he'll trust Church leaders to know how to respond to those calls.
"They'll know what to do with that," Lees said. "They will hear this, and they'll know what to do."
📰
'The Pillar' covers news you won't read anywhere else. We do it intelligently and reliably, because our subscribers know good journalism is worth paying for. So subscribe today – or upgrade your subscription!
Comments